'Incredible' Privilege At Elite Prep Schools Like Those Kavanaugh And His Accuser Attended
Play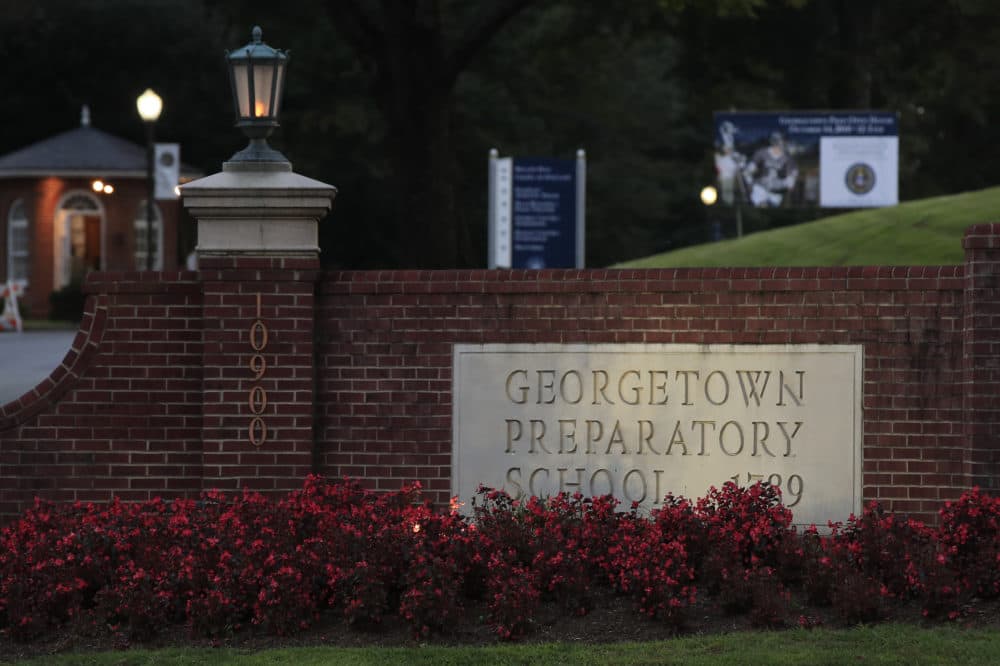 This article is more than 4 years old.
The prep schools that Supreme Court nominee Brett Kavanaugh and his accuser Christine Blasey Ford attended in the '80s are elite, exclusive and expensive — both Georgetown Prep and Holton-Arms School now cost upwards of $40,000 for a year's tuition.
Alumni of those schools have signed letters of support for both Kavanaugh and Ford, with some saying they trust Kavanaugh's character, and others saying the alleged assault sounds consistent with the school culture they remember.
Here & Now's Jeremy Hobson speaks with Adam Howard, a professor of education at Colby College who studies elite private education, to learn more about what that culture can entail.
"Schools play an incredibly important role for elites. The core function of elite schools is to make and remake elite status," Howard says. "Parents and families contribute to that. But they need to send their kids off to elite schools in order to make sure that they maintain and hopefully even advance their class position."
Interview Highlights
On finding a sense of privilege and entitlement among the students at elite schools
"An incredible amount of privilege, and a sense of entitlement. My own research has looked at this concept of privilege, and often how we frame privilege is something that has to do just about the advantages that someone has. What I've discovered is that privilege is a lot more than just about advantages, that it's actually something more intrinsically connected to who a person is rather than something that individuals have or possess. It's something that reveals who they are and who they have become in a fundamental sense."
"Part of what elite schools do is teach students that hierarchies are normal and a part of everyday life, and a part of everyday interaction."

Adam Howard
On if there's something different or unique about the elite schools in the Washington, D.C. area, like Georgetown Prep and Holton-Arms
"I don't think so. I think elite schools of course are distinctive. But they are remarkably similar no matter where you go in the U.S., and part of it is is that, in order to become an elite school, you have to have not only wealthy parents, but you also have to have powerful parents. I do think it's distinctive in one sense, that the kinds of jobs and the kinds of lives that the parents and families of these elite schools in the D.C. area kind of lead. But at the end of the day, they're still powerful and incredibly wealthy."
On what he's learned about gender dynamics and masculinity at these schools
"One of the things that these schools claim is that single-gender schools are important for the development of the students, that an all-boys, if there's no girls around, then they are more involved in drama and theater and dance and can express themselves, and don't have the worries that are associated with having girls. I just don't buy it. There is enough research that's been done to kind of prove quite the opposite, that they are really — because they are all-boys — that they just reinforce in a very powerful [way] this hypermasculine culture. Part of what elite schools do is teach students that hierarchies are normal and a part of everyday life, and a part of everyday interaction.
"It's unhealthy interactions with others, because when you view every interaction that you have as engaging in hierarchies, that there's always a winner and there's always a loser. And in elite schools, students are constantly taught to be winners, and so what that means is, the hypermasculine [behavior], to express yourself and make sure that everybody knows that you're man enough and that there's no questions about your sexuality and a whole variety of things. It's just constantly reinforcing that culture of domination."
On if these schools are teaching students to be good people, and if there are systemic problems with them
"I think elite schools are places where there's a lot of goodness to be found. If you look at Georgetown Prep, and you look at what they're trying to accomplish in their mission statement, they use words like courage, compassion, care, concern and all of that. And I think in one sense — and what I've found through my own research — is that these types of values and so forth are being reinforced, in many ways, and what they're doing is that these values kind of promote students' success, trust within that community, the importance of service, the value of connecting to the past and the present, etc. So there's a lot of goodness that is happening.
"But those same values, also there's another side. They also encourage win-at-all-costs attitudes, unhealthy levels of stress, deception, materialism, competition and so forth, selfishness and greed. So there's a different side to it.
"One of the things I've looked at is what are the lessons, these more positive, productive lessons that students learn, and then what are these not-so-positive lessons that actually contradict these more positive ones? And because individuals are individuals, and sometimes certain lessons stick with them, and some students, the more positive ones are the ones that they take away from their educational experience. But for others, it's the nonpositive ones, that's what they end up learning, and what ends up kind of shaping their sense of self and their understandings of others in the world around them in such a profound way."
This segment aired on September 21, 2018.