Bullying And Islamophobia Focus Of New YA Novel 'Here To Stay'
07:23
Play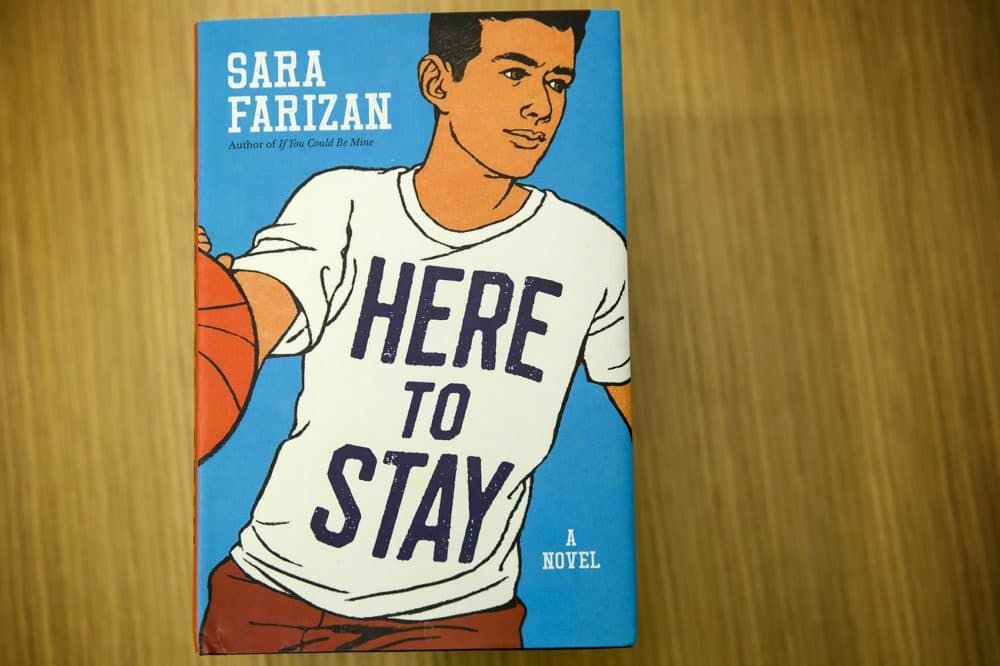 This article is more than 2 years old.
Author Sara Farizan's new novel "Here to Stay" centers on a young man of Iranian and Jordanian descent who becomes the target of a cyberbully.
Farizan (@SaraFarizan) joins Here & Now's Lisa Mullins to talk about the book.
Book Excerpt: 'Here to Stay'
by Sara Farizan
CHAPTER ONE
"Damn," Coach Johnson muttered. "That's four fouls, Drew!" he shouted to our King James. "B, you're in." This is where all the trouble started. I sometimes wonder what would have happened if Drew had never fouled out.
I had it in my head that if I became popular, every day would feel like my birthday. I'd have no trouble talking to girls and I'd be admired by my peers at the Granger School. I did not think everything would turn to crap salad in a bucket.
Who could blame me? I mean, in all the movies and TV shows, the popular kid who ascends from the depths of dorkdom has their day in the sun, and then it's smooth sailing. Marty McFly gets the awesome truck. Daniel LaRusso gets to crane-kick the crap out of Johnny. Seth Rogen gets to spend time with a girl way out of his league in every Judd Apatow movie. But my name isn't Marty or Daniel or Seth. My name is Bijan, and the world won't let me be the hero in my own damn life.
I jumped up to check in at the scorers' table and the horn blared for substitutions. I was trying to look tough and hard, but inside I was freaking out the same way I did when my imaginary future ex-girlfriend, Elle, walked by me in the halls: so excited that I might hurl chunks all over the floor.
I jogged over to Drew and reached out to give him a low five. We barely clapped hands. Drew stared at the floor, fuming as he hustled to the bench. He wasn't supposed to foul out of a game that would determine whether our season ended or kept going. He also wasn't supposed to let me, a nonentity on loan from JV, fill in for him.
The Granger crowd was quiet as my sneakers squeaked onto the court, except for my mom and my best buddy, Sean. He stood up and yelled, "Go get 'em, Tiger!" with 1950s irony while my mom clapped and whooped next to him. She knew how much playing meant to me. She was maybe the only one in that gym besides Sean who did.
It was the beginning of the fourth quarter, Carter Prep 54, Granger 38. I joined the others around the key, waiting for the Carter Prep student to shoot his second free throw. He made the basket, the swish of the net prompting loud cheers from the visiting team's fans.
I grabbed the ball from under the basket and inbounded it to Marcus Silva, the cocaptain, who dribbled it down the court. Marcus was the only reason we had as many points as we did, and Carter Prep knew it. Their defenders were double-teaming him.
"Beej!" Marcus yelled as he passed the ball to me.
I looked to Will, but he was covered. Steve was cutting behind the basket to lose his man.
Todd was struggling to stay upright against the opposing center, who kept shoving him from behind. The shot clock was winding down. I bent my knees to shoot.
The ball hit the backboard before it went in. The Granger crowd cheered, waving the blue-and-gold plastic pom-poms the school had given out before the big game.
Our team started to run back on defense, but I was so amped I stayed behind to guard the player inbounding the ball. I hopped in front of him, waving my arms in the air.
"Back off, benchwarmer," he grunted as he tried a ball fake.
I didn't bite. Marcus doubled back. He stuck to the point guard, who was trying to receive the pass. A short, shrill whistle blew.
"Five-second violation," the official said, taking the ball. "I do love that rule." I grinned at the scowling Carter Prep player. "If I was in your lofty position, I would have called a time-out. But hey, what do I know?"
The ref handed me the rock and blew the whistle again. The clock started. I inbounded to Marcus before I bolted to the top of the key to set a pick for Todd. I crisscrossed my arms flat across my chest and blocked the Carter Prep goon with my whole body, allowing Todd to cut to the hole. The Carter Prep goon guarding him crashed into me. I stumbled backward, but it was enough time for Marcus to lob a pass to Todd for an easy layup.
The crowd cheered louder, but not loud enough that I couldn't hear my mom yell.
"It's not ice hockey, Carter! Watch the checking!" Mom shouted.
"Would you listen to that crowd, Reggie? They have really come alive in this last quarter!"
Sometimes, when I need a minute, I like to pretend that Reggie Miller and Kevin Harlan, my favorite NBA commentators, give color commentary for my life.
"Well, the Granger Gunners are finally giving the crowd something to cheer about, Kevin. When you start playing with a little fire in your belly, the atmosphere completely changes."
"There is a steal from Marcus Silva, who rockets the ball over to newcomer Bijan Majidi for a three-pointer . . . BANG! He makes it! Where did this kid come from?"
"This is why I love basketball, Kevin. Anything can happen!"
I panted as I looked up at how much time we had on the clock. We were down by two with fifteen seconds left. Todd had finally been able to post up effectively and get some layups in. Will had driven to the hoop when Marcus or I were double-teamed.
There was sweat running down Coach Johnson's cheeks during our time-out huddle; his sports coat was off and his armpits were soaked. He'd been sweating a lot this season. His team wasn't up to the usual Granger standards of excellence.
Coach drew up a play on his clipboard. "Okay, we've got no time-outs left. Worse comes to worst, they get the last possession, you foul," he said. "Get the ball to Marcus for the play to work. Got it?"
The buzzer sounded. I hustled to the baseline. The ref handed me the ball and then blew his whistle.
The other team didn't let Marcus breathe. A player stuck to either side of him, anticipating his every move. Marcus tried to break free, but I didn't have time to wait.
I hurled the ball over my head to Will. Will drove to the hoop. As the big goon in the key moved up to guard him, Will bounce-passed to Todd, who was free under the basket.
For a split second, Todd looked terrified. The clock was winding down. Ten seconds left.
"Shoot it!" Marcus yelled. Todd tossed it up. The ball bounced twice on the rim before falling in.
"Unnnn-believable, Kevin!"
"The Granger Gunners have stunned everyone today with a comeback for the books!"
"Well, not really. I mean, it was only a sixteen-point deficit. Also, since when are prep school games in our contracts? I need to talk to my agent about this."
"Don't give them any space! Full-court press!" Marcus shouted.
The ball was inbounded to my guy. Don't reach, I thought. The last thing I wanted was to foul with five seconds left on the clock. Even if he made the free throws, we'd barely have time to get a final shot up. I took a deep breath and kept my hands in the air. He dribbled to the left, then to the right.
"Swing it!" his coach shouted from the sideline.
The clock was down to three. As he searched for an open man, he took his eyes off me. Here was my chance.
I swatted the ball from his hands and made a fast break for the basket. The crowd erupted! I dribbled to the hoop and shot.
Based on the cheering that echoed through the gym and the way the team lifted me up in joy, I figured I'd made the basket.
---
Adapted from HERE TO STAY © 2018 by Sara Farizan. Reprinted with permission of Algonquin Young Readers. All rights reserved.
This segment aired on October 8, 2018.