Move Over, Apples: Pear Recipes Are In This Fall
Play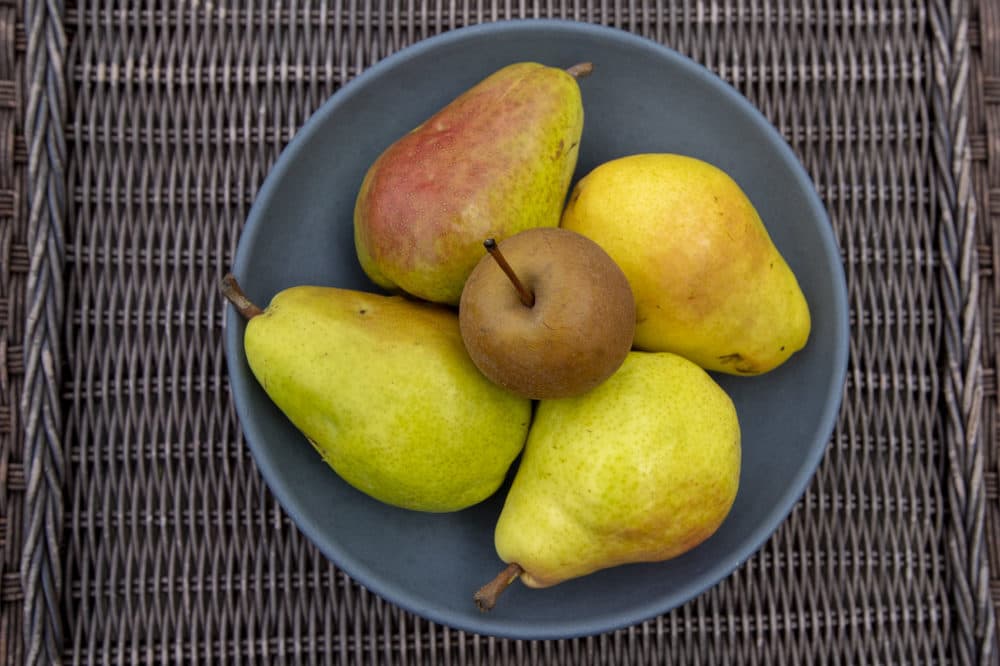 This article is more than 4 years old.
Here & Now resident chef Kathy Gunst is celebrating pear season with recipes for poached pears, pear cake and pear salad. She brings samples for host Robin Young to taste.
---
Apples get all the attention this time of year. But pears are their sophisticated autumn cousin. Pears have a lot to offer: They boast a sweet, earthy flavor, have fiber and vitamin C, are fat- and cholesterol-free and each is only about 100 calories.
How To Tell When A Pear Is Ripe
Unlike most other fruit, pears don't ripen on trees. They are harvested when mature, but not yet ripe. Keep them at room temperature; you'll know they're ready when you give a gentle squeeze on the neck and the pear yields. The pear should be quite aromatic.
Once ripe, you can refrigerate pears. At the market, look for ones that are firm and bruise-free.
7 Types Of Pears
Anjou pears are egg-shaped and come in green and red varieties. They are squat and don't have much of a "neck." These are sweet, juicy pears that work well eaten raw or can hold up to baking and poaching. The red Anjou tend to be sweeter than the green.
Asian pears, also called Japanese pears or Korean pears, are crunchy, tart and sweet. They taste like a cross between a fresh water chestnut, an apple and a pear. They are apple-shaped and the skin in gritty (best to peel it before eating) and this variety is not as soft and juicy as others, but are ideal to eat raw or in salads.
Bartlett pears are very sweet and come in green and red varieties as well. They have a mild, bright flavor that's almost citrusy. Bartletts are a great choice for cooking or eating raw. This pear is traditionally used for canning.
Bosc pears are crisp and not overly sweet. These are the pears you find in almost every market. When ripe, they make a great poaching pear with their firm texture and elongated neck. It's a tall pear with beautiful white flesh.
Comice pears tend to be quite soft and juicy and super sweet. They have an earthy flavor and almost creamy texture that makes them a great choice to pair with cheese.
Forelle pears are one of the oldest European varieties of pear, hailing from Saxony, Germany — forelle means "trout" in German. This variety is on the small side and turns a beautiful red color when ripe. They have a red-spotted green skin, with a firm texture and tart, sweet, cinnamon-spice flavor. They are a great choice for eating raw, putting in salads or for cooking.
Seckel pears are cute little pears, red tinged with an almost velvety texture and a sweet flavor. They are excellent to roast or to poach whole.
---
Poached Pears With White Wine-Ginger Syrup
Poaching pears in a mixture of white wine or Champagne, and fresh ginger makes a light, elegant dessert. The pears keep their shape and are served in the boiled down syrup. The pears can be made a day ahead of time and chilled overnight.
Serves 4.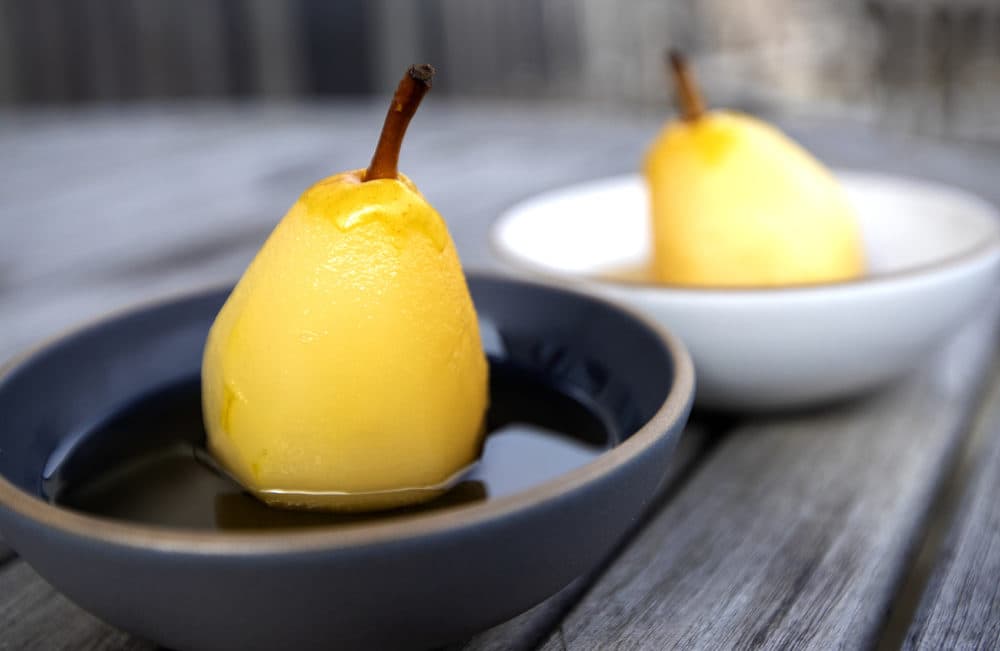 Ingredients
1 cup white wine or Champagne or sparkling wine
2 cups water
1 cup sugar
1/4 cup roughly chopped, peeled fresh ginger (or 1 cinnamon stick)
4 barely ripe Bosc, Anjou or Bartlett pears
2 tablespoons crystallized ginger, cut into thin slivers for garnish (optional)
Instructions
Combine the wine, water, sugar and fresh ginger (or cinnamon stick) in a saucepan large enough to hold the pears snugly lying down. Bring to a simmer over moderate heat, stirring occasionally and cook 10 minutes.
Peel the pears, leaving the stems attached. Working from the bottom of the pears, use a small melon baller (or small, sharp knife) to scoop out the cores. Cut a very thin slice off the bottom of the pears so they sit flat on a surface. When all the sugar has dissolved, add the pears. Lower the heat, cover pears with a round of parchment paper cut to fit the pan, then with a small plate. (This prevents the pears from bobbing up and out of the liquid.) Simmer, spooning the liquid over the pears occasionally, for 20 to 35 minutes, or until the pears are soft when gently poked with a small knife or wooden skewer.
Transfer the pears to a platter and tent with foil to keep them moist and warm. Strain the fresh ginger (or cinnamon stick) out of the poaching liquid and then return the liquid to the same pot; boil over high heat, reduce to low and cook for about 10 to 20 minutes, or until the liquid reduces and becomes thicker, almost syrupy. Let cool slightly, then strain. Serve the pears warm, chilled or at room temperature, drizzled with the syrup and sprinkled with the crystallized ginger, if you like.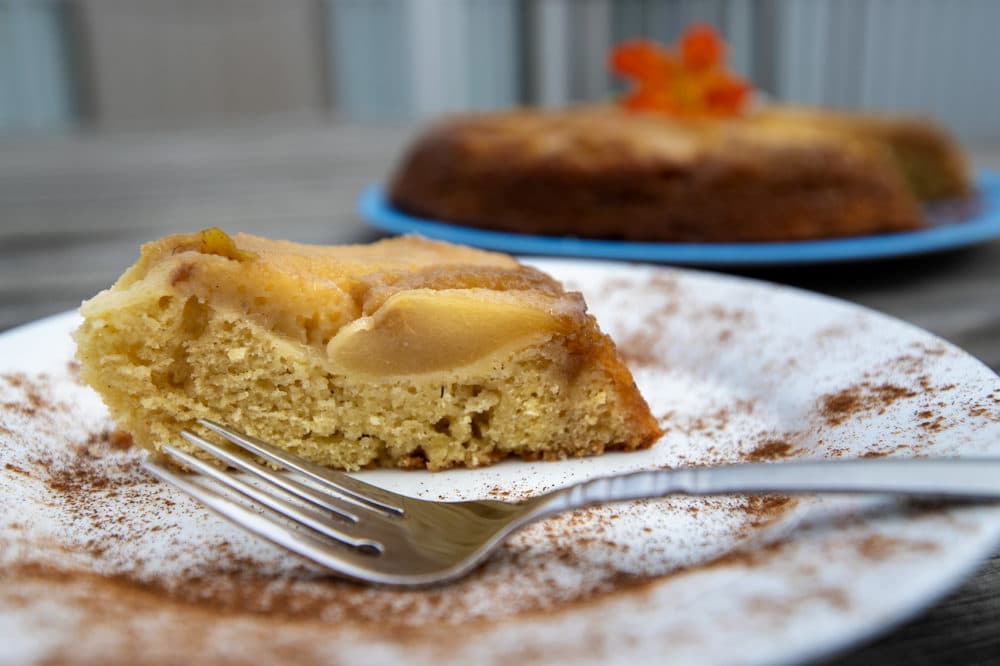 Pear Upside-Down Spice Cake
Imagine an entire, gorgeous show-off cake made in a cast-iron skillet.
Think of a pineapple upside down cake, but with slices of juicy pear laid into the bottom of the skillet in caramelized brown sugar and butter, and then a very simple, spice-infused cake batter poured on top. Pop it in the oven, bake for just over half an hour and you have an impressive dessert.
Serves 6 to 8.
The Pear Topping
4 tablespoons (1/2 stick) unsalted butter
3/4 packed cup light brown sugar
3 medium-sized pears, peeled and cut into quarters, cored
The Cake
1 1/2 cups all-purpose flour
2 teaspoons baking powder
1/2 teaspoon ground cinnamon
1/2 teaspoon ground cardamom
1 teaspoon ground ginger
1/8 teaspoon ground allspice
Pinch of salt
1/2 cup (1 stick) unsalted butter, at room temperature
1 cup sugar
2 large eggs
1/2 teaspoon vanilla extract
1/3 cup fresh orange juice
1 1/2 tablespoons lemon juice
Whipped cream (optional topping)
Instructions
Place a rack in the middle of the oven and heat the oven to 375 degrees.
Make the topping: In a 10-inch cast iron or heavy skillet, heat the butter over low heat. Increase the heat to medium, add the brown sugar, stir and let cook for 3 to 5 minutes, or until the mixture is bubbling. Remove from the heat.
Carefully lay the pear slices on top of the brown sugar mixture, fitting the pieces together like a puzzle and pressing them down to create a flat layer. You should have enough for at least one layer — fit the pear into the pan as tightly as possible.
To make the cake: In a bowl, whisk together or sift the flour, baking powder, cinnamon, cardamom, ginger, allspice and salt together and set aside.
Working with an electric mixer fitted with a paddle attachment, beat the butter until soft and light on medium speed, about 2 to 3 minutes. Add the sugar and beat until light and fluffy, about 4 minutes. Add the eggs, one at a time, beating well between additions and scraping the sides of the bowl if necessary. Add the vanilla and mix well. Add half of the flour mixture and beat on low speed until blended. Add the orange and lemon juice and then the remaining flour mixture, mixing just until blended.
Pour the cake batter on top of the pineapple slices and, using a soft spatula, spread it out evenly. Bake for 30 to 40 minutes, or until a toothpick inserted in the center comes out clean. Remove from the oven and let the cake cool for about 5 minutes, but not longer or it may stick to the pan. Place a large serving plate on top of the skillet and, very carefully, flip the cake over on to the plate. Let cool slightly and serve warm or at room temperature. Serve with whipped cream, if you like.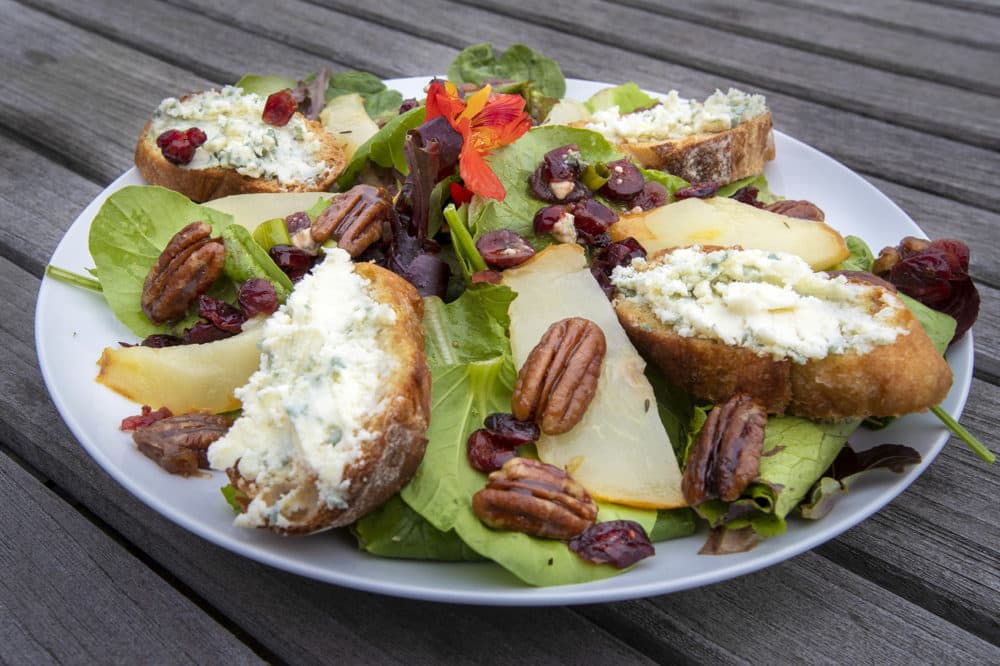 Winter Spinach Salad With Roasted Pears, Blue Cheese Toasts And Sun-Dried Cranberry Vinaigrette
Although this salad has several elements, everything can be prepared ahead of time and assembled at the last minute, making this an ideal dish.
I love the autumnal flavors found in the salad: the tender green of the spinach leaves, the chewy red sun-dried cranberries, the sweet crunch of the nuts, the creamy tangy blue cheese toasts and, the star of the show, those buttery, pale, sweet pears. This would make an excellent salad for the holidays served as first course, side dish or light lunch.
Serves 4 to 8.
The Pears
1 teaspoon unsalted butter
2 firm, ripe Anjou or Seckel pears*
1/2 tablespoon sugar
Salt and freshly ground black pepper
*Look for pears that are just beginning to get soft, but are still somewhat firm.
The Candied Pecans
1 1/2 tablespoons butter
1 cup pecans halves
Salt and freshly ground black pepper
2 tablespoons maple syrup
The Sun-Dried Cranberry Vinaigrette
1 tablespoon Dijon mustard
Salt and freshly ground pepper, to taste
1/3 cup cider vinegar
3/4 cup extra virgin olive oil, plus about 1/4 cup for the toasts
1 cup sun-dried cranberries
The Blue Cheese Toasts And Salad
8 slices from a loaf of ciabatta, crusty French or Italian bread (about 1/2-inch thick)
1/3 pound blue cheese, such as gorgonzola or bleu d'auvergne, thinly sliced
6 ounces baby spinach
Instructions
Heat the oven to 450 degrees.
Grease a small baking sheet with the butter. Peel and core the pears and cut each into eight wedges. Toss pears, salt and pepper and sugar together in a mixing bowl, and place on the buttered baking sheet, cut-side down. Roast for 15 to 20 minutes, or until soft and browned on the undersides. Transfer pears to a piece of waxed paper and let cool completely. The pears can be made up to 4 hours ahead.
Make the nuts: In a small skillet heat the butter over moderate heat. When melted, add the nuts, salt and pepper and cook 2 minutes. Add the maple syrup and cook about 4 minutes, until the syrup thickens are caramelizes the nuts. Remove to a piece of wax or parchment paper in a single layer and cool; the nuts can be made several hours ahead of time.
Make the vinaigrette: In a small bowl whisk the mustard, salt and pepper. Add the vinegar, then the oil and half the sun-dried cranberries. Taste for seasoning, adding more salt, pepper or vinegar as needed. The vinaigrette can be made several hours ahead of time; cover and refrigerate.
Make the blue cheese toasts: Heat the oven to 400 degrees. Cut each slice of bread in half, so you have 16 halves. Brush both sides of each piece with olive oil, and toast on a baking sheet until lightly browned, about 3 to 4 minutes per side. Remove from the oven, and divide the blue cheese between the toasts, crumbling the cheese up a little as you go. (The toasts can be made ahead up to this point and refrigerated, up to 4 hours.)
To assemble the salad: Place the spinach on a large plate or serving bowl. Add the pears, then scatter with the nuts and the remaining half of the sun-dried cranberries. Arrange the blue cheese toasts around the outside of the salad and spoon half the vinaigrette on top of the salad. Serve the remaining vinaigrette on the side.
This segment aired on October 18, 2018.