Hurricane Wipes 11-Acre Hawaiian Island Off The Map
Play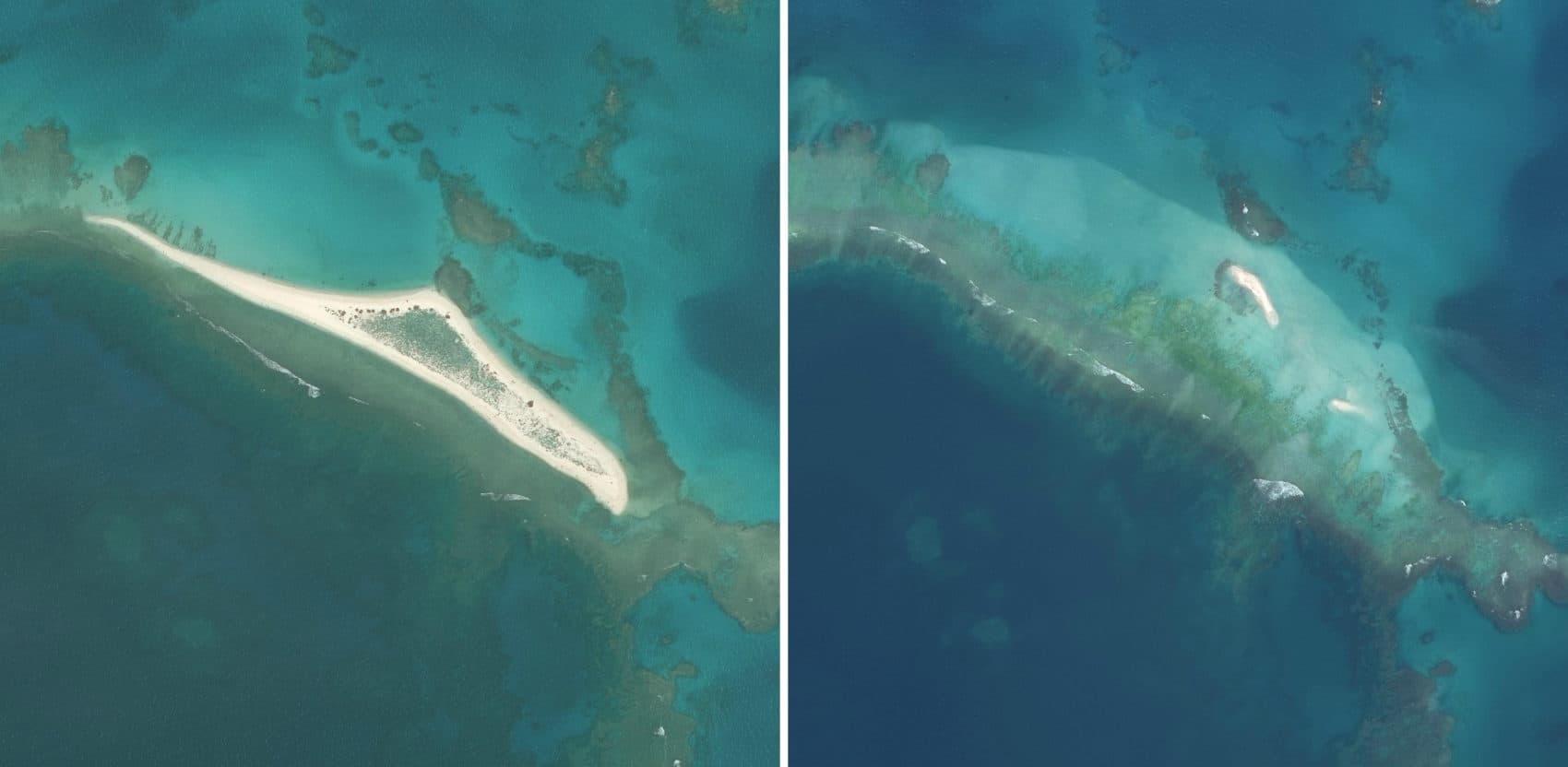 This article is more than 4 years old.
Satellite photos taken this month show only a few slivers of land where Hawaii's 11-acre East Island once stood.
Hurricane Walaka, which wiped the island off the map, was just the latest powerful storm in an unusually intense Pacific hurricane season. Climate scientists say a warming ocean could be to blame.
Chip Fletcher, a climate scientist at the University of Hawaii who visited the island in July with his research team, says what happened to it is "quite stunning."
"I had not followed Hurricane Walaka, I knew it had headed north from us, but it never occurred to me that it might head into French Frigate Shoals and do damage to these very important small islands," he tells Here & Now's Peter O'Dowd.
Interview Highlights
On what the island is like
"It's a beautiful place. ... It is loose sand and gravel, it's made of the skeletal debris of the surrounding reef system. As small as it is, it is absolutely critical to the Hawaiian green sea turtle and to monk seals. There is just not much land up there. This is low, so it's easy for them to haul out. There is a sort of upper region to the island where sea turtles could dig their nests and lay their eggs safely. And there are only about a half dozen of these that were left, but in the last month, we've lost two of them, one of them being this East Island, which was the largest one that remained."
"We are currently in a stage of rising sea level, and so the fundamental background conditions for re-forming this island don't exist."

Chip Fletcher
On what losing the island means for animals that rely on it, like green sea turtles and Hawaiian monk seals
"The implications for these animals are they will have to find new habitat. And if you look at the photo that was taken this past weekend by government scientists who flew over the island, you can see a small little bit of sand still sticking up above the waves, and there must be a dozen monk seals already hauled out on that. It points to the fact that this is really important land.
"They'll have to find a new place for raising their young, laying their eggs, and there are fewer and fewer of these places left. Will they turn to the south and come to the main Hawaiian Islands? That can be problematic, because much of the dune area in the main islands has been developed with roads and houses. Can they turn to the north to some of the other atolls? There are some additional sandy islands to the north, but not very many."
On whether he was surprised the hurricane dealt so much damage
"I figured that this island, under the threat of sea level rise, maybe had another decade or two or three, but certainly by midcentury, I would be surprised if it were still in existence. I didn't expect with a location this far north that it stood a very strong chance of being intersected by a hurricane. But of course with climate change, these weather systems are finding new pathways, they are migrating away from the equator, and there are new areas, new habitats and new human communities that are being threatened by hurricanes that hadn't happened before."
On if East Island could come back one day
"There is a chance, we're sort of crossing our fingers. It looks as if the sand was moved by the hurricane to the north and northeast. The trade-wind waves may push that sand back towards where it originally was, and we might see some accretion or building of the island. But our understanding of these islands is that they formed on a falling sea level around 2,000 years ago. We are currently in a stage of rising sea level, and so the fundamental background conditions for re-forming this island don't exist."
This segment aired on October 26, 2018.