Former Fed Chairman Alan Greenspan On America's Economic Outlook
10:49
Play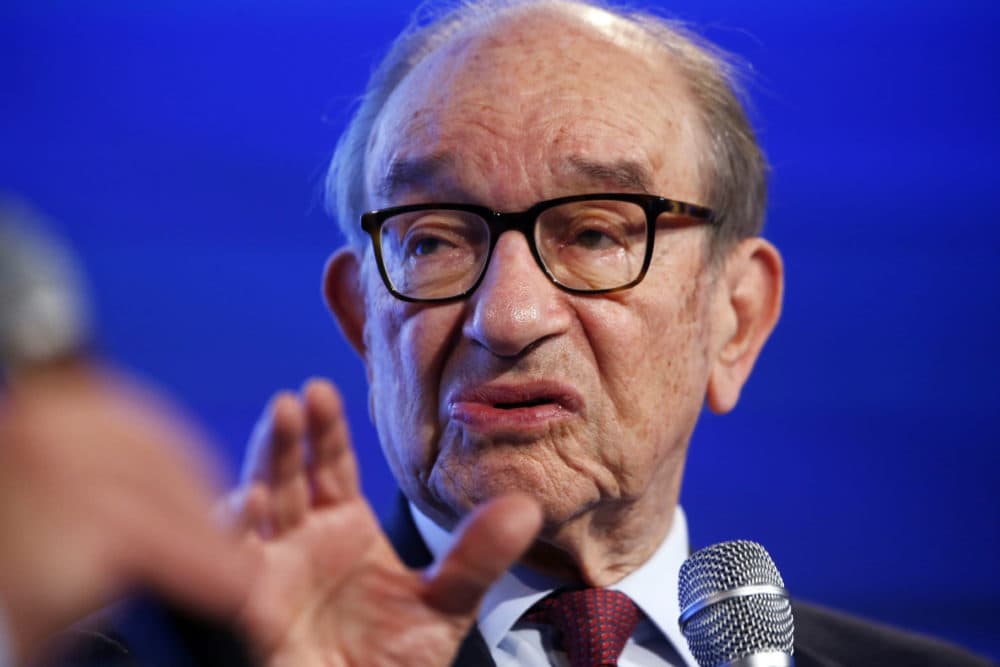 This article is more than 2 years old.
Alan Greenspan led the Federal Reserve from 1987 to 2006, serving through booms and recessions. He's now 92, and out with the new book "Capitalism in America: A History," co-written with Adrian Wooldridge.
Greenspan says America's aging population is straining programs like Social Security, which is in turn driving up the country's deficit and negatively impacting the wider economy.
"The official actuaries of the Social Security system say in order to get our Social Security and retirement funds in balance, they'd have to cut benefits by 25 percent indefinitely into the future," he says. "Do I think it's going to happen? Well I don't know, but this is one of the reasons why inflation is the major problem out there. So long as you don't do it, you're going to cause the debt overall — the total government debt — to rise indefinitely, and that is an unstable situation."
Fear is another factor currently posing a threat to the American economy's long-term prospects, Greenspan says.
"When you deal with fear, it is very difficult to classify," he tells Here & Now's Jeremy Hobson. "But you can look at the consequences of it, and the consequence is basically a suppressed level of innovation and therefore of capital investment and a disinclination to take risks."
Interview Highlights
On whether there are two economies in America
"We have more than two. It's more directly related to the structure of the economy. For example, the so-called Rust Belt is populated largely by industries which are very old. Silicon Valley, for example, is a classic case of the very new.
"There are very different pockets of economic growth and various degrees of stagnation throughout the country, and it depends obviously whether you're in the agrarian areas where soybean prices mean something, or whether you're on the West Coast, where the issue of high-tech stock prices are what everyone talks about. So the one thing about this country is it's very diverse, and it depends where you are."
On writing in his book that the growth surge America experienced from 1998 to 2004 "increasingly looks like a brief interruption of a much longer term decline rather than the dawn of a new era of tech-driven growth"
"When you look out into the future, we're slowing down our rate of growth and productivity. ... Basically, because fear. When you deal with fear, it is very difficult to classify. But you can look at the consequences of it, and the consequence is basically a suppressed level of innovation and therefore of capital investment and a disinclination to take risks.
"In the book ... discussing what the long-term outlook is all about, we say that the issue of the aging of the population and its consequences on entitlements is having a significant negative deterioration over the long run. The reason for that is what the data unequivocally show is that entitlements — which are mandated by law — are gradually and inexorably driving our gross domestic savings, and the economy, dollar for dollar. And so long as that happens, we have to borrow from abroad, which is our current account deficit."
On what caused the 2008 financial crisis
"I think that what we specifically learned — strangely for the first time in 2008 — is there are two conditions that are required for a crisis: One is there are toxic assets, like securitized home mortgages. But the critical issue is how those mortgages are financed, and when they are financed by a leveraged debt, that's the danger signal.
"That was a very extraordinary period. Ordinarily, it would have been wholly inappropriate for the Federal Reserve to keep [interest] rates down during the period of very low unemployment. But that was what the period was there."
On "creative destruction" and how it influences economic growth
"Creative destruction is the process by which people do two things: they continuously invest, but the investment is displacing older equipment. But more importantly, it engenders unemployment, and it's the process which unfortunately is a necessary condition for growth and standards of living.
"The very nature of progress economically ... is the result of creative destruction, which means essentially for example, when the open-hearth furnace came in in the steel industry ... the so-called Bessemer furnaces, they became obsolete and they were scrapped. But there were also workers associated with those [Bessemer] furnaces, so to speak — they lose their jobs. So the labor force is continuously changing, and people lose their jobs, other people get them. That's the reason the unemployment rate, per se, is the best measure of finding out how successful the labor markets are."
On whether, given that definition of creative destruction, the government was right to step in during the financial crisis
"That's the big argument. I mean, when you get to a state such as the contagious defaulting that was going on in 2008, we put in solutions, which was to give $25 billion to every commercial bank, on the grounds that that would enable them to come through the system. And actually it was a major factor which did solve the problem and stabilize the system."
This segment aired on October 30, 2018.