Native American Rep.-Elect Deb Haaland Makes History With Congressional Win
Play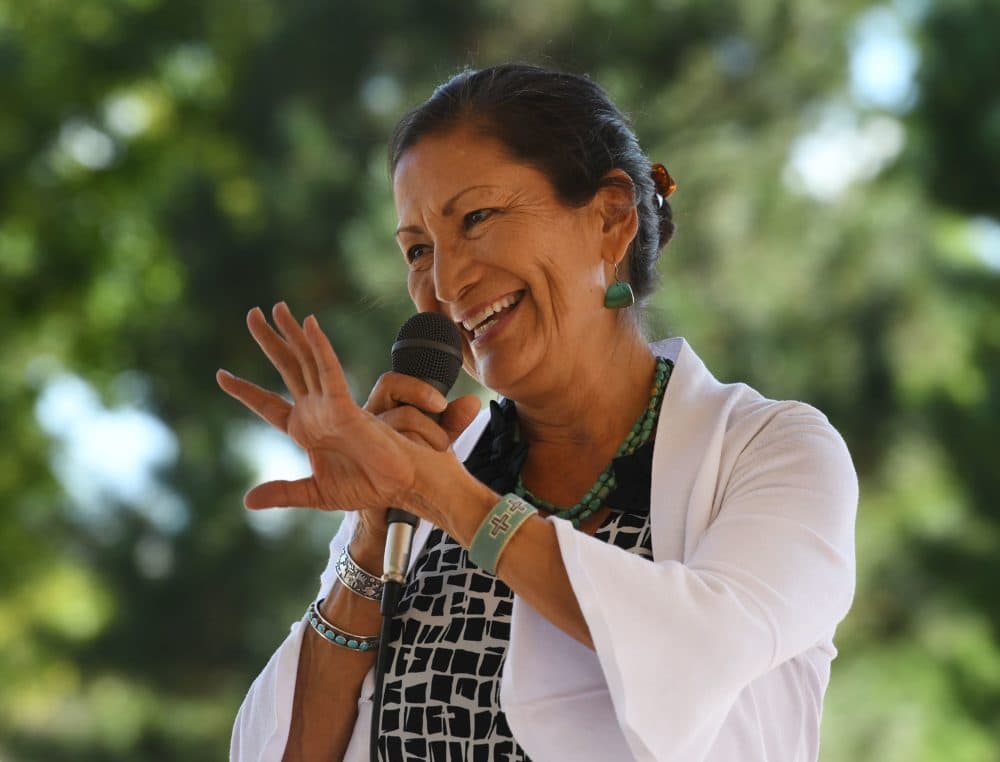 This article is more than 4 years old.
New Mexico was the last state to grant full suffrage to Native Americans. On Tuesday, it elected one of America's first Indigenous congresswomen.
"Miguel Trujillo, he sued the state of New Mexico in 1948 for Indians' right to vote," says Deb Haaland, a citizen of the Laguna Pueblo Tribe and representative-elect to New Mexico's 1st District. "That was only 70 years ago. So we don't have as much practice, if you will, getting to the polls."
Alongside Sharice Davids, a Ho-Chunk woman who will represent Kansas's 3rd District, Haaland (@Deb4CongressNM) made history when she was elected to the House of Representatives. Haaland tells Here & Now's Jeremy Hobson that campaigning without the advice and support of a sitting Indigenous congresswoman was a challenge, but that her election could signal a turning point for Indigenous representation in government.
"Running for Congress, there was no Native woman that I could go to and say, 'Help me. Tell me what to do. How can I navigate this?' " she says. "I hope to be that person for Native women running in the future."
Interview Highlights
On why it's taken so long for a Native woman to be elected to Congress
"Well first of all, it's not for lack of trying. There have been many Native women who have run who have not won their seats for whatever various reasons. I just felt like it was the right time to run. I have been working in politics here in New Mexico for close to 20 years, organizing, getting folks out to the polls. And it takes long because it's hard. It's not an easy thing to do. You have to raise money, you have to assemble a team, I mean you're working on your campaign 18 to 20 hours a day. And for a lot of women who have other obligations I'm sure it's just a difficult undertaking. So I'm grateful that I was able to assemble a terrific team, that I have the family support to take this endeavor."
"I hope to see that more Native women will step up and run for office. And I will be there to help them."

Deb Haaland
On what it means for her constituents to have a Native woman representing them
"I think that it might be a turning point in our politics. We have a number of Native American representatives at the state legislature, which is really good. I hope to see that more Native women will step up and run for office. And I will be there to help them."
On her plans for when she takes office
"I want to work on climate change. I want to fight climate change, I want to move New Mexico into a global renewable energy leader. We need a renewable energy revolution in this country, right? We have, what, 22 years before climate change is irreversible? But we're not going to wait that long, we have to start working on it right now."
On whether a Republican-held Senate and White House will be an obstacle
"That shouldn't stop us from moving forward with our agenda. The Democrats can work on an infrastructure plan that's very, very, very heavy on renewable energy. The Affordable Care Act is still the law. We can make sure that we are ensuring that folks can take advantage of that. Right now, the Republicans, they don't advertise open enrollment, for example. They're trying to dismantle it piece by piece. And I think the Democrats can be there to absolutely protect existing laws, and fight bad legislation when it comes up.
"I do [want the tax cuts repealed]. I mean look, right now, the tax plan that was passed by the Republicans is not paying for itself. It's ballooning into [an] almost $2 trillion deficit for our country. Imagine what we could have done with that money."
On what Tuesday's midterm elections mean for Democrats in New Mexico
"We won a number of governor's races. We flipped a number of statehouses. Here in New Mexico, Democrats won up and down the ballot. Every single statewide seat is held by a Democrat. We won our judge seats. We did an excellent job here in New Mexico and it was a good night for Democrats."
---
Savannah Maher produced and edited this interview for broadcast and adapted it for the web.
This segment aired on November 8, 2018.