Cranberry Recipes: Sweet, Savory And, Of Course, A Sauce
Resume
With an abundance of cranberries this time of year, Here & Now resident chef Kathy Gunst brings in dishes that make the most of the seasonal fruit to share with hosts Jeremy Hobson and Robin Young.
---
Pan Saute Of Chicken, Cranberries, Tangerines And Potatoes
This skillet dish combines many of autumn's great flavors. Its flavor profile is sweet, sour and savory in all the best ways.
Chicken pieces, fresh thyme and rosemary are sauteed with potatoes, onions, tangerine pieces and ruby-colored cranberries in a red wine, balsamic honey sauce. All you need is warm, crusty bread to sop up the juices.
Serves 4.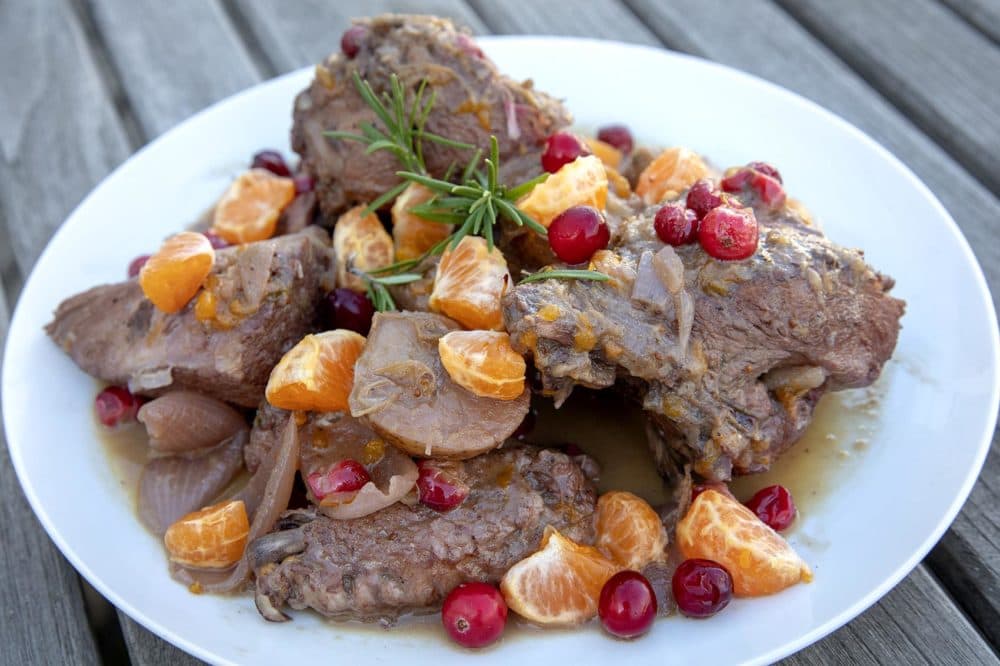 Ingredients
1 1/2 tablespoons olive oil
3-pound chicken, cut into pieces (I like to use thighs and drumsticks, but you can use any part of the bird)
Salt and freshly ground black pepper
2 tablespoons fresh thyme, finely chopped
2 tablespoons fresh rosemary, finely chopped
4 small or 2 medium onions, peeled and cut in half, or in quarters if using medium
6 small potatoes, scrubbed clean and cut in half
2 cups cranberries, fresh or frozen (if frozen, do not defrost)
2 tangerines or small oranges, peeled and separated into sections and then each section cut in half; remove any seeds
1 cup dry red wine
1/2 cup tangerine or orange juice
2 tablespoons honey
About 1 1/2 tablespoons balsamic vinegar
1 tablespoon of butter (optional)
Instructions
In a large skillet, heat the oil over moderately high heat. Season the chicken pieces with salt, pepper and half the thyme and rosemary. Brown the chicken pieces for about 3 to 4 minutes per side, or until golden brown. Remove and set aside.
Remove excess oil from the skillet, leaving only about 1 tablespoon. Reduce the heat to low and add the onions and potatoes, salt and pepper and cook, stirring, for 4 minutes. Add the remaining herbs, 1 1/2 cups of cranberries and stir. Raise the heat to high, add the wine and bring to a boil.
Reduce the heat to low, add the browned chicken pieces, the tangerine sections, tangerine juice, honey and vinegar and stir. Cover and cook about 20 minutes.
Stir in the remaining cranberries and cook another 10 to 15 minutes, tossing the chicken over once or twice. Cook until the chicken is thoroughly cooked and the juices run yellow and not pink when pierced with a small, sharp knife. Add butter if you want a creamier sauce.
Taste for seasoning, adding more salt, pepper, honey or vinegar if needed.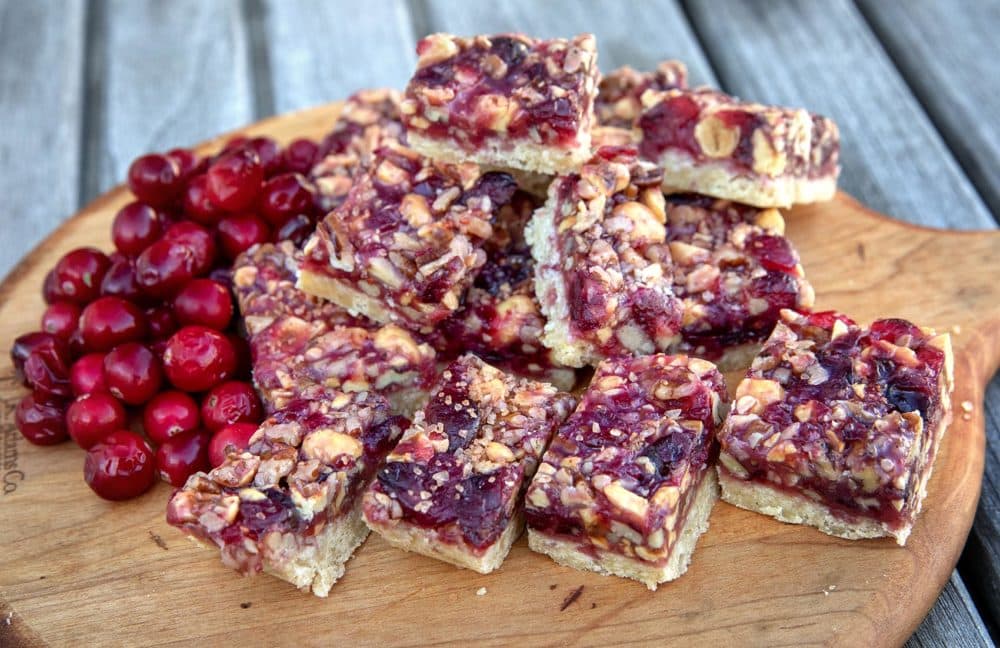 Hazelnut Cranberry Turtle Bars With Sea Salt
These cranberry bars have so much going for them: a crunchy texture, sweet, gooey caramel, tart cranberries, meaty hazelnuts and a blast of coarse sea salt on top. Although there are several steps involved, the bars are simple to make and will keep in the refrigerator — in an airtight container between sheets of wax paper — for four to five days, or they can be kept in the freezer for a month. The inspiration for the recipe came from Epicurious.
You will need a candy thermometer for this dish to make sure the caramel is the proper temperature.
The Crust
1 1/2 sticks (3/4 cup) cold unsalted butter, cut into 1/2-inch cubes, plus butter for greasing the foil
2 cups all-purpose flour
1/2 cup packed light brown sugar
1/2 teaspoon salt
The Cranberry Caramel Topping
8 ounces fresh or frozen (1 1/2 cups) cranberries (if frozen, do not defrost)
3 cups hazelnuts or your favorite nut (12 ounces), toasted and cooled*
2 sticks (1 cup) unsalted butter
1 1/2 cups granulated sugar
1/3 cup light corn syrup
1/2 teaspoon salt
1 teaspoon vanilla extract
Coarse sea salt, like Maldon Salt, for garnish
*Look for skinned hazelnuts. If your nuts have the skin on, toast them in a 350-degree oven for 12 minutes. Then place the hazelnuts in a clean tea towel, wrap the towel around the nuts and roll them. The skin should peel right off. They can then be chopped.
Instructions
For the crust, heat oven to 350 degrees. Line a 15-by-10-inch, shallow baking pan (about 1 inch deep) with foil, leaving a 2-inch overhang on the two short sides. Butter the foil on all sides and the bottom.
Blend flour, brown sugar and salt in a food processor, then add butter and pulse until the mixture looks like very coarse cornmeal. Take the mixture and press it down firmly into the prepared pan, pressing on it with the flat side of a metal spatula. Bake until firm to the touch, about 15 minutes; cool in the pan on a rack.
For the topping, in the food processor used to make the crust, pulse the cranberries until coarsely chopped; set aside. Add the hazelnuts and pulse until coarsely chopped; set aside.
Melt the butter in a medium saucepan over moderate heat and stir in sugar, corn syrup and salt. Boil over moderately high heat, stirring occasionally — until the caramel registers 245 degrees on a candy thermometer — for about 8 minutes. Carefully stir in the chopped cranberries, then boil until the caramel returns to 245 degrees, another 6 to 8 minutes.
Remove the pot from the heat and stir in vanilla and the hazelnuts until well coated. Working quickly, use a soft spatula to evenly spread the caramel topping over the crust. Cool completely.
Lift the foil out of the pan. Place it on a cutting board or a clean surface and using a sharp knife, cut the bars in 30 medium pieces or 36 small pieces. Sprinkle lightly with the coarse sea salt.
Gingered Cranberry Sauce With Pineapple And Pecans
The classic accompaniment to the Thanksgiving turkey, this sauce doubles as a topping for ice cream, pound cake, angel food cake and butter cookies. Try spreading this sweet sauce on your morning muffin or toast, or on top of pancakes and waffles.
The sauce is also the key ingredient in the ultimate, day-after-Thanksgiving turkey sandwich: Spread a few spoonfuls of this sauce onto thick slices of white or wheat toast, with slices of leftover turkey, stuffing and several leaves of crisp lettuce.
Makes about 8 cups.
Ingredients
2 cups sugar
4 cups water
7 cups (24 ounces) fresh cranberries
1 cup orange juice, preferably fresh-squeezed
6 tablespoons julienned orange zest
1/3 cup pure maple syrup
3 tablespoons finely chopped fresh ginger
1 medium-size pineapple, peeled, cored and diced
1 1/2 cups chopped toasted pecans
Instructions
Mix the sugar and water in a large saucepan and bring to a boil over high heat. Boil for 5 minutes. Reduce the heat to medium and simmer for about 15 to 20 minutes, or until the sugar syrup is somewhat reduced and turns a pale vanilla color.
Add the cranberries and simmer until they begin to pop, about 5 minutes. Add the orange juice, orange zest, maple syrup, ginger, and simmer over medium heat for about 15 minutes, or until the sauce is somewhat thickened. If the sauce still seems thin, reduce it over medium heat for another 10 to 15 minutes. It will thicken when you add the nuts and the sauce cools, but this is not a very thick sauce.
Remove from the heat and cool several minutes. Stir in the pineapple and the nuts and let cool to room temperature. Store in a clean glass jar in the refrigerator for up to 10 days, or freeze for up to six months.
---
As mentioned on the air, here's an example of what a cranberry bog looks like: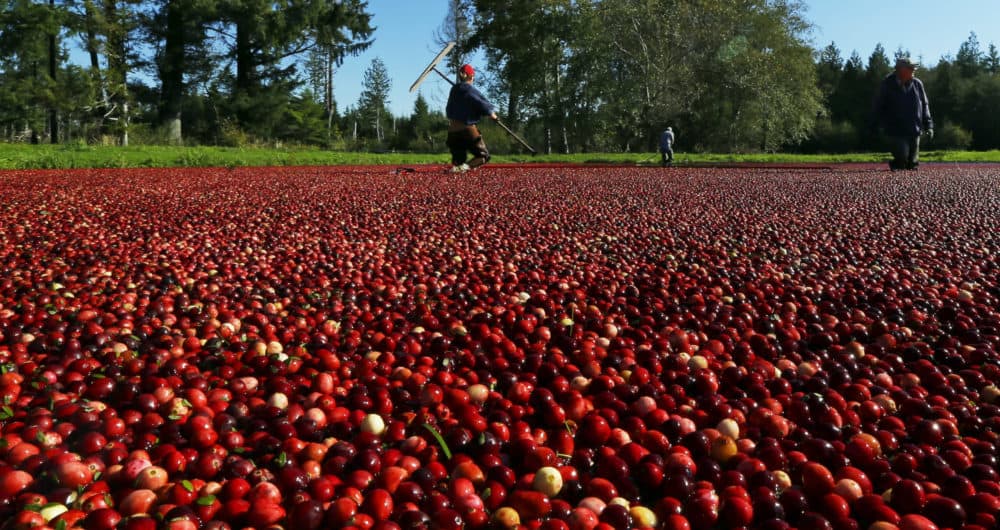 This segment aired on November 8, 2018.