After Losing Daughter To Diabetes, A Mother Protests Over Insulin Prices
Play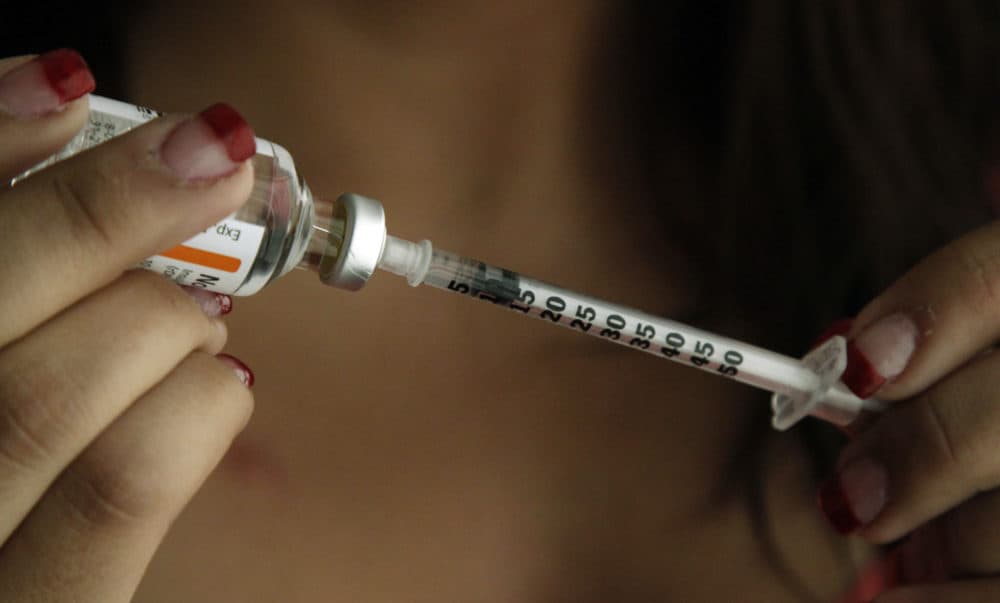 This article is more than 4 years old.
Last week, there was a protest outside the office of the drug giant Sanofi in Cambridge, Massachusetts, one of three manufacturers of the life-saving drug synthetic insulin, which has gone up in price recently by as much as 5,000 percent.
Two of the mothers in attendance were holding vials containing the ashes of their children. They said they had died because they'd been rationing their insulin, after they lost insurance coverage and couldn't afford to pay the full cost.
Antroinette Worsham was among them. She says her daughter Antavia, who had Type 1 diabetes, was rationing insulin before her death at the age of 22. Here & Now's Robin Young talks with Worsham.
Interview Highlights
On her daughter rationing insulin
"She used her sister's, used their grandpa's insulin, until they could no longer allow her to borrow their insulin. … I didn't know she was rationing. She did try to get help from resources. Those resources were limited but because of her income, because of mom's income, she could not get extra help. She was kicked off of Medicaid because of her income. So at this point, how [do] Americans become eligible?"
How much living with diabetes costs even with insurance coverage
"Roughly $1,000 per month for insulin ... the insulin pens, the diabetic supplies. ... It costs a lot per month for a diabetic to live well."
On worrying this will happen to her youngest child as well
"She's 18 years old. She was diagnosed at the age of 12. And she goes low, and she can feel it. There's been times I wake up in the morning, and I see applesauce containers, and I say, 'Why did you eat applesauce?' 'Oh, I felt my sugar was going low." And I'm just so afraid that when [she] hits that 21-year-mark, it's going to happen to her."
---
Marcelle Hutchins produced and edited this interview for broadcast. Francesca Paris adapted it for the web. 
This segment aired on November 21, 2018.