'I Don't Worry About The Part': Michael Douglas Reflects On 50 Years Of Making Movies
Resume
Editor's Note: This segment was rebroadcast on Feb. 6, 2020 after Michael Douglas' father, Kirk Douglas, died at 103. That audio is available here.
---
Actor-producer Michael Douglas was in Boston last week to accept the Bette Davis Lifetime Achievement Award from Boston University. Starting out in television in "The Streets of San Francisco" in the 1970s, Douglas has won accolades for his wide variety of works — from the 1987 drama "Wall Street" to the new Netflix show "The Kominsky Method."
Douglas sat down with Here & Now's Jeremy Hobson to discuss his long career. He says he was always attracted to roles that "were more dangerous" and entered a "kind of gray area."
"Maybe it came out of, I was in college in the '60s, and the Vietnam War was going on, and we also got into a period of that gray area," Douglas says. "And so I've always been sort of attracted to that mix, that there's a degree of larceny in all of us, but the hope and belief that we'll do the right thing."
Playing characters that were morally ambiguous — and in some cases, the villain — was what made Douglas famous, but he says he never chose to do a movie based on the part. He cared more about the material.
"I read the script, and I think, 'That's a good movie, and that's a really good movie, moves me, makes me laugh, this and that.' I don't worry about the part," Douglas says. "Then I'm looking who's around me? Who's the director? Who's the cast? And I would much rather have a little part in a good movie than a big part in a crappy movie."
Interview Highlights
On the impact of his role as Gordon Gekko in "Wall Street" 
"That one was sort of a challenge, and we were very proud that we kind of captured the zeitgeist of that moment. But that was one where yes, I get identified with that the most. People love Gordon Gekko. You know, if I get one more drunken Wall Street guy coming up, 'You're the man, you know, you're the man.' And I said, 'Hey, I was the villain. Remember? I went to jail.' 'Oh, nah, nah, nah, nah.' And so all of a sudden you realize that — I thank my costume designer — they like the clothes, they liked whatever it was and didn't see through. So that one sort of surprised us all."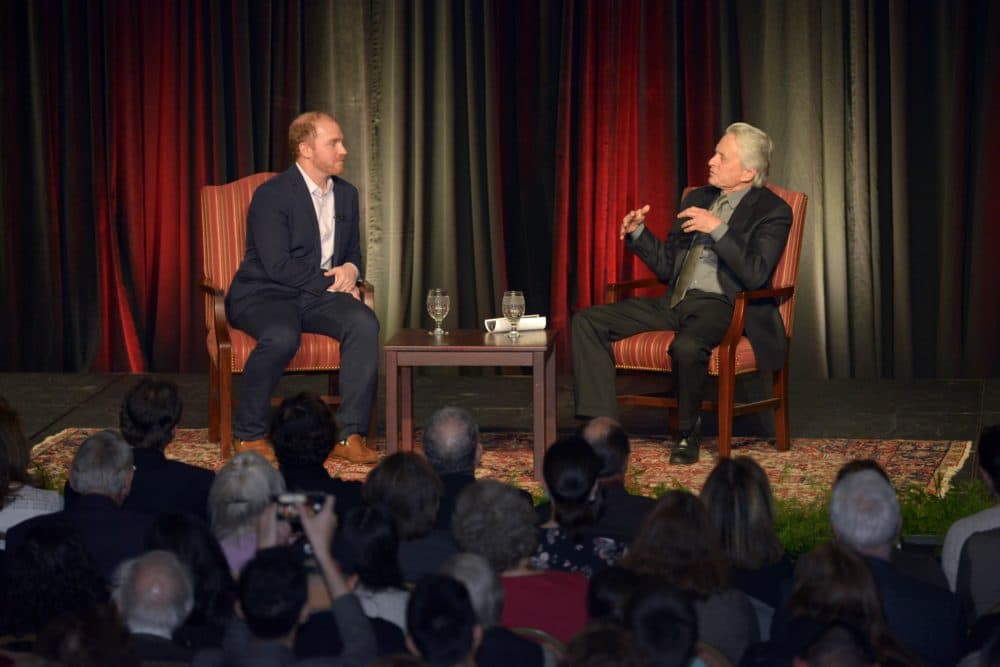 On playing likeable villains 
"I think you hit upon my biggest advantage ... and I was not clearly aware of this until we were doing 'Fatal Attraction.' And we had our first screening of 'Fatal Attraction,' it was right after my first scene where I have an adulterous moment with Glenn Close. And I came back to my apartment, and there's a scene where I get in the bed and I take the sheets, the blankets, and rough them all up to make it look like I've been in the bed that night. And the audience laughed. And the producers, Sherry Lansing turned to me, she's like, 'I can't believe that they've forgiven you already.' And I have been blessed with, I guess everybody has their element that people will let you go a long way, allow you to get away with a lot before it's too much."
On his iconic voice 
"I had a little bit [of the voice] in the '60s. ... I did this television series, 'The Streets of San Francisco,' and my first awards were in Germany because the show was syndicated around the world. And I went over to Germany to get this award for the show, and I thanked the audience and everything, and all I could see were these whispers ... and then I went and saw 'The Streets of San Francisco' ... in German. I had this great profundo, this great German, this great deep deep voice. I sound like a little wimp when I'm sitting there, you know?
"I took vocal lessons before 'Wall Street,' actually it was when I did some work on my voice. Since then I've had cancer, cancer of the tongue and the throat, my voice has changed. But it seems like it's holding up OK."
On what drew him to the new Netflix show, "The Kominsky Method"
"Chuck Lorre wrote the show, and it's a comedy about getting older. Well I said, 'You can find anything funny about getting older. I'm your man. I want to, let's do this.' And so it was a beautifully written pilot, and I hadn't thought about it at all at this time, but this streaming phenomenon, which is really this Silicon Valley having come into Hollywood and taken over in a very very short period of time, is fantastic because, you know, streaming has no commercials, you can say anything you want, and basically, I can do a season in the amount of time that it takes to do one feature film. And that's what attracted to me. All of a sudden, it was a part that was age appropriate and dealt with issues of older people, hopefully in a humorous way, in most cases."
"It was a big moment for me because I really felt it was the first time I was outside the shadow of an extraordinary career and an extraordinary man."

Michael Douglas on 'Wall Street' and following in his father's footsteps
On how he came to produce "One Flew Over The Cuckoo's Nest" 
"It was solely by chance. I was fortunate enough that my father [Kirk Douglas] had owned the rights to the book, had it adapted into a play, and then afterwards, he had tried for a few years to get it made into a movie. He couldn't. I had started my career after college, was working, was sliding into episodic television, and I heard that dad was selling the project. I said, 'Look, let me try to run with this, and I'll get it set up for you to play the part.' And I tried for a few years, finally got it set up, and by that point, time had gone by, and my father was a little older. Of course, he's never forgiven me for [not casting him], and I understand him, this is one of the great parts in your life. But it was the passion for that project. I love that story and had the opportunity."
On following in his father's footsteps as an actor 
"I had no interest in acting. You know, it was the '60s. I was in Santa Barbara, California. I was a hippie. You know, the University of California, Santa Barbara. Finally I think it was my third year, they called me into the chancellor's office, I was a junior, and they said, you know, 'You have to declare a major.' I said, 'Huh?' 'Yeah, you got to declare. You can't keep taking general education courses. You need a major.' I said, 'I don't know man, maybe theater arts.' My mother was an actress and my dad, but I had no interest, so I came to it reluctantly, and I wasn't very good. Dad was the first one, he came to see those first shows, and [he said], 'You were terrible.'
"Our union runs at about 90 percent unemployment, and I think he was very worried after what he saw. And so I was a grinder, and I just kept at it. But yes, of course. Anybody else, a father and son business, but in ours, some would say, 'That's just like your father.' And you're trying to create your own identity. So for me, that year of — it was a kind of a combination of 'Fatal Attraction,' followed coming out two months later with 'Wall Street' and winning the Oscar — it was a big moment for me because I really felt it was the first time I was outside the shadow of an extraordinary career and an extraordinary man."
---
Emiko Tamagawa produced and edited this interview for broadcast. Samantha Raphelson adapted it for the web. 
This segment aired on December 3, 2018.