5 Recipes For Your Holiday Cookie Swap
Play
This article is more than 4 years old.
Want some ideas for a holiday cookie swap? Resident chef Kathy Gunst brings three of her favorite recipes to trade with the Here & Now staff — and we crowdsource a couple of our own.
---
Chocolate And Raspberry Rugelach
Rugelach is a traditional cookie for Chanukah but these festive rolls are ideal for any holiday party or cookie swap. The dough is made extra-moist with the addition of cream cheese and sour cream. These are filled with semi-sweet chocolate and sweet raspberries. You can fill the rugelach with cinnamon sugar or raisins or any sweet filling you like.
Makes about 48 cookies.
Ingredients
8 ounces cream cheese, softened
2 sticks butter, chilled and cut into cubes
1/4 cup sour cream
2 cups flour
Pinch salt
About 1 to 1 1/2 cups semisweet chocolate chips
About 1 cup raspberries, cut in half or quarters if very large
About 1/4 to 1/3 cup sugar or sugar mixed with 1/2 teaspoon cinnamon
Powdered sugar, for dusting

Instructions
Make the dough: Place the cream cheese, butter and sour cream in a mixer and blend until well incorporated and soft. Add the flour and a pinch of salt and mix until a soft dough comes together. Place on a sheet of plastic or wax paper and shape into a round. Refrigerate for at least 1 hour.
Heat the oven to 350 degrees. Butter two baking sheets, or place a sheet of parchment paper or a silicone baking mat on each.
By hand or in a food processor, coarsely chop the chocolate chips.
Once chilled, divide the dough into four equal pieces. Roll out one fourth of the dough into a circle about 9 inches wide and 1/8-inch thick. It should look like a pizza. Sprinkle the dough with a tablespoon of sugar and sprinkle on 1/4 of the chopped chocolate, pressing the chocolate into the dough gently. Then sprinkle with another tablespoon of the sugar.
Imagine the dough is a pizza and, using a flat kitchen knife, cut into 12 slices. Place 2 raspberries halves inside each piece on top of the chocolate. Roll each slice working from the wide end and rolling toward the narrow center. Place the rugelach on the prepared baking sheet. Repeat with the remaining dough, chocolate, sugar and raspberries.
Bake on the middle and lower shelves for 13 minutes. Switch the baking sheets, moving the one on the middle shelf to the lower shelf, and vice versa. Bake another 12 to 13 minutes, or until golden brown. Let cool thoroughly and sit with powdered sugar.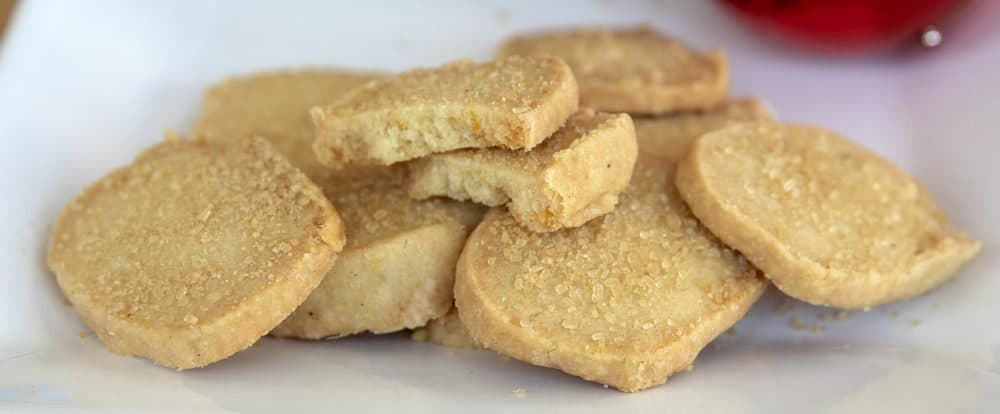 Orange-Ginger Shortbread
What I like about these shortbread is that they are understated: They won't be the flashiest, fanciest cookie on the plate but they will offer up a light, fresh taste, and a refreshing change from the same-old butter cookies that everyone seems to make this time of year.
Serve the shortbread with coffee or hot cocoa, or as part of a holiday dessert buffet. The shortbread hold up well for almost a week and make a great gift. The dough can also be tightly wrapped in foil and frozen for several months.
Makes about 6 dozen cookies.
Ingredients
4 sticks (2 cups) unsalted butter, at room temperature
1/2 cup powdered sugar
1/3 cup granulated sugar
1/2 teaspoon salt
4 cups flour, plus a bit more for pulling dough together
Zest of 3 Navel oranges
2 teaspoons grated (or very finely chopped) fresh ginger
1 teaspoon ground ginger
For topping: About 1/2 cup Demerara sugar, or coarse finishing sugar (optional)
Instructions
In a standing mixer fitted with the paddle attachment (or using a hand-held electric mixer), cream the butter with both sugars on medium speed until light and fluffy, 3 to 4 minutes, scraping down the sides of the bowl and the paddle, when necessary.
Meanwhile, whisk the remaining ingredients together in a mixing bowl. With the machine on low speed, add the flour mixture about a cup at a time, mixing between each addition until just combined and scraping the sides of the mixing bowl when necessary.
Place the dough on a clean surface lightly dusted with flour. Gently knead the dough until it comes together (it should feel sticky). Divide the dough in half. Working with one section at a time, shape the dough into logs about 1 1/2-inches in diameter. Wrap the dough in plastic or parchment paper, and refrigerate until very firm, at least 2 hours, or overnight. (The dough can also be well wrapped and frozen for up to 1 month. To bake, thaw at room temperature until warm enough to cut, and then bake as directed.)
Heat the oven to 300 degrees. Line two large baking sheets with parchment paper. Slice the dough logs into 1/4-inch thick pieces, and place the cookies about 3/4-inch apart on the baking sheets (one log should fill both baking sheets). Bake for 20 to 25 minutes, rotating the sheets from top to bottom and end to end halfway through baking, until the cookies are firm and just barely beginning to brown at the edges.
Remove from the oven and sprinkle with the Demerara sugar, lightly pressing down on the cookie to adhere. Let the cookies cool for 5 minutes on the baking sheets, then transfer them carefully to cooling racks to cool completely. Store in airtight containers, up to one week.
Variations
Substitute lemon or Meyer lemon for the orange
Add 1 tablespoon chopped crystallized ginger to the dough for a super ginger flavor
Andrea's Chocolate-Dipped Buttercrunch
My sister-in-law, Andrea Gunst, shared this buttercrunch recipe with me years ago and it has changed our holiday traditions forever. This is the stuff everyone begs for year after year — be sure to make multiple batches. Buttercrunch, a caramel coated in chocolate and ground nuts, keeps for over a week and makes a great gift.
You can double the recipe if you like, but if you want to make more you shouldn't try to multiply the recipe by three or four — simply keep doubling the recipe.
Serves 6 to 8 — but once you taste it, it's hard to stop!
Ingredients
2 sticks unsalted butter
1 cup sugar
1 tablespoon light Karo corn syrup
2 tablespoons water
2 large (about 7 or 8 ounce) chocolate bars*
About 1 cup very finely chopped walnuts or your favorite nut**
*Buttercrunch can be made successfully with regular grocery store milk chocolate or chocolate chips, but you can also splurge and use fabulous bittersweet or semi-sweet, 60-percent cocoa chocolate. The choice is yours.
**You can use walnuts, almonds, pecans, pistachio, or any type of nut but it must be finely chopped to adhere properly to the chocolate.
Instructions
Line a cookie sheet with a piece of well-greased aluminum foil.
In a medium saucepan, heat the butter, sugar, Karo syrup and water over a low heat, stirring frequently. The mixture will caramelize and is ready when it hits 290 degrees on a candy thermometer. Watch it carefully, particularly toward the end of the cooking process. It will take at least 15 to 20 minutes to reach 290 on low heat. The mixture can burn easily; reduce the heat to very low and stir constantly if it seems to be cooking too quickly or turning darker than pale golden brown.
When the candy hits 290 remove from the heat and carefully spread it out in an even layer on the sheet of greased foil. Spread with a spatula to make a fairly thin layer. Let cool and harden. (If you are really impatient you can place the cookie sheet outside in the cold in a protected place so it will harden more quickly.)
While the buttercrunch is hardening melt the chocolate in a saucepan over very low heat, stirring until smooth. IF you choose to let the buttercrunch harden outside or in a very cold spot you must bring it back to room temperature before spreading with the chocolate. If the buttercrunch is too cold the chocolate won't adhere properly.
When the buttercrunch is hard to the touch (you shouldn't feel any soft spots), use a soft spatula and spread a thin layer of chocolate over the entire thing. Sprinkle with half the nuts, pressing down lightly so they adhere. Again, if you are the impatient type, you can let the chocolate harden in a cold spot. The chocolate should be fully dry — no wet spots to the touch. Carefully remove the foil with the candy from the cookie sheet; place the cookie sheet on top of the foil and candy. Gently flip the candy over onto the cookie sheet and peel away the foil. Spread the remaining chocolate on top of the other side of the buttercrunch. Sprinkle with the remaining nuts, pressing down lightly. Let the chocolate harden and set in a cool spot.
When the buttercrunch is dry and hard break it into small pieces. You can keep it in a cool, dry tin or tightly sealed plastic bag for up to two or three weeks.
Snickerdoodles
from Here & Now executive producer Kathleen McKenna
As is often the case with family recipes, this recipe is, as Kathleen told Here & Now producer Emiko Tamagawa, "light on directions." Emiko used other snickerdoodle recipes as a reference in making her batch. All of her directions are in italics — you can use them as a guide if you wish.
Makes about 4 dozen cookies.
Ingredients
1 cup butter, softened
1 1/2 cups sugar
2 1/2 cups flour
2 teaspoons cream of tartar
1 teaspoon baking soda
1/2 teaspoon salt
2 large eggs
Cinnamon
Instructions
Heat the oven to 400 degrees.
Prepare the butter/sugar/egg mixture. (I creamed the butter and sugar together using a hand mixer for several minutes, then added the eggs one by one.)
Sift the flour, tartar, baking soda and salt and add to the butter/sugar/egg mixture. (I mixed in the flour mixture using a spatula, about a third at a time. Then I chilled the dough for several hours.)
Form cookie dough into balls, maybe a tad bigger than an inch across. Roll them in a mixture of white sugar and cinnamon. (I used equal parts sugar and cinnamon. Probably about 2 tablespoons each would do it — I used three and had leftover sugar-cinnamon. Make sure each ball is thoroughly covered.)
Place the cookies in the oven and bake until the edges start to brown. (About 10-12 minutes, depending on your oven.)
Brown Butter Chocolate Chip Hazelnut Lava Cookies
from Here & Now producer Savannah Maher
Ingredients
4 tablespoons Nutella or other hazelnut spread
2 1/4 cups of all-purpose flour
1 teaspoon baking soda
1 teaspoon salt
1 cup (2 sticks) unsalted butter
1 cup packed dark brown sugar
1/2 cup white sugar
2 teaspoons vanilla extract
2 eggs
3/4 cup semisweet chocolate chips
1/2 cup dark chocolate chips
Flaky sea salt, for sprinkling (optional)
Instructions
Start by scooping 24 half-teaspoon balls of Nutella onto a plate lined with parchment paper and putting them in your freezer.
While your Nutella balls are freezing, melt the butter in a saucepan with a light-colored bottom (so you can see when it starts to change color) over medium heat. Whisk consistently. When the butter is toasty brown and your kitchen begins to smell like a candy factory, transfer to a bowl to cool.
Mix the flour, baking soda and salt in a medium bowl and set aside.
In a separate bowl, mix the brown butter and sugars together until thoroughly combined. Beat in the eggs and vanilla.
Gradually mix the dry ingredients in with the butter/sugar mixture (about 1/2 a cup at a time) and then fold in the chocolate chips.
Scoop out 2 tablespoon balls of dough and lay them on a cookie sheet. Chill them in the fridge for at least two hours or, if you're feeling extraordinarily patient, overnight. They'll be chewier (rather than soft and doughy) and overall more delicious the longer you leave them in the fridge.
Flatten each chilled dough ball into a thin circle in your palm. Place 1 frozen Nutella ball at the center and fold the dough around it. Make sure the Nutella ball is fully contained to avoid the heartbreak of Nutella overflow. Place the dough balls on a greased cookie sheet about 2 inches apart.
Bake for 9-11 minutes at 350 degrees or until the edges of the cookies begin to turn golden brown. Sprinkle with a little sea salt, if desired. Let them cool. Enjoy!
---
Listeners and readers: Give us a hand!
Pictured below are two recipes for mandelbroit, or mandel bread, a traditional Jewish cookie similar to biscotti. Here & Now editor Eileen Bolinsky inherited them from her grandma Sarah. But, as a nonbaker, she's sometimes perplexed on how to follow them.
How would you go about tackling these recipes in your own kitchen? Help us decipher by leaving a comment on this post.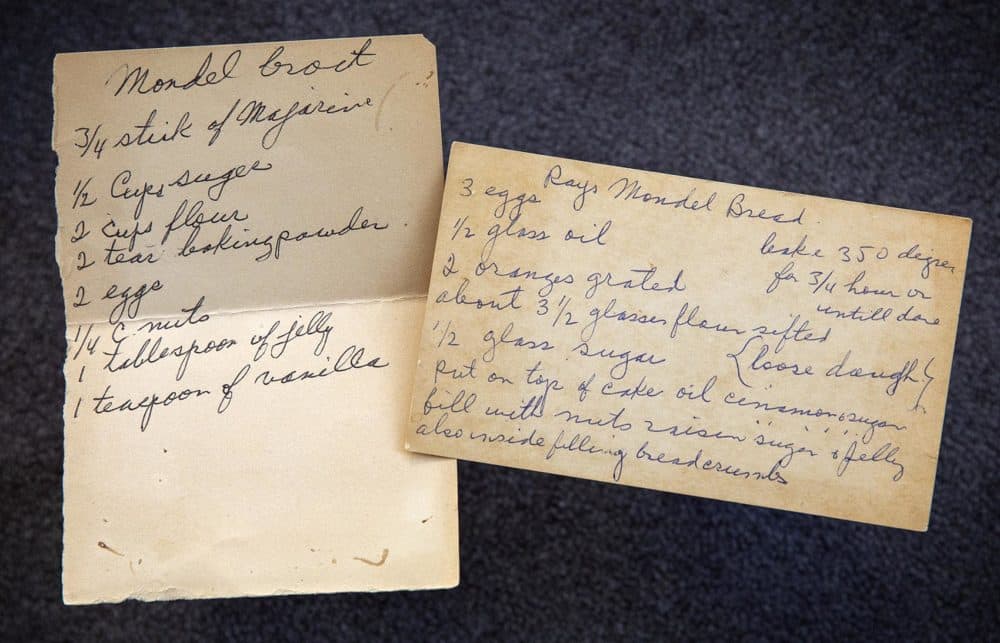 This segment aired on December 4, 2018.