'Could You Draw A Dot Within 50 Miles Of Your House?': Why The U.S. May Have A Geography Literacy Problem
Play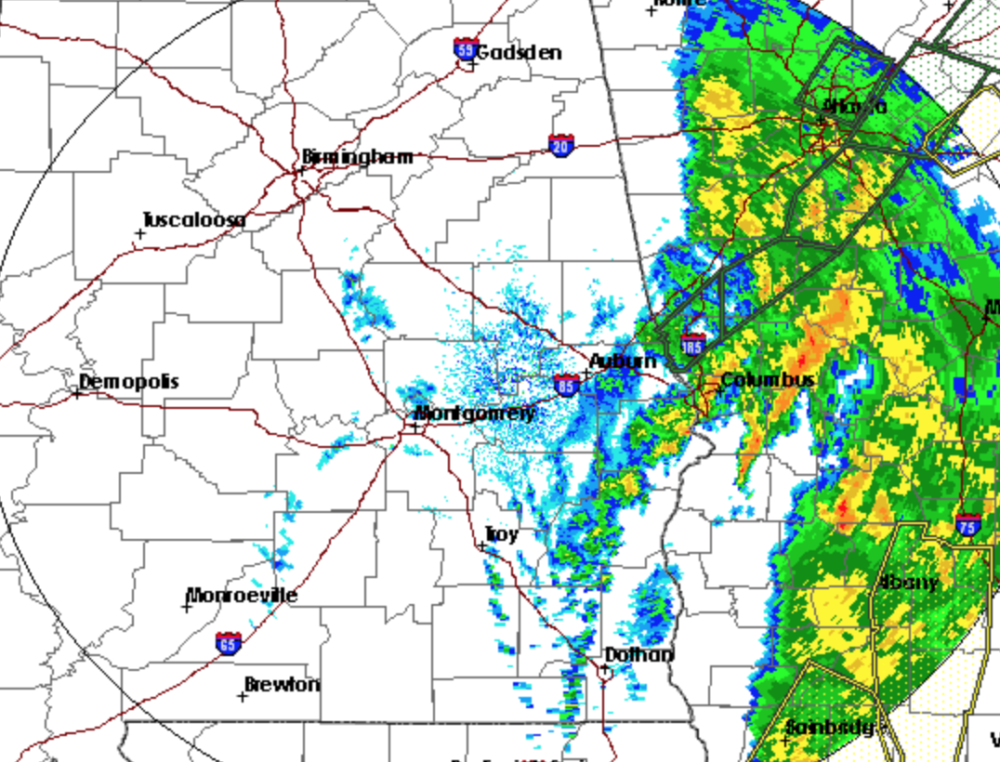 This article is more than 3 years old.
Severe weather brought strong winds and the risk of harsh storms to Alabama Thursday night. When these kinds of weather events happen, there is usually fair warning by local meteorologists, who stand in front of a regional map and explain what to expect and where.
Maps are crucial to understanding severe weather threats to various areas — but what good are they if viewers can't read them?
According to one frustrated Birmingham weatherman, James Spann, the U.S. has a geography literacy problem. Spann, chief meteorologist at ABC 33/40, asked on air, "If I were to give you a blank map with no labels, no highways, just county lines and state lines, could you draw a dot within 50 miles of your house?"
As an experiment, Spann visits rotary clubs and other venues near him to ask adults this same question. The answers have been cloudy.
"I would give them a blank map with county lines and state lines, and I would say put a dot within 50 miles of your house," Spann (@spann) tells Here & Now's Jeremy Hobson. "In most every situation, at least 60, 70 percent could not do it."
Spann started to notice a few years ago that many people didn't understand their local maps. After posting weather maps to social media, he would see 20 to 30 comments from users expressing similar confusion. Their messages would start with the phrase, "What about," followed by the name of their town.
"If you can't identify where you live on a map, you're just in big trouble."

James Spann
" 'What about Clanton? What about Rockford? What about Hamilton? What about Winfield?' And I'm thinking, 'What is this?' " says Spann. "In my opinion, a third-grader or a second-grader should be able to easily pick out where they are and understand what we're trying to communicate."
Spann thought there was something technically wrong with the maps he was posting. But after getting the help of a group of social scientists, he found that most people just can't find their house on a map.
This is a dangerous problem, he says. A significant number of Americans live in tornado-prone areas, and others may be dealing with different environmental threats, like flooding, earthquakes or tsunamis.
"First thing you're going to see when there's a major earthquake are the maps coming from NOAA [National Oceanic and Atmospheric Administration] indicating the tsunami waves and the approximate arrival times," says Spann. "If you can't identify where you live on a map, you're just in big trouble."
A large part of the problem is smartphones, which have GPS systems that give turn-by-turn directions. People don't need maps anymore, he says. So, it is especially encouraging to him when he sees educators teaching children about basic geography.
"I have had countless photographs of second-grade classes and third-grade classes where the kids are showing, 'This is where I live. I'm pointing to it,' " he says. "At least this conversation can spark some interest perhaps in those that are teaching our children, where they really do need some map skills coming out of school."
---
Ciku Theuri produced this interview and edited it for broadcast with Todd Mundt. Jackson Cote adapted it for the web.
This segment aired on April 19, 2019.