Give Peas A Chance: Recipes For Cooking This Deliciously In-Season Legume
Resume
Peas are in season in many parts of the country. Here & Now resident chef Kathy Gunst has three dishes that celebrate peas, and she brings them to share with hosts Jeremy Hobson and Robin Young.
---
Fresh Pea And Spinach Pizza With Pea Sprouts
This white pizza features sautéed fresh spring spinach and peas in two ways: fresh English peas are baked onto the pizza for the last few minutes and tender pea sprouts (or pea tendrils) are scattered on top of the finished pizza.
Serves 2.
Ingredients
1/2 pound pizza dough, homemade or store bought
1 tablespoon olive oil, plus 2 teaspoons
1 cup fresh spinach
Salt and freshly ground black pepper
4 ounces fresh mozzarella, thinly sliced
1/2 cup grated Parmesan cheese
1/3 cup fresh shelled English peas
1/3 cup pea shoots or pea tendrils
Instructions
Heat the oven to 500 degrees. Place a pizza stone in the center of your oven if you have one.
On a floured work surface, roll out the dough about 10 inches by 6 inches. Place the pizza on a wide paddle or spatula or on a cookie sheet if you don't have a pizza stone. Rub 1 teaspoon of oil over the pizza dough.
In a medium skillet, heat the 1 tablespoon oil over moderately high heat and add the spinach, and salt and pepper to taste. Cook about 3 minutes, or until just wilted and soft. Remove from the heat.
Scatter the mozzarella slices over the pizza dough. Place the spinach on top of the cheese and sprinkle with half of the Parmesan cheese. Place on middle shelf and bake 5 minutes. Remove the pizza and scatter on the peas and the remaining Parmesan cheese. Bake another 3 to 6 minutes (depending on how hot your oven is), or until the cheese is bubbling and the dough is golden brown and slightly puffed. Remove from the oven and scatter the pea shoots on top and then drizzle with the remaining teaspoon of oil.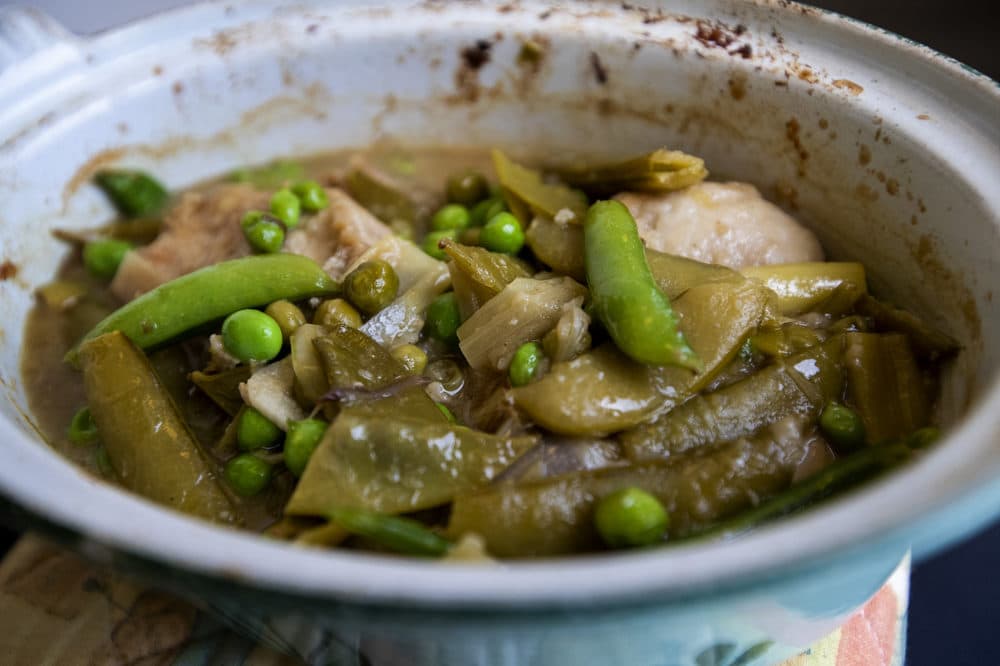 Braised Chicken With Leeks And Peas Three Ways
Snow peas, snap peas and English peas flavor this braised chicken dish. I like to use chicken thighs but you can easily use any cut of chicken you like. Serve with potatoes, rice or crusty bread.
Serves 4.
Ingredients
3/4 cup flour
Salt and freshly ground black pepper
1 pound chicken thighs
2 tablespoons olive oil
1 large leek, dark green section cut off and discarded, light green and white section cut lengthwise, washed, dried and cut into 1/2-inch pieces
2 cloves garlic, thinly sliced
1 cup snow peas, cut into 1/2-inch pieces
1 cup snap peas, stringed and left whole
1 cup pea stock or vegetable or chicken stock
1/2 cup dry white wine
1 tablespoon butter
1 cup fresh English peas or frozen (if using frozen you do not need to thaw)
Instructions
Place the flour, salt and pepper on a plate and lightly dredge the chicken pieces in the seasoned flour.
Heat a tablespoon of the oil in a heavy skillet over moderately high heat and, working in batches and not crowding the skillet, brown the chicken, about 3 minutes per side. Remove and place in a medium casserole dish.
Reduce the heat to low and add the remaining tablespoon of oil. Add the leeks, and garlic and cook 4 minutes. Add the snow peas and snap peas, salt and pepper to taste and cook, stirring, 2 minutes. Raise heat to high. Add wine and stock and bring to a boil. Reduce the heat to low, add the browned chicken pieces and cook 5 minutes, or until slightly thickened. Remove from heat and add butter and half the fresh or frozen peas and cook 1 minute and pour over chicken.
Heat the oven to 325 degrees. Bake for 45 minutes to an hour, or until the chicken is cooked through. Remove and stir the remaining 1/2 cup fresh or frozen peas into the hot chicken.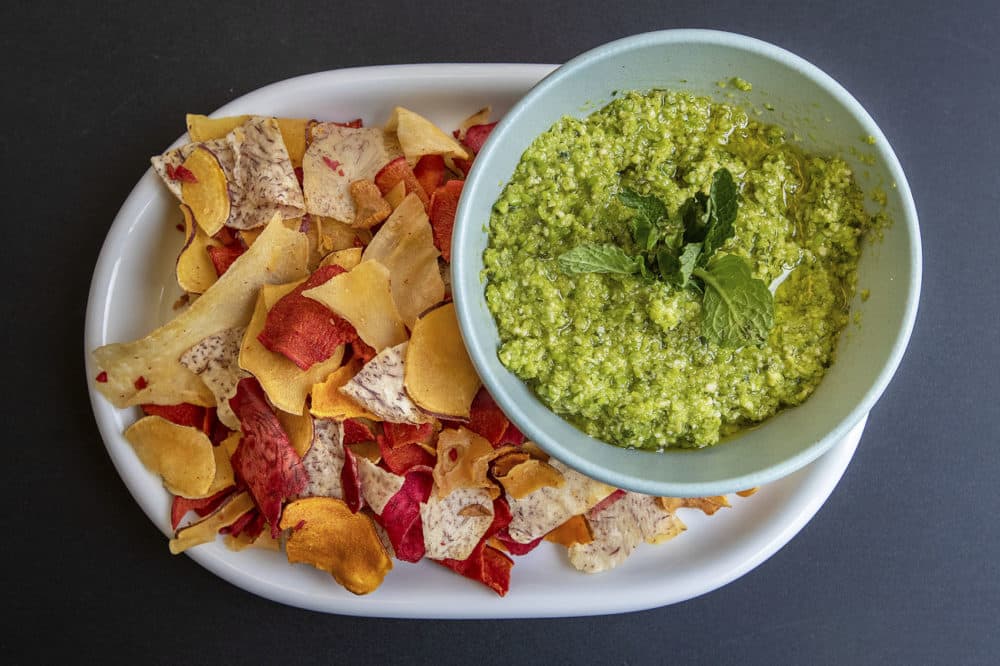 Pea Pesto
Instead of basil or other herbs, this simple, refreshing pesto uses fresh English peas mixed with fresh mint. Spread the pesto on thick slices of lightly grilled or toasted bread, as a topping to grilled fish or meat or vegetables, on pasta, or rice dishes or as a dip with raw vegetables. Don't make the pesto more than a few hours ahead of time.
Although you can use frozen peas, you won't get the sweet flavor and the vibrant green flavor.
Makes about 1 1/2 cups.
Ingredients
1 1/2 cups shelled English peas ( fresh or frozen and not thawed)
2 tablespoons fresh mint
1/3 cup olive oil, plus 1 tablespoon
Salt and freshly ground black pepper
1/3 cup grated Parmesan cheese
Instructions
In the bowl of a food processor, pulse the peas several times. Add the mint and pulse. Slowly add the oil, then season with salt and pepper to taste and puree until chunky and almost smooth.
Transfer the pesto to a bowl and stir in the cheese. Season to taste.
Summer Pea And Lettuce Soup
You can make the soup a day ahead of time and reheat it just before serving. The soup can be served hot or cold with a drizzle of heavy cream, sour cream, or yogurt, and a sprinkling of fresh chives. It can also be frozen for up to three months.
Serves 6 to 8.
The Pea Broth
2 pounds shelling peas, also called English peas
6 cups water or chicken broth
1 onion, chopped
6 peppercorns
Salt
The Soup
1 1/2 tablespoons olive oil
2 sweet Vidalia onions, chopped
Salt and freshly ground black pepper
1/4 cup chopped fresh chives
1 bunch tender lettuce, cored, and well washed and dried
Heavy cream, optional
Instructions
Shell the peas. Place the shells in a large pot and place the shelled peas in a small bowl and set aside. Sure, go ahead, eat a few.
Make the broth: In the large pot with the pea shells, add the water or broth, onion, peppercorns and a hefty sprinkling of salt. Bring to a boil, reduce the heat to low, and let simmer, slightly covered, for about 1 hour. The broth should be sweet and taste of peas.
In another large pot, heat the oil over low heat. Add the onions, salt, and pepper and cook, stirring occasionally, for 15 minutes, or until the onions are soft and a pale golden color. Add the peas and half the chives and cook, stirring, for 5 minutes.
Strain the broth over the peas and onions and raise the heat to high. Bring to a boil, reduce the heat, and let cook, uncovered, for 15 minutes. Taste the broth — if it tastes weak cook another 10 minutes. Add the lettuce and cook 5 minutes. Remove from the heat and let cool about 5 minutes. Working in a blender or food processor, puree the soup. Return to the pot and cook over moderate heat for about 10 minutes, or until slightly thickened and flavorful. Season to taste.Serve hot with a sprinkling of the remaining chives and a drizzle of cream, if desired.
Optional Additions
Add 2 chopped scallions to the pea broth
Top with a sprinkling of garlic scapes
This segment aired on June 4, 2019.