Hard Seltzer Spikes In Popularity
Play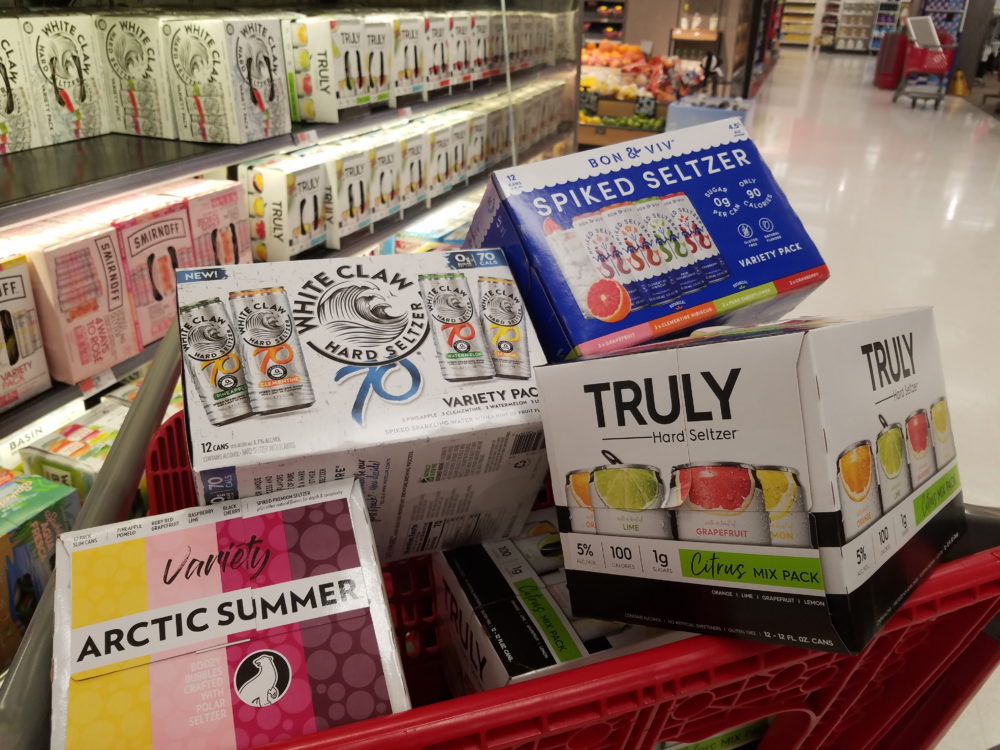 This article is more than 3 years old.
Demand for hard seltzer has spiked so high over the past year that liquor stores nationwide have run out of one popular brand of the boozy, bubbly beverage.
Millennials across the country are freaking out about a shortage of White Claw Hard Seltzers, a 100-calorie fizzy drink that contains 5% alcohol. White Claw owner Mark Anthony Brands, which also makes Mike's Hard Lemonade, introduced the product only three years ago.
The shortage speaks to a major trend in the alcohol market: American spending on hard seltzer has spiked 210% from the previous year, according to data from Nielsen Holdings.
This is an even bigger hike than the 177% growth Nielsen reported a year prior.
White Claw, Sam Adams' Truly Hard Seltzer and other spiked seltzers get their alcoholic kick from malt, which is also used to brew beer because it's taxed less than liquor, says Craig Giammona (@SitkaWriter), business reporter for Bloomberg News.
Seltzer companies face the challenge of covering up the beer taste from the malt without making the drink too sweet, he says. Some seltzers, like White Claw, are even gluten-free.
"People are counting calories and questioning what they put in their bodies," he says. "And spiked seltzer is definitely benefiting from the fact that it's low in carbs and low in calories."
In 2015, spiked seltzer was only a $3 million business compared to $550 million in 2018, he says.
Nielsen reports White Claw is the top-selling brand of hard seltzer and accounted for 55% of total sales in the category this July Fourth weekend, according to industry publication Brewbound.
White Claw coupled with Truly account for 85% of total hard seltzer sales, Nielsen reports.
But Giammona questions whether consumers will stay loyal to these two dominating brands as more companies come out with similar products.
Truly and White Claw are taking market share from beer giants such as Bud Light, Coors Light, Miller Light, Giammona says.
"You've seen people kind of gravitate towards these drinks that maybe they think taste a little better than beer," he says. "Beer really is the loser here in all of this."
Giammona thinks the spiked seltzers could have long-term consequences for the beer market since young people gravitating toward these more-palatable products might never grow to love the taste of beer.
Beyond booze, the hard seltzer trend isn't just driven by a drive to get drunk in as few calories as possible⁠ — data shows Americans are loving non-alcoholic sparkling water, too.
Sparkling water sales grew by 54% from 2017 to 2018, Nielsen reports. Americans spent $2.2 billion on sparkling water during that period.
Outside the U.S., Nielsen reports Canadians are spending 21% more on sparkling water than Americans.
---
Ciku Theuri produced and edited this interview for broadcast with Todd Mundt. Allison Hagan adapted it for the web.
This segment aired on September 11, 2019.