Parkinson's Disease Is A Movement Disorder. One Way To Fight Back Is Exercise
Resume
Randy Devitt, 63, noticed something strange going on with his left hand about 14 years ago.
Since high school, Devitt had been playing the Vince Guaraldi song, "Linus and Lucy" from "A Charlie Brown Christmas" on piano, but suddenly his left hand couldn't keep up with the rolling notes in the lower register.
Around the same time his left hand began slowing down, he injured his back playing soccer.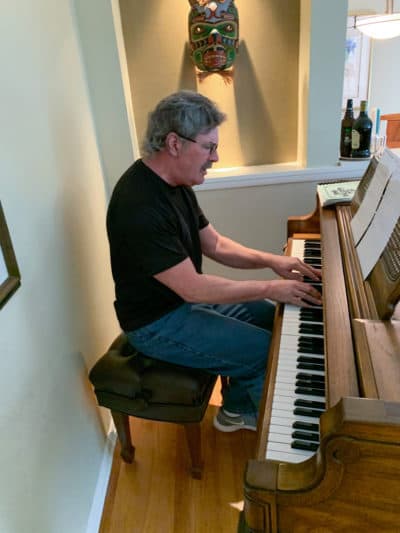 Both ailments prompted a series of visits to the doctor — and two years of uncertainty about what exactly was causing the trouble. For a while, doctors thought Devitt's stiffness and difficulty moving were related to his back injury, even though no treatment seemed to improve his symptoms.
It wasn't until a visit to the neurologist, purportedly to examine nerve function in his left hand, that Devitt received a definitive diagnosis, out of the blue.
"Your nerves are fine," he recalls the doctor telling him. "You have Parkinson's."
Parkinson's is a neurologic disease that affects 1 million Americans and 6 million people around the world. It's a movement disorder that occurs when the brain cells that make dopamine — a neurotransmitter that helps to coordinate movement — cease working. There's no cure for Parkinson's and patients' symptoms get progressively worse over time.
Devitt had a difficult time accepting his diagnosis. He worried how it would affect his work as a member of the Seattle Fire Department, and so for six years, he kept his diagnosis a secret from almost everybody, including his colleagues.
"It was a rough couple of years, those first couple of years," he says. "Mainly because all I could think of was how soon until I can't do this, I can't do that."
There are drug therapies available for Parkinson's, but one of the more effective treatments is exercise. It sounds counterintuitive — and almost cruel — that one of the best ways to combat a movement disorder is to move, but research shows that regular, vigorous exercise can help Parkinson's patients improve their quality of life while slowing the progression of the disease.
Devitt, a life-long athlete, is well suited to this treatment. At least a couple of times a week, he exercises with Nate Coomer, 37, at the Parkinson's Fitness Project, a gym that serves all Parkinson's patients. Coomer, a physical therapist who founded the Project, operates three gyms in Seattle, in addition to connecting hundreds of people through online workouts.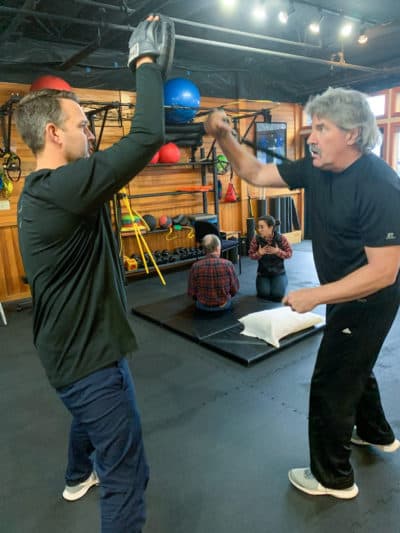 What's unique about Coomer's approach is how he combines physical movement with cognitive exercises. An example: in one workout session, he coaches Devitt to slam an 8-pound medicine ball into the ground, while shouting every other letter of the alphabet with each repetition. It works Devitt's core, his brain (skipping letters, A, C, E, G, is challenging) and his vocal cords, which are also affected by Parkinson's.
"Once they are done with an intensive exercise," says Coomer, "they have this boost of the ability to use dopamine better in their brain. They feel like they're able to process quicker, move faster, move bigger."
Coomer works with a client population who will inevitably become worse over time. But instead of thinking about all the things his patients are losing, he stays focused on what they can still do.
"When Randy's in here, he can move in so many dynamic ways. He can do so much," Coomer says. "I see the potential he still has. I mean, I see a guy that motivates me."
Devitt will retire from the Seattle Fire Department at the end of March after 30 years of service. In retirement, he's planning to spend a lot more time making music with his friends. He has recording equipment in his basement and a baby grand piano in his living room.
Fourteen years into his Parkinson's diagnosis, Devitt says he doesn't regret all the physical things he can't do now, because he's happy to have done them.
"I got a lot of really good miles out of this body," he says.
---
Cloe Axelson's story about fireman Randy Devitt was created at the Transom Traveling Workshop at KUOW in Seattle.
This segment aired on March 13, 2020.