'There's No Backup': Single Moms On Quarantining With Kids
Play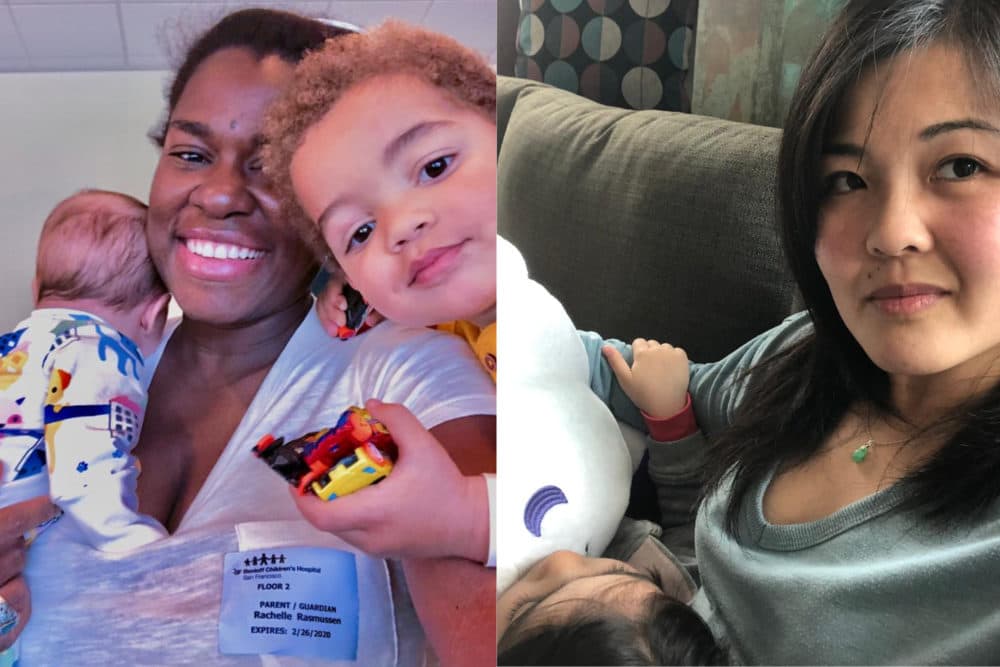 This article is more than 2 years old.
I started taking the pandemic seriously when schools closed. I've never seen day-to-day life change so drastically for so many Americans.
Friends began posting pictures with their kids online, with #homeschooling. I couldn't help but wonder: How the hell would a single mom juggle everything in this new normal? It feels untenable.
I'm not raising kids so I reached out to single moms in the Bay Area area to find out. Call it morbid curiosity, but it's also a study in human resilience.
Two moms agreed to keep regular audio diaries during the first three weeks of the regional shelter-in-place orders. Rachelle Rasmussen, 39, lives in Santa Clara, California, with her sons, ages two and three months. She's nursing both of them.
Trained in accounting, she left her job to raise the children while her husband worked. That plan fell apart last summer when, in her first trimester of pregnancy, he physically attacked her. They separated after the domestic violence incident.
"The man who was supposed to be my rock became the rock that instead shattered me," she says.
In one of her audio diaries, Rasmussen put her specialized bike on Facebook Marketplace in hopes of selling it. She had bought the bike new for $1,300 and listed it for $600 — but interested buyers only offered her $300.
In another, she chronicles taking a nap with her kids and driving to a friend's house to pick up hand sanitizer.
One day, Rasmussen felt a tear roll down her cheek though she wasn't sure why.
"I think it's because I was kind of missing my husband in a way," she says. "At the same time, I was just sad for his choice to do what he did. But I think I'm strong, a strong woman."
Tracy Dooley, 38, lives in Berkeley, California, with her daughter, who is in kindergarten. Dooley went to medical school at Stanford University but she decided to not practice medicine. Now, she's an investor, funding women in health.
On a recent Zoom call for work, her daughter's head poked into the screen — with a tiara on. The CEO of the company and others on the call were kind about it, she says.
"They all have kids who are much older so they remember these days, too," she says. "But it's just you know, this is kind of our new normal."
Her husband died in a tragic car accident five years ago. He may have fallen asleep while driving. During the COVID-19 quarantine, she feels like she's lost her best friend all over again.
"You're up at two in the morning in the middle of the night, and your kid is crying about how her father's dead," she says in one of her audio diaries. "And there's nothing you can say. And it sucks and it hurts."
Through sleep deprivation and health scares, these single moms reveal what it's like to take on quarantine alone. Having an identity outside of motherhood, they say, is key to survival.
The United States has the world's highest rate of children living in single-parent households, according to a Pew Research Center study of 130 countries.
In the back of her mind, Dooley thinks about how she can't cut herself or injure herself because there isn't anyone to drive her to the emergency room.
"There's no backup. You as a single parent, you're it. The buck stops with you," she says. "If something happens to me, what happens to [my kid]?"
It's a great question, one that hasn't received serious policy consideration.
---
This story was produced in partnership with NPR and The Fuller Project, a journalism nonprofit that reports on global issues impacting women.
Cassady Rosenblum produced and edited this interview for broadcast with Tinku Ray. Aarti Shahani adapted it for the web.
This segment aired on April 10, 2020.