A Bunch Of Banana Recipes From Chef Kathy Gunst
Play
This article is more than 3 years old.
Bananas are inexpensive, available year-round, and can be bought almost everywhere (yup, even in your gas station quick mart). Plus, they are good for you with loads of magnesium and potassium.
When it comes to cooking with bananas most people don't think beyond a pie. But bananas have many possibilities. There are banana splits, cream pies, breads and pudding — but have you thought about pancakes, muffins, fruit salads, savory avocado and banana salads, sautéed with shrimp or pureed into a smoothie?
There are over 500 types of edible bananas that grow throughout the world but in American supermarkets, we tend to see the Cavendish variety. Keep your eyes open for unusual varieties of bananas; they add new flavor, texture and sweetness to recipes. Red bananas (the peel is reddish and the fruit is a touch sweeter than regular old Cavendish) are well worth seeking out.
Double Fried Plantains With Sea Salt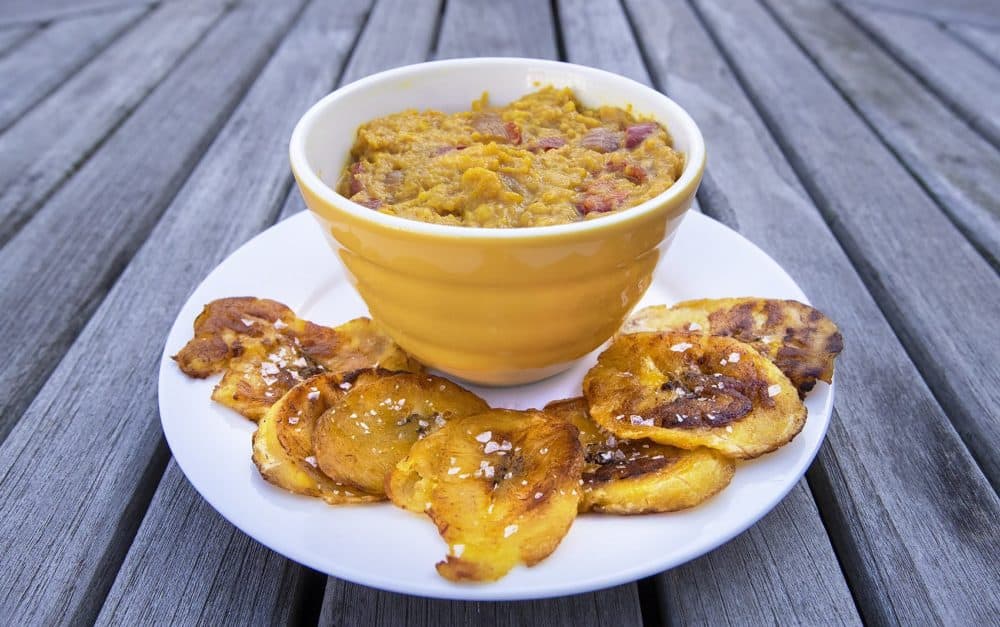 Plantains are members of the banana family, but they are starchier and lower in sugar, which means that when they are ripe, they will still be green in color. Plantains aren't usually eaten raw because of the high starch content. They are used throughout Caribbean, African and Latin countries. In India, plantains are used more like a vegetable than a fruit.
The plantain is cut and then sautéed in vegetable oil, drained, smashed, fried again and then sprinkled with coarse sea salt. Better than potato chips? Maybe. Try it with the banana ketchup.
Serves 2 to 4. Double or triple the recipe to serve a crowd.
Ingredients
1 plantain, yellow with black streaks, but not overly ripe
About 1 1/2 tablespoons vegetable oil
Coarse sea salt, like Maldon
Banana ketchup, see recipe below
Instructions
Peel the plantains and cut into 1 inch pieces on the diagonal.
Heat 1 tablespoon of the oil in large skillet over moderately high heat. Add the plantain slices and cook about 1 to 2 minutes per side, until just turning golden brown and softening. Remove and place on paper towel to drain. Place the drained plantain slices on a piece of wax paper. Cover with a second piece of wax paper. Using a meat pounder or a bottle of wine, gently pound the plantain slices until flattened; don't go nuts. Carefully remove the top sheet of wax paper.
Heat the oil in the skillet and the remaining 1/2 tablespoon oil over moderately high heat. Add the flattened plantain slices and cook about 1 minute per side. Drain on paper towel and sprinkle with sea salt. Serve hot with banana ketchup.
Banana Ketchup
A Filipino-based recipe that combines mashed bananas with ginger, garlic, red onions, turmeric and rum. This is a delicious sauce to serve with fried plantains, turkey burgers, cheese plates and chips.
Makes about 2 cups.
Ingredients
1 1/2 tablespoons vegetable oil
1 cup finely chopped red onion
2 cloves finely chopped garlic
1 1/2 tablespoons finely chopped ginger
1/2 teaspoon turmeric
1/4 teaspoon allspice or cinnamon
Dash chile powder
1 small chile pepper, seeded and finely chopped (or keep seeds if you like it spicy)
Salt and freshly ground black pepper
4 ripe bananas (2 regular and 2 red bananas if you have them), mashed
1/3 cup apple cider vinegar
2 tablespoons rum or dark rum
1/3 cup light brown sugar
Instructions
In a medium saucepan heat the oil over low heat. Add the onions and cook, stirring for 4 minutes. Add the garlic and ginger and cook for 1 minute. Add the turmeric, allspice, chile powder, chile pepper, salt and pepper and cook 1 minute. Add the mashed bananas, vinegar, rum and sugar and cook, stirring, for 6 minutes. Remove from the heat; taste for seasoning. Add salt, pepper, or chile powder to taste. Let cool and keep in a tightly sealed container for up to 10 days.
Coconut-Rum Banana Bread
Why bake regular old banana bread when a nice punch of rum and coconut make it even better? The bread will keep in the refrigerator for about five days and can be frozen for a month.
Serves 8 to 10.
Ingredients
½ cup unsweetened coconut chips or coconut flakes plus 2 tablespoons, divided, (see note below)
1½ cups mashed very ripe bananas (about 3 medium)
2 large eggs
⅔ cup canola oil or melted coconut oil
⅔ cup packed light brown sugar
¼ cup dark or light rum or pineapple juice
2 tablespoons unsalted butter, melted
½ teaspoon pure vanilla extract
2 cups white or whole-wheat flour, or 1 cup of each
1½ teaspoons baking powder
½ teaspoon salt
¼ teaspoon baking soda
¾ teaspoon ground ginger
Note: Look for thin flakes of dried unsweetened coconut called coconut chips in the produce section or near other coconut in large supermarkets and natural-foods stores. To toast: Place coconut chips or flakes in a small dry skillet over medium-low heat and cook, stirring constantly, until light brown in spots, 4 to 8 minutes.
Instructions
Preheat oven to 350°F. Coat a 9-by-5-inch loaf pan with cooking spray. Toast ½ cup coconut. Whisk bananas, eggs, oil, brown sugar, rum (or juice), butter and vanilla in a large bowl. Fold in toasted coconut. In another bowl, whisk the flour, baking powder, salt, baking soda and ginger. Stir into the wet ingredients until just combined. Pour the batter into the pan and sprinkle the 2 tablespoons coconut on top. Bake until a toothpick inserted in the center comes out clean, 50 minutes to 1 hour. Let cool in the pan for 10 minutes, then transfer to a wire rack to cool completely.
Buttermilk Pancakes With Maple-Glazed Bananas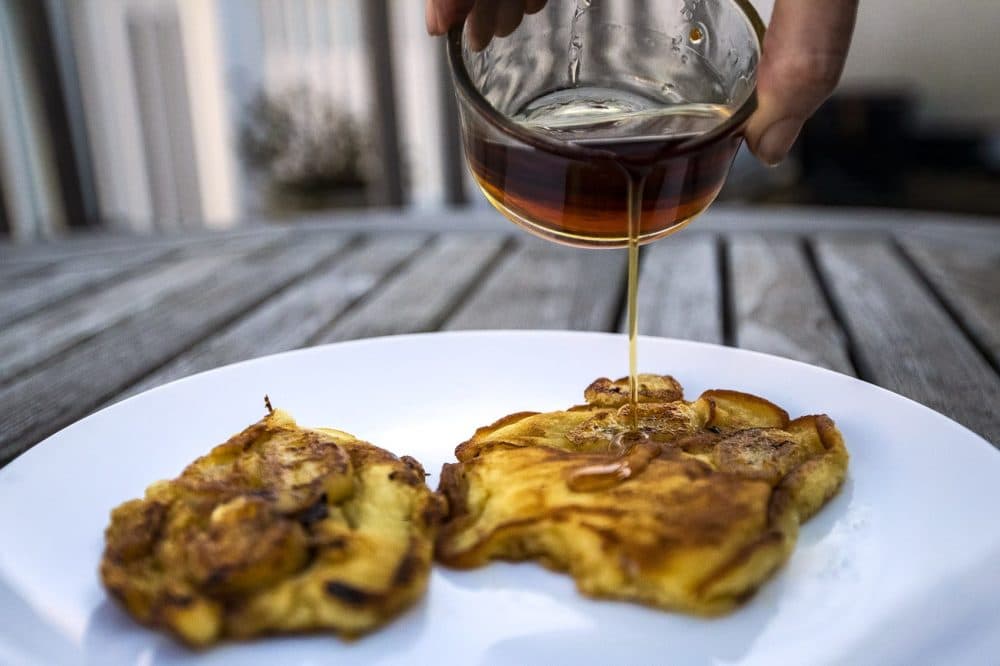 The pancake batter can be made a day ahead of time. Serve with maple syrup.
Serves 4.
Ingredients
For the pancake batter:
1⅓ cups all-purpose flour
1 1/2 tablespoons sugar
1 teaspoon baking powder
1 teaspoon baking soda
1 teaspoon salt
2 large eggs
1¼ cups buttermilk
1 1/2 tablespoons maple syrup
1/4 teaspoon ground cinnamon
2 tablespoons unsalted butter, melted, plus more for greasing the skillet or griddle
Vegetable oil
Maple syrup for serving
For the maple-glazed bananas:
1 tablespoon butter
2 ripe but not overly ripe bananas, cut into ½- inch pieces
1/8 teaspoon ground cinnamon
2 to 3 tablespoons maple syrup
Instructions
Whisk flour, sugar, baking powder, baking soda, and salt in a large bowl. In a separate bowl, whisk eggs, buttermilk, maple syrup, cinnamon and melted butter in a medium bowl; gently stir into dry ingredients until just combined (no worries if there are a few lumps) being careful not to overmix the batter.
Make the bananas: in a medium skillet heat the butter over moderate heat. Add the bananas and sprinkle with half the cinnamon. Cook 1 minute. Gently flip the bananas over, sprinkle with the remaining cinnamon and cook 30 seconds. Raise the heat to moderately-high and add the maple syrup; cook 1 to 2 minutes or until the syrup bubbles up and caramelizes the bananas.
Heat a griddle or large skillet over medium heat; brush with melted butter and or oil. Working in batches, scoop ⅓-cup of batter onto griddle. Add 2 to 3 slices of the bananas (along with any maple syrup from the bottom of the skillet) and cook pancakes until bottoms are golden brown and bubbles form on top, about 3 minutes. Flip and cook until cooked through and other side of pancakes are golden brown, about 2 minutes longer. Keep the pancakes warm in a 200 degree oven and repeat, adding more melted butter and or oil if needed.
Serve pancakes with maple syrup.
---
Emiko Tamagawa produced and edited this interview for broadcast.
This segment aired on May 5, 2020.