Quick, Make-Ahead Meals And Snacks For Back To School
Play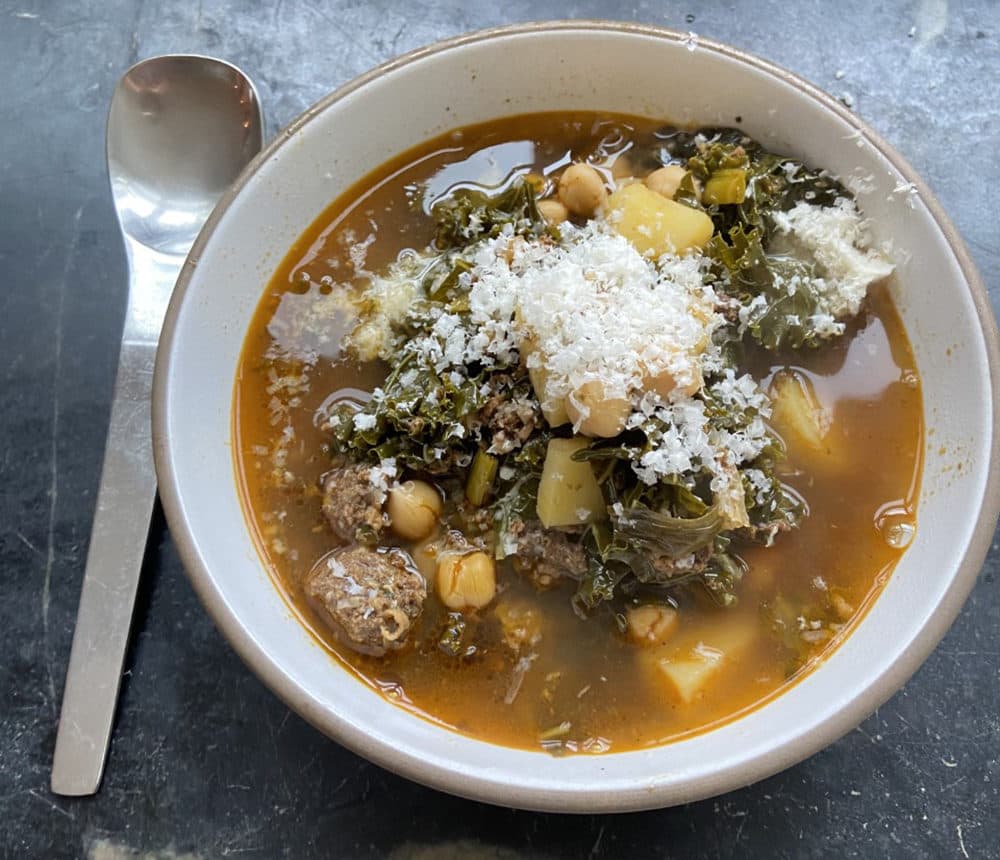 This article is more than 2 years old.
September signals the winding down of summer. Back to school (in person or virtual), work demands and increasingly busy schedules mean less time for meal planning and being with your family together at the table.
What follows are some ideas for quick, yet satisfying, make-ahead meals for busy school nights and days. A quick snack or breakfast? Check! Granola bars are so much easier to make than you might think, and they are great for grabbing in the middle of a work or school day for a pick-me-up energy boost. A soup that is hearty enough to act as a meal? A kale-chorizo-potato-bean soup is your answer. And a quick one-pan meal — chicken, carrots, potatoes and broccoli, roasted in one pan topped with honey, oregano and vinegar — means dinner is ready in less than an hour with only one pan to clean. And a super satisfying pasta casserole with small meatballs, mozzarella and tomato sauce can be made a day ahead of time and popped in the oven 30 minutes before you eat.
See, you can do it. Planning ahead and keeping it simple might be the answer.
Granola Energy Bars

Not only are these bars great to have around for a quick, grab-and-go snack, but they can be crumbled onto your morning yogurt and fruit. Packed with nuts, seeds, dried fruit and oats, keep the bars in a tightly closed container for kids to grab for a snack or an energy pick up during your workday.
Makes about 20 to 24 bars.
Ingredients
Vegetable spray for pan(s), optional
3 cups rolled oats
1 cup coarsely chopped nuts, almonds, walnuts, or pecans, etc.
1/2 cup coarsely chopped dried apricots
1/2 cup raisins or golden raisins
1/4 cup roasted sunflower seeds (with or without salt)
¼ cup flax seed, optional
¼ cup white sesame seeds
1 ½ teaspoons ground cinnamon
1 ½ teaspoons ground ginger
½ cup canola oil
3/4 to 1 cup maple syrup or honey, depending on how sweet you want the bars to be
Instructions
Preheat the oven to 300 degrees. Line two rimmed cookie sheets with parchment paper and spray with vegetable oil, or use one large sheet pan, 17 ½ by 12 ½ inches.
In a large bowl, mix together the oats, nuts, apricots, raisins, sunflower seeds, flax seeds (if using), sesame seeds, cinnamon and ginger. Add the oil and maple syrup and stir well to coat all the ingredients. Place in the prepared tray(s) or sheet pan and using the back of a wide metal spatula, press the mixture down into a compressed and even layer. Bake for 15 minutes and, rotate the sheets or pan. Using the spatula, press down the mixture again to make sure it is compact and even. Bake for a total of 40 to 45 minutes, or until the mixture is golden brown and looks cooked through.
Remove from the oven and let cool for 15 minutes. This is a precise time because you want the granola to cool somewhat and not be too hot, but you don't want it to cool too much. Using a sharp knife, cut the granola into 20 to 24 bars (depending on how big or small you want them to be) and let cool. Remove carefully (once you have the first bar out of the pan the others will be easy to cut and remove.) The bars will keep in a tightly sealed tin or plastic container at room temperature for 5 to 7 days. Unfortunately, the bars don't freeze well.
Portuguese-Style Kale, Chorizo And Chickpea Soup

Thick and hearty, this soup functions as a full meal. You can use any type of kale, Swiss chard or spinach in this soup, but I prefer Tuscan kale or dinosaur kale. And feel free to substitute white beans for the chickpeas. Serve with a salad and warm bread or rolls.
The soup can be made 2 to 3 days ahead of time and covered and refrigerated, or it can also be frozen for up to 3 months.
Serves 4 to 6.
Ingredients
1 1/2 tablespoons olive oil
15 ounces chorizo or spicy or mild Italian sausage, removed from the casing (simply cut off the end and squeeze the sausage out of the casing)
1 large leek, the pale green and white section only, washed and cut into thin slices, or 1 cup chopped onion
Salt and freshly ground black pepper
2 garlic cloves, chopped
8 ounces potatoes, peeled and cut into 1/2-inch pieces
10 ounces kale, center rib and stems remove and finely chopped, or spinach or Swiss chard
6 cups chicken or vegetable stock
15 ounces canned chickpeas or white beans, drained, washed and drained again
About 1/2 cup grated Parmesan cheese
Instructions
In a large soup pot heat the oil over medium heat. Add the sausage and cook, stirring, for about 5 minutes or until beginning to brown. Reduce the heat to low and add the leeks (or onions), salt and pepper and garlic, and cook, stirring, for 5 minutes. Stir in the potatoes and cook 2 minutes. Stir in the kale, working in batches, and cook another 2 minutes. Raise the heat to high and add the stock; bring to a boil. Reduce heat, add the chickpeas or beans, and let simmer, covered, for about 20 to 30 minutes. The soup is ready when the kale and the potatoes are cooked and tender. Taste for seasoning. Serve hot with the grated cheese on top.
One-Sheet Pan Dinner
Chicken, Potatoes, Carrots and Broccoli

Putting dinner together is about to get a whole lot easier. Using a large sheet pan or two smaller cookie sheets a whole dinner is roasted together — chicken, potatoes, broccoli and carrots seasoned with olive oil, lemon juice, balsamic vinegar, oregano and honey. It makes a simple sweet and sour sauce right in the bottom of the pan.
Prepare everything ahead of time and pop the tray in the oven about an hour before you're ready to cook. You can also precook the dinner and then reheat it for 10 minutes or so at 375 degrees.
You can easily double or triple the recipe and use several cookie sheets or roasting pans.
Serves 2 adults or 4 children.
Ingredients
1 pound chicken (I used 4 thighs)
1 pound potatoes, cut into quarters, or small baby new potatoes left whole or cut in half if on the larger side, peeled or unpeeled
8 ounces carrots, peeled and left whole if thin and small or cut in half or quarters lengthwise if larger
1 medium to small head broccoli, ends trimmed and then cut lengthwise into 4 strips with the stalk
Salt and freshly ground black pepper
1 1/2 tablespoons olive oil
The juice from 1 large lemon
1 1/2 tablespoons balsamic vinegar
1 tablespoon dry oregano
1 teaspoon sweet paprika, optional
2 tablespoons honey
Instructions
On a large sheet pan, about 17 ½ by 12 ½ inches, or two cookie sheets or a roasting pan with shallow sides, arrange the chicken in the center. Surround with the carrots, broccoli, and potatoes. Season liberally with salt and pepper and drizzle the olive oil and lemon juice over everything. Drizzle the vinegar on top of the chicken and carrots and sprinkle everything with the oregano, and paprika. The dish can be made a day ahead of time; cover and refrigerate until ready to roast.
Preheat the oven to 450 degrees. Place the sheet pan(s) on the middle shelf and roast for 15 minutes. Reduce the temperature to 350 degrees and roast 15 minutes. Drizzle the honey over the chicken and carrots and roast another 20 to 25 minutes, or until the chicken is cooked through (the juices, when pricked with a small, sharp knife should run yellow and not pink) and the vegetables and potatoes are tender. Serve hot with any pan juices from the bottom of the pan spooned on top.
If you are roasting the dish ahead of time remove after a total of 50 minutes. To reheat it, place in a 350-degree oven for 10 to 15 minutes until hot and cooked through.
Baked Tomato Pasta And Meatballs

This is a riff on spaghetti and meatballs — a simple casserole of shaped pasta tossed with your favorite tomato sauce, meatballs and mozzarella and Parmesan cheese. The meatballs — ground beef, egg, herbs, and breadcrumbs — are lightly browned until crisp and then tucked into the sauce and pasta so they are crispy on top and soft on the bottom.
You can make the casserole a full day ahead and pop it in the oven about 30 minutes before you're ready to eat. Serve with a green salad and crunchy, warm bread.
Serves 4.
Ingredients
The Meatballs:
1 pound ground beef
1 large egg, whisked
Salt and freshly ground pepper
1 tablespoon chopped fresh thyme, or 1 teaspoon dried
1 tablespoon chopped fresh rosemary, or 1 teaspoon dried
1/3 cup Panko or regular breadcrumbs
1 tablespoon olive oil
1 tablespoon canola or vegetable oil
The Pasta, Tomato Sauce, And Cheese:
Salt and freshly ground black pepper
1 pound penne or your favorite shaped pasta
5 cups of your favorite jarred or homemade tomato sauce, smooth or chunky
8 ounces mozzarella, thinly sliced
1/2 packed cup grated Parmesan
Instructions
Make the meatballs: in a medium bowl mix the beef, whisked egg, generous dash salt and pepper, thyme rosemary, and breadcrumbs. Mix all the ingredients until fully incorporated. Form into 16 small meatballs.
Heat a large skillet over medium-high heat and add the olive and canola oil. Heat 1 minute. Cook the meatballs 3 minutes on each side, until brown and crisp. They will not be cooked through; you just want a crisp exterior. Remove to a paper towel and drain off excess fat.
Meanwhile, bring a large pot of salted water to a boil. Add the pasta and cook about 10 to 12 minutes, depending on the variety, or until al dente; the pasta will also be baked so you don't want to overcook it. Drain.
In a large casserole or gratin dish, about 13 by 10 inches, spread out 1 cup of the tomato sauce on the bottom of the dish. Add half the pasta and top with the mozzarella slices. Add the remaining pasta and the remaining tomato sauce. Bury the meatballs in the pasta and sauce, so that the top of the meatball is not buried in the dish but hovers above it so it can continue to brown as it cooks. Sprinkle with the Parmesan cheese.
The dish can be made a day ahead of time; cover and refrigerate. Return to room temperature and bake in a preheated oven set at 375 degrees for about 25 to 30 minutes, until the sauce is bubbling, cheese is melted, and the meatballs are cooked through. Serve hot.
Other Ideas For Quick, Make-Ahead Meals:
Breakfast for dinner: make pancake batter in the morning; cover and refrigerate all day. Cook pancakes to order, serve with jam, syrup, bacon, fruit salad.
Pack lunch boxes and snacks even if your kids are learning at home virtually. That way when they are hungry, they can simply go to their lunch box without interrupting your work. Pack granola bars for a snack, fruit, etc.
Snacks: Have them ready and maybe even dedicate a shelf in the refrigerator for kids to self-serve without interrupting your workday.
Build your own nachos: Layer leftover chicken, tomatoes, peppers, olives, sour cream, salsa and leftover veggies on tortilla chips and bake until the cheese is melted, and nachos are hot.
Build your own tacos: Prepare the fillings and toppings ahead of time and simply heat the tortilla just before serving. Everyone makes their own.
This segment aired on September 2, 2020.