What To Do If You Experience Voter Intimidation At The Polls
Play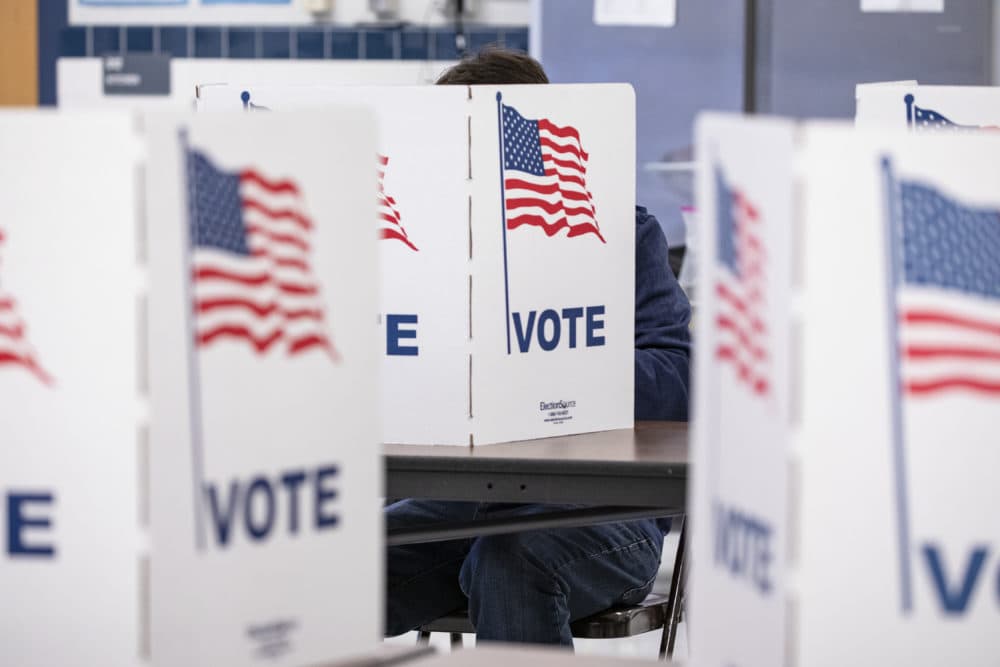 This article is more than 2 years old.
Millions of people are set to cast their ballots in person Monday and Tuesday — and concern over voter intimidation is high.
In Michigan, a judge struck down Secretary of State Jocelyn Benson's directive to ban the open carry of guns at polling places. The Michigan attorney general has appealed to the state Supreme Court, and the effort marks the latest attempt to lessen the concern over safety at polling places.
The Justice Department describes voter intimidation as "amorphous and largely subjective in nature," making it "difficult to prosecute."
Tammy Patrick, senior adviser at the Democracy Fund, agrees that determining what constitutes voter intimidation depends on the context of the situation.
"What we really need to worry about in this moment is how does the voter feel about that particular situation?" she says. "So I, as a local election official in Arizona, I had to encounter this on a fairly, unfortunately, regular basis, and it really came down to a question of whether or not the voters felt that they were safe and secure in exercising their right to vote."
Clear examples of behavior and rhetoric that would be considered voter intimidation include blocking the entrance to a polling location, using cameras or recording devices on voters going to the polls and brandishing firearms near voters, Patrick says.
In the case of openly carrying guns at polling places, local election officials face a challenge in adhering to individual state laws, she says. Whether or not people are allowed to bring guns to polling places can vary from one polling place to another.
"So in a state that has an open carry law, it is very much the case that in many government buildings, polling places still will not allow open carry because it's a government building," she says. "Other polling places across the country might be held in a private facility and that private facility may themselves not allow guns on their property."
When it comes to excited supporters standing outside polling places holding signs and banners for their candidate, it gets a little murkier, she says. This is common in any election, but it could be perceived differently in the current moment.
"So I think we all need to take a deep breath and decide, is that activity of that individual directed at me? Is it trying to stop me from exercising my rights, or is it someone who's just very, you know, enthusiastic?" she says. "And as long as that enthusiasm does not impede across my path, then we should be fine."
Some election officials advise voters not to take a picture or video of a person they feel is intimidating them, and to instead call authorities. Taking photos or video is prohibited inside of polling places.
Patrick agrees voters should be cautious so as not to escalate the situation.
"But if there is a way to capture information about who that individual is, whether it's the license plate of their car or a picture of them, I would think that that would actually help law enforcement," she says.
Poll watching is legal to do in many states, and folks must undergo a process to be authorized as a poll watcher. But in 2010, voters in Houston said they felt intimidated as poll watchers hovered over them.
There are protocols poll watchers must adhere to that vary state by state, Patrick says. In Arizona, poll watchers could not be within six feet of voting booths and equipment, and they could not speak to voters inside of the polling place.
If you have concerns about poll watchers, ask the poll workers what those protocols are, or check your secretary of state's website or your local elections website to find out, she says.
"If any voter sees anything that makes them uncomfortable," she says, "they should get the attention of a poll worker, talk to them about what is allowed in that state, let them know what they're uncomfortable with, and I'm sure that everyone will be able to come to some sort of a solution."
---
Ciku Theuri produced and edited this interview for broadcast with Tinku Ray. Samantha Raphelson adapted it for the web.
This segment aired on November 2, 2020.