Find Inspiration In The Kitchen With Chef Kathy Gunst's Cookbooks Of The Year
Resume
It's been 10 long months since the pandemic took hold of our lives. For many of us, that means being in lockdown, working from home, schooling our children at home and cooking every day.
We spend more time in our own kitchens than ever before — not relying nearly as much on restaurants and fast food. If ever there was a time when we needed culinary inspiration, this is it.
As I have done for the past decade or so, I made my way through close to 100 cookbooks published this year and, as always, it was difficult to focus on just a few favorites.
Here is my list of outstanding and interesting new books that will bring new traditions, techniques, skills and flavor into your kitchen — during this pandemic and for many years to come when it is finally over.
Scroll down for recipes.
Top Five New Books
'In Bibi's Kitchen: The Recipes and Stories of Grandmothers From the Eight African Countries That Touch the Indian Ocean'
By Hawa Hassan with Julia Turshen (Ten Speed Press)
This cookbook, unlike so many published these days, is not slick. "In Bibi's Kitchen" has an old-fashioned, charming feel, a collection of stories and recipes from eight bibis (grandmothers), with line drawings and stunning photography.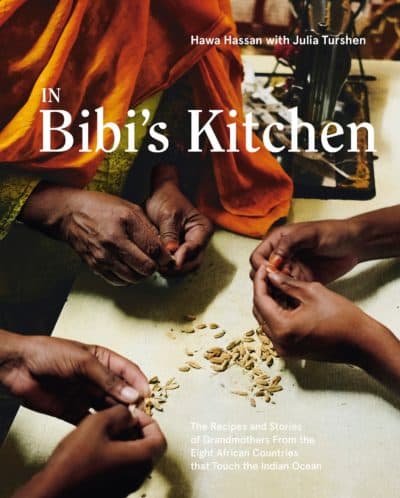 The book is organized by country and the authors let the bibis speak for themselves in short interviews, followed by several of their most prized recipes. By the end of each chapter, you feel you have made a new friend and shared her food and traditions.
For example, we meet Ma Halima, raised in Somalia but now living in Minneapolis, who shows us a step-by-step visual guide on how to make Sabaayad (Somali Flatbread) as well as Beef Suqaar, a beef stir fry flavored with cilantro and lime juice.
Ma Sahra is from Little Mogadishu in Nairobi, Kenya, and demonstrates her technique for making Spiced Chicken and Onion Samosas. It was in the Somalia chapter that I learned to make Bariis (Basmati Rice Pilaf With Raisins) and was introduced to an astoundingly good — and easy to make — spice mix blend called Xawaash (pronounced Hawaa) of toasted and then ground cinnamon sticks, cumin seeds, cardamom pods, cloves, and turmeric.
As I sautéed onion with cinnamon sticks, cloves, garlic, cardamom and tomato, my kitchen filled with floral and spicy scents. I was then instructed to stir in Basmati rice, golden raisins, and the Xawaash Spice Mix. It was, at once, different and unfamiliar, but also deeply comforting and is a dish I will turn to as we head into the cold winter season. I look forward to trying Ma Wambui's Mukimo with Onions and Greens, the Piri Piri Sauce from Mozambique, and Somalian Digaag Qumbe, a chicken stew with yogurt and coconut.
'The Flavor Equation: The Science of Great Cooking Explained + More Than 100 Essential Recipes'
By Nik Sharma (Chronicle Books)
After making my way through tall stacks of new cookbooks, many of them start to look the same. The language begins to sound familiar and many of the recipes feel redundant, with only slight variations. How many ways do we need to make mac and cheese or roast chicken?
So, when I came upon Nik Sharma's "The Flavor Equation," I knew I had found something original. This book is appealing on many levels. For science geeks and curious cooks who want to know about the alchemy behind cooking — Why does adding cream of tartar to a caramel keep it from seizing? How do you keep crispy foods crispy? — this book will be enormously satisfying.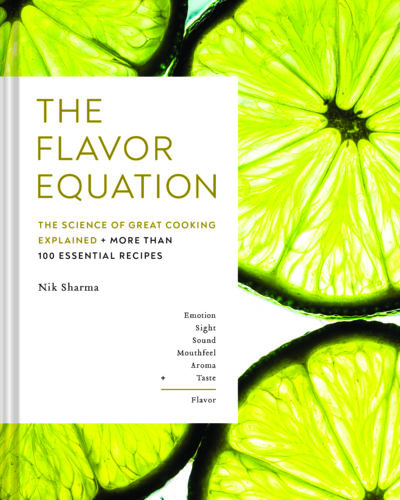 There are charts and scientific graphs focused on subjects like "How Taste Buds Work," "Food Mouthfeel Categories" and other fascinating subjects. There is much good reading and viewing here, but there's also a terrific collection of recipes.
As Sharma writes in the introduction: "What makes a recipe cooked in a home kitchen or the meal served at a restaurant taste spectacular and delicious? ... Why do we like some foods more than others? The answer to these questions lie in our perception to flavor. … Flavor is much more than a distinctive smell or taste; it involves our emotions, and sometimes memories intertwined with our sense of the sounds, colors, shapes and textures of our food."
This concept had me hooked. The book explores emotion, sight, sound, mouthfeel, aroma and taste. The recipes here are divided by flavor profile: brightness, bitterness, saltiness, sweetness and more.
Sharma's food blends the flavors and traditional dishes of India (where he grew up) and spins them on their sides. I tried several recipes, including Roasted Cauliflower in Turmeric Kefir, Parathas (an Indian flatbread) and the Hazelnut Flan — perhaps the silkiest, most satisfying flan I have ever made or tasted. The stunning photography —all shot by the author — is also a huge lure.
By Yotam Ottolenghi and Ixta Belfrage (Ten Speed Press)
A confession: I didn't want to choose this book as one of my top books of 2020. Israeli chef, restaurateur and cookbook author Ottolenghi has gotten more than his fair share of attention in the past decade for his award-winning books that focus on Middle Eastern flavors.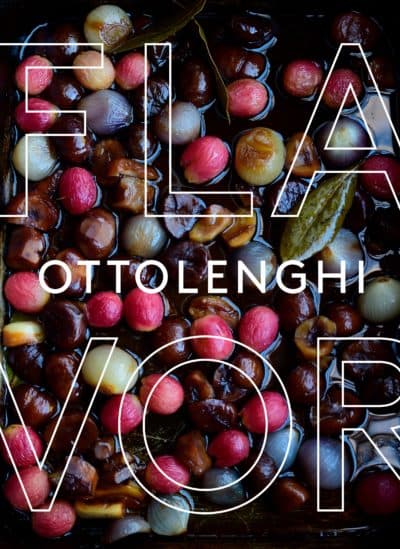 But this book won me over with its gorgeous vegetable recipes that sing with flavor. If you want to incorporate more vegetables into your daily menu but feel stuck, this is the book for you.
For example, how does one make hummus new and different? You can buy really decent hummus in every grocery and convenience store across this country, and it's truly not complicated to whirl up a can of canned chickpeas with some flavoring and make your own.
But in "Ottolenghi Flavor," chickpeas (either home-cooked or canned) are whirled with fresh ginger, garlic, tahini and a ton of lemon zest and juice. Nice, but here comes the magic.
A combination of thinly sliced red chiles, garlic, fresh ginger, cilantro stems, and cinnamon sticks are sautéed in olive oil and poured over the creamy hummus while it's hot and sizzling. The mouth-tingling combination redefines a dish you thought you knew and might bore you this point.
That's the theme here: new ways of looking at fairly basic ingredients, with the focus on vegetables. I'm looking forward to trying Cauliflower Roasted in Chile Butter, Spicy Mushroom Lasagna, Oyster Mushroom Tacos with All (Or Some of) the Fixin's, and Spicy Roasted Potatoes with Tahini and Soy.
The book is divided into non-traditional chapter heads: Process (Charring, Browning, Infusing, Aging), Pairing (Sweetness, Fat, Acidity, Chile heat) and Produce (Mushrooms, Alliums, Nuts and Seeds, Sugar — fruit and booze) and Flavor Bombs.
'Cool Beans: The Ultimate Guide to Cooking with the World's Most Versatile Plant-Based Protein with 125 Recipes'
By Joe Yonan (Ten Speed Press)
During the beginning of the pandemic, beans (as well as yeast and flour) were among the first foods to disappear from grocery store shelves. If you think beans are boring or just a side dish, think again.
Yonan, the food editor of The Washington Post, has produced a gorgeous volume of bean-focused recipes that make you want to give up all preconceived notions about what place beans might hold in your diet.
Recipes range from Cuban-Style Orange-Scented Black Beans to Homesteader's New England Baked Beans. There's Tunisian Soup (Lablabi) With Chickpeas, Bread, and Harissa as well as Kidney Bean and Poblano Tacos with Quick Pickled Onions. You will finally learn the answer to whether or not you need to soak beans before cooking (the answer is yes and no, ultimately it depends). And Yonan doesn't shy away from the age-old issue of beans and flatulence (apparently the more beans you eat the less you toot!).
This beautiful book is full of stunning photography (who knew beans could look so sexy?) and will provide much inspiration for a new, healthier way of eating.
'A Good Bake: The Art and Science of Making Perfect Pastries, Cakes, Cookies, Pies, and Breads at Home'
By Melissa Weller with Carolyn Carreno (Knopf)
There is some serious competition in the baking book category this year (see the extended list below). This is among my favorites.
I am a sucker when it comes to Carrot Cake, so I decided to start by testing Weller's version. Her's differs from most recipes in two ways: crushed pineapple is pureed with fresh lemon juice to add moisture and a bright, acidic fruitiness to the cake batter, and toasted pecans are ground up and added as well. The result is a nutty, moist, beautifully simple cake. The directions were precise and easy to follow.
Next up: Chocolate Babka, and perhaps with Weller's assistance, this will be the winter I master laminated pastries like Croissants, Pain aux Raisins, and a stunning looking Blueberry Blackberry Cheese Danish Braid. Also included is a pandemic favorite: a primer on Sourdough Starter — everything from beginning your own starter, to feeding and maintaining it, and, of course, recipes for how to use it.
If You Need Inspiration, Preferably Something New And Different:
If You Want To Be A Better Baker:
Bakers and wanna-be bakers, this is your year. There are so many great baking books that came out in 2020.
For The Vegan Or Vegetarian:
For Tasty Drinks:
Regional Cooking At Its Best:
---
From 'Ottolenghi Flavor:' Hummus with Lemon, Fried Garlic and Chile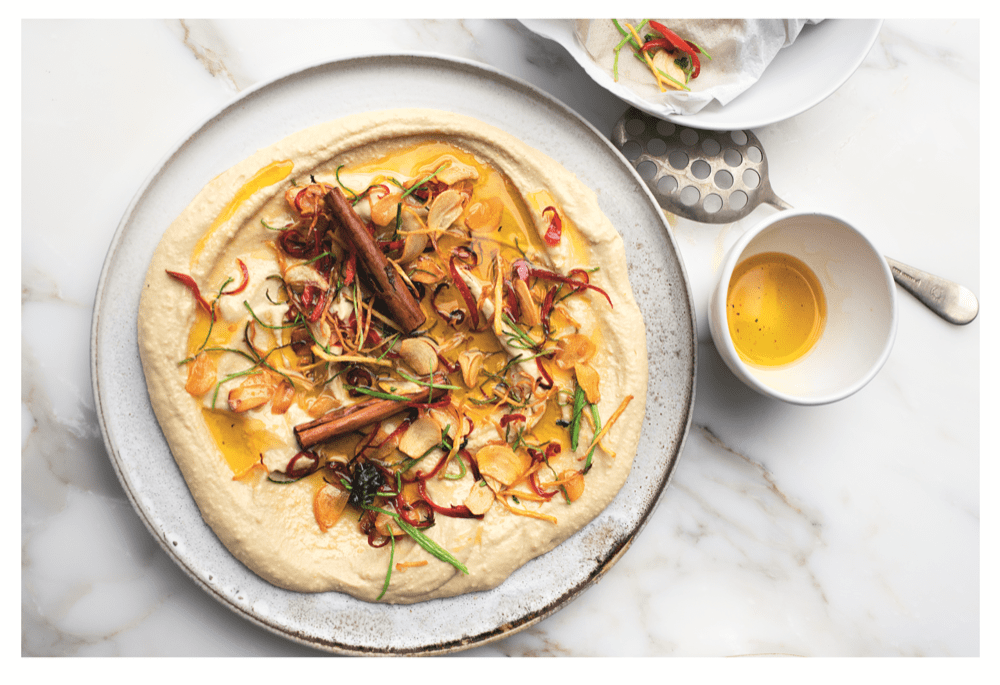 Serves 4
Ingredients
Hummus
Scant 2 cups basic chickpeas, see below
1⁄3 oz/10g fresh ginger, peeled and finely grated
1 tbsp olive oil
1 tbsp tahini
1 small garlic clove, crushed
2 lemons: finely zest to get 1 tbsp, then juice to get
3 tbsp2 tbsp ice-cold water
¾ tsp flaked sea salt
Friend Aromatics
6 tbsp/90ml olive oil
3 red chiles, seeded and finely sliced
3 large garlic cloves, thinly sliced
½ oz/15g fresh ginger, peeled and julienned
2 cinnamon sticks
½ oz/15g cilantro sprigs, cut into short lengths
Flaked sea salt
Crusty bread to serve
Instructions
For the hummus: Put the chickpeas, ginger, olive oil, tahini, garlic, lemon zest, lemon juice, water, and salt into a food processor and blitz until smooth, scraping down the sides as you go if necessary. Set aside.
For the aromatics: Heat the olive oil in a large frying pan on medium heat. Once hot, add the chiles, garlic, ginger, and cinnamon and fry for 4–5 minutes, stirring every once in a while to separate the garlic slices, until the garlic is just starting to become golden. Add the cilantro and fry for 1 minute more, until the garlic is a light golden brown and the chiles are aromatic. Transfer the aromatics to a plate with a slotted spoon (reserving the oil) and sprinkle them generously with salt.
Spoon the hummus onto a large plate, creating a shallow well in the center with the back of the spoon. Spoon the aromatic oil inside the well. Top with the fried aromatics and serve with bread to mop up the oil.
Basic Cooked Chickpeas
Makes 3¾ cups
Ingredients
11⁄3 cups/250g dried chickpeas
1½ tsp baking soda
1 tsp table salt
Instructions
Start the day before by soaking the chickpeas in plenty of cold water to cover with 1 tsp of the baking soda. Drain and rinse, then put them into a large pot with 7⅔ cups/1.8L of water and the remaining ½ tsp baking soda. Bring to a boil on medium-high heat, then decrease the heat to medium, cover with a lid, and cook for 35 minutes. Remove the lid, add the salt, and continue to cook for 15 minutes, or until the chickpeas are very soft when squashed between your fingers (cook longer if you need to). Drain well. These are best used as soon as they're cooked, but will keep, stored in a sealed container, in the refrigerator for up to 3 days
Reprinted from Ottolenghi Flavor. Copyright © 2020 by Yotam Ottolenghi and Ixta Belfrage. Photographs copyright © 2020 by Jonathan Lovekin. Published by Ten Speed Press, an imprint of Penguin Random House LLC.
---
From 'The Flavor Equation': Hazelnut Flan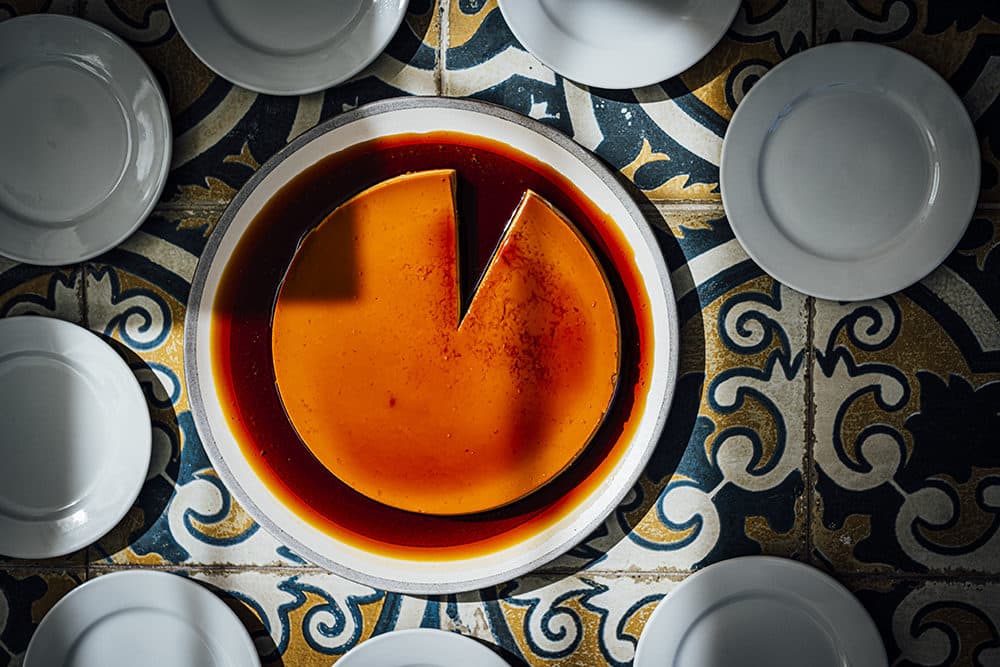 The Flavor Approach
Cream of tartar is acidic, which prevents the caramel from crystallizing by helping the sucrose "invert" and produce glucose and fructose from the sucrose. The glucose and fructose interfere with sucrose crystallization, and the caramel remains in liquid form.
A bain-marie, or water bath, is used to gently coagulate the egg proteins to form the structure of the pudding. The aromatic molecules of hazelnuts are intensified by toasting the nuts and then infusing them into the milk.
While bubbles do not affect the taste of the flan (I'll happily devour the pudding), some consider them a textural flaw. To minimize introducing air bubbles in the batter, don't whisk the eggs; instead, gently stir and fold them using a spatula.
A second source for bubbles is the infused hazelnut milk. I took a tip from Stella Parks, author of BraveTart and pastry whiz at Serious Eats, who recommends heating the custard base for the flan to get rid of most of the air bubbles.
Makes one 8 inch round flan.
Ingredients
1/8 tsp cream of tartar
¾ cup sugar
2 cups whole milk or hazelnut-infused milk (recipe follows)
One 14 oz can sweetened condensed milk
1 tsp hazelnut extract or 2 Tbsp hazelnut creamer (if using whole milk)
¼ tsp fine sea salt
4 large eggs
Instructions
Preheat the oven to 325°F.
Combine 1/4 cup of water and the cream of tartar in a small saucepan. Pour the sugar into the center of the saucepan so it does not stick to the sides. Cook, without stirring, over medium-high heat until the sugar starts to caramelize and turn dark brown, 6 to 8 minutes. Pour the liquid into an 8 inch round cake pan and rotate to coat evenly.
In a medium saucepan over medium-high heat, combine the milk, condensed milk, hazelnut extract (if using plain milk), and salt, using a spatula to gently stir. Heat until hot but not boiling. Remove from the heat.
Crack the eggs into a large mixing bowl. Using a silicone spatula, slowly break the yolks and stir the eggs gently until combined. Avoid whipping, whisking, or aggressively folding the eggs, or you will incorporate air. While mixing the eggs, slowly add ½ cup of the hot milk mixture to the eggs. Continue to stir the eggs and add another ½ cup of the hot milk. Repeat until all the milk is incorporated into the eggs. Pass this custard base through a fine-mesh sieve over a medium jug or bowl with a spout to remove any lumps.
Hold the flat end of the spatula right over the layer of caramel in the prepared baking pan. Slowly pour the custard base over the flat surface of the spatula, to prevent disturbing the layer of caramel. Cover the top of the pan with a double layer of foil.
Fill a kettle with water and bring it a boil. Place a deep, wide baking dish or pan large enough to accommodate the round baking pan in the oven. Place a circular wire rack inside the dish or make a thick, 8 in ring with aluminum foil to prevent the baking pan from touching the base of the baking dish.
Carefully place the prepared baking pan over the rack or ring in the center of the larger dish. Pour boiling water from the kettle into the space between the baking pan and the large dish and fill it to about a ½ in from the top of the baking pan. Cook the custard in the oven until it is almost set and the center jiggles slightly, 45 to 50 minutes. Carefully remove the baking pan from the oven, place it on a wire rack, and let it cool completely to room temperature. Refrigerate the flan overnight to set.
The next day, remove the foil cover. Run a small, sharp knife around the inside edge of the flan. Place a large serving plate over the baking pan. Holding them tightly, flip the pan and the plate and tap gently to release the flan onto the plate. Scrape any extra caramel liquid over the flan. Serve chilled or cold. Refrigerate any leftovers in an airtight container for up to 3 to 4 days.
Hazelnut-Infused Milk
This step adds an extra day, but it is well worth the gorgeous, rich flavor of hazelnut and is my preferred method. On the first day, prepare the hazelnut milk; on the second day, use this infused milk in place of the milk and hazelnut extract or creamer and proceed as indicated in the recipe. Be careful to avoid introducing air bubbles when stirring in the hazelnuts.
Makes 2 cups of infused milk
Ingredients
7 oz raw hazelnuts
2 cups whole milk
Instructions
Preheat the oven to 350°F.
Line a baking sheet with parchment paper. Place the hazelnuts on the sheet and toast in the oven until they start to turn golden brown and fragrant, 12 to 15 minutes. Remove the nuts from the oven, transfer them to the bowl of a blender or food processor, and pulse for a few seconds, just long enough to break the whole nuts apart. Do not overgrind to a powder or it will incorporate air bubbles.
Pour the milk into a large jar with a lid. Gently stir in the toasted hazelnuts. Seal the jar and leave to infuse overnight in the refrigerator. You can steep the milk for 24 or 48 hours for a richer flavor.
On the day you plan to prepare the flan, line a fine-mesh sieve with a piece of wet cheesecloth and place it over a medium bowl. Strain the hazelnut-infused milk through the cloth and discard any solids left behind in the cheesecloth. If your milk volume is slightly under 2 cups, add enough milk to bring it back to the original volume. Use this infused milk in the recipe and skip adding the hazelnut extract or creamer.
Reprinted from The Flavor Equation by Nik Sharma with permission by Chronicle Books, 2020
---
From 'In Bibi's Kitchen': Xawaash Spice Mix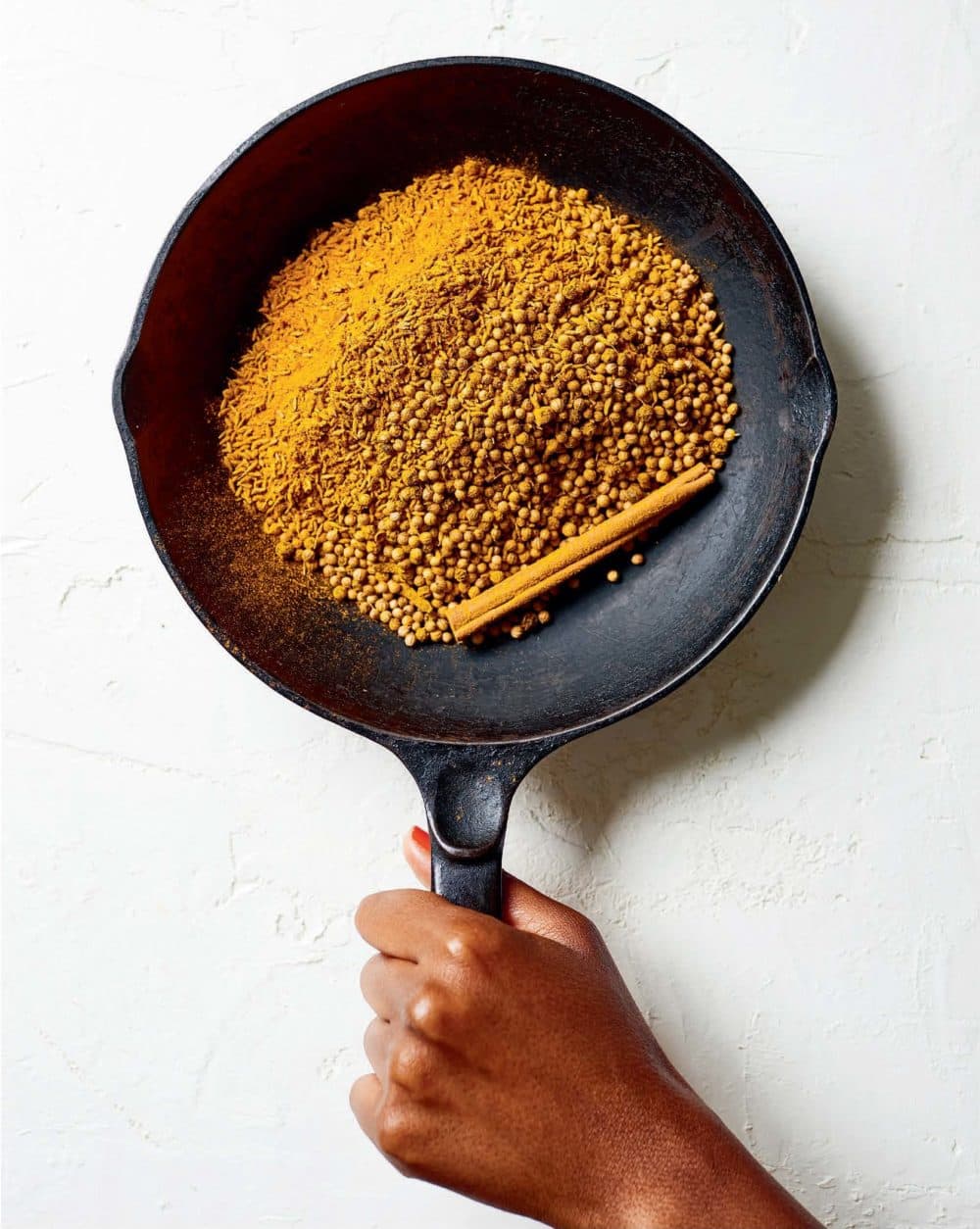 Makes about 1 ¼ cups
Ingredients
One 2-inch piece cinnamon stick
½ cup cumin seeds
½ cup coriander seeds
2 tablespoons black peppercorns
6 cardamom pods
1 teaspoon whole cloves
2 tablespoons ground turmeric
Instructions
Place the cinnamon stick in a small zip-top plastic bag, seal it, and bang it a couple of times with a rolling pin, skillet, or mallet (anything firm and heavy) to break it into small pieces.
Place the cinnamon pieces, cumin, coriander, peppercorns, cardamom, and cloves in a small heavy skillet set over medium heat. Cook, stirring constantly, until the smell is very aromatic and the spices are lightly toasted, about 2 minutes. Let cool. Transfer the mixture to a clean coffee grinder and grind into a fine powder (or use a mortar and pestle and some elbow grease). Transfer the ground spices to a fine-mesh sieve set over a bowl and sift. regrind whatever large pieces remain in the sieve and add them to the bowl with the ground spices. Add the turmeric. Whisk well to combine and transfer the mixture to an airtight jar. Store in a cool, dark place for up to 6 months.
Bariis: Basmati Rice Pilaf With Raisins
Serves 4
1 cup basmati rice
2 tablespoons extra-virgin olive oil or canola oil
1 small red onion, thinly sliced into half-moons
One 2-inch piece cinnamon stick
2 whole cloves garlic cloves, minced
Pinch of ground cardamom
1 small tomato, finely chopped
Kosher salt
3 tablespoons golden raisins or regular raisins
1 tablespoon Xawaash Spice Mix
1½ cups boiling water
Instructions
Place the rice in a fine-mesh sieve and rinse with cold tap water, stirring the rice gently with your hands, until the water runs clear. Place the rinsed rice in a bowl, cover with cold water, and let it soak for at least 10 minutes and up to 30 minutes.
Warm the oil in a medium saucepan set over medium heat. Once the oil is hot, add the onion and cook, stirring, until it begins to soften, about 5 minutes. Add the cinnamon and cloves and cook, stirring, until the mixture smells very fragrant, about 5 minutes. Stir in the garlic and cardamom and cook, stirring, until they're also quite fragrant, about 30 seconds. Add the tomato and a large pinch of salt, then increase the heat to high. Cook, stirring, until the juice from the tomato has evaporated and the mixture is like a thick paste, about 2 minutes.
Drain the rice and add it to the pot, along with another large pinch of salt. reduce the heat to low, cover, and cook, stirring, until the mixture is quite dry and the rice smells nutty and is opaque, about 5 minutes. Stir in the raisins, spice mix, and boiling water. reduce the heat to low, cover, and cook until the rice has absorbed the liquid and is tender, about 15 minutes. Turn off the heat and let the rice sit, covered, for at least 10 minutes before fluffing with a spoon or fork.
If you can find the cinnamon stick and cloves, fish them out and discard them (otherwise, just warn your guests to avoid eating these). Serve the rice immediately, while hot. Leftovers can be stored in an air-tight container in the refrigerator and rewarmed in a 300ºF oven or in a skillet over low heat.
Reprinted with permission from In Bibi's Kitchen by Hawa Hassan with Julia Turshen, copyright © 2020. Photographs by Khadija M. Farah & Jennifer May. Published by Ten Speed Press, a division of Penguin Random House, LLC.
This segment aired on December 9, 2020.