Your COVID-19 Vaccine Questions, Answered
Play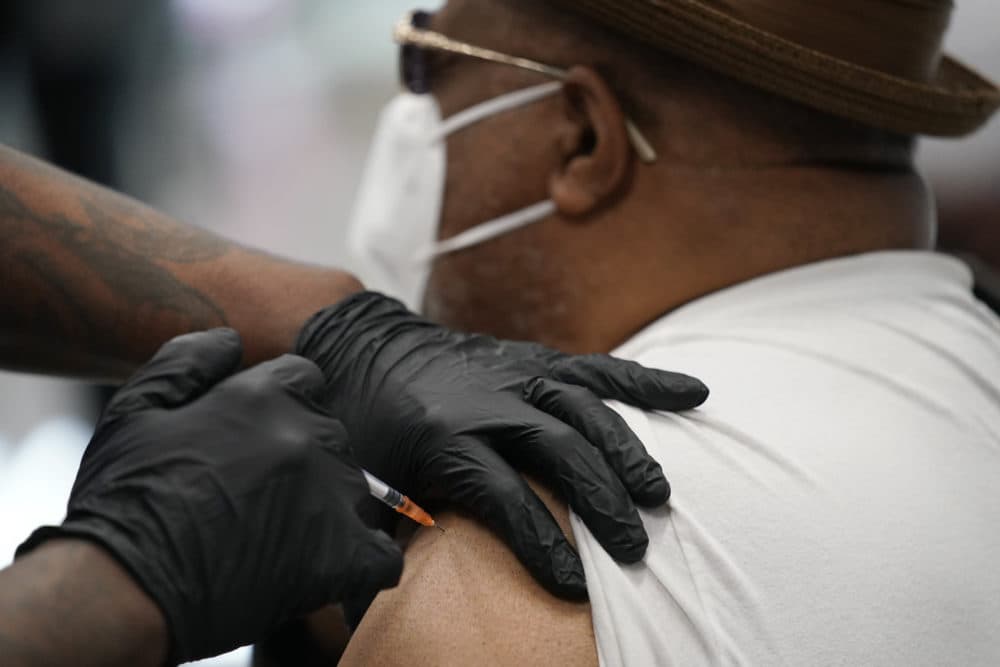 This article is more than 1 year old.
While more than 26 million Americans have been vaccinated for COVID-19, questions remain about getting the vaccine while pregnant, eligibility requirements and more.
Dozens of Here & Now listeners sent in their coronavirus vaccine questions for Dr. Ruth Karron of Johns Hopkins Bloomberg School of Public Health.
One of the most common questions was about pregnant women, who were not specifically part of any vaccine trials. The World Health Organization and the Centers for Disease Control and Prevention recommend pregnant women check with their doctors before receiving a COVID-19 vaccine.
A listener in Singapore says she received the first and second dose of COVID-19 vaccine on Jan. 24 and Feb. 14, respectively. She discovered she was about three weeks pregnant at the time and wants to know if there are any adverse effects from getting the vaccine at such an early stage of pregnancy.
There were about 12 people in original Pfizer-BioNTech trials who perhaps didn't know they were pregnant, Karron says. No known adverse effects were reported.
Karron says Pfizer-BioNTech has started a study with 4,000 pregnant women in the U.S. and several countries in Europe and Africa.
For now, the CDC has set up a virtual health check-in registry called V-safe for people who've been vaccinated.
"We would encourage every pregnant woman who gets COVID vaccine to participate in that registry," she says. "That's a way that we will be able to get real-world evidence of how this vaccine works in pregnant women in addition to the trial that Pfizer is just beginning now."
COVID-19 Vaccine Answers From Dr. Karron:
What happens to your muscle cells that express the spike protein after receiving the COVID-19 vaccination? What happens to the spike protein over time that is on muscle cell surfaces?
"Most of what we know about this, we know from some animal studies that were done of these vaccines before they were given to humans. And what we can say is that probably the spike protein stays on your muscle cells for about a week or two. It also actually goes into your lymph nodes in your armpit, just underneath, which is good because that's where a lot of the antibody-producing cells are made and then it's metabolized.
"The muscle cells don't break down from that specifically. They do over time, muscle cells or cells that die, and are regenerated. But that's what happens to that spike protein. It's not there forever and ever. It's there for probably a finite period of time."
In regards to getting inoculated, what's the physiological difference between a 15-year-old boy who weighs the same as an adult woman?
"There are a few things. One is that we always want to have data from the population in which we're administering the vaccine. So adolescents … a 15-year-old boy might be bigger than a 25-year-old woman potentially, but their metabolism is different and their immune response may be different. And in fact, sometimes children's immune responses actually can be more vigorous than adults.
"Pfizer and Moderna are both conducting studies in children. They are going gradually down in age. They want to assess if the vaccines are safe in these ages, and in some cases, they're also going down in dose. They also want to look at the immune response in these children. So those studies are proceeding. Pfizer has actually, I believe, completed their study in the 12 to 16 year age group. They've completed enrollment, and they will be submitting those data to the Food and Drug Administration and they will continue to move down in age."
Is there any correlation between the strength of an individual's immune system and the intensity of their response to the vaccine?
"What I would say, I think, the very good news — we don't have one specific measure where we can look at the strength of an individual immune system — but what we do know about these vaccines, which is wonderful and very reassuring, is that they work across a very wide age spectrum. And that's very reassuring because we do have some vaccines that, for example, don't work as well in the elderly or don't work as well in people with those conditions. We can say that they really work very well across a range of people with different kinds of immune responses."
What are your recommendations for celebrating holidays, such as Passover on March 27, with friends and family if you've received both doses of vaccine?
"I do get these kinds of questions, variations on this question, very often, and I may disappoint people because I won't give them a simple yes or no answer. What I would say is that vaccinated people should be thinking about, No. 1 protection of themselves, No. 2 protection of their loved ones and No. 3 protection of society. Some of the questions, as people are thinking about whether they're going to get together with others who might even be vaccinated, are, No. 1, are the people that I'm planning to gather with vaccinated and is everyone in their household vaccinated? So you might be getting together with another vaccinated couple, but they've come from their house where they have three other unvaccinated individuals. And could you potentially transmit to them and then have them transmit to unvaccinated household members?
"And then the last question, of course, is what kind of travel is involved? And I would say that people really need to conform to their state's regulations around that. … Those are the kinds of things that I think people should be thinking about and asking themselves and asking of the people that they want to gather with."
My second shot was delayed a week. This was due to the bad weather impeding the shipments. I have another appointment scheduled but it is a week beyond the 28 days indicated for the Moderna vaccine. Will this delay and/or affect the overall efficacy and results I can expect?
"This should not have any negative effect on your response to the vaccine. In general, we expect that you should reach peak immune response about two weeks after receiving your second dose of vaccine."
Is there a website that gives a national, uniformed guide to which ages or groups are able to receive the vaccine?
"The Advisory Committee on Immunization Practices advises the CDC about priorities and these recommendations are posted at the CDC. However, each state can make its own decisions within this general guidance about priorities and also when to move through the phases, depending upon vaccine supply and uptake."
Why does the CDC state that if you've had both doses of the vaccine that you don't need to quarantine for an exposure? Do we know for sure that you can't transmit the virus if you're vaccinated?
"Just to clarify, the CDC says that you don't need to quarantine following exposure if you're fully vaccinated and your exposure is within three months of vaccination and show no symptoms.
"This recommendation parallels the CDC recommendations regarding quarantine following exposure for people who have been infected with SARS-CoV-2. That guidance also says that quarantine is not needed if a previous infection was within three months prior to the exposure.
"These recommendations are based on studies of people who have had COVID-19 who appear to have a low risk of reinfection within the first three months following their initial infection because we assume that the protection provided by vaccination is at least as good as the protection provided by an initial infection. That said, we don't know with certainty that you can't transmit the virus if you're vaccinated. So of course, it's important that vaccinated individuals continue to mask and socially distance."
For more information on this topic, click here.
I would find getting just one dose less stressful. Is the Johnson & Johnson vaccine headed for approval and is it a good option?
"The Johnson & Johnson vaccine has received authorization from the Food and Drug Administration on Feb. 27 and was recommended for use by adults ages 18 and over the CDC on Feb. 28. It is a highly effective vaccine and an excellent option."
---
Marcelle Hutchins produced and edited this interview for broadcast with Todd Mundt. Serena McMahon adapted it for the web.
This segment aired on March 3, 2021.