Paul Quinn College President Reflects On The Past Year, Looks Ahead To The Future
Play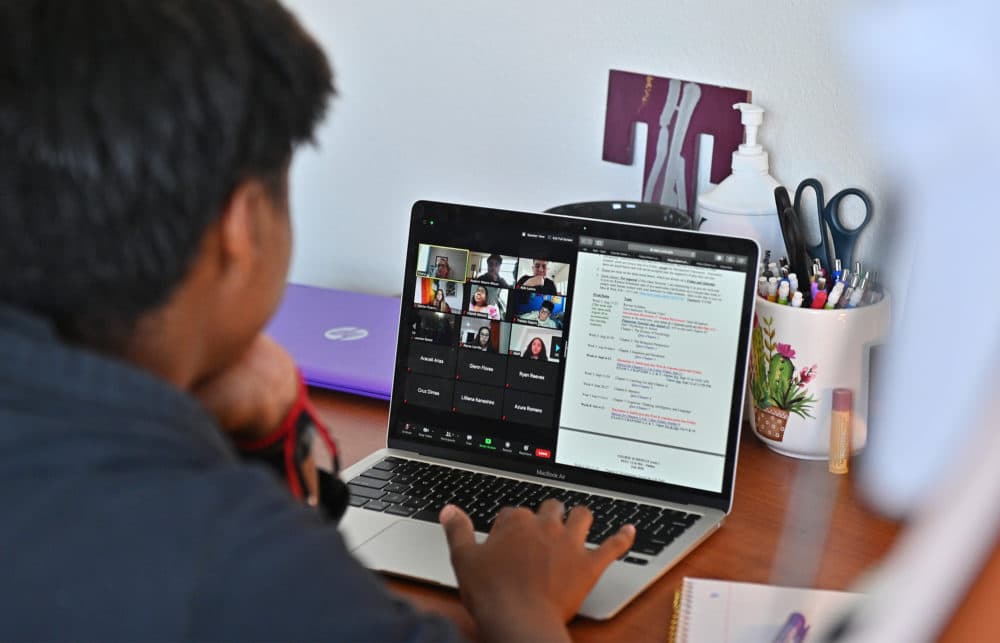 This article is more than 1 year old.
One year into the COVID-19 pandemic, students at Paul Quinn College in Dallas, Texas, are still working through virtual learning.
While attending the urban work college, Paul Quinn students spend about 16 hours per week working in corporate internships alongside taking classes. President Michael Sorrell says the existing hybrid model made the adjustment to in-person and remote learning easier.
"When the students get back, they will come back to a school where there are three new buildings. There are new academic programs," he says. "It will just be a completely different experience because we made the best use of this time that we could."
But helping students find jobs during the pandemic has been a challenge with so many businesses closed, Sorrell says. The college shifted to help students gain experience with useful computer programs and work on emotional intelligence through trainings — but he acknowledges there's no substitute for the hands-on experience of an internship.
About 85% of students at the historically Black college receive Pell Grants. Paul Quinn's urban work college program has helped some students reduce the problem of loan debt from $40,000 to $15,000, with a goal of reaching $10,000.
Colleges need to take care of students from under-served communities instead of taking advantage of them, Sorrell says.
"A part of that is not leaving people with unmanageable debt and then routing them into careers where they'll never pay for it," he says. "We have a belief at Paul Quinn that you have to look at the eradication of poverty in a generational fashion."
Sorrell uses his own life story as an example. His father grew up in a single-parent home in New Orleans and didn't go to college, while his mother attended college and graduate school just like his maternal grandmother did.
After getting married, his parents invested in what turned into a successful business.
"Because my father came home smelling like ribs every night, I never have come home smelling like ribs," he says. "In one generation, his sacrifice took us from a family where on his side, a dad who didn't go to college to a son who is a college president."
Sorrell agrees with educational advocates who say that the pandemic can serve as a moment for colleges to rethink the admissions process in ways such as standardized testing. But he points out that pivoting away from the SATs and ACTs could serve to harm students with poor academic profiles whose intellectual gift manifests in a high test score.
In his 15 years as president of Paul Quinn College, Sorrell says the higher education landscape has shifted. The idea of wraparound services — comprehensive support designed to help students succeed — comes from HBCUs, he notes.
"Those schools were tasked with educating an entire race of people who had nothing," he says. "The only way forward was for these institutions to be everything to their students, hence wraparound services."
The conversation around student loan debt often works against students, he says. While students shouldn't be forced to take on "soul-crushing amounts of debt," Sorrell believes taking out a manageable amount of loans is an investment in one's self.
"Many students come to us now and they say, 'Well I don't want to take out any loans,' " he says. "Well, that's just not going to be possible. Maybe you need to take out $10,000 of loans to have a college education."
Sorrell racked up his debt attending law school at Duke University — but he says he can't complain about how well the investment paid off.
---
Marcelle Hutchins produced and edited this interview for broadcast with Tinku Ray. Allison Hagan adapted it for the web.
This segment aired on April 1, 2021.