Sorority members speak out on the overturn of Roe v. Wade, even when their organizations don't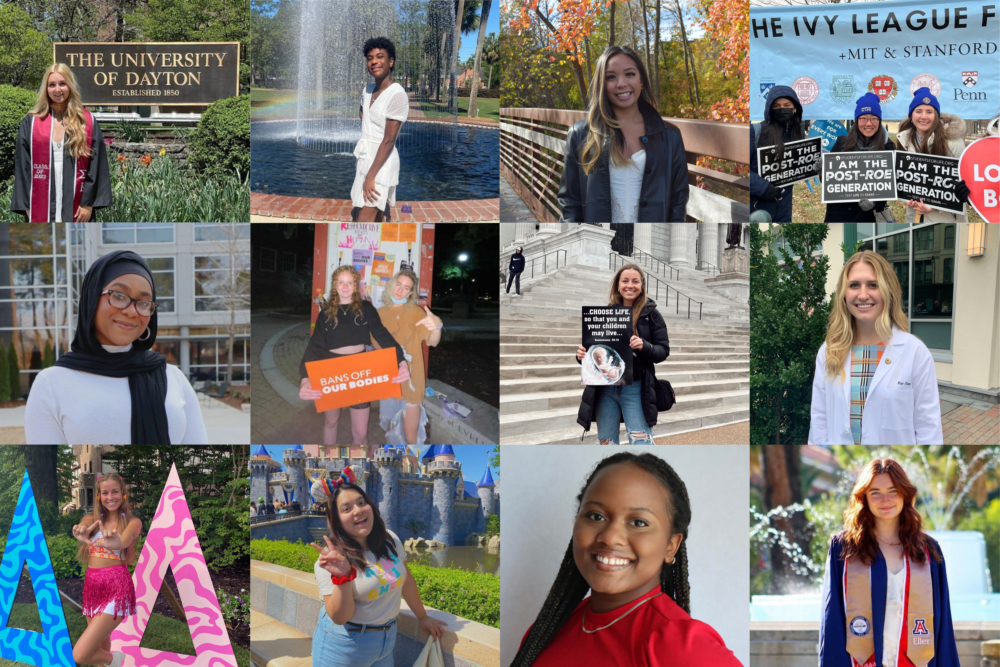 When the Supreme Court overruled Roe v. Wade on June 24, the National Panhellenic Conference (NPC) — an organization of 26 sororities — released a statement on Instagram.
"The National Panhellenic Conference recognizes the decision in Dobbs v. Jackson Women's Health Organization sparks emotion in deeply personal ways. As we move through the days ahead, we hope Panhellenic women will engage in thoughtful dialogue within their communities."
The response to this statement was immediate and almost entirely negative. Hundreds of sorority members and alumni criticized NPC for a response they saw as weak and misaligned with members' values. Hundreds of members from 26 sororities sent a joint letter to NPC demanding condemnation of the Dobbs decision and resources for abortion access.
"'*Millions of women lose access to healthcare* NPC: 'talk to each other ???'" Alyssa Slicko posted. "This statement is tip toeing; if we have mutual respect for each other we should want to empower all sorority members to make choices for themselves," Nicole Green replied.
Of the 26 sororities in the NPC, 12 later put out public statements saying they supported a person's right to choose. Seven posted nothing. More than one hundred NPC sorority chapters at campuses across the country also posted statements condemning the decision. The National Pan-Hellenic Council, composed of nine historically Black sororities and fraternities, released a joint statement signed by each organization's president condemning the overturn.
No sororities celebrated the decision, but those that did not express support for abortion rights faced thousands of blistering comments from members.
"It's one thing to have a diversity of thought and it's [another] thing to allow people to be anti-human rights," says Chi Omega alum Kennedy Van Norman.
Some organization pages ended up limiting or deleting comments, according to Chi Omega alum Sophia Kebbede, who started a viral TikTok series called "Sorority Responses to Roe v. Wade."
"It's crazy how nothing these statements are and how they thought [members] would be okay with those. It just highlights the disconnects between a lot of chapters and the national organizations," Kebbede says.

Not every sister is opposed to the Dobbs decision. Phi Sigma Sigma member Victoria Baker celebrated in front of the Supreme Court with other abortion rights opponents after the overturning of Roe.
"Recognizing that within sisterhood differences of opinion can and do occur is important," Baker says.
The majority of comments posted on sorority statements supported abortion rights, and many reflected a desire among sisters to see their powerful organizations take a more active and public role in issues that primarily affect women. Members have begun organizing, writing letters and pushing leadership to address an issue they see as not political, but essential to their health and rights.
"I just want us to leverage the sisterhood and the relationships that we have to move public policy," says Cori Gilbert Wallace, an alum and former international vice president of Delta Gamma, who has launched a newsletter for sorority members to guide them in organizing for abortion rights.
While some members believe sororities should stay out of an issue that has become politicized, others see sororities as inherently political. The groups are tied in with issues that have been intertwined with politics: higher education for women, philanthropy, the exclusion of women of color.
"The sorority movement has always been political, and I think it always will by its very nature of being born out of patriarchal exclusion," says Dr. Matthew Hughey, a sociology professor who has published research on sororities.
NPC sororities have money, real estate, a political action committee, and alumni virtually everywhere — Congress, the White House, Fortune 500 companies, the Supreme Court. Justice Amy Coney Barrett is a Kappa Delta alum. Justice Ruth Bader Ginsberg was an Alpha Epsilon Phi alum. Attorney Sarah Weddington, who represented Jane Roe in 1973, was a member of Sigma Kappa. None of those sororities have issued statements on the Dobbs decision. The sororities' international and national headquarters did not return a request for comment. Vice President Kamala Harris was in Alpha Kappa Alpha, an NPHC sorority that joined the NPHC joint statement against Dobbs.
The call for action, activism and answers
Many sisters who have spoken out in support of abortion rights see their sororities' stance on Dobbs as contradictory to their philanthropic activities. A majority of sororities have aid programs and foundations, which address underserved children, access to healthcare, or focus on women's health, wellness, and professional development. Researchers expect the overturning of Roe to negatively impact progress in these areas.
The philanthropy is what drew Jennifer Velazquez to Greek Life. When she started college at the University of Southern California in 2019, she didn't know if she would feel welcomed in a sorority as a Latina woman and the daughter of immigrants.
"Traditionally, sororities were meant for white, Anglo-Saxon, Christian evangelical women," Velazquez says, "and a lot of those women tend to be very pro-life and donate a lot of money to these sororities."

Velazquez connected with Alpha Chi Omega's work on domestic violence awareness: Her mother experienced domestic violence after coming to the U.S. at 19 and obtained nonimmigrant status through a U-Visa, granted to victims of violent crimes. Velazquez joined Alpha Chi Omega her sophomore year and the experience changed her.
Velazquez saw women who look like her grow into leaders. She became her chapter's first vice president of diversity, equity and inclusion in 2021. In the sorority, Velazquez found a home that understood the haunting gravity of domestic violence and worked to bring awareness to the issue. Everyone had the space to be heard and had a voice. She felt safe.
After the Dobbs decision, Velazquez connected with others who held similar positions in chapters. Most expected Alpha Chi to lead the sorority response to the overturn of Roe, but the organization was silent. The group sent a letter expressing disappointment with Alpha Chi's silence with more than 1,000 signatures from sisters in nearly every state.
Two weeks after the ruling, Alpha Chi issued a statement that did not mention support for abortion rights.
"It is in times such as these that our sisterhood should be uplifting and supporting. We can engage in thoughtful conversation with each other while honoring and respecting that all sisters may not agree," Alpha Chi's council posted.
Sisters from Alpha Gamma Delta, Delta Delta Delta, Kappa Delta, Theta Phi Alpha have also written letters to their headquarters demanding they condemn the Supreme Court's decision.
NPC sorority members have created pages on Instagram such as Seek The Rights, Sorority Members 4 Human Rights & Social Justice, NPC Women Rising to organize letter-writing, fundraising, and other coordinated action. Some alumni have pulled donations to their sororities and instead put the money towards organizations like Planned Parenthood.
Sisters who support the Dobbs decision see it as a potential to increase their social outreach.
"I think that sororities should celebrate having a pregnant member [by] throwing them a baby shower, covering costs or donating items," says Megan Miller, a former member of Delta Delta Delta and current member of Mizzou Students for Life at the University of Missouri.
The inevitable impact on sorority member's health
The overturning of Roe will affect sororities regardless of their stance on the ruling. Research shows one in four women will have an abortion before the age of 45 and that women in sororities are 74% more likely to be raped than non-affiliated members. While fraternity members, who sororities usually depend on to socialize, are three times more likely than other men on campus to commit rape.
"Sororities know when [sisters] party and get drunk, there is a chance for danger and bad things to happen. They're well aware of this," says Dean Scheibel, a Loyola Marymount University professor who authored the study "Practicing 'sorority rush.'"
As more sisters worry about unplanned pregnancies, many express fears of having to give up their education or being kicked out of their sorority.
"Less will be successful in completing their education. Already for rural, underserved, low socioeconomic families going to college is still not the norm," Kappa Kappa Gamma alum and OB-GYN Dr. Christina Lord says. "Those people are not going to be as successful in their education, which will lead to more poverty."

Megan Miller, who dropped Delta Delta Delta last spring, disagrees with the notion that an unplanned pregnancy can devastate a student's education. Instead, she advocates for more support for pregnant people on college campuses.
"I think that's one of the most anti-women things that pro-abortion can claim these days, assuming that a woman can't live up to her educational standards because she has an unplanned pregnancy," Miller says.
Outside of pregnancy, the Dobbs decision is already having effects on sorority members' health. With the Arthritis Foundation as Alpha Omicron Pi's philanthropic partner, the sorority attracts many members among the 24% of adults in the U.S. with the condition. After SCOTUS overturned Roe, some members had pharmacists refuse to fill prescriptions for their arthritis medication Methotrexate because it can also be used as an abortifacient. Alpha Omicron members were so affected that headquarters had to direct them to resources.
'Where were you this whole time?'
In the wake of the Dobbs decision, many experts were quick to point out how state-level abortion bans will exacerbate existing racial inequities in health care. Those inequities include less access to birth control and lower-quality care for women of color.
The maternal mortality rate for Black women – already nearly three times that of white women – is estimated to increase by one third due to abortion bans, according to a University of Colorado study.
These inequities are being felt on campuses, as well.
"I'm someone who is a low-income minority. I am pushed aside waiting to die, basically not someone [the Supreme Court is] ever going to support," says Gamma Phi Beta sister Lena Araujo who attends Texas State University.
An alum of historically Black sorority Delta Sigma Theta, Madison Mikay (who requested we use her middle name due to safety reasons) was not surprised when she heard of the Supreme Court's decision.
"As an African American woman from the rural South, this is not the first time I've had some type of rights taken away," Mikay says, referencing the historical intersections of reproductive health and racism in the U.S. "I just felt like [this was] yet another thing to worry about."

As a sexual health educator, Mikay is on the front lines of reproductive rights. She says she's exhausted because she knows the overturn will disproportionately affect Black women, a sentiment her sorority is very well aware of.
"Now that Roe has fallen, the fight to protect abortion rights will move to many different fronts, and Delta Sigma Theta will be actively engaged on many, if not all, of them," the official statement from Delta Sigma Theta reads.
The historically Black sororities in the NPHC have been fighting for abortion rights for decades. These group's statements condemning Dobbs have been largely well-received online. Greek organizations often do not share demographic data of membership, but studies indicate that traditionally white sororities and fraternities remain nearly 95% white today. In their members' increased involvement in pushing for abortion rights, Mikay sees a parallel to the national movement.
"To see so many Caucasian women being so surprised and so outraged, it's good because you're finally waking up to the reality that many other people in this country face," Mikay says. "But also where were you this whole time?"

The fight continues inside and outside sororities
Despite all the letter writing and social media outrage, Dr. Hughey doubts sororities will update their statements and take a stronger stance for abortion rights, because "there's no political teeth behind" the outrage. The only way he believes headquarters will listen is if sisters end their membership thus bringing their organizations to their fiscal knees.
Sorority recruitment has begun for another school year, and as swaths of prospective members start to learn more about the organizations they hope to join, many will turn to social media. They will see outrage from current sisters and alumni in comment sections. But some organizers are pushing to take the fight off of social media, and to look beyond changing their sororities.
"Putting a spicy comment on your [sorority organization's] Instagram page isn't going to do it," says Gilbert Wallace, the former Delta Gamma international vice president of communications who is organizing sorority members for action. She doesn't encourage directing anger toward sororities so much as toward lawmakers, and using the sorority system's connections to insight change.
"Our goals right now are to educate ourselves on how to mobilize effectively, gather as many women who want to do that work, teach them how to do that work, and then deploy them state by state, district by district to do this work," she says.