The ethical dilemma of TikTok's summer it dress: Mirror Palais' Maria
The Mirror Palais Maria dress is, in many ways, nothing new. It's a simple linen dress with a sweetheart neckline that hugs the body and flutters out at the end. But when the brand posted a TikTok of the $595 dress, it went viral with 1.4 million views.
It became more than a dress, it became an "it girl" dress.
"That's not a dress. That's THEEE dress," user @Charly commented on the TikTok. "No cause I wanna feel like Catherine Zeta-Jones in 'Zoro' with this dress," @Kaira replied. "Would be so slay of u to make it around 12 hours of minimum wage shift price range," @addieomalley wrote.
Each item Mirror Palais sells is sustainably made to order in New York City's garment district. Founder and designer Marcelo Gaia came up with the idea for the Maria dress when he stumbled across spools of vintage linen wool.
"[The fabric] reminds me of my mom. This reminds me of my family in Brazil," Gaia says. "In Brazil, it's very hot and so these kinds of linen are very popular, and because it has almost a cross-like motif. It's called a Broderie Anglaise and it made me think of Catholicism which is very close to me."
The dress took countless hours of conceptualizing, working with a pattern maker, silhouette engineering and fittings on an array of bodies. Every stitch — every detail — was thought out. For Gaia, the dress was a labor of love, a tribute to his heritage and mother.
But then came the dupes: look alike products on Amazon that loyal followers sent to Gaia.
"Oh my God, [dupes] just took my heart and my soul that we poured into something," he says. "And [they're] completely desecrating it."
The "it girl" dress is not a new concept but increased hyper consumption of it is. Lirika Matoshi's Strawberry Midi Dress and the House of Sunny's Hockney Dress are prime examples of the phenomenon. Both dresses went viral on social media and when the original expensive price tag deterred many shoppers, fast fashion retailers like SHEIN swooped in to meet the high demand at a low price. That price came with the stipulation of unethical practices, and the same thing happened to Gaia's design.
An admirer of Gaia's work, fashion blogger and TikTok creator Shanna Battle was dismayed when she saw Christina DeRosa's TikTok showing a $17 Maria dress dupe and linking the item on her Amazon storefront for the 1.1 million viewers who watched the video.
"Our urge to find a dupe for absolutely everything has us in a f****** choke hold," Battle said in the video response to DeRosa's TikTok. "My fashion sisters in Christ, everything is not meant for everybody. Sometimes it's okay just to shop within our tax bracket."
Battle credits some of the hyper consumption we see in the fashion industry to TikTok, but says overconsumption has existed for decades. Meryl Streep, playing Miranda Priestly in "The Devil Wears Prada," delivers a monologue that explains trend cycles' trickle-down effect that has persisted since the commercialization of ready-made clothing and birth of department stores.
But the increased cultural authority of social media and ability to make instant, online purchases set Millennial and Generation Z consumers apart from prior generations. Trends will always exist, but modern-day fast fashion stores like Zara and H&M promote 52 "micro-seasons" a year, one for every week, to create demand at a more rapid pace.
"If I see something, I want it. No one thinks about their purchases. They want to be able to have something that is popular, that is in the moment, because I want to be popular and I want to be in the moment," Battle says. "And then when the next thing comes, I'll just discard the things that I bought before and go buy whatever the next new thing is."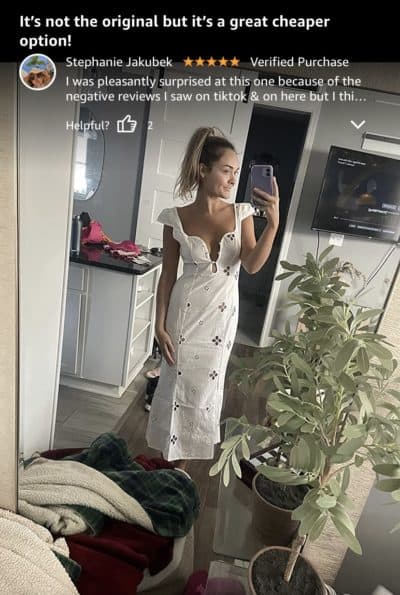 In an inception of video stitches, Gaia responded to Battle's retort to DeRosa's dupe video: "I've created this really beautiful special thing that I wanted to share with the world and now it's actually the source of someone's misery. Someone is slaving away over these recreations of my dresses and probably being paid very unfairly and probably working in really bad conditions."
Natalie Duarte bought the same $17 dupe off Amazon as DeRosa. When Duarte purchased it, she says she didn't know the dress was a duplicate of someone's design. Nonetheless, she created a try on video on TikTok that had more than 54,000 views. When you search "Mirror Palais dupe" on the app, her video one of the top results.
"I was getting hate that my purchase wasn't ethical and people are saying I'm the contributor to child slavery," Duarte says. "At the end of the day, it was a purchase that I was really happy with and I know it was unethical, but I grew up shopping at flea markets, so I don't feel bad for my purchase."
Duarte understands why people were upset. She says she also didn't know that the dress she bought was made using unethical practices and, like many Americans, wonders how much impact an individual consumer can have against sweatshops and climate change.
Of the 75 million fashion factory workers — 85% of whom are women — it's estimated that less than 2% make a living wage. That's only about 1.5 million.
A Princeton study found the fashion industry alone is responsible for more carbon emissions than international flights and maritime shipping every year. Plus, the fashion industry consumes one tenth of all of the water used industrially and accounts for 20% of the wastewater worldwide, which disproportionately impacts communities of color.
As people begin to take climate change more seriously, Battle says it's important to remember that "sustainability has kind of been kidnaped by capitalism," referring to brands that promote ethical consumption as a selling feature of their products and the erasure of decades long sustainable practices by communities of color.
Some fans of Gaia's designs have found a more ethical approach by sewing their own version of the dress or thrifting similar pieces. Environmental scientist Emilie Chaumillon's TikTok of her sewing an interpolation of the Maria dress received more than 750,000 views.
Growing up Hawaiian, Chaumillon danced hula and dancers made their own costumes to show appreciation for the craft and understanding of the storytelling. Hand-making her own clothes is a way of life for her and an avenue to reduce her carbon footprint.
"I learned [how to sew] through all the women in my family, they're all seamstresses," Chaumillon says, "[I] never had less than 12 sewing machines in my house."
For those interested in making their own clothing, she recommends several Instagram accounts to find patterns as well as buying cloth second hand, like big bed sheets, to create less textile waste. Most importantly, she says to be patient.
"When I first started sewing I really wanted to get it done. I wanted what I saw on Instagram instantaneously," Chaumillon says. "I wanted the overnight Prime shipping with sewing. But you can't do that. You have to take your time."
When it comes to the cost of Mirror Palais' clothes, Gaia is aware that the average consumer can't afford the expensive price. Rather he adores those who have taken inspiration from his designs and thrifted or sewn their own versions.
His prices are a brutal reflection of the true cost of ethically made clothing — livable wages for workers, safe working conditions, quality non toxic fabrics and thoughtful engineering. These all come with a high price tag and can still be exploited by other companies in the industry. Despite all this, he is optimistic for the future.
"I think that holding everyone to a higher standard of transparency is important," Gaia says. "I love what we're doing. I think people love our clothes and clothes that you love stay in your closet forever or you sell them for a good price. You take care of things that you love and I hope that that's the future."