How 'Arkham Horror' games take the nihilism and racism out of Lovecraft
Groundbreaking pulp fiction writer H.P. Lovecraft looked out at the early 20th century and saw a horrific cosmos. According to him, scientific advances had revealed humanity to be an irrelevant speck in a vast and uncaring universe. In perhaps his most famous story, "The Call of Cthulhu," Lovecraft's narrator proposes that "the sciences … will open up such terrifying vistas of reality, and of our frightful position therein, that we shall either go mad from the revelation or flee from the deadly light into the peace and safety of a new dark age."
But a century later, those maddening vistas have proven fertile ground for games.
"Weird fiction tales have really been inspiring to game designers," says Katrina Ostrander, creative director of story and setting for board giant Asmodee. "It becomes like this horrific playground to explore all sorts of terrifying entities and build up different kinds of mysteries to uncover."
Ostrander is just one of many minds behind the venerable "Arkham Horror Files" board game franchise. Set in the 1920s, the games pit cooperative players against the agents of so-called Elder Gods, from the tentacular Cthulhu to the primordial Azothoth.
The formula got a major revision in 2016's "Arkham Horror: The Card Game," where players build decks that represent unique, named investigators, each with different skills. FBI agent Roland Banks excels at gunplay and sniffing out clues. Waitress-turned-witch Agnes Baker channels magic from an epoch older than recorded history. Alone, they're likely to die or be driven mad. Together, they have a chance.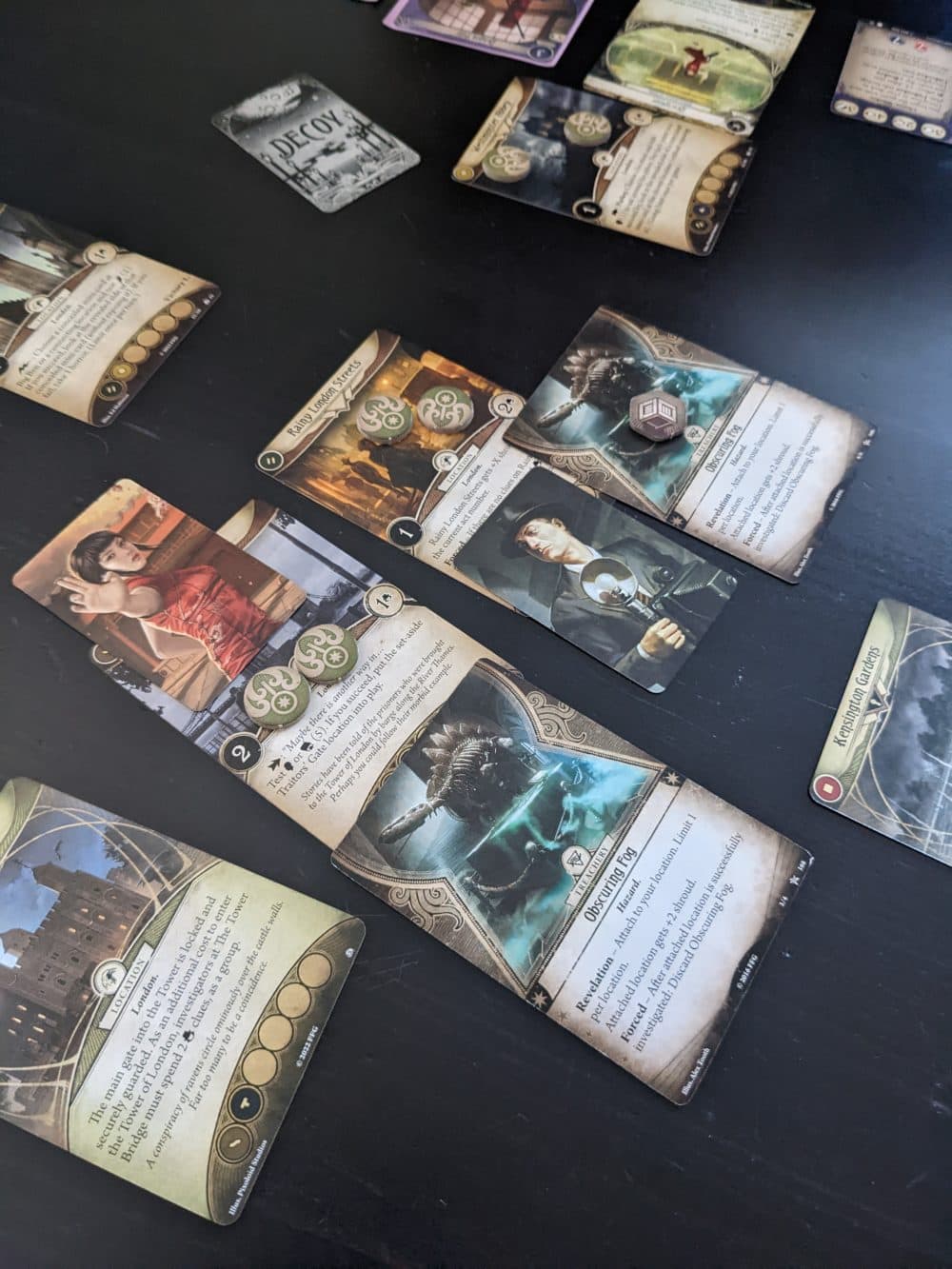 Meanwhile, shadowy forces oppose your characters — represented by another deck of cards filled with treacherous surprises and monsters to overcome. The challenge ramps up across interconnected adventures with outcomes that shift based on your actions, in stories set from the fictional town of Arkham, Massachusetts, to forgotten civilizations in Antarctica and beyond.
"The Lovecraftian fiction genre has had this storied tradition of borrowing from one another for a long time," explains "Arkham Horror: The Card Game" designer MJ Newman. But Newman and Ostrander both say they're trying to abandon an all-too-human blight in the source material itself. For as otherworldly as Lovecraft's fiction could get, it often betrayed his deep-seated racism and xenophobia.
These game writers have attempted to revise Lovecraft's trademark "fear of the unknown" for a more inclusive 21st century.
"It's not really the case that foreign people and foreign places are scary," says Ostrander. Her team tries to "showcase and spotlight characters from different parts of the globe or from underrepresented backgrounds, and let them have agency and be part of this cooperative effort to save the world from all sorts of monsters and cults and eldritch abominations."
Broadening the cast of characters hasn't always gone smoothly. Ostrander says that some early attempts fell into stereotypes: "For example, one of the first Asian characters, she's a martial artist. There is an African character, she is portrayed as a shaman, which is kind of continuing the 'magical black people' sort of stereotype."
These days, "Arkham Files" designers rely on a sensitivity panel and cultural consultants to avoid such pitfalls. MJ Newman pointed to a new character in the card game, Amina Zidane, a telephone operator from Colonial Algeria, as a successful collaboration: "She's a Muslim woman, and I don't have that lived experience at all."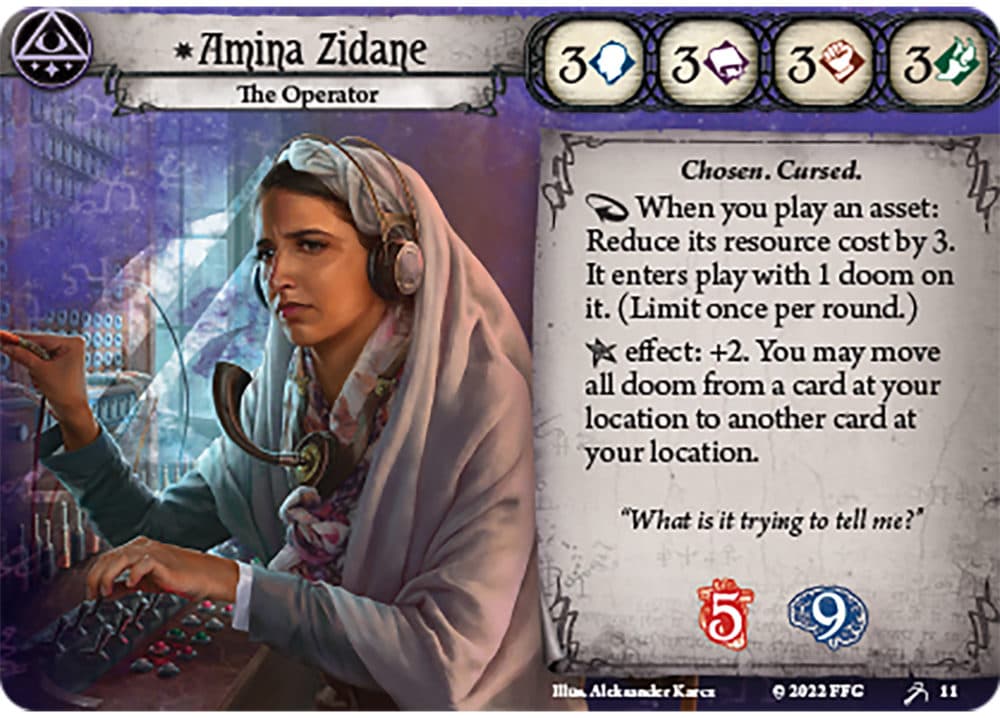 Ostrander also mentioned another "Arkham Files" game, "Unfathomable," with a cast that ranges from "Sikh men from India" to "a Bahamania character and lots of other characters of different abilities. We have a deaf character and so we've reached out for assistance and making sure that we're not portraying these elements of their characters incorrectly."
"Arkham Horror" characters also often come to better ends than Lovecraft protagonists.
"Arkham really differentiates itself from Lovecraft in its optimistic and hopeful tone," says Ostrander. "A lot of the characters in those original stories are kind of reduced to madness… In our take on it, partially because it's a game and you want to be able to win sometimes, it's not as nihilistic."
For her part, Newman's time at "Arkham Horror: The Card Game" is drawing to a close. But she stayed on as a designer for its latest expansion, "The Scarlet Keys," out this month. The new campaign has players trek the entire world, on the trail of a sinister organization. But despite the game's Lovecraftian themes, she's seen her players exhibit a decidedly non-Lovecraftian attitude.
"It's almost like we as storytellers are coming at the players and telling them about this nihilistic worldview and the infinitesimally small nature of humanity," says Newman. "And it's up to the players to come together and be like, 'No, you're wrong. We can do this. There is still hope.'"