Ditch the strict diet resolution and opt for some light, vegetable-forward comfort food instead
Play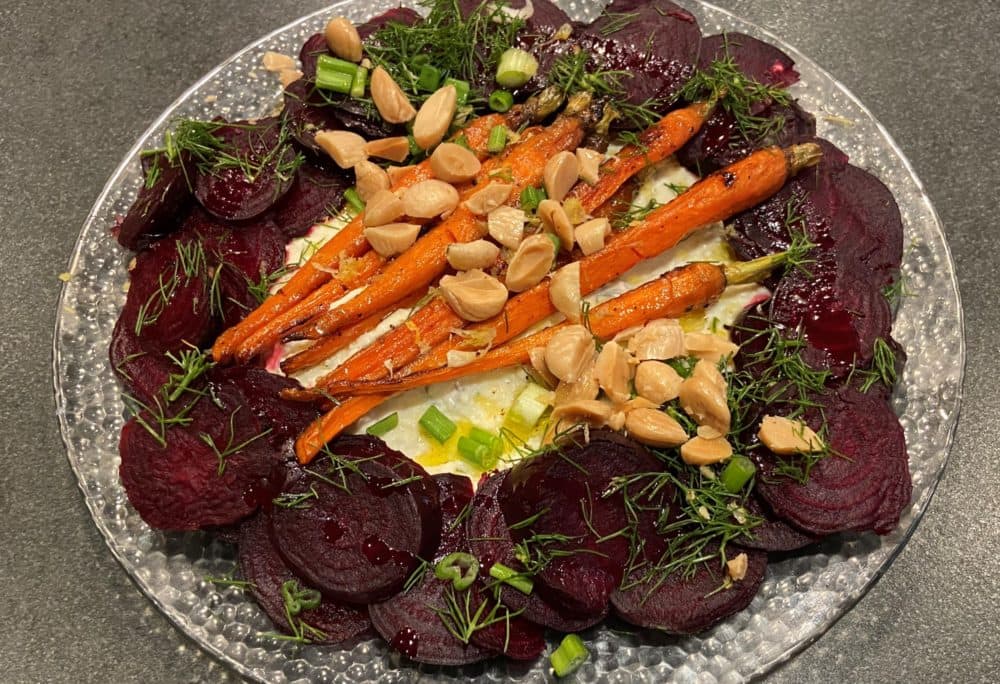 I'm not much for making resolutions on Jan. 1. It feels like a setup for failure. Of course, it's great to set intentions to try to be a better you. But the old "I'll lose ten pounds by February," or "I won't eat any sugar or drink any alcohol until April" just doesn't work for me. Every time I attempt to set a bunch of New Year's resolutions in place, it backfires.
It all starts to feel like a vicious cycle. We gorge through the holidays — eating fatty meat, cheese, cream, sugar and chocolate — and then we swear off them in January, promising to be "good." The terms "good" and "bad" aren't particularly helpful when it comes to eating and good health. I find it far more effective to focus on eating more vegetables and whole grains in January to jump-start the new year and experience a feeling of "lightening up."
With that thought in mind, here are three new vegetable-forward dishes. This is by no means what you might think of as "diet food," but a refocusing of what is front and center on your plate. They do use some olive oil, a little butter and some cheese, but mostly, these vegetable-forward dishes are bursting with flavor. I know it's not always easy to get excited about vegetables in the depth of winter. But, as these three dishes prove, it's certainly possible.
The first dish is a whole roasted cauliflower. You roast the cauliflower in a large ovenproof skillet — preferably cast iron which really holds the heat — and then top it with a nut and lemon topping. You can also add gorgeous piquant winter pomegranates, both the seeds and the juice for a beautiful color and texture. The cauliflower is served in the skillet with a sharp knife and everyone "carves" off their own piece, topping it with the light, fruity topping.
Next is a bowl of comfort food. A simple broth — vegetarian or chicken — is simmered with sauteed shallots, lots of fresh ginger, soy sauce and black or rice wine vinegar, then poured over a bowl of udon noodles, sauteed ginger, spinach (or any winter green) and a poached egg. It's a full, hearty meal in a bowl that takes less than an hour to put together.
And finally a brightly-colored vegetable main course, or side dish, of roasted beets and carrots served over a lemon-herb ricotta spread, topped with toasted almonds.
Whole roasted cauliflower with walnuts, pomegranates and lemon

Winter markets across the country are showcasing pearly white cauliflower. You may get lucky and find orange or purple-hued cauliflower. By all means, go for it. I love showcasing all three, side by side. In this main-course vegetarian dish, the cauliflower is roasted whole until it's just tender when a sharp knife is inserted into the stem at the base and then topped with a simple nut, pomegranate and lemon sauce. Serve whole, preferably in the skillet you roasted it, with a sharp knife and let everyone cut their own pieces. Serve with basmati rice or warm bread.
Serves 4 to 6.
Ingredients
1 medium to large cauliflower, or 2 small whole cauliflower, look for purple and orange-hued cauliflower or the freshest one you can find
3 tablespoons olive oil
Salt and freshly ground black pepper to taste
1 tablespoon chopped fresh thyme
2 tablespoons butter or olive oil
1 cup coarsely chopped walnut halves, or your favorite nut
2 scallions, finely chopped, white and green sections
1 ½ tablespoons lemon juice
½ cup pomegranate seeds from one large pomegranate, optional
¼ cup pomegranate juice, optional
Instructions
Preheat the oven to 425 degrees.
Wash the cauliflower. Trim a few of the outer leaves off and place in a large, ovenproof skillet. Pour 2 tablespoons of the olive oil over the cauliflower (it will drip onto the bottom of the skillet which is exactly what you want) and season liberally with salt, pepper and half the thyme.
Roast for about 45 minutes to 1 hour and 10 minutes, depending on the size and freshness. The cauliflower is done when a sharp knife is inserted into the stem base and it yields and feels slightly softened.
Meanwhile, in a medium skillet, heat the remaining tablespoon of olive oil and the butter (or additional olive oil) over medium heat until the butter begins to sizzle, or the olive oil is just hot. Add the walnuts and scallions and cook for about 2 minutes, stirring frequently. Add the lemon juice and the pomegranate seeds and the juice, if using, and cook for another 2 minutes. Season with the remaining thyme, salt and pepper to taste
Pour the nut-pomegranate butter over the roasted cauliflower and serve.
Udon noodle soup with gingered broth and sauteed greens

This is one of my favorite ways to eat during this time of year. I love so many elements of this simple, highly adaptable soup/bowl of noodles. I add sauteed spinach (with fresh ginger), but you can easily substitute chopped kale or Swiss chard. You can use fresh udon noodles or dry. You can make the base of the soup vegetarian by using your favorite vegetable broth, or go a meatier route with chicken stock and added pieces of cooked chicken. The egg on top is optional but adds a rich flavor. You could also add cubed tofu or roasted slices of winter squash. You get the idea; this is adaptable cooking at its finest.
Whatever you do, don't skimp on the ginger in the broth and the sauteed spinach; it adds a peppery, fresh, bracing flavor and makes you feel like you'll never get a cold or sore throat again.
Serves 2 to 4.
Ingredients
The ginger broth:
2 teaspoons vegetable oil
1 shallot, or ½ red onion, thinly sliced
1 tablespoon minced fresh ginger
2 scallions, ends trimmed and cut into ½-inch size pieces
Dash chili crisp, Aleppo pepper or hot pepper sauce, to taste
2 ½ tablespoons soy sauce or tamari
2 tablespoons Chinese black vinegar or rice wine vinegar
4 cups vegetable or chicken broth, canned, boxed or homemade
1 tablespoon fresh ginger, cut into julienne strips
The spinach:
1 ½ teaspoons vegetable oil
1 teaspoon minced fresh ginger
1 pound spinach or baby spinach, washed, dried and coarsely chopped, or kale, swiss chard, mustard greens or your favorite greens
1 teaspoon soy sauce or tamari
1 teaspoon Chinese black vinegar or rice wine vinegar
The udon noodles:
1 pound (14 ounces) fresh or dry udon or ramen noodles
The eggs (optional)
Optional garnishes:
Dried seaweed strips, cut into thin strips
2 large radishes, thinly sliced
¼ cup fresh cilantro leaves
Instructions:
Make the broth: In a medium pot, heat the oil over low heat. Add the shallots, ginger and scallions and cook for 4 minutes, stirring occasionally. Add the chili crisp or hot pepper and cook for 2 minutes. Add the soy sauce and vinegar and cook for another minute until simmering.
Raise the heat to moderately high and add the vegetable or chicken stock; bring to a boil. Reduce heat and simmer for 5 minutes. Taste for seasoning adding more soy, vinegar or chili. The broth can be made a day ahead of time; cover and refrigerate.
When you're ready to serve the soup, cook the noodles: Bring a large pot of water to boil over high heat. Add the noodles, stir well to separate and cook according to package directions, about 3 to 4 minutes if fresh, and 8 to 10 minutes if dry. Drain and set aside.
Cook the spinach: In a large skillet, heat the oil over high heat. Add the ginger and cook for 1 minute. Add the spinach in batches, stirring, and cook until wilted, about 2 minutes. Add the soy sauce and vinegar and cook for another 2 to 3 minutes or until soft. Set aside.
Meanwhile, poach the eggs: Bring a medium pot of water to boil over high heat. Crack the eggs into the water, reduce the heat to medium, and simmer for 3 minutes. Remove the eggs with a slotted spoon; the whites should be set and the yolk still soft.
To serve: Divide the cooked noodles between 2 large or 4 small bowls. Top with the hot broth. Divide the sauteed spinach between the bowls. Top with the poached eggs and sprinkle on the seaweed strips, radish slices, and cilantro if using. Serve hot.
Roasted carrots and beets with lemon-ricotta spread

Root vegetables are everywhere this time of year. When you roast them, it increases their natural sweetness. Here roasted beets and carrots are served over a lemon and dill-spiked ricotta spread and then sprinkled with toasted almonds, olive oil and lemon juice. This dish can be a main course, served with couscous, rice or simply crusty bread. It can also be served as a side dish or salad.
Serves 2 to 3 as a main course and 4 as a side dish.
Ingredients
The beets, carrots, and almonds:
1 pound red, yellow or golden beets, about 3 medium-sized
½ pound carrots, preferably thin carrots, peeled*
1 ½ tablespoons olive oil
1 teaspoon grated lemon zest
1 ½ tablespoons lemon juice (from the lemon you zested)
Salt and freshly ground black pepper, to taste
½ cup almonds or Marcona almonds, coarsely chopped
The lemon ricotta:
1 cup ricotta cheese
1 teaspoon lemon zest
1 tablespoon lemon juice (from the lemon you zested)
1 scallion, finely chopped
1 tablespoon fresh chopped dill or fennel fronds, finely chopped
Salt and freshly ground black pepper to taste
Toppings:
1 scallion, finely chopped
1 tablespoon fresh dill or fennel fronds, finely chopped
1 tablespoon olive oil
1 tablespoon lemon juice
Salt and freshly ground black pepper to taste
*If the carrots are not thin and young, cut them lengthwise into long strips in half or quarters.
Instructions
Roast the beets and carrots: Preheat the oven to 400 degrees.
Wrap the beets into two foil packets, sealing tightly. Bake for 45 minutes to 1 hour and 10 minutes, depending on the size and freshness. The beets are ready when a small, sharp knife inserted in the center yields but is not super soft. Remove and let cool in the foil for about 10 minutes. Using your hands or a small, sharp knife remove the peel; while the beets are still warm they should peel right off. Cut the beets into thin slices and set aside.
Place the carrots in an ovenproof skillet and toss with the olive oil, lemon zest and juice, salt and pepper. Roast for about 20 to 30 minutes, depending on the size and thickness, tossing the carrots once or twice while roasting. The carrots are done when a small, sharp knife inserted in the thickest part yields.
Place the almonds in a small ovenproof skillet or on a sheet of foil. Bake for around 5 minutes. Remove, let cool for a few minutes, and coarsely chop; set aside.
Make the ricotta cheese mixture: In a small bowl mix the ricotta, lemon zest, lemon juice, scallion, dill, salt and pepper to taste.
The recipe can be made several hours ahead of time up to this point. Cover and refrigerate overnight.
To assemble: Remove the ingredients from the refrigerator if you made them ahead of time to bring them to room temperature. Spread the ricotta mixture onto a large plate or medium platter, smoothing it out with a soft spatula. Arrange the beets around the outside of the platter, just touching the edge of the ricotta. Pile the carrots in the center on top of the ricotta. Sprinkle with the toasted almonds, scallions, dill, olive oil and lemon juice, and serve at room temperature. Season with salt and pepper.