WBUR Celebrates "100 Years of JFK in Massachusetts"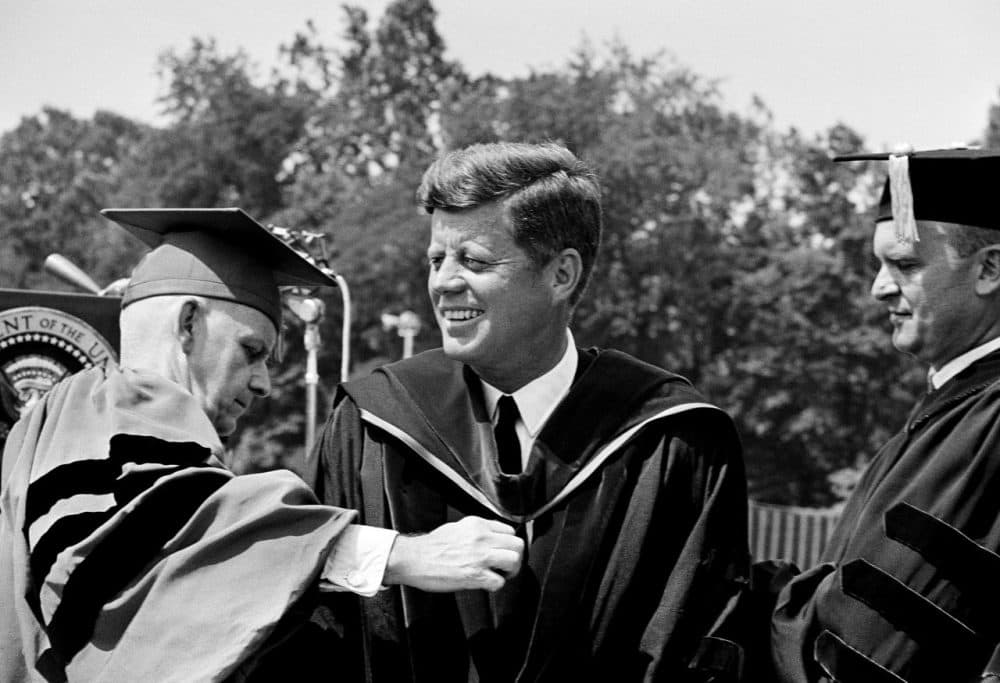 This article is more than 3 years old.
In honor of John F. Kennedy's 100th birthday, WBUR will explore the 35th President's legacy in Massachusetts through a weeklong series of investigative stories from May 24 – 29, 2017. With a focus on his childhood development and early political life, WBUR reporters will present the following special reports and topics:
Monday, May 22, 2017: "Beals Street in Brookline" by Greg Wayland
On May 29, 1917, JFK was born at 83 Beals Street in Brookline, Massachusetts. What were the odds that a child born to a young Irish Catholic Brookline family in this small town would rise to become President of the United States? To calculate the odds, WBUR takes a closer look at the family and community that nurtured JFK as a child. 
Tuesday, May 23, 2017: "Massachusetts Oratory" by Anthony Brooks
Well-known for being an articulate and persuasive speaker, we invite you to listen to some of JFK's famous speeches conducted in the Boston Garden, the Massachusetts State House and the Alumni Stadium at Boston College. 
Wednesday, May 24, 2017: "Kennedy's Cape Cod" by Deborah Becker
We travel to Hyannisport, JFK's beloved adulthood home. There, we explore numerous significant sites such as the Kennedy Compound, the Kennedy Museum, the Cape Cod National Seashore which JFK created and the Church where the former president worshiped with his family. 
Thursday, May 25, 2017: "Kennedy's Harvard" by Fred Thys
In this special report, we explore the intense relationship between the first Irish Catholic President and the very non-Irish first American University. The Kennedy family's relationship with Harvard began with JFK's father, Joseph P. Kennedy, who broke early 20th century class and religious barriers when he attended the university despite his humble beginnings in East Boston as the son of a devout Irish Catholic saloon keeper. Following in his father's footsteps, JFK thrived as a Harvard student during the 1930s, and his love for the school was a prominent facet of his budding political career. In return, the school that fostered his academic development still celebrates his legacy in many ways. 
Friday, May 26, 2017: "JFK's Changing Image" by David Boeri
Fifty-four years after JFK's sudden death, there have been numerous waves of biographies that offer new perspectives on the late president. The latest example comes from former Boston Globe scribes Curtis Wilkie and Thomas Oliphant, who this month have released their unique take on Kennedy's legacy in The Road to Camelot: Inside JFK's Five-Year Campaign. We delve into the book's extensively researched analysis of JFK's efforts to become president, starting with the argument that he had been earnestly planning his presidential campaign since 1955. 
Friday, May 26, 2017: "A Childhood Memory of a Massachusetts Journalist" by Delores Handy
In October 1963, President Kennedy visited Little Rock, Arkansas – one of his last presidential visits before his assassination a mere month later. Veteran Boston journalist Delores Handy was a high school journalist during this visit, and she reflects on the influence these events had on her childhood and her future successful journalism career. 
Monday, May 29, 2017: "Massachusetts Family Political Legacy" by Anthony Brooks
In the wake of JKF's historical presidency, the Kennedys have remained a driving force in the national political landscape. Here, we turn to the next generation carrying on this political legacy: Newton resident, congressman and JFK's great nephew Joseph Kennedy III.