WBUR Announces New Permanent Host For 'Radio Boston'
WBUR announced today that Tiziana Dearing will be the permanent new host of Radio Boston, the station's flagship local program that airs weekdays at 3 p.m. She will start mid-June.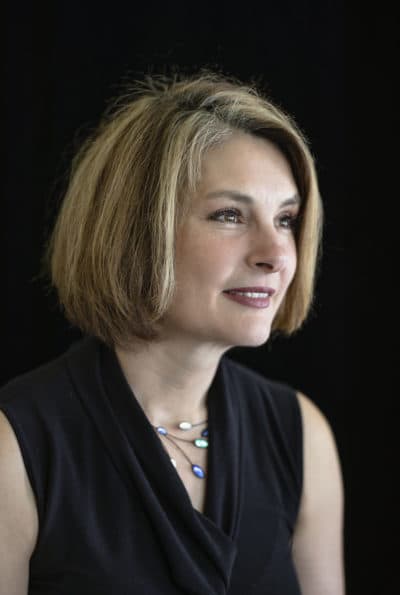 "After an extensive host search, we are thrilled to officially bring Tiziana into the fold at Radio Boston," said Hitesh Hathi, executive producer of Radio Boston. "For many years, she's been a trusted WBUR commentator, addressing issues that ranged from the Boston Marathon bombing to sexual abuse in the Catholic Church to income inequality in Massachusetts. We're eager to collaborate with her on an exciting new chapter at Radio Boston."
Dearing's appointment follows a robust search process during which time an array of guest hosts filled in, giving both staff and listeners a chance to get acquainted with the candidates. The pool was narrowed down to four finalists who then met with the show staff and a seven-member search committee. Dearing shone through as the consensus pick.
"Tiziana's intellect, work experience, ability to connect with people and deep knowledge of the city proved to be a winning combination," said Sam Fleming, managing director of news and programming. "At a time when engagement matters more than ever in media, I'm particularly pleased that she's been embedded in the local community for decades. We look forward to this new era at Radio Boston as WBUR seeks to fulfill our mission, serving the community with independent news and information."
Dearing brings a vast array of experience to Radio Boston having worked in academia, the nonprofit sector and the corporate sector. In addition to radio commentary, she has worked with WBUR as a Cognoscenti contributor and a community advisory panelist, sharing insights around the educational and cultural needs of various communities served by the station.*
Prior to her role at Radio Boston, Dearing served as professor for macro practice and co-director of the Center for Social Innovation at Boston College. She is a co-founding director of research in Social, Economic, and Environmental Equity (RISE3) at Boston College. Her teaching focused on social innovation and leadership. Additional research and teaching interests include race, poverty and inequity, especially in urban environments, nonprofits and philanthropy, and social justice in public policy.
Prior to Boston College, Dearing led a number of anti-poverty organizations, including Boston Rising, a start-up anti-poverty fund, and Catholic Charities of the Archdiocese of Boston, where she was the first woman president. Dearing also served as the Executive Director of the Hauser Center for Nonprofit Organizations at Harvard University and spent nearly a decade as a management consultant both to Fortune 500 companies and to mission-driven nonprofit organizations.
Go here to listen to or learn more about Radio Boston.
* Dearing served as a member of the WBUR Advisory Council, a group of local community leaders who represent different voices and faces of the community, from Fall 2012 - 2018.(updated June 14, 2019)