Interview With Kas Sharma Of Henry Bear's Park
This article is more than 2 years old.
WBUR is adapting to remote work to ensure you still have the timely, reliable and relevant news you need throughout this pandemic. As we all work to make sense of the new normal, we want to share how the WBUR community of reporters, members, donors, corporate partners and so many more are making it work!
---
The changes brought by COVID-19 have been challenging to everyone, and families face unique difficulties. Henry Bear's Park — a children's toy and activity store — is intimately tied to the needs of parents and kids in our communities.
With several locations around Greater Boston, including a brand new one in Newton that opened March 9th of this year, Henry Bear's Park has had a unique go of it during the statewide lockdown.
Owner and father of young children, Kas Sharma has been steering Henry Bear's Park through this unexpected time. He spoke with INSIDE WBUR about how the business is adapting to our shifting reality.
When did things start to change for you?
Sharma: On March 9th, we opened a new store in Newton.  And on March 11th, we started hearing, the governor talk about schools closing.
We closed the doors before that and said, hey, we'll just, you call us and we'll bring it out to the curb. Or you can go on the website and we'll ship it to you. So we closed the doors for in-store browsing prior to the governor's order. Safety has to be the focus.
Why were you especially concerned about in store browsing at that point so early on?
Sharma: All the schools were closed. So initially, sales picked up. The issue became, all of a sudden we had too many people rushing to us.
Wow, really?
Sharma: Well, kids were home all of a sudden, so they needed activities and things to do. It was quite a stressful time for us, just like everyone else. Nobody had ever imagined any of the scenarios that played out. I really owe it to the creativity of the team, and I think all of that creativity got channeled into, how do we navigate this now?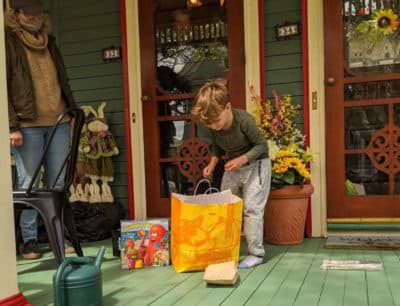 What changes have you made to your business to adapt?
Sharma: Right off the bat we went from being a physical store to becoming a fully digital store. Luckily, we had a website already and had products on there. But customers were calling and asking, "What should I do? We have kids at home." And, "What do you suggest? What do you recommend?" At the same time, I was speaking with a friend in the nonprofit world who was talking about how vulnerable some students are without access to the resources a school provides. From there we developed, 'It Takes A Village'.
Tell me about that?
Sharma:  We developed it because it's a very real threat when you have kids who rely on their schools and their counselors and now don't have access to that. So we started to put together care packages for at risk kids to keep them energized and engaged in activities. Then we put the word out. We said, "Hey, this is what we're doing. And if you can help us, please help." We said to ourselves that whether we received donations or not, we committed to providing packages to two hundred kids. After a month or six weeks into it, we organized about a thousand care packages that have been either shipped or are in the process of being shipped. We also developed, 'surprise packs' so that parents can buy similar care packages for their kids, and they can also donate a package to a child in need.
What additional safety measures have you taken to protect your workers and the community?
Sharma: Initially we ordered all the disinfectants and sanitizers and wipes that we could find. And we started cleaning everything every hour, including the doorknobs, the phones, the stapler. Now customers are not in the stores, that's a little bit easier. But the first couple of weeks, it was causing quite a lot of anxiety for all of us, because we saw so many people coming in, and it felt like this may not be safe, so we closed the doors.
How did you communicate with your customers during quarantine?
Sharma: We would throw things on our website, on our social media channels, send out an email to our customer list and put a poster on the door. Our customers were really supportive. They complimented us for shutting down sooner than required and for providing free shipping. I think we have pretty sensible customers and we are very grateful to them.
What do you anticipate the next phase will look like for you?
Sharma: We have opened curbside pickup again. So you can order on the phone or on the website, and we'll have your order ready pretty quickly. You can call us and then we'll bring the order out to you. We are planning on continuing with more curated options for parents. We'll have some options with the camps getting canceled—you could buy a day camp kit. We want to continue to find ways to help families as we go into the next phases of this.
To find out more about 'It Take A Village', click here.
This interview was lightly edited for brevity and clarity.
---
#MakingItWork: Inside WBUR is featuring people and businesses in Massachusetts who are adapting and inspiring us all while figuring out ways to navigate this global pandemic. Some of these dedicated individuals work here at WBUR, where our commitment to bringing you reliable news is evolving to meet your needs.
Here are a few examples of some other great initiatives at WBUR:
Covering COVID: A virtual series of one-on-one interviews with our reporters, where we pull back the curtain to better understand how they do their jobs and how the pandemic has changed it all. Subscribe to WBUR CitySpace's YouTube channel to get the latest in the #CoveringCovid series.
WBUR Town Halls: Broadcast live on WBUR's YouTube channel every Tuesday at 6 p.m., the free virtual town hall series brings together our journalists and experts to discuss a weekly topic—and also answer your questions.
CitySpace Storytime: A virtual series featuring WBUR hosts and reporters reading some of their favorite children's books.
Curated Cuisine at Home: This series highlights local restaurants, cafes and chefs. Every week, we share a unique recipe using ingredients easily found in grocery stores while supporting and uplifting local businesses that have been impacted by COVID-19.