Interview With Stewart Ikeda Of The Umbrella Arts Center
This article is more than 2 years old.
WBUR is adapting to remote work to ensure you still have the timely, reliable and relevant news you need throughout this pandemic. As we all work to make sense of the new normal, we want to share how the WBUR community of reporters, members, donors, corporate partners and so many more are making it work!
---
The challenges of COVID-19 have impacted all kinds of organizations, the nonprofit and arts sectors as much as any. For the Umbrella Arts Center — a WBUR corporate partner — the coronavirus outbreak struck at a particularly critical and vulnerable time, as the growing organization had just reopened its multifunction facilities. Stewart Ikeda, Director of Marketing and Strategic Communications, shared with INSIDE WBUR how The Umbrella has adapted and even found some surprising new successes and benefits by embracing mission-driven change.
How has your business been impacted by the coronavirus outbreak? Can you explain in a few examples?
Ikeda: The Umbrella was on a rapid growth trajectory, in the midst of a "grand re-opening year" following a several-year, multimillion-dollar construction and expansion project, with enhanced programming, promotions and staffing planned across every department of our multifunction arts center. We'd scheduled more and bigger everything — exhibitions, classes, summer camps, concerts, public art installations, festivals, community partnership and engagement events, and an expanded lineup for our inaugural season as a newly minted professional theater. COVID-19 shut down everything: opening night of Bent; newly hung gallery exhibitions; classes and camps. It also impacted our outreach into the community, from our Earth Day and solstice festivals, Artweek, a Little Women film celebration, and more.
Can you illustrate examples of how your business had to adapt to the evolving situation, especially in the first few weeks?

Ikeda: In the early weeks, we scrambled to implement new hygiene and distancing protocols to safeguard our staff, teachers, students, performers, and more than 50 resident studio artists in the building – many high-risk. We faced the usual steep learning curve for virtual and home officing, PPP, etc. and some us were hard-hit by and survived coronavirus.
Did you have to pivot or introduce new methods to operate?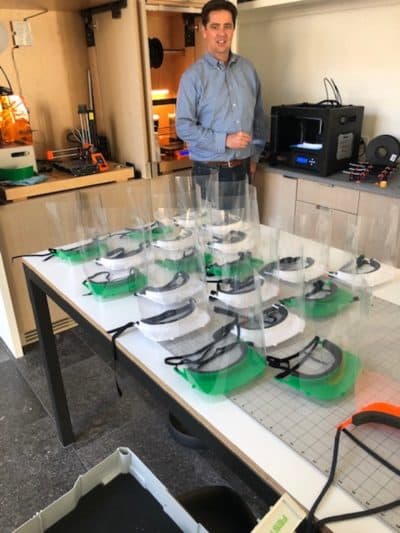 Ikeda: We've undergone two major changes – for the better, I think. First, in isolation, our staff, board, advisors, community partners, and many artists have curiously become closer, friendlier, more cooperative, and less siloed through shared adversity and problem-solving. And ironically, having spent years ramping up fundraising, construction, and promotions to become a regional cultural destination, we suddenly found ourselves unable to invite anyone in and having to re-evaluate what The Umbrella is beyond a building, classrooms, theaters, galleries, makerspace.
We had to go back to our mission statement: The Umbrella enriches lives and builds a vibrant community through the arts and innovate new ways to inspire creativity, learning, and personal growth through arts education programs, performing and visual arts presentations, and community collaborations all at a distance, without an arts center. To deliver on our mission, we re-tooled to act as a media and technology organization.
How did you communicate with your customers?
Ikeda: Upon closing, we instantly increased our communications four-fold – with regularly weekly newsletters, enhanced daily social media messaging, regular Zoom meets for artists, and weekly staff team meetings, plus enhanced regional media outreach. And, we've participated in multiple town businesses, tourism, and cultural planning teams.
Did you receive any feedback from them on social, email, etc.?
Ikeda: We've been deeply gratified by the positive response we've seen through all those channels. People have been especially responsive to messages of community, connectedness and hope. One Facebook posting about a volunteer who used our 3D printer to fabricate surgical shields for Emerson Hospital workers saw our highest engagement ever, while parades of neighbors drove by for selfies at our building lighting installation.
Has your business considered moving online? If yes, what were the challenges you had to overcome to make it happen?

Ikeda: Yes, we've rendered everything we can into virtual experiences: three "virtual summer camps"; art classes employing online tools and curbside pick-up/drop-off; Zoom artist talks and dramatic readings; 360 virtual gallery tours. We completely reimagined our 30th anniversary Earth Day Celebration as an asynchronous, month-and-a-half long series of at-home, DIY, outdoors and online multimedia activities. Finding and customizing the right platforms for each, investing in the infrastructure, recruiting the talent, and reconceptualizing all of our basic fundraising, ticketing, and enrollment models while working apart have been major challenges, but the investment we're making now will redound to our credit in the future – whether for future shutdowns or in expanded, hybrid programming that reaches new audiences.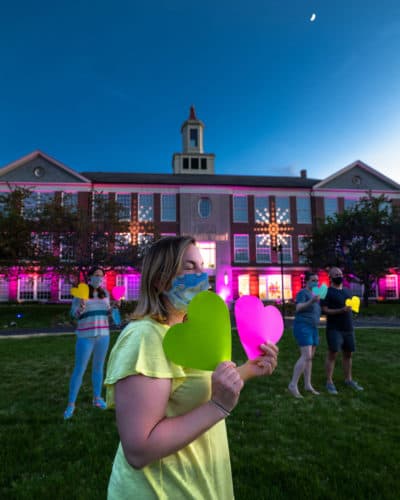 After our expansion, our fundraising goals had been more ambitious than ever, so we were really concerned about having to cancel our planned gala and art auction, plus a benefit concert by the Indigo Girls. But in a great surprise success, we determined to mount a subdued virtual "celebration of the arts" event – we jokingly called it an un-gala — just to keep our community engaged and share something positive. With skilled technical help from Boston's AVFX and a super-dedicated volunteer gala committee, we created a Livestreamed super-concert and online auction, "Stand by Me," starring a host of award-winning performers that support The Umbrella, and friends like Robin Young and Joyce Kulhawik. There were asynchronous, real-world elements – a huge light installation projecting messages of thanks to our building and art-themed celebration boxes sent to our sponsors to enjoy during the virtual event.
Thanks to an upwelling of sponsor support, a generous donor match, and an auction of unique experiences, the event turned out to be our biggest fundraising event and web traffic day ever. We not only exceeded our initial gala goal by over 250% but vastly expanded our reach to a nationwide audience. Just under one-third of our web traffic was from outside Massachusetts, as were several of the auction bidders. It was amazing!
What do the next few months look like for your business?
Ikeda: Instead of opening to the public, we have determined to emphasize infrastructure building and improving our virtual programming, while designing safety protocols for the return of limited staff and our resident studio artists. We will emphasize outdoor programs that can be enjoyed at a distance that will encourage reconnecting with nature while social distancing throughout the summer, such as our Go Out Doors public bike path installation and annual Art Ramble installation. We're curating a number of virtual art exhibitions — including a new partnership with Minute Man National Historical Park — and will be supporting new multimedia and performance works. We're especially excited about a planned families-oriented virtual exhibition for our summer classes and camps. And, we're working on plans to expand accessibility, promote equity, and broaden our reach as we continue to enrich lives and build community through the arts.
This interview was lightly edited for brevity and clarity.
---