WBUR Recognized By The Awards For Excellence In Health Care Journalism For Investigative Series, 'Dying on the Sheriff's Watch'
The Awards for Excellence in Health Care Journalism recognized WBUR for the best health reporting in print, broadcast and online media. The investigative series, Dying On The Sheriff's Watch, by Christine Willmsen and Beth Healy won third place in the "Investigative (Large)" category.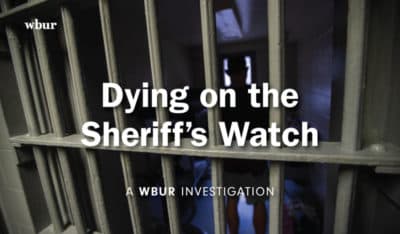 As one of the first to air an in-depth series revealing the hidden causes of death in county jails, WBUR utilized a database built from thousands of jail, legal and state documents as well as dozens of interviews and months of reporting to paint a vivid picture of inadequate medical care, negligence and secrecy that led to the deaths of dozens of inmates and left their families in the dark.
First place was awarded to ProPublica for Inside the Fall of the CDC. The Wall Street Journal won second place in the category with Nursing Homes' Fatal Failures.
Dying on a Sheriff's Watch marked the first series by the WBUR Investigations. To read and listen to the series, please click here.