Angela Liu Appointed Community Advisory Board Chair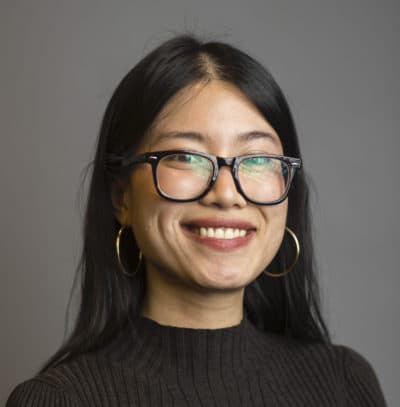 WBUR has a new chair of its Community Advisory Board (CAB) — Angela Liu becomes chair on July 1, 2021. She replaces Peter Fiedler whose term ends on June 30.  The CAB is a group of Boston-area community and business leaders dedicated to supporting and advancing the mission of WBUR while representing the different voices and faces of the local community.
"We selected Angela for her operational and strategic acumen, her demonstrated commitment to Diversity, Equity and Inclusion, and because she is a WBUR super fan," said WBUR CEO Margaret Low. "I can't wait to work with Angela. I know she will make us a smarter organization and help us deepen our ties to the community."
Liu is a founding member and Director of Hack.Diversity, a division of the New England Venture Capital Association (NEVCA). Hack.Diversity works with employers in Boston's innovation economy to increase the representation of Black and Latinx technologists in the field, as well as evolve organizational behaviors and practices to support retention and promotion of that talent. Liu directs the organization's operations, strategic growth, and impact evaluation.
As a voracious seeker of varied perspectives, I've long respected WBUR's body of work. I am energized to build upon the record established by the outgoing chair Peter Fiedler and am honored to bring my decade of progressive responsibility and impact at the intersection of STEM workforce access, economic mobility, and corporate social responsibility to maximizing the brain trust of the CAB in advancing WBUR's mission.

Angela Liu
WBUR CEO Margaret Low, Director of Development Mary Hull and three members of the WBUR Board's Governance Committee: Committee Chair John Burgess, Melissa Fetter and Carmen Arce-Bowen vetted numerous strong candidates for the position.
Low added, "I want to thank Peter Fiedler, our outgoing Chair, for his deep dedication to WBUR and more than a decade of service to our community."
The CAB, as required by federal law, reviews the programming goals established by WBUR, the service provided by WBUR, the significant policy decisions rendered by WBUR, and assesses whether the programming and other policies of the station are meeting the specialized and cultural needs of the communities served by WBUR.