WBUR photographers reflect on Boston Marathon bombings ahead of CitySpace 'The Finish Line' exhibit
Ten years have passed since the 2013 Boston Marathon bombings shook this city and the world. The images from that day, and the weeks following, show both the horror of the crime and the vast resolve of the people in the region.
Over the ensuing decade, WBUR staff photographers Jesse Costa and Robin Lubbock have returned to the marathon, and to the victims and their families, to capture the resilience of Boston and the marathon community. Some of those images are on display in "The Finish Line," a new exhibit on the bombings and the iconic race over the years.
In the Q&A below, Costa and Lubbock discuss the stories behind those photographs. You can see "The Finish Line" through April 14 in the windows of CitySpace, at 890 Commonwealth Ave.
---
WBUR Director of Cross-Platform Collaboration Laura Hertzfeld: How do you decide how to cover the race itself and the memorials each year?
WBUR Staff Photographer Jesse Costa: Generally, we don't cover sports. My role is not so much to capture the runners. I do if I can, if I have the opportunity to. By the time the elite runners come in, the sidewalks are packed, and it's tough to actually see the course. We rely on Associated Press pretty much to capture the finish. I'd much rather capture color, capture people on the sidewalk, capture the runners that are finishing, the regular participants that are getting their medals, and you know, being exhausted, just trying to get that aspect of the race. Once in a while I'll get a glimpse of one of the elite runners, but it's hard, because there's a lot of security.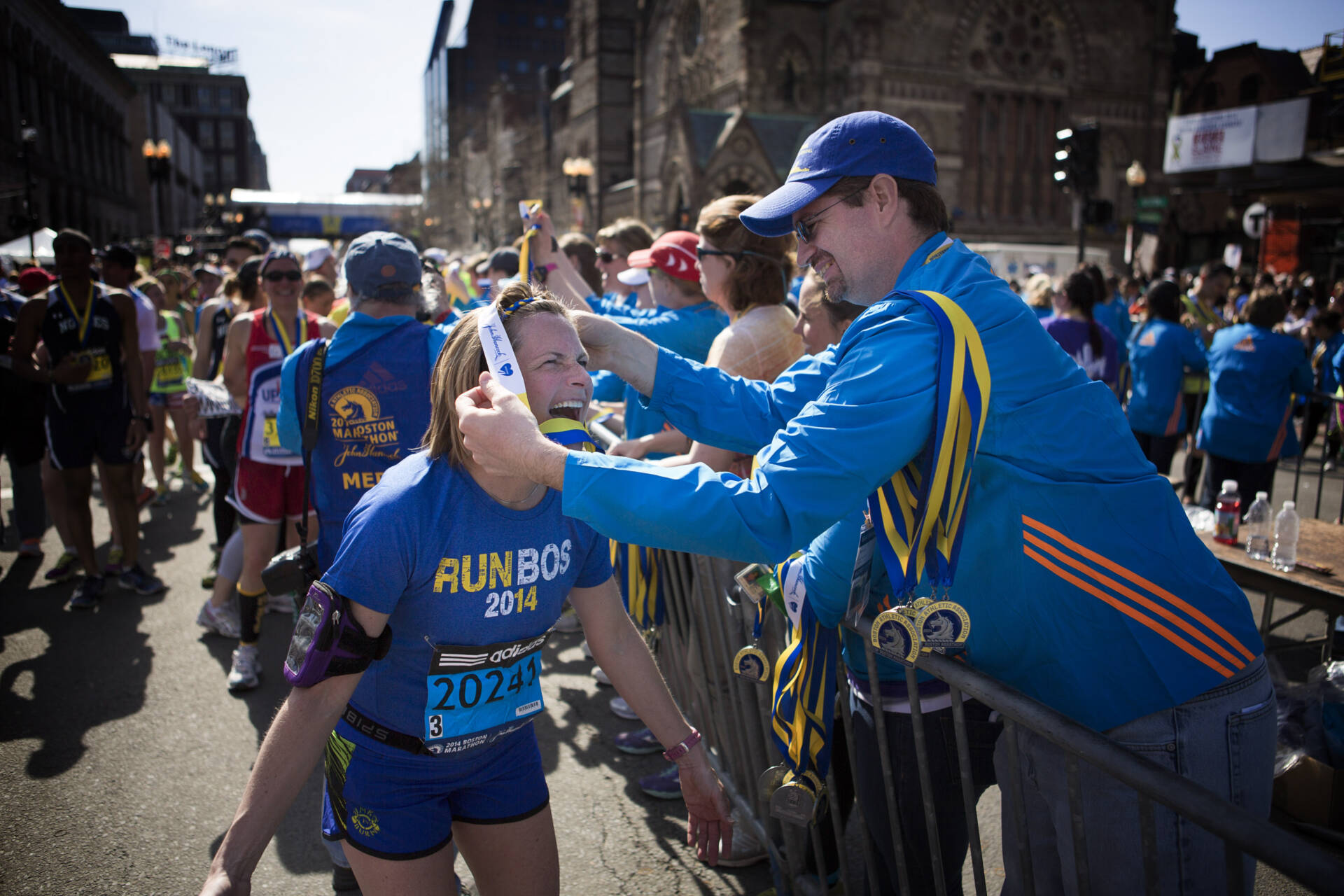 JC: That's the one thing that's changed a lot since the bombing is there's so much security, and it's sometimes hard to just stick in one place. You gotta move around, and I've been called the 'man without a home' because I'm all over the place.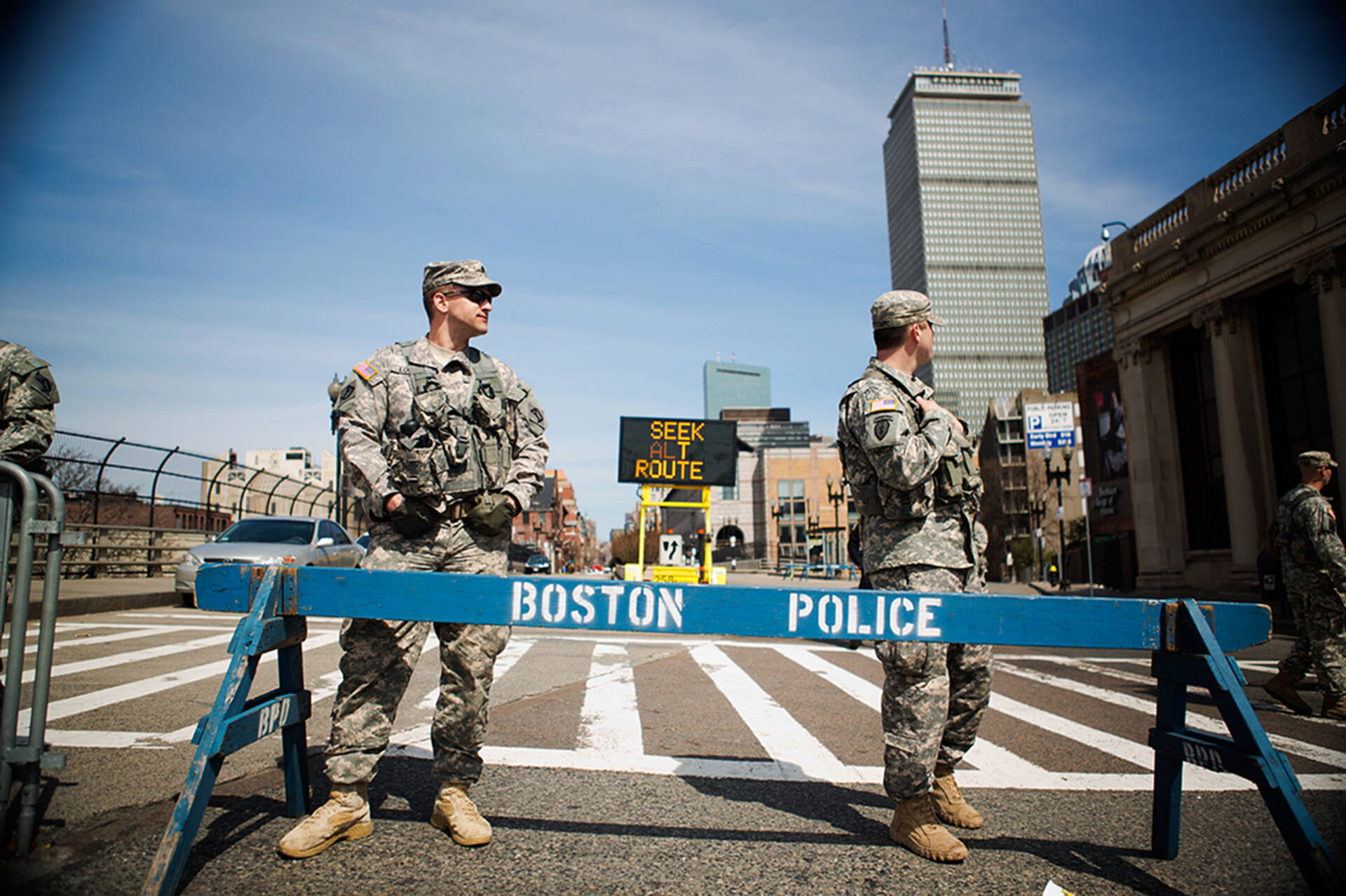 I'm trying to capture not so much the race, but the feeling of it, the camaraderie. You see people crossing the finish line together, and you know their friends or family — and they're happy. I'm just trying to get a taste of what the race is like instead of it just being like 'this person won the women's division, and this person won the men's division and these people won the wheelchair division.' It's far more than that for me.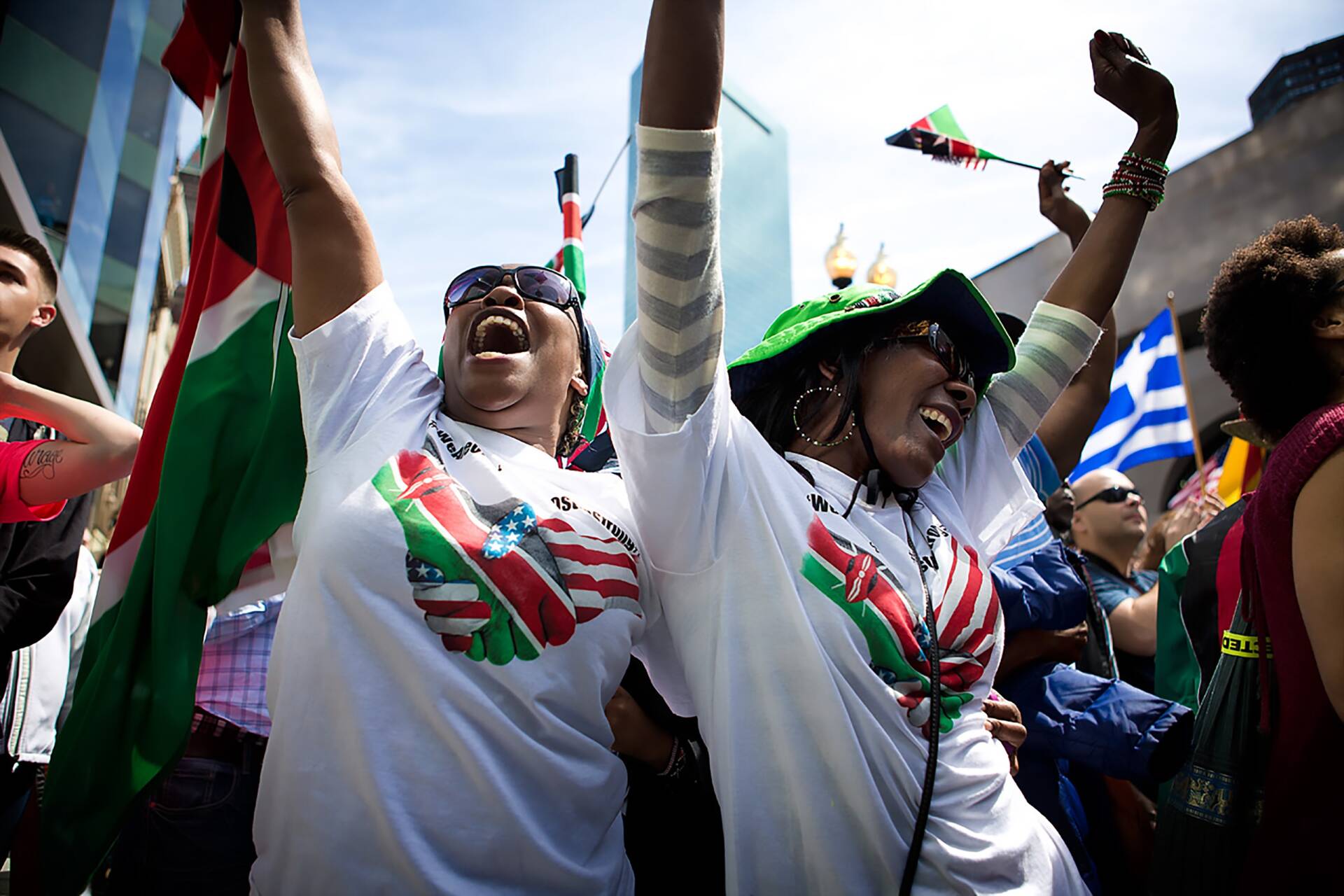 LH: What are you looking for when you go to cover memorials?
JC: They have a moment of silence on One Boston Day, and this year it's on the Saturday before the race. Generally, it's just a solemn moment and you're trying to capture that emotion. Sometimes you'll find survivors of the blast there and it's very, very emotional. You have a lot of people that have been affected by that incident, and usually there's a pretty good turnout.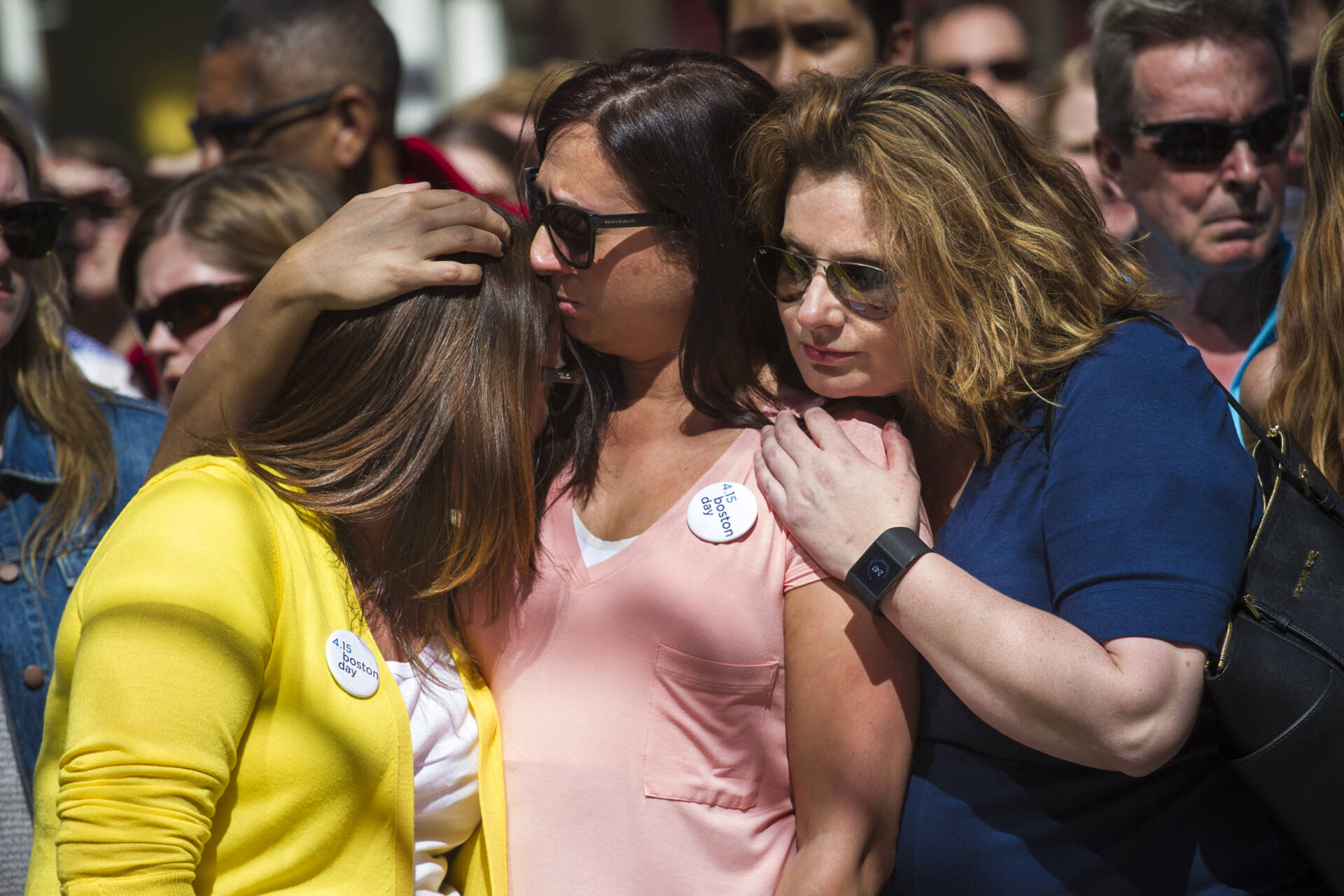 LH: Is there a single moment that sticks out to you from that day? Is it hard to talk about, and then go back and keep covering it every year? I know it's your job, but it can still be hard.
JC: Initially, it did. The first three or four years it was really hard to rally and want to go down there. I was at Boylston Street everyday the week following the bombing, for Krystle Campbell's funeral, which was pretty heart-wrenching, and then Sean Collier's memorial, the MIT police officer who died. After all that was done, getting back into the driver's seat was kind of tough, you know, until pretty much once you got there. Once you got to Boylston Street, and you saw people really getting into watching the runners and celebrating and everything was — all right, it's not that bad. But the first three or four years were tough, I'll admit.
But not so much anymore. I don't want to say that I look forward to it. But you know it's just a news event that we have to cover. And I'm always looking for new ways to visualize it.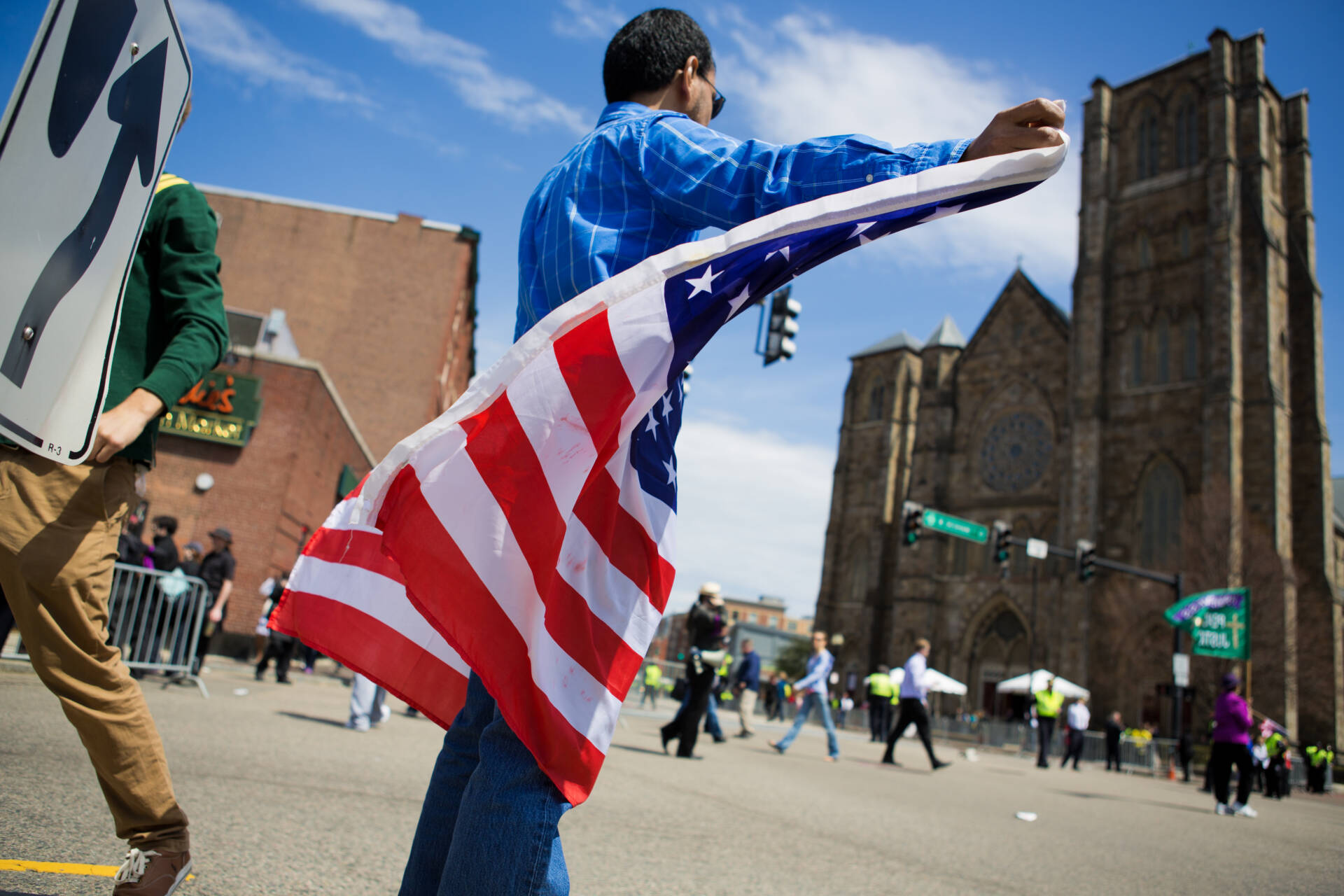 LH: How do you keep something like that kind of fresh every year like we have? From a visual perspective, what do you think about?
WBUR Staff Photographer Robin Lubbock: Well, I generally go to the start [of the race] And at the start, it's very different. It's much more sort of business-like. It's filled with people who are slowly inching toward the start line. It's not like the finish. There's no medals. It's all about getting moving, not about celebrating. So for me, if there's something going on there, I want to get that.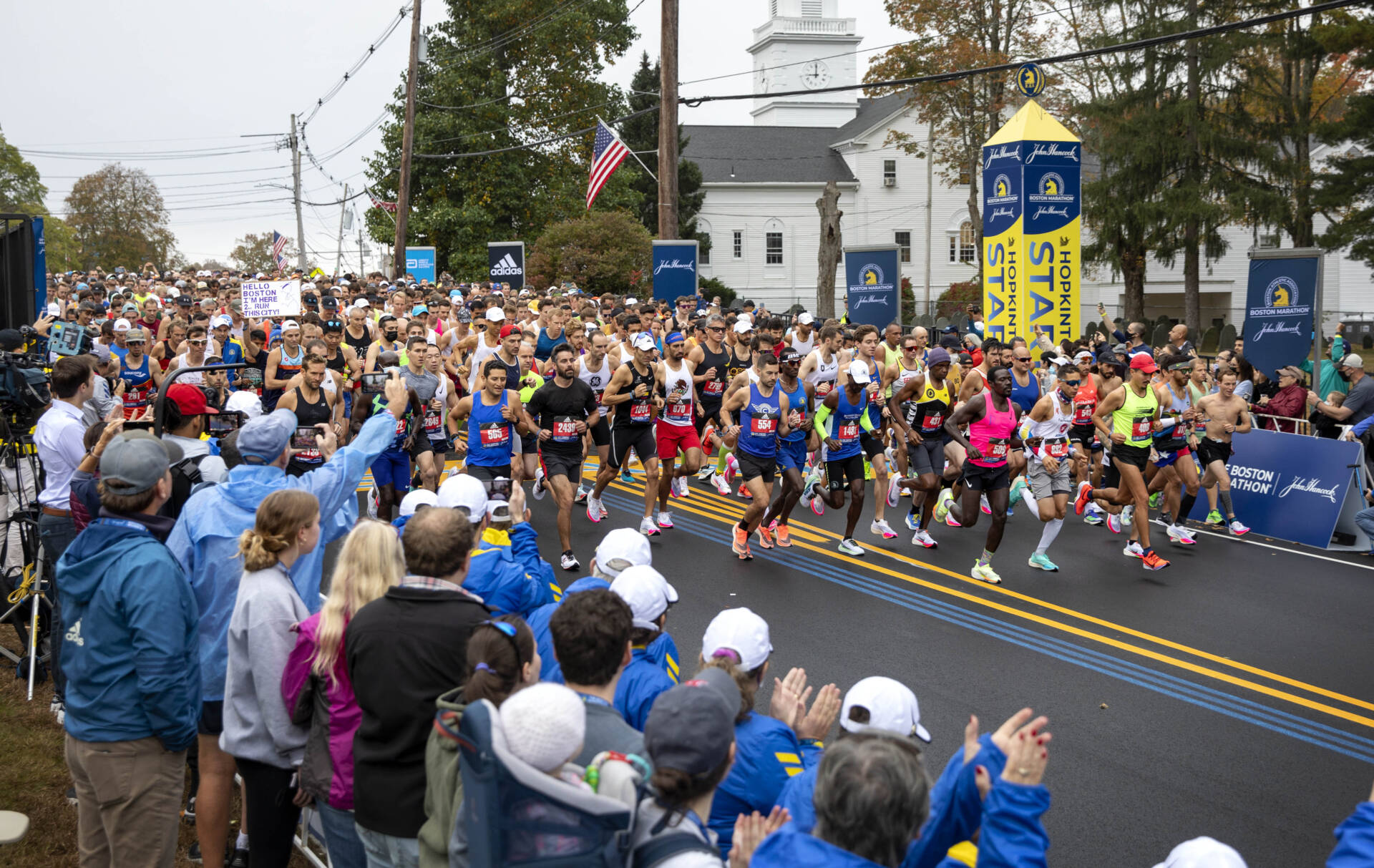 RL: The thing I do remember about that first year [after the bombings] was worrying. Just this kind of feeling like, are we going to get through the day? Is anything else going to happen? I don't remember that happening in the second year or the third year. I suppose this year will be different. I think it'll be more about the memorial. So it'll be different. I think the race will be pretty much the race.
LH: Is there one of these images from this selection that sticks with you?
JC: This is a tough one. It's like trying to pick your favorite child. I'll go with Mery Daniel. Because you know that was actually an assignment that came out of the blue. I had no idea that I'd be working on it. It was so inspirational to see this woman who suffered because of the bombing, and she was going through rehab you know, working really hard to get back up on her feet. I like the shot a lot that I took just because it's got the sun behind her. It's like it has sort of an inspirational kind of feel to it. And you can see how hard she's working. She has this person who is her therapist, and she was a super sweet, wonderful woman. I know it's her job, but she was just like, you know, so encouraging and just, you know, pushing her to really try to get her back to a point where she can actually function on her own rather than relying on other people.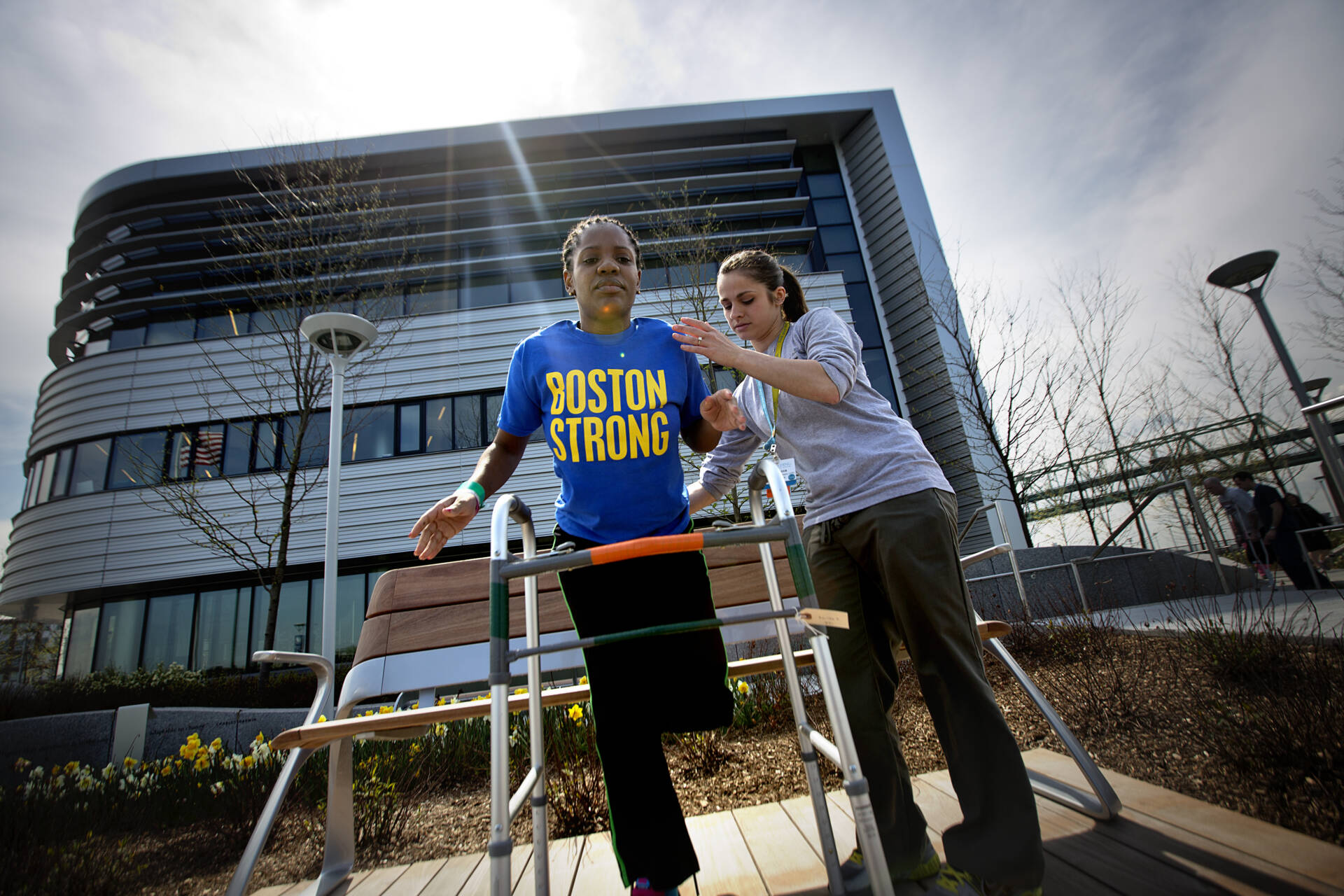 LH: Tell me about the woman holding the "it's my first marathon" shirt.
JC: That is a cool shot. I like that shot. It's at the Boston City Archive. They have an archive of documents and all sorts of just random Boston stuff. There was a huge memorial that had sneakers and cards and flowers, and you know just things that people made. It was massive. When they finally broke it down they put it in the archive. We went because they were setting up an exhibit at the Boston Public Library. This woman was one of the two curators of the project.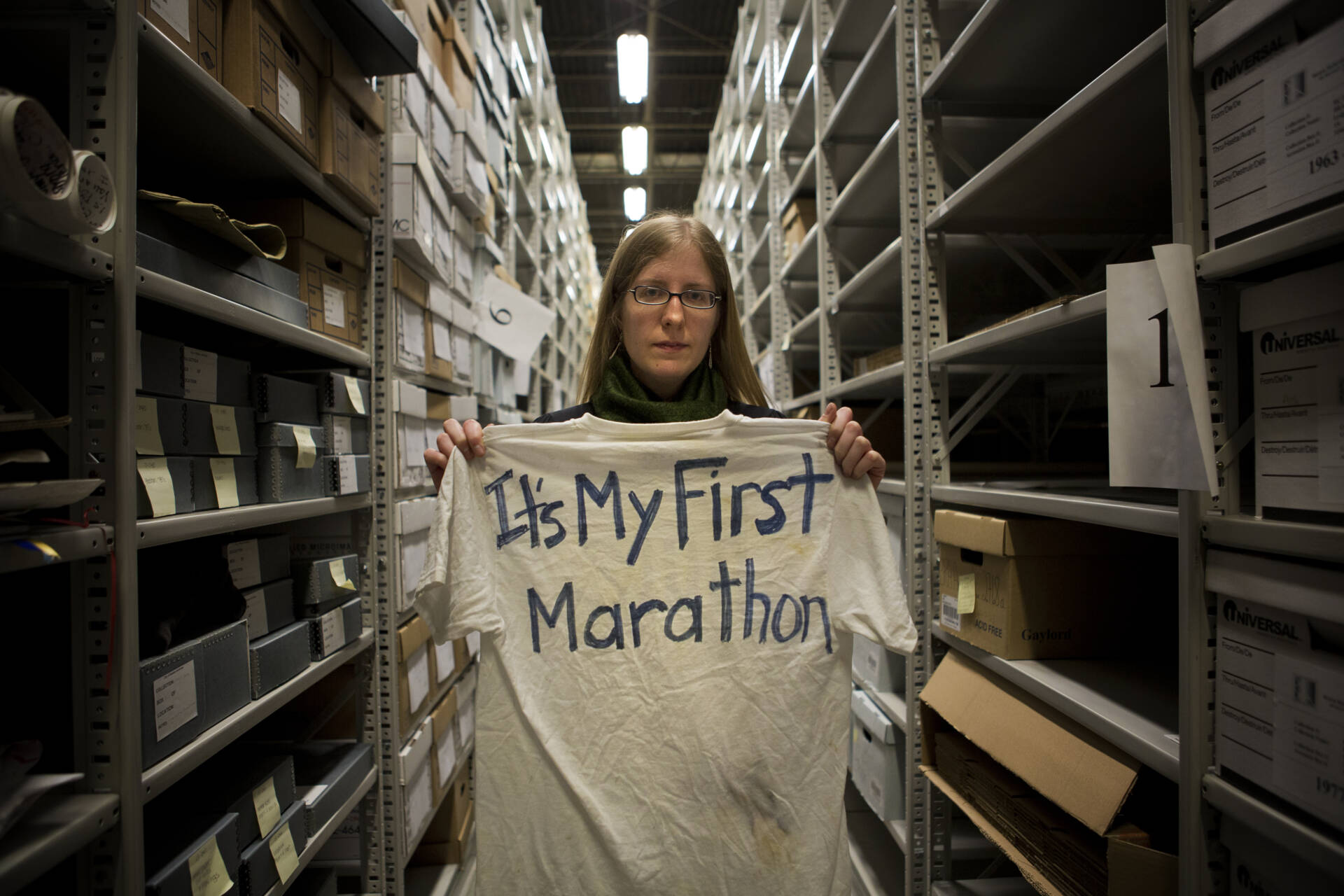 LH: Can you talk a little about how you maintain that distance when you're shooting something as intimate and also kind of emotional as these events?
RL: Generally speaking, I would say that, you know, I want to be respectful of people. Obviously, sometimes you have to walk in the way. But I try to stay out of the way. If I can I try to be invisible and be respectful.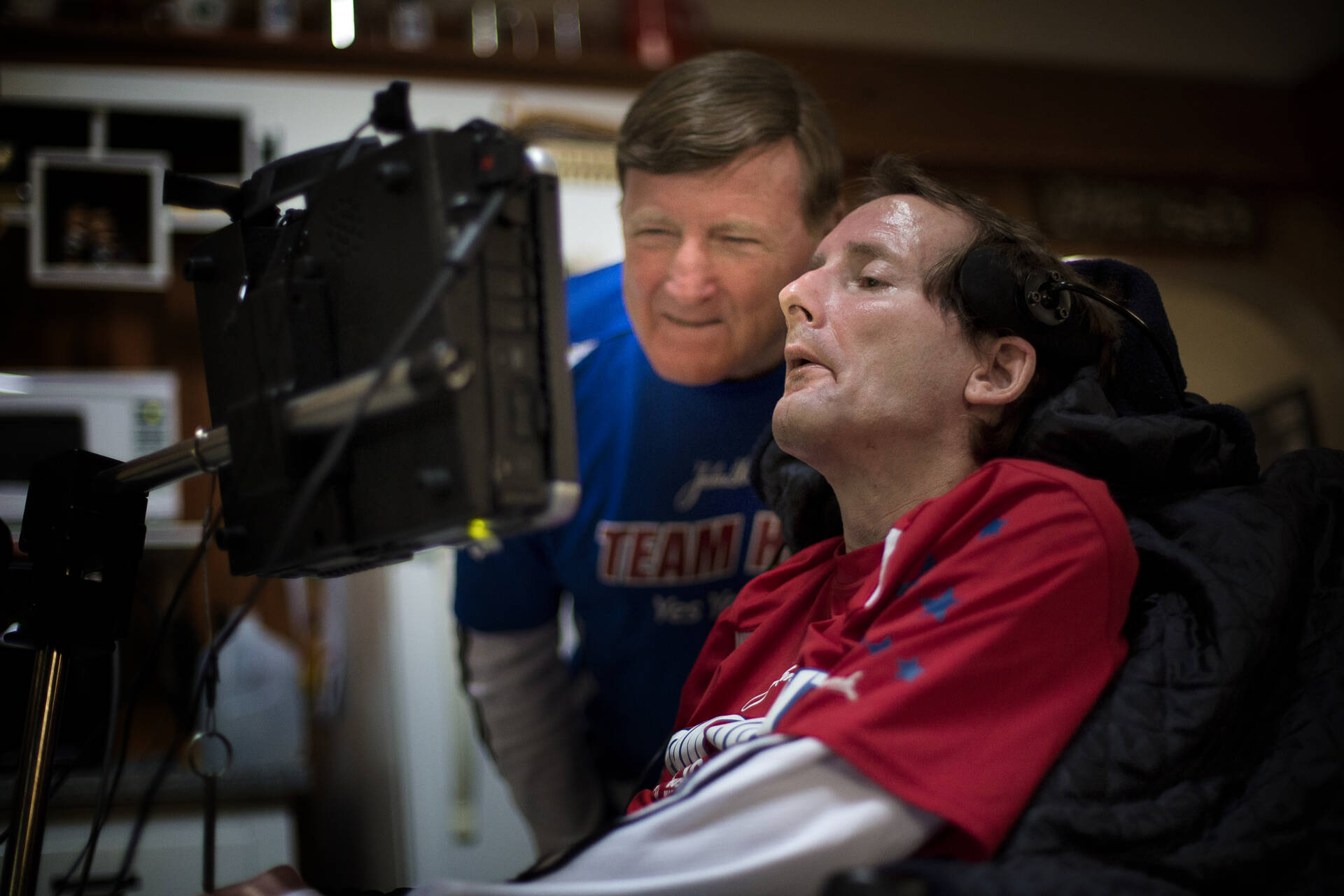 LH: What do you hope that folks walking by these on the street will take away? You know, when you look at them, how does it make you feel?
JC: I mean for me, just the chronology of the events, and seeing how far the city has come since that day. And that the Boston Marathon still continues, albeit it's changed a lot because of the security. People still go, and they enjoy themselves, and the runners enjoy themselves. I just want to show that we made it through.
LH: I feel like every time I say to somebody that we're working on this project they're like, 'It's been 10 years?' It's so hard to believe that it's been that long.
JC: I was surprised early in the year when we started talking about this, and I was like, 'wow, it's been 10 years already.' And then I sort of had that feeling that I had the first four years like, 'Oh, my God, this is going to be awful!' But, you know, I haven't gone back [to that place] yet. So it's good.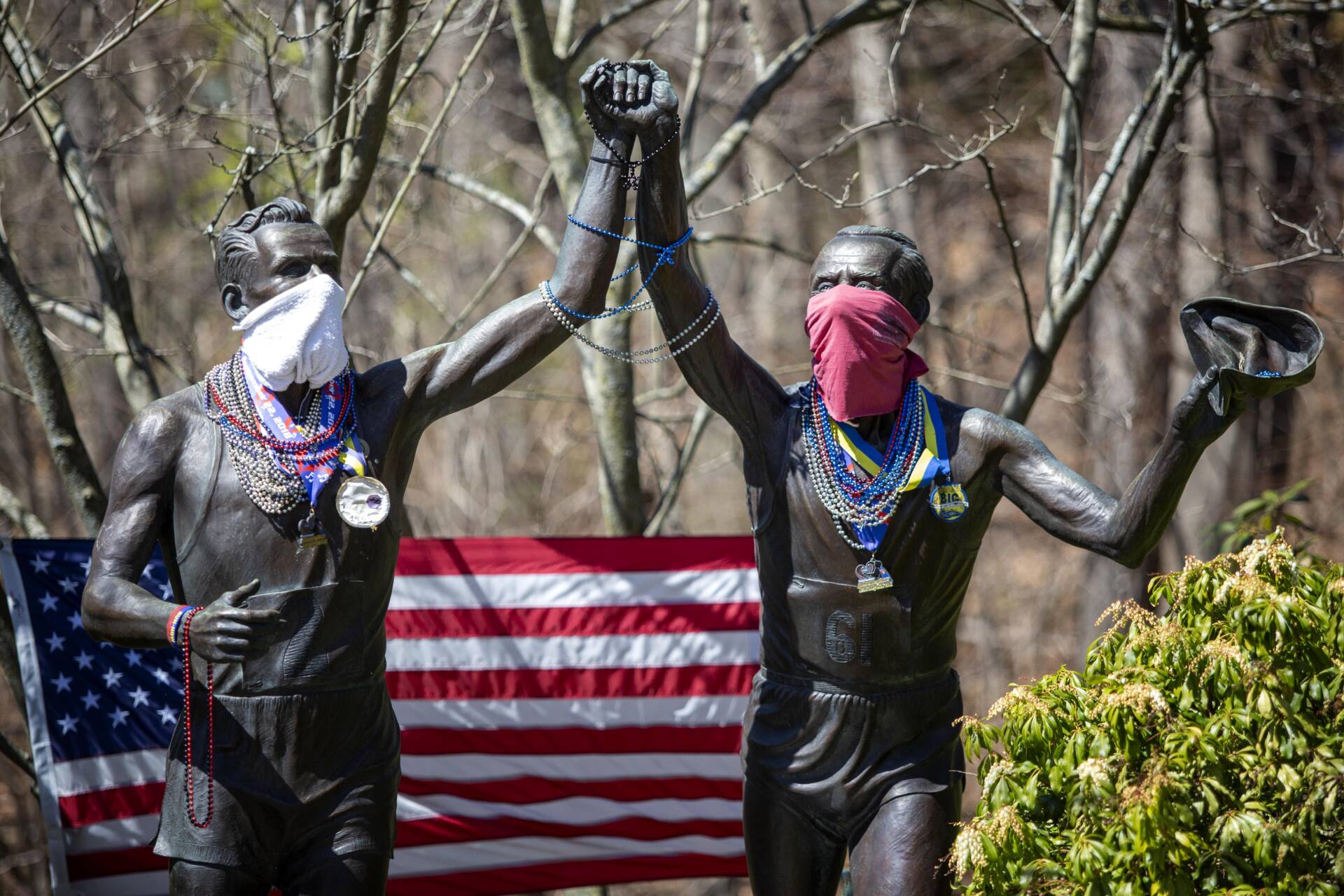 RL: You know, I think these things happen and they kind of cast a shadow over the city or over wherever it is. And it's so sad and pointless, and the worst of humanity. Who would do such a thing? And I think I just want it to be normal. So I would say if [the photos] do anything, they remind us of bad times and maybe remind us that normal isn't so bad. Let's be kind. Maybe I'll say 'what a great picture Jesse shot there,' maybe it'll be a celebration.
---
Editor's Note: This Q&A has been lightly edited for clarity and style.