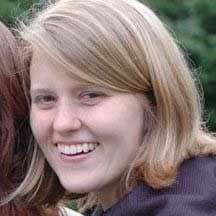 Jill Ryan
Senior Associate Producer, Here & Now
Jill Ryan is a producer for NPR's Here & Now. Ryan joined Here & Now in 2008 and has produced coverage on stories from the civil war in Syria to the Kenya mall attacks, the Egyptian revolution of 2011, the rollout of the Affordable Care Act and the presidential election of 2012.
She has produced a range of interviews — from Sen. Kirsten Gillibrand to PayPal co-founder Peter Thiel, tennis great Jimmy Connors, actor Michael K. Williams and former Senate Majority Leader Tom Daschle.
Ryan is behind the Here & Now DJ sessions, crafting features on the music coming out of cities across the country, including Chicago house, Miami reggae and Nashville country.
From 2010 to 2012, Ryan also produced and edited Here & Now's website.
In 2010, she reported in India for PRI's The World, World Vision Report and Here & Now.  
Before her time at Here & Now, she worked at NPR in Washington, D.C., and at WPFW, a Pacifica station. She graduated from Bucknell University in 2005, magna cum laude.