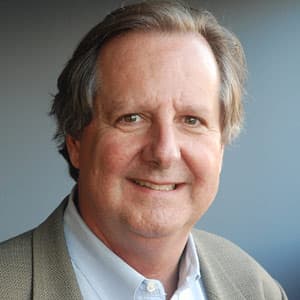 Sam Fleming is currently serving as WBUR's interim general manager. In addition, he continues to oversee WBUR's content as the managing director of news and programming — a role he's had since 2004. He is responsible for supervising a staff of more than 100, including news managers, producers, reporters, writers, editors, hosts and production staff. Under his direction, WBUR's news department has garnered more than 50 national and local awards recognizing the quality and depth of its news coverage.
Sam brings to WBUR almost 40 years of experience in public broadcast media. He first worked at the station in 1981 as a general assignment reporter, but his longer tenure began 10 years later when in 1991, he returned as managing editor. The following year, he was made WBUR's news director. In that role, he oversaw the breadth, depth and daily workings of the news produced at WBUR and helped to manage the content of daily broadcasts in their diverse forms.
Sam has also worked at New Hampshire Public Television (PBS) in Durham, New Hampshire, as news director and reporter/producer; at WGBH-TV (PBS), in Boston, as political reporter for the Ten O' Clock News, where he reported on the 1988 presidential campaign; at WMUR-TV (ABC) in Manchester, New Hampshire, as a political reporter covering the statehouse; at New Hampshire Public Radio in Concord, New Hampshire, as the news director and Morning Edition host and reporter. Sam also contributed pieces to NPR's Morning Edition and All Things Considered.
Sam lives in Cambridge and Martha's Vineyard where he and his wife reside.