"Oh, to describe it," Brent Warfield says. "Have you ever jumped out of a plane?"
Brent doesn't jump out of planes, but he loves the open road. Both his biological and adoptive father rode motorcycles, he says, and when he saw groups of bikers riding by him as a child, it called to him.
"It's just free. The closest you can get to flying. You've got the wind in your face, the sun beating down on ya, [you] look behind you in your mirror and see hundreds of bikes just rolling over a little hill. I forget my worries, just look out. It's wind therapy."
Brent works at a motorcycle shop in Auburn, a town in northeast Indiana, and he rides his motorcycle every day. When he's not riding, Brent spends a lot of time on projects helping others. Every Christmas, for example, he collects money and buys presents for families who can't afford them, which is how he met Tammy Mick.
Tammy has three kids. As she talked to Brent at the motorcycle shop about Christmas, she told him about the issues facing one of her kids, in particular: her youngest, Phil, who was 10 at the time.
One day, Tammy said, when Phil came home from school, she noticed he was holding his hand to his head. When she moved his hand, she saw he had been trying to cover a goose egg.
"I was fire-engine mad," she says. "I asked him what happened, and he finally broke down and told me."
Phil said a boy at school slammed his head into a wall, and it wasn't the first time he'd gotten picked on. Although his mother didn't know it, he said, kids had bullied him for two years. They would kick him, hit him, make fun of his clothes and taunt him for being overweight.
"It felt like I was underground and getting caved in," Phil says.
Phil had lots of dreams, dark dreams that brought his mom rushing to his bed to see what was wrong. In the dreams, bullies beat him. Then one night, he dreamed something even worse.
"I had one dream that I actually killed myself," he explained. "I just didn't want to live anymore."
When his mom heard about that dream she says it was like someone had driven a knife through her. So when she met Brent, she told him how helpless she felt.
Brent could relate. Like Phil, he says he grew up poor, and traumatic events in his childhood still affect him.
Tammy told Brent that Phil was starting middle school this fall, and Brent decided the boy needed a fresh start. So he made a plan. First, he took Phil shopping for school supplies and clothes, got him a haircut and took him to dinner. When Phil got home, he was full of energy.
"He goes, 'Me and Brent did this and that, Mom!' " Tammy remembers.
But that was just Part One of Brent's plan. He posted a callout on Facebook to the motorcycle community, and at 6 a.m. a few days later, long rows of motorcycles filled the parking lot at a local restaurant as Brent and 50 other bikers met Phil and his family.
They had come to escort Phil to the first day of school.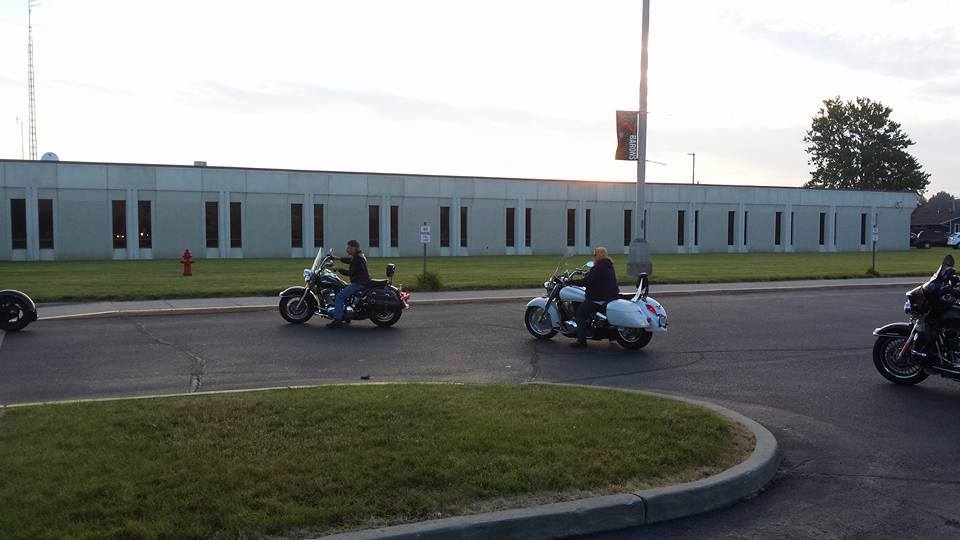 "People on Facebook who knew what we were doing that day were driving by and honking their horn and waving," Brent says.
Phil was nervous.
"He was like, 'Mom, I don't think I can do this.' I said, 'Yes you can.' I said, 'You can do this,' Tammy recalls.
Phil got on the back of one of the motorcycles, and all 50 of them started riding, with Phil at the front of the pack. He was glowing.
"When I was on the bike, I felt like I was God's son," Phil says. "Full of joy and all that. It felt like a million bucks."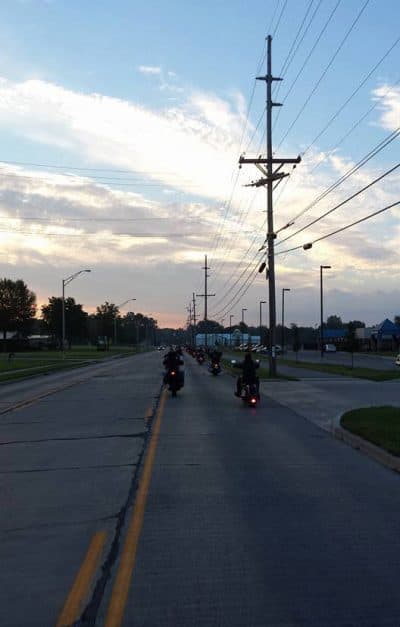 They dropped him off at the front door, with the principal there to greet him. He's been in middle school a few weeks now, and Tammy says he loves it. Brent checks in every other day to see how they're all doing.
"I hope he's in our lives forever, because he's family," Tammy says.
Phil is dreaming again, but a different dream now. The first time, it started as a nightmare, but the nightmare changed and a unicorn appeared. Then Phil was on the unicorn's back, flying. He rode the unicorn the same way he rode the motorcycle with Brent and the bikers.
"It felt like the same thing, and the unicorns talked," Phil says. "It was like God gave the unicorn powers to talk to me and make me feel like I belonged in this world."
The unicorn told Phil that everything would be OK.
"And it actually came true," Phil says.
Decades after his own traumatic childhood, Brent has given Phil what he never had: deep support and a community of mentors.
Motorcycles drive the road near Phil and Tammy's house all the time, and every time Phil hears the sound of those engines, he smiles and knows he's not alone. His bikers have his back.
---
You can reach the National Suicide Prevention Lifeline at 1-800-273-TALK (8255) and the Samaritans Statewide Hotline (call or text) at 1-877-870-HOPE (4673).
Email kindworld@wbur.org to share your story. This episode includes music by Blue Dot Sessions (CC BY-NC 4.0).
This segment aired on August 29, 2017.