This Unlikely Mechanic Saw A Pattern Affecting The Poor, And Now Works To Repair It
Play
Seventy-four-year-old Judy Hegrenes has always had a very special relationship with her dear "Sis," but they're not exactly blood relatives.
"I don't know which of us is older because I'm 74, but both of us are elders," she says.
Sis is what Judy affectionately calls her 1999 Chrysler Cirrus. For two decades, Sis has zipped Judy from church to church for her job at a nonprofit in Greater Minneapolis. She trains volunteers on how to support victims of domestic violence.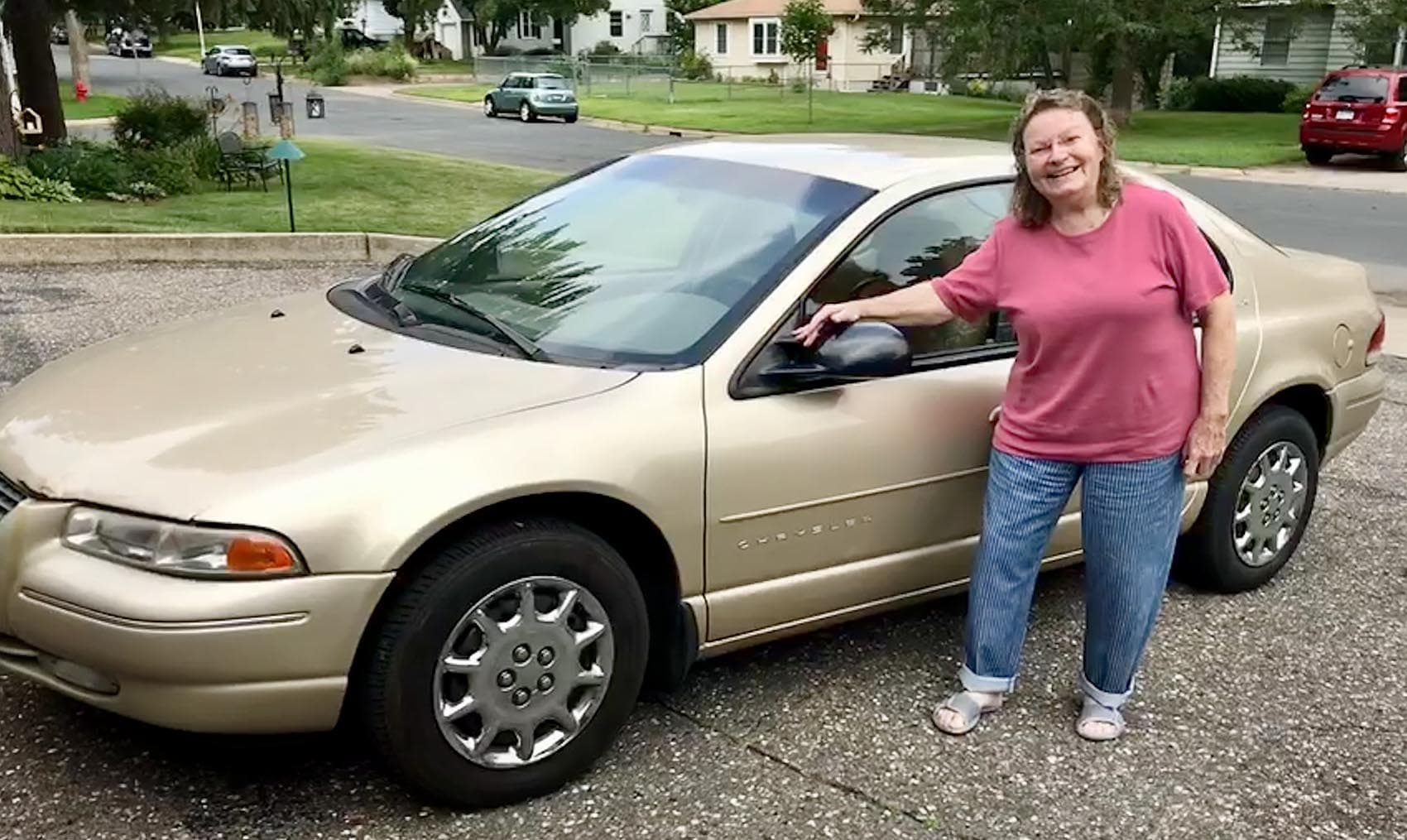 Five years ago, Judy was stopped at a red light a few blocks from her home. Suddenly, a young man driving an SUV while talking on a cellphone rear-ended her.
Judy was seriously injured. Though she had always been an active woman, Judy, then in her late 60s, struggled to relearn to walk and use her arms.
Too injured to work, Judy was forced to retire. With no income, she drained her savings to pay for her expensive medical treatment. But Judy wasn't the only one in need of repair and rehabilitation. Sis, her lifeline, also needed help.
"We needed to keep Sis going," says Judy.
So, Judy reaches out to everyone she can think of to ask if someone can fix her car. Fortunately, someone answers her call.
Cathy Heying has made a career out of lending a helping hand to those in dire financial straits. In her work with the poor and the homeless, she notices a common thread is often stalling their lives: Poor people can't afford to fix the cars they depend on to survive.
"Often the story was, 'I have this car. It desperately needs brakes. I have a job, but my job is 30 minutes away. And I work second shift, and there's no bus when I get off at night,' " says Cathy. "This car was the linchpin holding everything together, and you pull that pin and everything falls apart."
Cathy was so bothered by this recurring crisis she decides to open up her own auto shop. The only problem is she had no expertise of any kind in cars or mechanics.
"There was something bigger than myself that was pulling me toward this," says Cathy. "It became clear that I would regret it more if I didn't at least try."
In 2008, a 38-year-old Cathy enrolls in automotive school. In her class of 40 students, she is one of three women and the oldest student by far.
"It totally kicked my butt," Cathy laughs.
Despite the challenges, Cathy stays the course. In 2013, she opens her own garage. It has one car lift, one repair bay and a small volunteer staff.
Cathy's clients, who all live at or below the federal poverty level, pay for parts at-cost and about $15 per hour in labor costs. The average price for a mechanic in the Twin Cities area is around $100 per hour.
Cathy's business is exactly the kind of break Judy and her car need.
When Judy rolls up to Cathy's shop, she doesn't know what to expect the nonprofit director will look like. She certainly doesn't expect Cathy to be the person working under the car. Judy is floored by the expertise Cathy and her team share.
"They just went to work," says Judy. "They fixed the problem."
Once Cathy and her crew fix a transmission fluid leak on Sis, she once again is ready for the road, ready to help Judy on her own road to recovery. Judy gets her lifeline back.
"Cathy has also allowed me to take care of myself for the most part," says Judy. "She has given me an opportunity to maintain a self-sufficient life."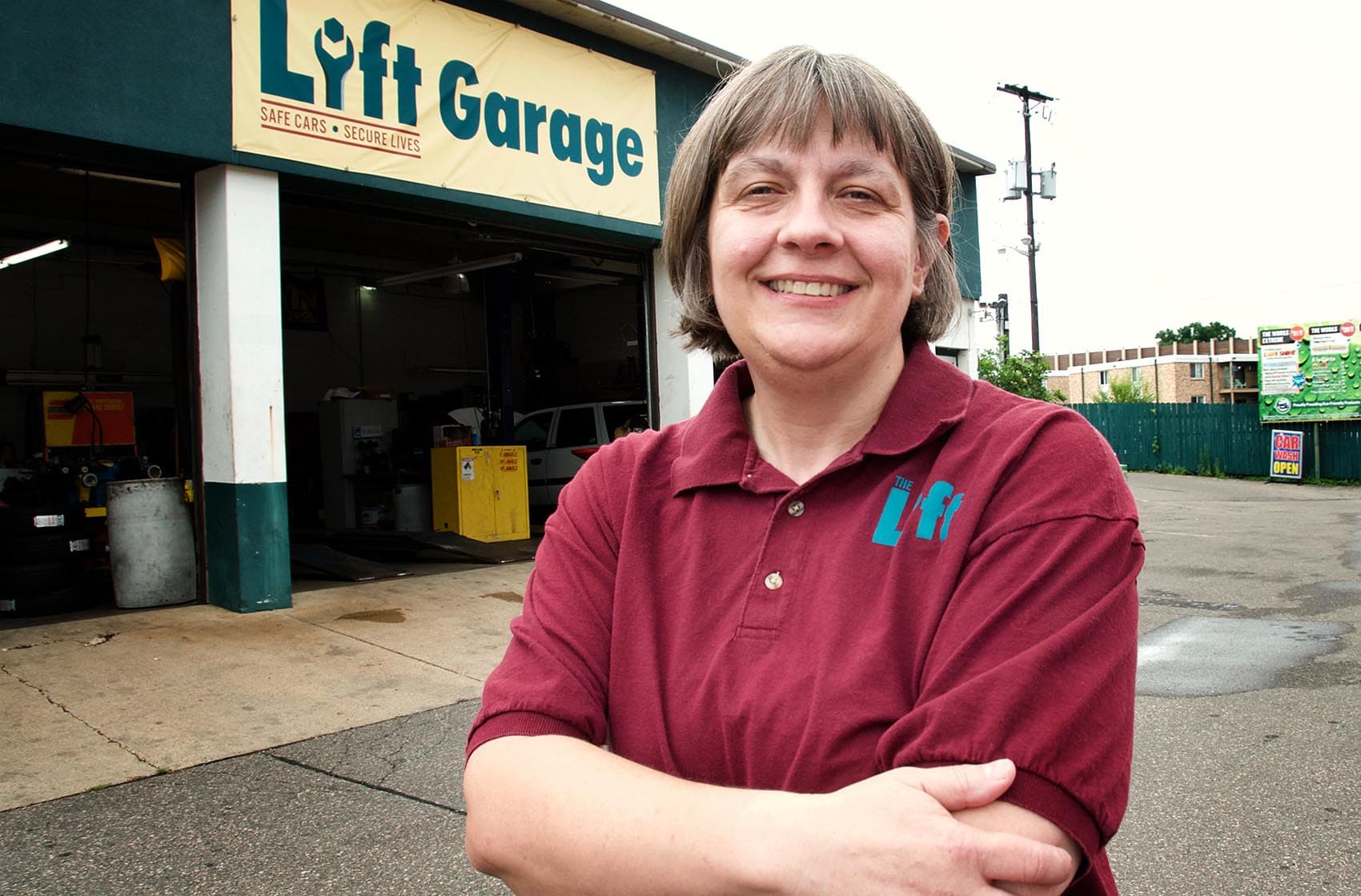 Cathy's Minneapolis garage, which she named The Lift, is now open five days a week. The garage completed about 2,800 repairs for more than 1,600 customers, as of fall 2018. The Lift's 10-member staff is trying to keep up with the growing demand, and these days, there's a three-month waiting list.
"On one hand, it tells me that my instinct was right all along," says Cathy. "This is a huge unmet need in our community. On the other hand, many days it feels like we're not meeting our mission in the least. By the time we can get them in to fix their car, their job's long gone."
But Cathy says there are days when she finds out her clients have new jobs lined up — and their newly repaired cars will get them there.
"We are absolutely changing that person's life," says Cathy.
Cathy says her work in social services and mechanics is more similar than she expected.
"I often joke that we are social workers and grief counselors and financial counselors and resource specialists — and then we fix cars on the side," says Cathy.
Cathy wants her clients to remember that their journeys mean something even if they need just a little bit of roadside assistance to get there.
Find Kind World on Facebook or Twitter, or email kindworld@wbur.org to share your story. You can also subscribe to the podcast.
This segment aired on December 18, 2018.