How A Football Coach Helped His Community Make A Comeback
09:52
Play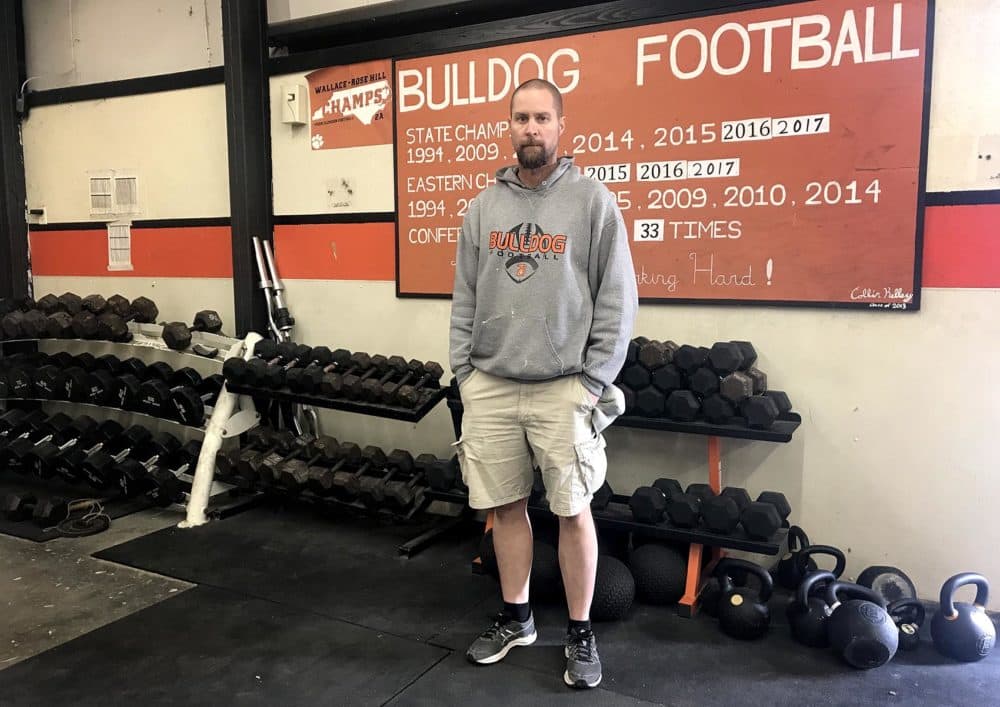 The Wallace-Rose Hill High School Bulldogs were just starting off their football season, ready to compete for their fifth straight state championship title.
The players, who call themselves brothers, are led by 45-year-old Coach Kevin Motsinger. He's known as the firm but fair head of their football family.
"I've always treated the kids like I'd want somebody to treat my kids," said Coach Motsinger.
The team is beloved by its community in Duplin County, a small, rural, low-income area in southeastern North Carolina.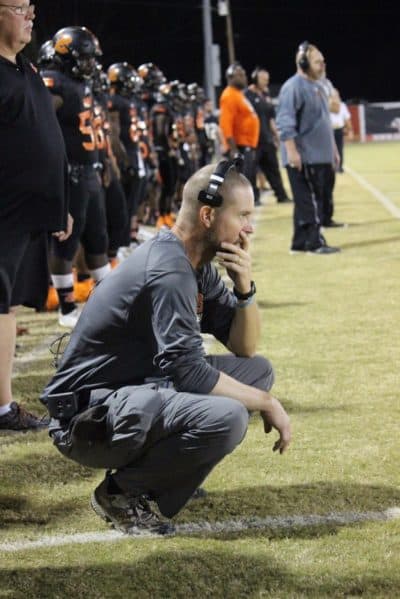 "Our whole county and everything involved industrial wise is agriculture," said Motsinger. "Our school is just hard-working, poor country folks."
Early in the season, disaster struck. Hurricane Florence was on the horizon, approaching quickly. The storm's intensity peaked at Category 5, which is the highest rating possible.
Coach Motsinger understood this could mean life or death for people in his community. He said the only thing he could think to do was gather his students in the weight room in early September and lead them in prayer.
"I broke down and cried in all four classes," said Motsinger. "I ain't never been much of a crier, but I really felt like there were kids in that class that I'd never see again."
As his students and their families gathered supplies, boarded up their homes and evacuated if they could, Coach Motsinger decided to do the same.
"We locked everything up and we hopped in the truck and we took off," he said.
Motsinger, his wife, and two kids evacuated inland, nearly 400 miles away, near Tennessee.
Meanwhile, one of Coach Motsinger's students, 18-year-old Kameron Donaldson and his family, were also planning to evacuate. But first, they were preparing for an upcoming move.
"We was packing things for like a week," said Donaldson. "We didn't think the storm was going to be as big."
Donaldson, who everyone calls by his initials KD, helped his mother and six siblings put their belongings in a storage facility.
They all traveled to a nearby town to share cramped quarters with a close relative.
As the storm roared outside, the quiet and humble KD kept a brave face, though he was frightened.
"The storm was scary," he said. "I have two twin brothers, they're like 2 years old, so I had to protect them."
When Hurricane Florence made landfall on the coast of North Carolina on September 14, it was downgraded to a Category 1 storm. Still, it unleashed 35 inches of rain in parts around the state. Duplin County, home to Wallace-Rose Hill High School, was one of the areas worst hit. Parts of the county were under more than 25 feet of water.
"It was nothing but water," said Motsinger. "It just came so fast and there was so much."
Eight people in Duplin County died in the aftermath of the storm, and many residents had to be rescued by boat or airlifted off the roofs of their homes.
Coach Motsinger and his family, like so many of their North Carolina neighbors, were displaced and searching for a place to stay. They traveled through the state and finally settled into a rental property in Wilmington, N.C.
Three weeks after evacuating, Coach Motsinger returned to his town and was shocked by what he saw.
"All the dead fish, dead deer, and just all the stuff that's floated from everywhere," he said. "It made it look like a war had taken place in our neighborhood and we lost."
Coach Motsinger had built his house on stilts as a protection against floods, but it wasn't enough to prevent extensive water damage.
For his student KD, the situation was even worse.
The storage unit holding all of his family's belongings was under five-feet of water. Everything was ruined.
"When my mom saw it, she immediately broke down and started crying," said KD. "And I said, 'It's OK. We're still here. We've got each other. We're still alive. That's a blessing.'"
With widespread power outages, damaged buildings and debris littering the streets, there was no chance for KD, Kevin and the rest of the players to run onto a football field any time soon.
Wallace-Rose Hill High School was closed for seven weeks, but once the grass began to dry, the Bulldogs took to the field again.
"We practiced in the morning, and then we let them go and then we'd go work on our houses or go help others," said Coach Motsinger.
During practice, the boys shared stories of trying to cope with the stress of surviving the storm. Coach Motsinger saw just how deeply the storm had damaged his young players' homes and their spirits.
"Because I was living it you know," said Coach Motsinger. You really don't know until you're there."
He was there. He was rebuilding his own home, and he shared the same sadness felt by his students. Through his pain, he still wanted to do something to make sure his players could have their basic needs met.
"As their coach, they're my responsibility," he said. "I give them all I've got every single day."
Coach Motsinger reached out to fellow coaches in the state and asked for help. Truckloads of supplies poured in.
After the storm, he sent his coaches to donation centers in the area. They stuffed the team vans and trucks with items that could be used by the hundreds still displaced. He also turned the high school's athletic buildings into a distribution center serving the entire Duplin County community, including KD and his family, who were struggling.
Coach Motsinger made sure KD took home enough food for his family and gift cards for clothing.
"I know my twin brothers needed it, you know diapers and stuff, so I got that," said KD.
One afternoon, Coach Motsinger approached KD during a quiet moment. He knew KD and his brothers were driving an hour round-trip to get to practice, so he reached into his pocket, pulled out some cash, and handed it to KD.
"I said, 'You know, this ought to fill up your gas tank,'" said Motsinger. "I want to make sure he has enough gas in his car, you know, because he's got two brothers that are dependent on him."
"Knowing that I have someone close to me with a big heart,  it was good," said KD.
"He just hugged me, and he told me he loved me," said Motsinger. "I told him I loved him."
Nowadays, the locker rooms are back to normal, except for one corner where giant cans of spaghetti sauce, black beans and apricot halves are still stacked high.
The football season is over, and the students of Wallace-Rose Hill High School are back in class. Although the water has receded, trauma and shock remain.
Coach Motsinger and his family are back in their home, and KD and his family are splitting their time between two houses. One of them is closer to the school, so that KD and his brothers can take the bus.
KD says despite how hard this year has been, he's staying focused on his goals. He's hoping to go to college and study psychology, and he says it's so much easier knowing his coach has his back.
Kevin Motsinger says he'll stay close to his football family, both on and off the field.
"God prepares you for things and I honestly believe this with all my heart," said Motsinger. "This is what I was supposed to do."
This segment aired on January 1, 2019.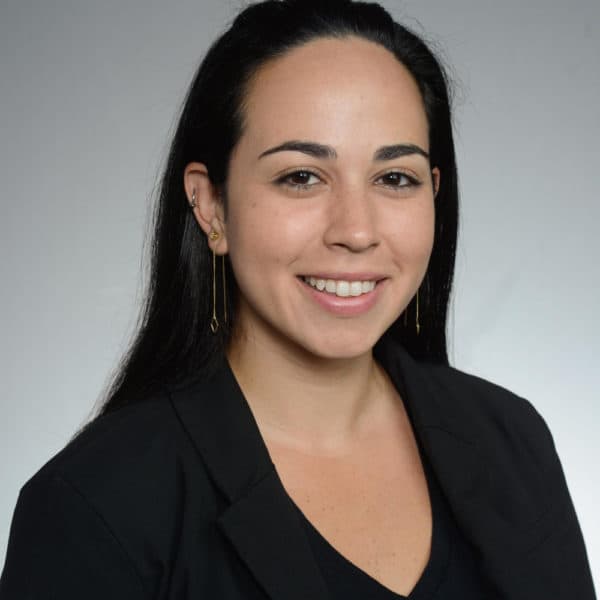 Andrea Asuaje Reporter/Producer, Kind World
Andrea Asuaje was a reporter and producer in WBUR's iLab, where she made Kind World. She's honored to share these emotional and impactful stories of hope, love and compassion with the WBUR audience.