A Former Pharmacist Was Forced Into Homelessness, Then Her Community Stepped Up To Help
Resume
Lynn Schutzman spent most of her 70 years in King of Prussia, Pennsylvania. It's a small suburban city northwest of Philadelphia with a reputation for being family friendly. Lynn's childhood, however, was far from ideal.
"My father was an alcoholic and very abusive to my mother. She was a waitress," said Lynn. "She never felt that she was financially independent enough to make a separation."
Lynn learned a lesson from her mother's experience: Always be self-sufficient.
"One of the things I wanted to make sure from a very early age was that one day, I would be able to take care of myself no matter what," she said.
Lynn liked science and math. She was good at both. She eventually got her pharmacy degree and with that, a ticket to a comfortable life.
"I knew I had made the right decision. Plus I loved my job — working with people all day long. What else could you ask for?"
Besides a great job, Lynn had a happy marriage. Her husband, Norman, was also a pharmacist. They loved traveling together. The couple tried to have kids but couldn't because of medical reasons. Then, after 23 years together, Norman died of a heart condition that wasn't diagnosed in time. He was only 47 years old.
"I was so mad because he promised he would never leave me," said Lynn. "I just felt like he left me. He left me here to battle this alone."
'Nothing Left'
Not long after Lynn's husband died, she got really sick from a series of strokes caused by a bacterial infection. It took two years of rehabilitation before she could return to work.
A decade later, in 2011, Lynn got sick again. She had breast cancer, then thyroid issues and kidney failure. At one point, she was wheelchair-bound for six months and her lingering mobility issues meant she couldn't go back to work.
"You feel like somewhere you had to have failed. You accomplished all this but now here you are in the gutter and you don't want people to know. You don't want to ask for help."

Lynn Schutzman
Medical bills piled up. Lynn fell behind on her mortgage and her savings dwindled.
"It was just stress, stress, stress — until there was just nothing left," she said.
Lynn eventually moved from her big house to a small apartment. But when she fell behind on payments, she had to leave that too.
"So many memories, so many of my pieces that my husband and I got when we were traveling," she said. "It was very, very hard to think that I had to leave all of that behind but what was I to do?"
Lynn did the only thing she could think of. She packed up her car with as much as she could fit in, which was mainly her two dogs -- a beagle named Chaucer and a sheltie named Chase.
She looked around King of Prussia for affordable housing. Nothing. Lynn's modest Social Security check made her ineligible for assistance. She was using a lot of the money to pay medical expenses that Medicare didn't cover.
When Lynn tried homeless shelters, she was told she'd have to give up her dogs. That wasn't an option, they were her only family.
So, Lynn stayed in her car — and out of sight.
"I didn't want to have to explain to people that I don't have a home," she said. "You feel like somewhere you had to have failed. You accomplished all this but now here you are in the gutter and you don't want people to know. You don't want to ask for help."
'Divine Intervention'
After 43 years as a pharmacist, Lynn could've never imagined starting her days like this. In the morning, she'd go to a McDonald's to wash up and then drive around, trying to avoid the patients she once helped through an illness and the coworkers she'd once mentored.
Every month, she saved up enough money to buy a couple nights at a motel so she could shower and get a good night's rest. Lynn was trying to survive. She did this for two years until one day, it all became too much. It was the day she looked in her pocket and found a little more than a dollar left.
"That was the lowest point in my life ... I had no dog food ... and I had just emptied the last bottle of water into the dogs' bowl so I had nothing to drink," she said. "I was very upset because I realized I would have to surrender the dogs because I couldn't feed them that night."
Despite Lynn's best efforts to remain under the radar, someone had noticed her: 39-year-old Melissa Akacha, who also happened to be a pharmacist. Melissa didn't know who Lynn was at the time, but she suspected something was wrong when she saw a car, packed to the brim with two dogs in the backseat. She mentioned it to her neighbor, a 44-year-old former social worker. Together, they decided to approach Lynn.
"We knocked and she couldn't turn the car on because she had no gas and couldn't roll the window down,' said Melissa. "And we said,  'Is everything OK?' and she said, 'Yeah, I'm OK.'"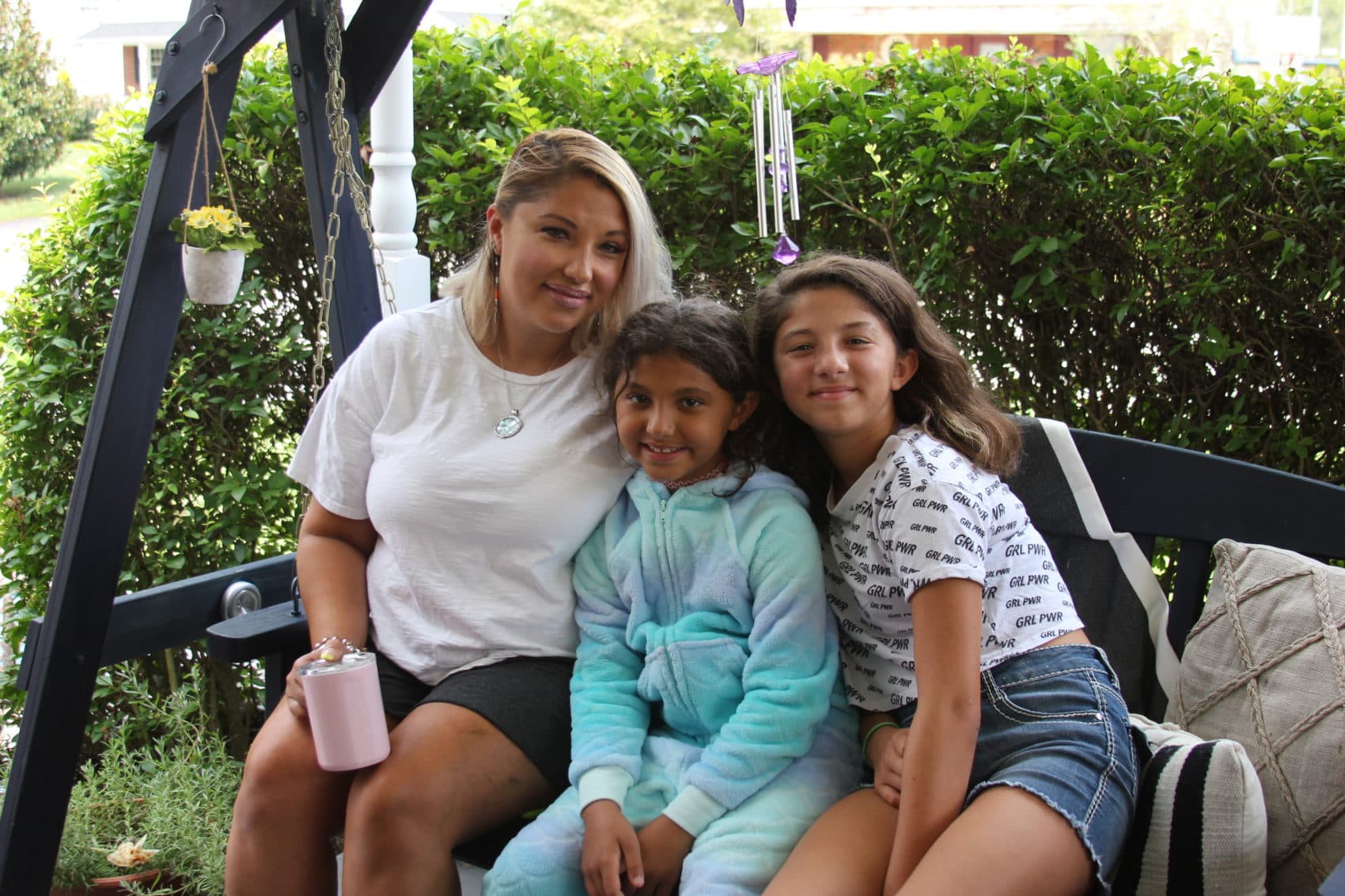 But by the sad look on Lynn's face, they could clearly see she wasn't.
Melissa's neighbor, Jennifer Husband-Elsier, instantly posted this message on a social media site called Nextdoor: "'does anybody know anything about the woman, who's living underneath the Target parking lot with her two dogs?'" recalled Jennifer. "Everybody was like, 'What?!'"
That post got a lot of attention and, to Lynn's surprise, more people approached her that same day.
"They were bringing me food and water and I just couldn't believe it," she said. "I just cried thinking, this is divine intervention. God knew I was at my lowest point and he brought this wonderful community around to help me."
Ten days later and after a lot of searching, Jennifer and Melissa finally found a small studio apartment for Lynn. They raised enough money from the community to pay its rent for the next two years. Then, about a dozen volunteers helped furnish it with donated items.
Lynn remembers the moment when she stepped foot in her new home. Jennifer captured it in a heartwarming video.
"Everything was set up down to the little potted plants," Lynn reminisced. "I was just so taken away.  All the people that had helped were here to welcome me and it was absolutely amazing."
The volunteers added so many thoughtful touches to the apartment. They got a copy of Lynn's pharmacy diploma and framed it. Across from that, is another frame with a quote on it: "Wear this ring upon your finger as I wear your love upon my soul." It's the same quote Lynn's husband engraved on her engagement ring, which she was forced to sell when money got tight.
'Everything Clicked'
To this day, Lynn's neighbors stop by to help her clean, drop off food, or walk the dogs.
It wasn't just Lynn's life that changed. Melissa and Jennifer's did, too. They'd both been going through struggles of their own. For Melissa, it was a painful divorce. Jennifer had been through a difficult family feud and a recent job layoff. They both said Lynn helped them heal.
"She gave me a reason to live again, a reason to get out of bed everyday," said Jennifer. "I wont ever be as alone as I was because I really didn't have someone like her in my life... So I met her and all of the sudden, it's like everything clicked."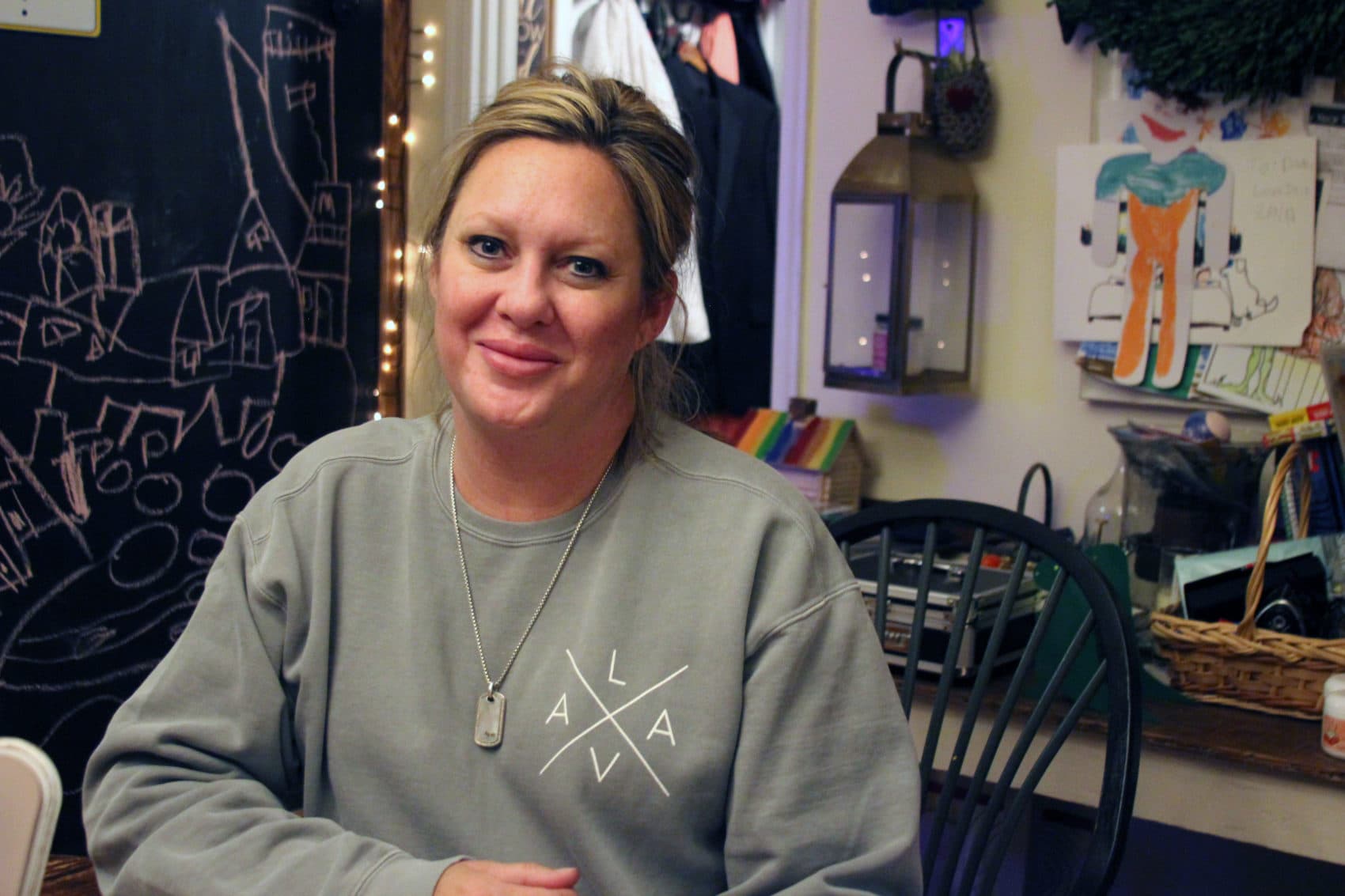 Lynn's been living in her new apartment since May. There's a sign on her front door that says "Home."
These days, she doesn't spend as much time thinking about what she's lost — but what she's gained.
"For the longest time, I had been feeling alone," Lynn said. "I just feel so lucky to be in this area with this community. It's like a whole new opening for me and a whole new family."
None of this was part of Lynn's original plan. She did everything right: the right education. The right job. The right marriage.
Still, there was so much misfortune outside of her control. Misfortune that could've happened to anyone.
She thinks about others in that same situation and she hopes all of us can step up to ask our neighbors that simple life-changing question: "Is everything OK?"