A Birthday Meal Connects Two Women After A Tragic Loss
Play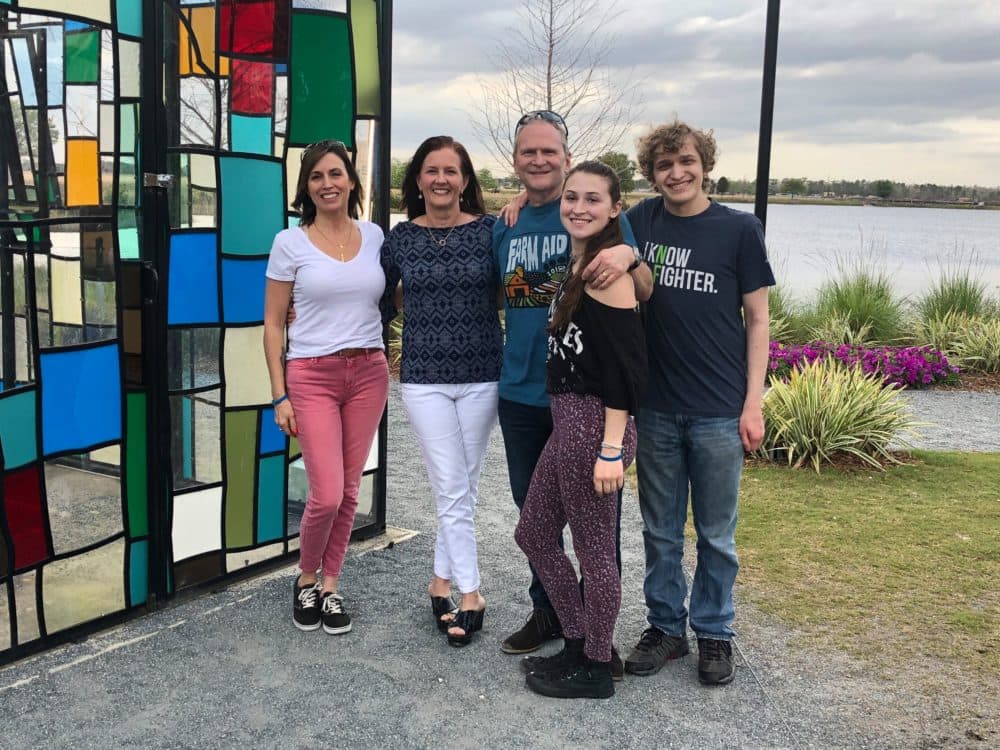 In Connie Sorman's family, birthdays were always extra festive.
Connie, who lives in Fredericksburg, Va., and works as a volunteer manager, said every birthday would start with a big breakfast: waffles, ice cream and any toppings the birthday kid wanted.
"We always had a celebration with our family with cake and a special dinner," Connie said. "And we just really tried to make it a big celebration."
For Connie, there was one birthday that always stood out: Feb. 2, 1992. It's the one she calls her "momaversary" — the day she became a mother. It was the birthday of her oldest son, Brandon Roat, the first of the six kids in her blended family.
But 25 years after that day, it would be a stranger — not Connie — who would be celebrating with Brandon.
An Instinct To Help
In February 2017, Nancy Kinnally, a public relations professional, was in Miami for a work conference. As she was walking back to her hotel after a late dinner, she noticed a young man walking straight toward her. Nancy remembers he was wearing dark clothes and carrying a backpack.
Story continues below
Subscribe to the podcast
"He just said, 'Hey, I was wondering if you would mind helping me get something to eat,' " Nancy said.
She knew right away that she wanted to help the stranger, so she asked if he wanted to walk to a nearby grocery store. As they walked, the young man told Nancy he was from New York and that he had grown up in foster care because his parents were addicted to drugs. He also said he'd lost his ID, which was why he was living on the streets.
That's also when he told her his name: Brandon Roat — Connie's son. And the day he and Nancy met was Feb. 2, 2017.
"I think I asked him how old he was," Nancy said. "I think that's when he told me, 'Well, I'm 25 and, actually, it's my birthday. I just turned 25.' "
Nancy and Brandon spent about half an hour at the grocery store, picking out a hot meal for him. Eventually, he decided on a bowl of chili. Nancy remembers Brandon asking her if he could get crackers to go with his soup.
"I think I asked him how old he was. I think that's when he told me, 'Well, I'm 25 and, actually, it's my birthday. I just turned 25.' "

Nancy Kinnally
"He said, 'Oh, do you think the crackers are extra?' And I said, 'Well, it doesn't matter. If you want crackers, go ahead. Help yourself,' " Nancy said. "It was as if he was a friend of one of my kids, and he was trying to be polite."
As they were leaving, Brandon told Nancy he was sleeping at a nearby park because without an ID, he couldn't stay at the homeless shelter. He also mentioned that he hadn't showered in a few days.
And before she could even consider it too much, Nancy told Brandon she had an idea.
"I just said ... 'If you'd like to take a shower in my hotel room, my hotel's right by here, you could come back with me, and I'll just stay outside and give you a chance to do that,' " she said. "And he said, 'Oh, that would be amazing.' "
Once they got to the hotel, Nancy gathered some valuables — Brandon was a stranger, after all — and then handed Brandon her room key. She stayed in the hallway, talking to a friend for about half an hour until Brandon walked out. Nancy remembers he was wearing a new shirt and looked very scrubbed and cleaned.
"I remember he walked out, and he walked toward me, and I looked up at him and I said, 'Oh, wow, look at you!' And he just beamed. He smiled such a big smile. And I could tell that it really had done him a world of good," she said.
Their final conversation was brief.
"We exchanged phone numbers, and he said, 'I'm going to call you when I get a job … to let you know that everything worked out,' " Nancy said. "That was the last thing he said besides thank you. And he left and went down the elevator, and I never saw him again."
Brandon's Real Story
When Nancy returned to her home in Orlando, she looked Brandon up on Facebook and sent him a friend request, hoping that she could check in on him.
A few weeks passed, and then Nancy got an alert: Brandon had accepted her request.
"And I thought, 'This is great. He's back on social media. Maybe his life is starting to come together.' That's my first thought. But that wasn't what it was," Nancy said. "The first thing I saw was this very moving obituary written by his mother."
Brandon's obituary told the 25-year-old's real story — not the one he told Nancy.

Connie Sorman said her son was a very spirited, funny and smart child who loved to play sports and spend time outdoors. But he also had a strong oppositional streak, which often got him into trouble.
As he got older, he started acting out in school and smoking pot. His parents, who divorced when Brandon was 4, considered sending him to a nearby military school to see if that would help, but his father ultimately turned that down. The situation escalated dramatically when Brandon was 17.
"He was arrested because his stepmother had an order of protection against him, even though he was living in the same house," Connie said. "He was in the house, and she came home, and she had him arrested."
Connie convinced the judge to send Brandon to a behavioral and substance use treatment center in Utah instead of jail. Brandon was there for less than a year before he moved back to New York, where Connie and her family were living. Brandon moved into his own apartment while he attended outpatient treatment, but soon, he was kicked out of treatment and evicted. Connie said from that point on, it was a constant circle of rehab, drugs and jail — over and over.
It was then that professionals told Connie that it was time for her to let 18-year-old Brandon find his own way.
"It goes against every instinct that a mother has to not be able to do whatever it takes to take care of their children," Connie said. "And I had to try to sleep at night knowing that he was out in the cold.
Connie tried to keep in touch with Brandon, even though she didn't see him during his last two years of life. They would talk on the phone often. Sometimes those calls would go well, but other times, Brandon would lash out. He'd been diagnosed with bipolar disorder, and Connie said Brandon's mania was often exacerbated by his drug use.
When Brandon was 20, Connie saw the depths of her son's addiction.
"I'll never forget the day that he was in rehab, and they called me and his dad to come in so that we could have a family meeting," she said. "And he told us that he was using heroin. It was devastating to me because I know that most people don't overcome that kind of addiction. And he was so young.

On Brandon's 25th birthday, Connie was in New York on a work trip. That's when she received a call from her son, who was now living in Miami.
"He didn't have a phone, so he was borrowing phones to call me. And I was afraid that if I didn't talk to him, I wouldn't get the opportunity to wish him a happy birthday," she said. "He texted me during the day on his birthday and told me that he was severely depressed, and it was the worst birthday ever."
She spoke to Brandon one more time, just a few days later. He didn't tell her about Nancy. And then … silence. A week went by. Then two. Twenty days later, she still hadn't heard from her son. She and Brandon's father started to worry. They started calling every cell phone Brandon had used to call them, since he didn't have his own phone then. No one had seen him.
And then, Connie heard the terrible news.
"His father called me on the night of the 28th and told me that the sheriff had come to his home and told him that Brandon was in the morgue in Miami — that he'd been there for two weeks," she said.
Brandon's body was found in a highway underpass, a block from the police station. The cause of death was an overdose, but Connie said the heroin found in his system was laced with fentanyl and carfentanil, a large-animal tranquilizer 10,000 times stronger than morphine. The combination is fatal.
Connecting After Loss
A couple of weeks later, Connie accessed Brandon's Facebook account and accepted all of his outstanding friend requests. That's when she heard from a woman in Orlando: Nancy Kinnally.
Nancy sent Connie a message, sharing with her the story of how she and Brandon met, and how she had provided him with a hot meal and a shower on his birthday.
"Hearing that he had had this encounter with a stranger was just so incredibly comforting to me," Connie said.

She and Nancy spoke online and by text for two years before meeting in real life. The pair and their families finally met in Orlando in March 2019.
When Nancy thinks back on that day, she said she's so grateful she stopped and listened to the polite stranger who approached her on the streets of Miami.
"That is not the way I would normally respond," Nancy said. "But for whatever reason, I made an exception. And I'm just really glad I did."
And since Connie couldn't be there for her son, she's found solace knowing Nancy stood in for her, providing Brandon with small but meaningful comfort.
She said Nancy's compassion has brought her tremendous peace when she thinks of her son's final days.
"She restored my faith in human beings in general, because so many people did not see everything I knew about my son. And she was a stranger, and she saw it."