After Addiction And A Devastating Loss, She Opened A Sanctuary For Women In Recovery
Play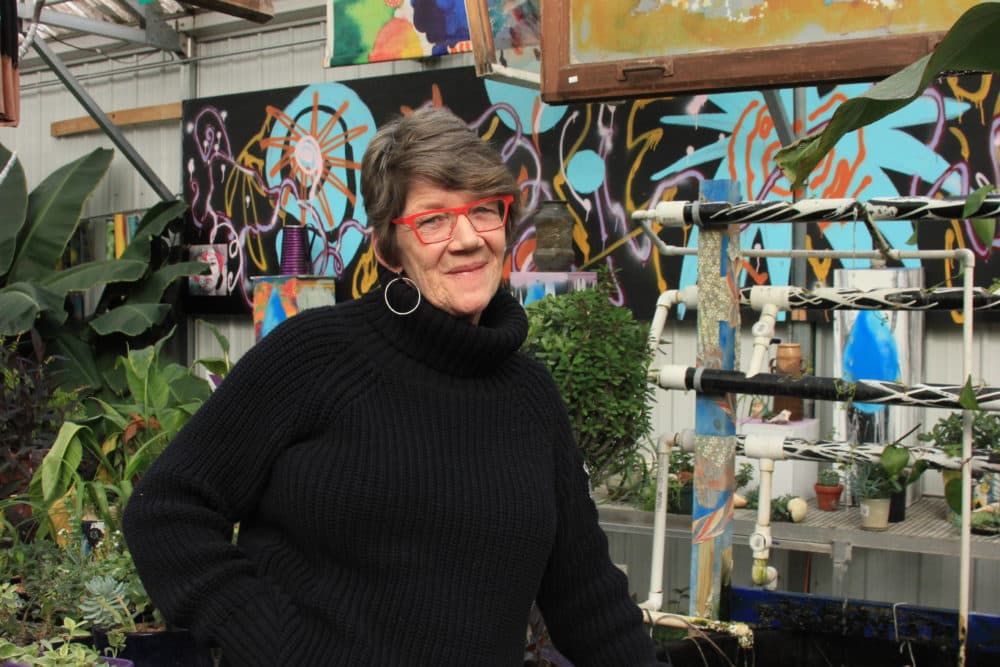 There's something fearless about Patti O'Malley - beyond her commanding voice or 6-foot frame. Maybe it's the courage she's built up over the years, after everything she's been through, or maybe she's always been that way.
Patti started working on Wall Street at a 17-year-old high school dropout in the early 80s and back then, she had a daily ritual.
"My morning saying as I looked down at a sea of men in suits and say 'you guys rent this place and I own it,'" Patti said. "I loved it. I loved the excitement. I saw no barriers."
That fearless city girl never imagined life would take her all the way to rural Kansas. But that's where she moved with her then-husband 30 years ago. She ended up in Abilene, famous for being the childhood home of President Dwight D. Eisenhower, with a population of around 6,000 people.
"Everyone's watching out for everyone else," Patti said. "I became a single mom. I got divorced and was raising my children ... and I needed that support from my neighbors."
Patti raised her sons Keegan and Riley in a big house surrounded by vast land and farm animals.
"I don't think there's anything in my life I loved more than having children," Patti said. "That's where I learned truly the meaning of love."
'Destroying My Family'
Patti's idyllic country life was often interrupted. She started drinking. At first, it was glass of chardonnay after work but her habit gradually became debilitating. She had trouble staying awake past 7p.m.
"I was destroying my life and everything I loved," Patti said. "I think the worst of it as it progressed was I became angry and started really destroying my family with that anger."
Patti enrolled in rehab. Then her younger son Riley,  who'd always mirrored her own rebelliousness, started getting into trouble at school.
"I realized he was not so much just now the rebellious child - that he was also having an addiction problem," Patti said.
By high school, Riley struggled with an addiction to opioids. He and Patti went through recovery together.
"We could speak the same language," Patti said. "We had dreams that didn't involve drugs or alcohol."
'I Loved That Boy'
On Easter Sunday, 2012, Riley's car swerved off of a bridge and plunged into the river. He was driving under the influence when he died - just five miles from home.
"This disease doesn't just kill the addict. It kills everyone who loves the addict," Patti said.
Patti grieved for her 19-year-old son. She desperately needed a way to channel that grief.
"I loved that boy and I think me taking that love, the power of how I loved him and turning it into something where I could help," Patti said. "I couldn't help my child but I can help someone else's child."
Patti decided to turn her rural home into a residential recovery center for women struggling with addiction. She calls it The Cedar House.
'Watching Myself Grow'
The Cedar House sits on 30 acres of land. It can host up to six women at a time and residents typically stay for about a year. Patti's new house, where she now lives, is on the same property as her old converted home. There's also a small farm nearby with chickens, sheep, and geese and a small wooden cabin where Patti hosts weekly recovery meetings.

Patti has turned her property into a kind of sanctuary for women struggling with addiction - women like 58-year-old Renee Lopez.
"I had to do whatever it took. I lost my family, I lost my job. I had nowhere to go," Renee said.
Renee's struggled with alcoholism for most of her life but when her sister died of cancer eight years ago, things took a turn.
"Life just got pretty darn bad for me," Renee said. "She was my rock. She was everything to me."
In the two years Renee spent living at The Cedar House, she was able to go to support group meetings and access professional counselors. Service is also a big part of life at The Cedar House. Residents typically work on the farm and volunteer at the food bank, both of which sit on the home's property. There's also Renee's favorite place to work: the greenhouse.
"I love it in here," Renee said as she planted sprigs of aloe vera into a clay pot. "It's like watching myself grow every day. It's like planting a seed and watching it grow everyday."

'He Walks With Me'
The Cedar House owns three greenhouses. What started off as an activity to keep residents busy during the long Kansas winters has become a way to keep The Cedar House self-funded.  Patti and the residents sell the plants from the greenhouse or donate them through their food bank. Recently, they've added aquaponics systems  where they raise farmed tilapia.
"It's exciting and now we're seeing the next steps," Patti said. "Nothing is in our way."
Patti's immensely proud of how many people her old house has helped over the last eight years. Running The Cedar House has been an important part of her own recovery and it's been a way to honor the memory of her son.
"I miss him," she said. "I know that I still love him and this is how I show it, that he walks with me."