A Friend's Act Of Generosity Helps 'Shine A Light' For Woman After Shocking Separation
Resume
Carla Kaiser Kotrc, of Arvada, Colo., says whenever she's part of a new musical or play, the cast becomes like a family. And that includes everyone — even those you share the stage with just once — like fellow actress Heather Fritton.
"Heather and I met during rehearsals for 'Grease the Musical,'" Carla said. "I'm always really nervous the first day, but she was really warm and very welcoming."
Heather remembers meeting Carla for the first time, too.
"Carla is bigger than life," Heather said. "She always has something funny to say, and she's just bright, and bubbly, and warm, and just a really joyful, loving person."
In the show, Carla played the Rydell High School principal, Greta McGee. Heather was Jan, one of the Pink Ladies.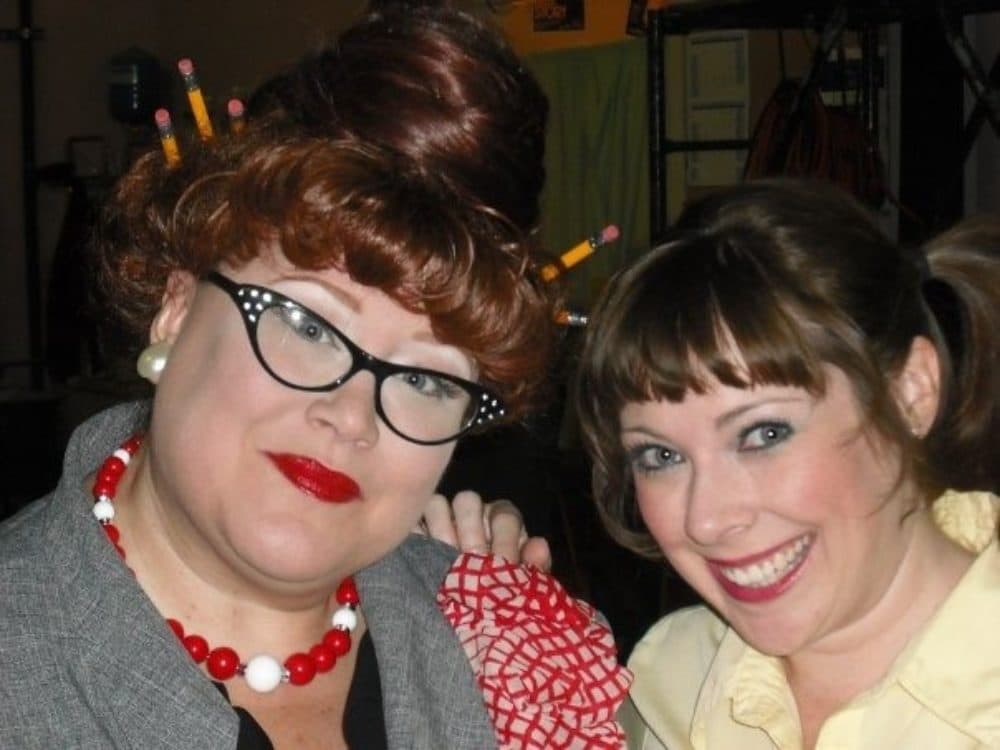 As rehearsals for the community theater production in Littleton, Colo., progressed, the cast got closer, but once the show ended, they all went their separate ways.
Soon, Heather and her husband had two boys, Teagan and Quinlan, and the couple was raising them in the suburbs of Denver.
"As far as I knew, we had the happiest marriage based off friendship and mutual respect," she said. "I felt like the future was bright, and we were building this great family and everything was going well."
But five years into their marriage, Heather discovered her husband had been hiding alcohol around the house and lying about his drinking.
"I didn't know it at the time, but I've come to find out in later years that he had a serious alcohol addiction," she said. "And, at this time, it just spiraled out of control. The next day he told me he had packed a bag, he was moving out and he wanted a divorce."
Suddenly, Heather was a single mother to a 2-year-old and 7-month-old. In a matter of days, her previous life was gone. She needed help building a new one but didn't know where to turn, despite all the offers from friends and family.
"When someone says, 'Let me know if you need anything,' you just think, 'I don't even know what to ask for. I don't even know what to begin with. I need so much help and just feel like my whole life is a disaster,'" she said.
Carla remembers when she heard the news.
"When someone says, 'Let me know if you need anything,' you just think, 'I don't even know what to ask for. I don't even know what to begin with. I need so much help and just feel like my whole life is a disaster.'"

Heather Fritton
"They really seemed like such a loving, compatible couple," Carla said. "So I was really sad for her."
Carla could also relate: She had gone through her own divorce and remembered what it felt like at first when everyone offered help.
"You are so overwhelmed by it, you have no idea how to assign people something that you need," she said.
A month went by and, despite the late-night phone calls and assistance from friends and family, Heather was still struggling.
One morning, as she was sitting at her desk at work, Heather got a message. It was from Carla, who she hadn't seen in several years.
"She just said, 'Where do you work? I'm bringing you dinner,'" Heather said. "And I sent her the address of my work, and she said, 'Okay, I'll be there at 5 p.m. Meet me outside.'"
Heather said the offer was an unexpected blessing.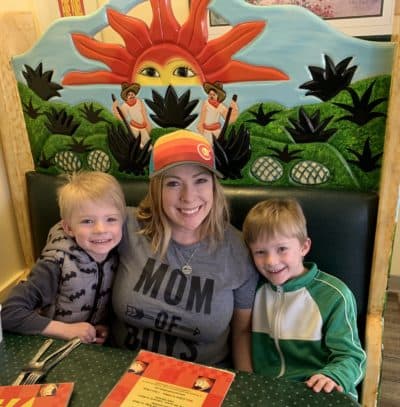 "It just felt like a little safety net just showed up like, 'I gotcha. I'm going to come help you out with this one little thing. Just dinner for you and the boys,'" she said.
Carla said in those early days, she could envision Heather trying to get through her day: dealing with the stress of the separation, working, and attempting to take care of the children, including feeding them nutritious meals.
"I just felt like an everyday something is going to make a difference in her day," she said. "I gave her the food. I gave her a hug. She felt good. I feel good. It was a loving but fast exchange."
"I just remember her hugging me and seeing me, really looking at me, and saying, 'I'm so sorry this is happening to you,' and really just validating what I was going through," Heather said.
In the bag was a roasted chicken, mashed potatoes, vegetables and rolls. Heather thinks there might have even been a dessert, too. It was enough food for several meals.
But it wasn't just the food. It was something more, something in that kind gesture that touched Heather deeply. She said it was a turning point for her.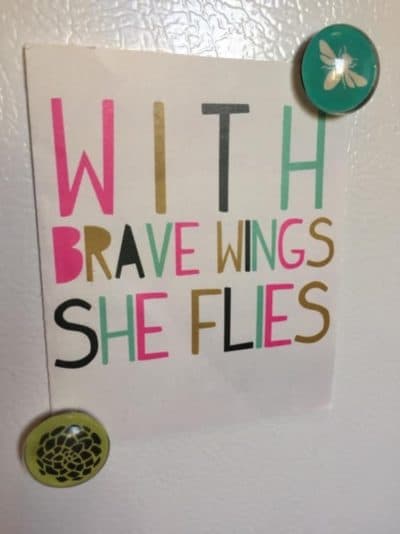 "I remember it as being one of the first times I thought, 'I'm going to be OK. We're going to figure this out. We're gonna be able to make it through this because I have this wonderful community and these people who are going to reach out their hands and help us,'" she said.
But Carla's compassion didn't stop there. She knew that Heather would need support for months after the shocking separation.
"So I took a bunch of cards, and I would put like a supportive, inspirational phrase or just a single word — 'brave' or 'strong' — or write like a two-line sentence or note and I put them in the mail once a week," she said.
The notes started showing up in Heather's mailbox at a time when she says she was receiving legal letters and bills regularly.
"Every once in a while, I would get this little note from Carla," she said. "And it just would kind of keep me going for that day. One of the cards she sent, I still keep it on my fridge. It says, 'With brave wings, she flies.' And it just has a little note inside telling me to keep moving forward, and that the boys were lucky to have me as their mom and she knew I would be OK."
These small acts of kindness meant so much to Heather, but to Carla they didn't feel like big sacrifices.
"It felt like I was caring about someone that I care about and didn't want her to feel alone," she said. "It just shows me how important it is to really try to connect with people as much as you can in such a human way."
Heather says those notes and that one meal helped her find her way through the darkness.
"I just didn't know which way was up. I didn't know which way to go," Heather said. "I feel like Carla's act of kindness turned on a flashlight and it showed me, 'Go this way. You're going to be okay. Go this way.' So I start going toward that little light, and gradually things started lightening up around me, and the path started showing around me. That's why it's so important that just do one little thing for someone, because it can really shine a light in a devastating moment."