After Struggling With A Friend's Suicide, Strangers Helped Her Find Peace
Play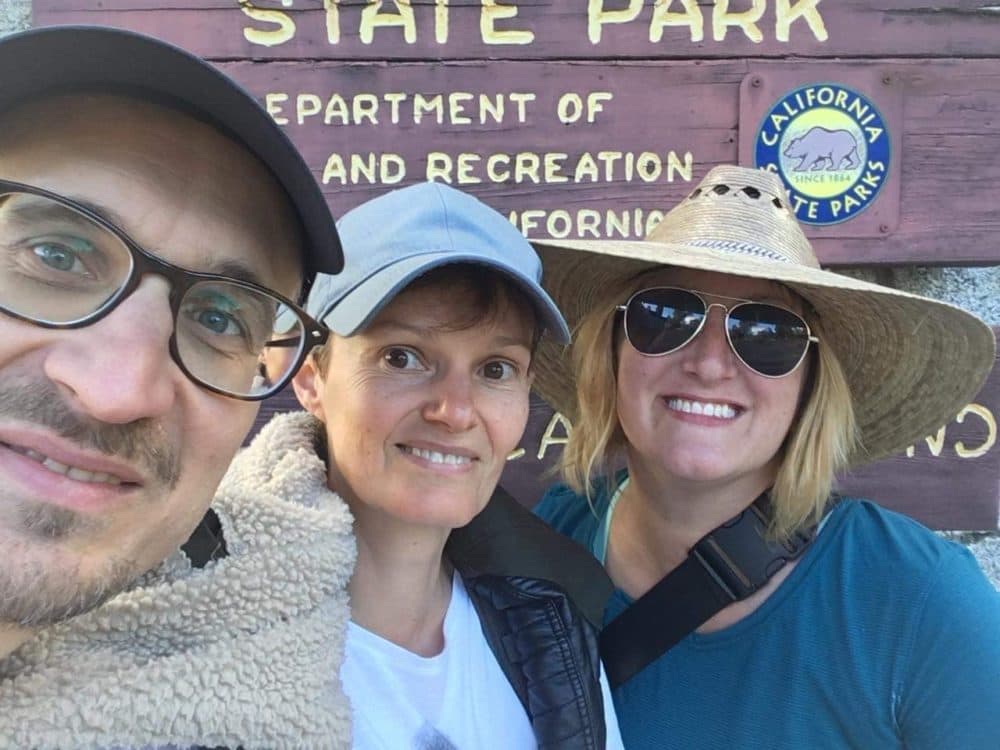 If you are in crisis, please call the National Suicide Prevention Lifeline at 1-800-273-TALK (8255) or contact the Crisis Text Line by texting TALK to 741741.
For 38-year-old Jana Bounds, nature has always been a source of solace. So when she felt overwhelming grief following the death of a friend, she decided to go to the Mojave desert in California.
"His ashes were scattered in Joshua Tree [National Park]," Jana said. "I needed to do something that would honor the person and in a way, close that chapter."
Jana's late friend, Jon Jones, died by suicide in October 2017. He was a former marine who loved BASE jumping and restoring old cars. They'd initially met on a dating website and spoke nearly every day by phone or text.
"I just really loved his sense of adventure and his intelligence and his worldliness," she said.
Jana said Jon openly spoke about struggling with PTSD following his military service, but in their last phone conversation, he sounded especially weary.
"There'd been another time when he had said something like that he shouldn't be alone with his thoughts in his apartment," Jana recalled. "And immediately my knee-jerk reaction was 'well, get out of your apartment. Go do something. Find your friends.' I think it was the immediate desire to fix it instead of to listen."
After Jon died, Jana felt a tremendous sense of loss and guilt. She kept mulling the tragedy over in her mind, wondering if she could have said anything differently.
"I think that all of those feeling and all of that guilt is amplified by suicide," Jana said. "I've lost people but it's never been as painful and as raw as losing Jon in that way."
'I was Completely Lost'
In fall 2018, Jana took her own trip, alone, to Joshua Tree National Park.
"I was like ... I'm just going to be on a mountain top healing in nature," Jana said.
Joshua Tree, with its iconic twisted spike-leafed trees and its rocky hills overlooking the vast desert landscape, is breathtaking. It's also a place where it's very easy to get lost.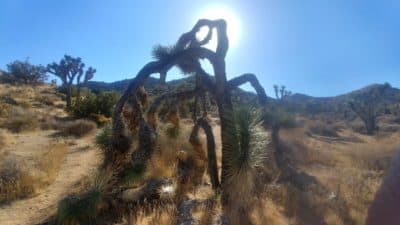 "I found myself on a trail that split and then it split again ... and I was completely lost," Jana said. "There were snakes on the move and I'm terrified of snakes. I'm terrified of being lost. It was basically all of my fears were coming in at me at the same time."
Hours of hiking into the night, Jana finally made her way back to a campsite. Although she was safe, she felt a little deflated.
"I was questioning my sanity, actually. The whole trip at that point in time seemed completely preposterous." Jana said.
'It Was Very Therapeutic' 
The next morning, a couple arrived at the otherwise deserted campground by accident. Sabine Klein and her husband, Martin Wedl, were visiting from Vienna, Austria.
They were on their first trip to the U.S., road-tripping through national parks. When bad weather ruined their plans for the day, they ended up at the same campground as Jana. Since she was the only other person there, they struck up a casual conversation.
"I could see that she was in a little bit of distress," Sabine said. "It was a feeling I had that she was just lost in that place and I had to get her out of that place."
Sabine asked Jana if she wanted to join them on their trip. Then, for the next four days, the three of them drove through the desert. At night, Jana would set up her tent next to the Austrian couple's rented RV. They'd spend their day hiking together and then climb up a hill to watch the sunset.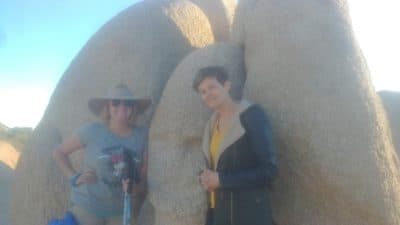 "It was very therapeutic in that it made me appreciate the beauty of every single day," Jana said. "I was just grateful to be safe and around nice people and to have these really great experiences."
Jana opened up about Jon and the grief she was feeling over his death. Sabine remembered a silent moment in a big field of Chola trees.
"I felt Jon there. It was one of those moments when Jana said 'I wonder if Jon ever passed here, ever came by.' That struck me," Sabine said.
'Hit Reset'
For Jana, experiencing such kindness from complete strangers was like getting an unexpected gift.
"I found literally life-long friends and I think it renewed my faith in humanity and in life itself," Jana said. "That trip allowed me to hit reset."
When Jana returned to her home Montana, she learned as much as she could about suicide prevention. According to the CDC, the suicide rate in the U.S. has increased by more than 25% since 1999.
"We're having a national crisis right now and I think we have to have the willingness to discuss it." Jana said.
Jana still misses her friend Jon. That's never going to change. But every now and then, she gets a text on her phone from another friend, Sabine in Austria. A picture of a sunset and a simple reminder that there's still beauty in every day.