Connecticut Man Starts '$20 Challenge' To Feed Local Families In Need
Play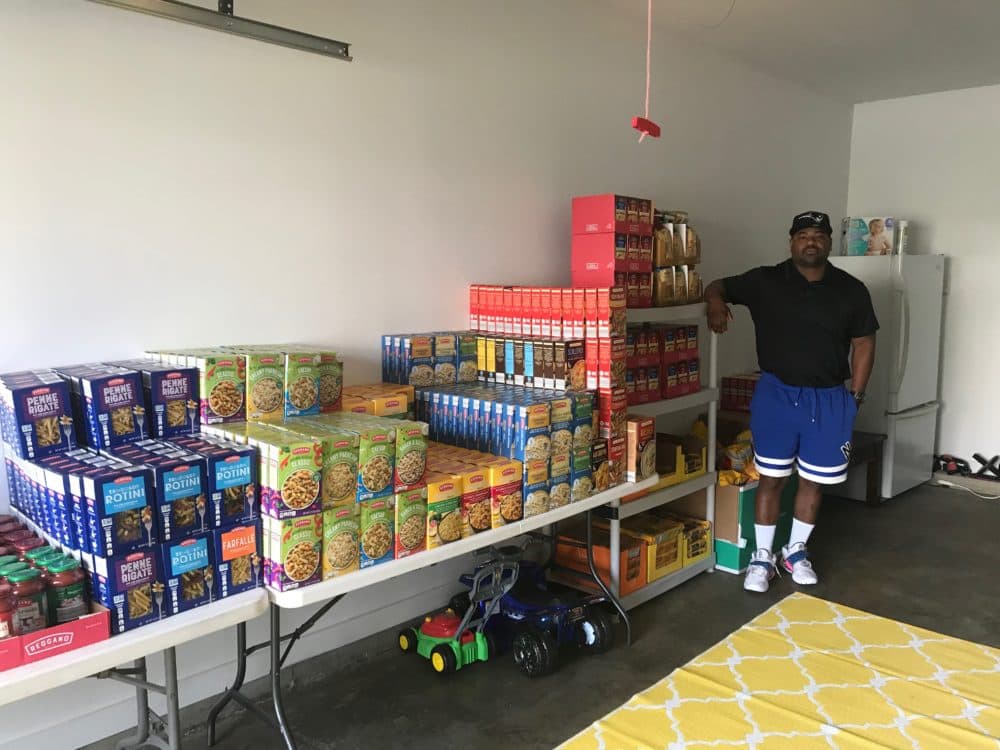 Back in April, 36-year-old Maurice Humphrey, of Vernon, Conn., received a phone call from a friend going through a difficult time.
The single mother of four, who works a job in which she's paid under the table, asked Maurice if he'd be able to help her financially, especially when it came to buying the necessities: groceries. He knew right away he wanted to help, but Maurice wanted to take it a step further.
"I'd seen a lot of my friends doing challenges on Facebook and Instagram — the push-up challenge or whatever challenge it was," Maurice said. "Maybe I can do something a little similar."

Maurice asked his friend if he'd allow her to post her story on Facebook anonymously, and she agreed. He asked his network if they'd be willing to contribute to "The $20 Challenge" — $20 donations to Maurice via Venmo that he'd then use to feed the family. As a former Penn State football player, Maurice thought calling his fundraising effort a "challenge" would tap into the competitive spirit of his athletic friends, many of whom have charitable hearts and big wallets.
He was right.
"When I put it on my Facebook, it just kind of caught fire," Maurice said.
At the end of the first day, he received $300 in Venmo donations. He began documenting everything on Facebook, taking pictures, going on Facebook Live to share his shopping trips and thanking those who "took the challenge" on his page and on a Facebook group he created.
Almost immediately, he started getting attention not just from people who wanted to donate to the cause, but from families who also needed help. But as the requests increased, so did the donations.
"People just continue to donate," he said. "People love the challenge. And people are just donating every day."
In the first three weeks of the challenge, Maurice helped more than 20 families in Connecticut after raising nearly $2,500 for groceries. His efforts started to spread on social media, reaching beyond his direct network.
That's how Elsa Rodriguez, in Waterbury, Conn., heard about it.
"It came in perfect time," Elsa said. "At that moment, I was kind of struggling with a few necessities and stuff like that. So I decided to shoot him an email and see if I would be one of the lucky people that he'd actually be able to bring some food for. And within two days, he brought me groceries."
Elsa lost her job as an assistant at a physical therapist's office due to the pandemic, and with her 14-year-old son at home all day, every day, she said the $300 she receives in government assistance for food per month for both of them hasn't been enough.
"We're used to sending our kids to school, so they get breakfast and lunch at school. You really worry about dinner," she said."Now you have to worry about breakfast, lunch, dinner, snacks in between, everything in between."
Elsa is also an amputee, so she said going to the local food pantry or soup kitchen can be tough. So when she received a grocery delivery from one of Maurice's volunteers, she says she was overcome with relief and gratitude.
"It felt like I hit the jackpot," she said. "It's like winning a million dollars."
And Maurice's challenge isn't just helping families with a one-time delivery. For those who need it, Maurice is willing to continue to provide them with groceries once a month.
This has been especially helpful for Vick Alicea, a 20-year-old music producer living in New Britain, Conn. Vick said ever since coronavirus struck, his business has suffered tremendously. When he heard about the $20 Challenge, he said he was interested, but he was wary about reaching out
"It felt like I hit the jackpot. It's like winning a million dollars."

Elsa Rodriguez
"You know, your pride gets in the way," Vick said. "I'm an artist, and my image is everything."
But after considering the need of his family, especially his 1-year-old son, he decided to reach out to Maurice. Now Vick encourages others to put aside their pride when it comes to receiving assistance.
"You don't want to depend on a whole different stranger when you feel you should be handling it yourself," he said. "But sometimes, like during a pandemic, history goes to show that we need that kind of help."
Now, Maurice's $20 Challenge Facebook group has more than 700 members from across the country, with volunteers — and Maurice — delivering groceries to about 25 families a week in Connecticut. And last week, Maurice announced that he'll be partnering with the New Britain Housing Authority to help even more people. Although the recipients of the challenge are still just in Connecticut, Maurice hopes he can inspire others to start their own version in their communities.

And as the challenge grows in popularity and reach, Maurice says all of this, from the fundraising to the social media videos, is not about him. He wants his challenge to show the power of neighbors coming together.
"I'm here just trying to help anyone that I can help that's in need right now in my area," Maurice said. "People just helping people. That's what it has to be about. We have to get back to that point where we're just helping each other out."
Learn more about Maurice Humphrey's $20 Challenge on his Facebook group page.