Chef Irene Li Focuses Outreach Toward Restaurants, Immigrant Families Struggling Through Pandemic
Play
Irene Li knows how tough it is to open a restaurant. She and her older brother and sister started a Chinese-American food truck in 2012. Eight years later, she's now the sole owner and head chef of the brick-and-mortar version of that food truck — Mei Mei — in Boston. It's an eatery beloved by many, and it's helped the 30-year-old chef gain national attention and six James Beard Award nominations, not just for her dumplings and scallion-pancake sandwiches, but also for her business ethics and practices.
"We place a really strong value on building relationships that are sustainable and that are fair," Irene said. "So as a restaurant, creating equity and justice in the food system is definitely a priority for us. And so that has to do with our vendors. It has to do with our staff. It sort of flows through everything that we do as a business."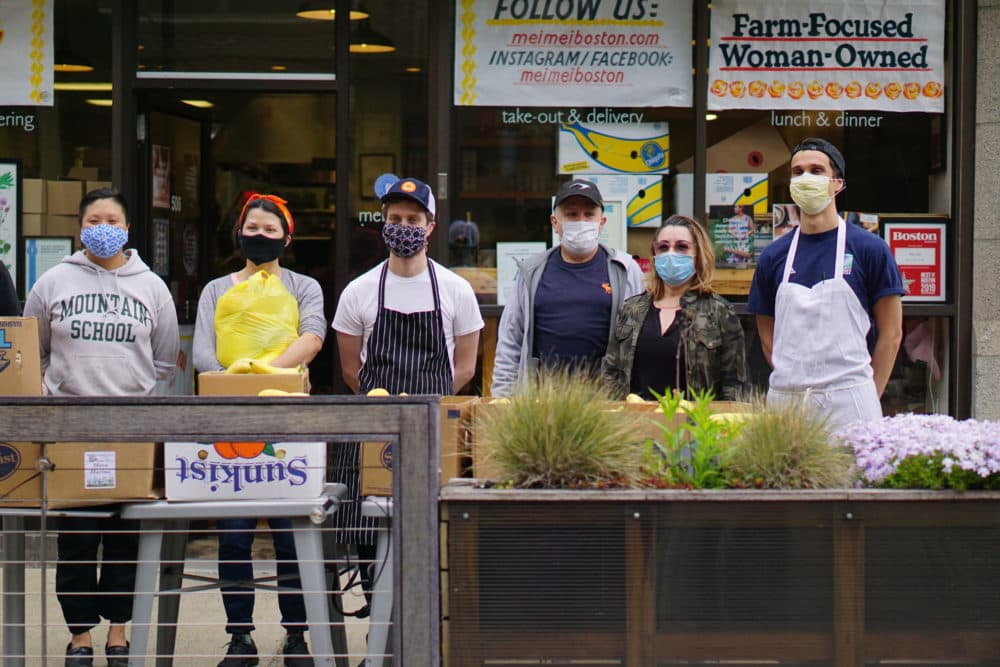 But as the coronavirus ravages the culinary industry, Irene decided to turn her attention toward helping others — mom-and-pop restaurants, immigrant families and essential workers — people and business that may need financial support or a meal.
We spoke to Irene Li about the community outreach efforts she and her staff have taken on since the pandemic struck Boston — efforts, she said, that have humbled her tremendously.
Interview highlights
On feeding families in need
Irene Li (IL): "We started piloting this program to provide donor-funded groceries to immigrant families, many of whom are essential workers and who might be undocumented, and basically using restaurants, as well as volunteer networks, to create that pipeline of supply. We basically asked them, you know, 'What are the things that are hardest to find? What are the products that you eat the most of?' And then we draw on a community of mutual-aid volunteers to actually do the deliveries. And many of our own staff have volunteered for deliveries as well."
On her GoFundMe and Instagram campaign, Unsung Restaurants
IL: "It was incredible to just see the donations flow in saying, you know, 'Oh, I love this spot.' 'I survived on that bowl of noodles in college.' 'I hope this dumpling place reopens.' And so, in a sense, it's not just about raising money, right? It's about community building and it's about reminding people just because these restaurants aren't top of mind for everyone doesn't mean that they don't need help."
On working with Off Their Plate, a coalition of local restaurants feeding hospital workers
IL: "There's something so tangible about preparing a meal for someone. And we've had, you know, different folks kind of volunteer to come help us out in the restaurant. I have dragged my spouse in every weekend to help portion out and package food. And, you know, even he was very moved by the experience. And I think we all just have to work together."
Guest
Irene Li is the head chef and owner of Mei Mei restaurant in Boston. She tweets @ireneshiangli.