A family's peace | Part I
Play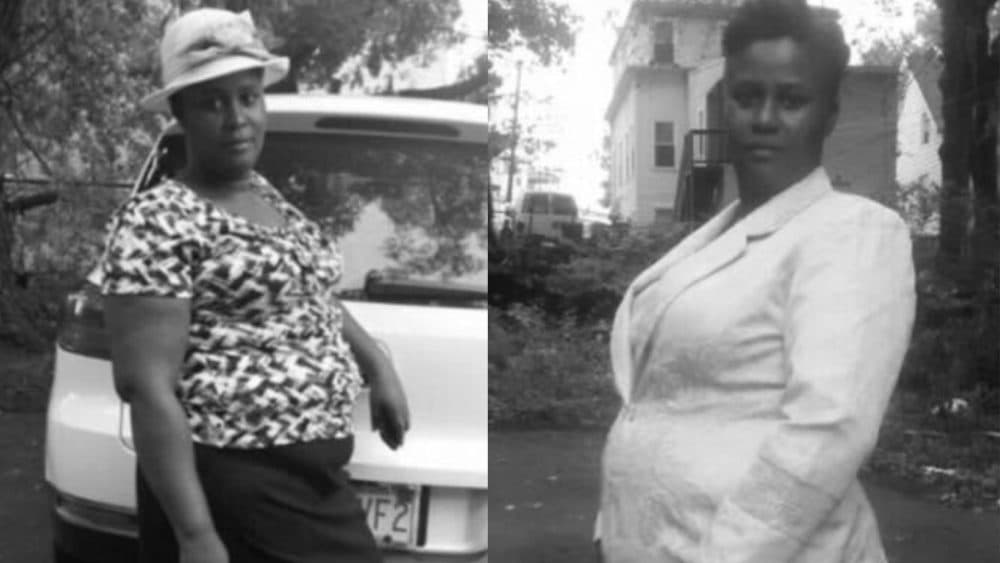 On a sunny Saturday in 2016, Benine Timothee left her house to visit a friend who lived close by and never returned. She had lived in the United States for only three months when she was shot and killed outside a corner store in Boston's Dorchester neighborhood. No arrests have been made, and there are no suspects in the case.
A recent immigrant from Haiti, Benine's tragic death cast a shadow in Boston's vibrant Haitian community. For six years, her family and others have been haunted by the question — what really happened to their mother, wife, and friend on that October afternoon in 2016?
In this three-part series for Last Seen, independent investigative reporter Shannon Dooling joins Benine's family members on their quest for truth and information. Together, they explore what it means to go on living, after losing a loved one so suddenly, with no explanation. And if it's possible to ever find peace, in the absence of closure.
In this first episode, we learn about Benine's life in Haiti, her family's hopes and dreams of a new life in Boston, and why her husband and children feel forgotten by law enforcement.
Show notes: 
---
Full Transcript:
This content was originally created for audio. The transcript has been edited from our original script for clarity. Heads up that some elements (i.e. music, sound effects, tone) are harder to translate to text.
Nora Saks: Shannon, you're an independent, investigative reporter, based in Boston. And I'm neither of those things. What kinds of stories do you usually pursue?
Shannon Dooling: Yeah, let's see Nora. I'd say usually I'm looking for missing money. Missing accountability. We usually try to find the people in power who are screwing people over, so to speak. Like if there's something wrong with a system, a big picture. Those are kind of the hard hitting topics that, you know, attract me.
Nora: But every now and then, there's a more abstract mystery that comes along. And that challenges our preconceived notions of loss. Of mourning. Of closure. Of what it means for someone we love to go missing.
And Shannon, this feels to me like one of those stories.
Shannon: Yeah, Nora, I think it is. Because for the last two years or so, while I was an investigative reporter at WBUR, I've been speaking with a family here in Boston about the loss of their mother — and wife — a woman named Benine.
Nora : And, technically we, the public, we know what happened to Benine.
Shannon: Right.
Nora: Her killing was covered in the local news here in Boston, back in 2016.
And even a few months after she died there were some stories about the investigation. But six years later, we still have no idea what actually happened.
Shannon: Yeah, I mean we know what happened and we also have no idea what happened. Even though it sounds confusing, both of those things are true, Nora.
This family has been through a lot. And for years they've been trying to come to terms with Benine's absence, but it's really hard when there are still so many questions circling around what really happened to her the day she died
Nora: What kinds of questions are circling?
Shannon: I mean the overarching one is: who killed Benine — and why?
Six years later, so far, there have been no arrests in this case. The family really feels forgotten by law enforcement.
And, the family is asking more questions, revolving around a theory that was generated in the community following Benine's death. A theory involving the police and a cover up. And those questions deserve answers.
Nora: Welcome to Last Seen, our show about people, places and things that have gone missing. Fom WBUR, Boston's NPR station.
I'm Nora Saks.
And today, in part one of a three-part series, independent investigative reporter Shannon Dooling searches for: A Family's Peace.
Shannon: Benine Timothee didn't go missing — but it does feel like she disappeared.
If you ask her husband, Andre, it's like she was here one minute — and gone the next.
Andre Timothe: (Speaking in Creole.)
Shannon: (Translating into English.) We hadn't seen her for a while, he says. Hadn't heard anything from her, from 2 to 7 PM. So we called her and she never picked up.
Andre: (Speaking in Creole.)
Shannon: He called her friend's home, where she said she was going that day, and they said she never came. They also called the police.
Andre: (Speaking in Creole.)
Shannon: That was six years ago.
And in many ways, that's when the journey of this family ended — and their individual journeys began.
Shannon: So, this is the recorder. I'm just going to sit this in front of you, OK?
The first time I met with the Timothee family the pandemic was raging — vaccines weren't yet a thing and we were navigating this new world. It was January 2021 — and freezing in Boston. Huddling outside wasn't a good option. So we met in this echoey room next to a community center near the family's home. We wore masks and kept a distance.
I'd just transitioned from a five-year stint covering immigration news, and was now an investigative reporter on a range of topics. But it was my experience covering immigration that piqued my interest when a colleague passed me a tip.
His friend was volunteering at a Boston nonprofit, helping this family, originally from Haiti. They wanted answers about what happened to their mom and wife. Would I be interested in hearing their story?
So, we met in that echoey room. And the family started telling me everything they remembered about losing Benine — and their search for pieces of information ever since.
There was Andre, the dad. He's 67.
Andre: (Speaking in Haitian Creole.)
Shannon: And his two children. Nelissa, his daughter, she's 19 — and soft spoken.
Nelissa: Nelissa Timothee.
Shannon: But she'll have plenty to say later on about losing her mom and the questions she still has.
Then there's Jephte. Benine's son. He's 18.
Jephte: I tried to find the result of the autopsy like, sent an email and stuff like that. When they called me back, they said it's still an open case. They cannot give me the result. Until this day, we still got nothing.
Shannon: Maybe we should start with what we do know.
It was a little after 2 PM on a crisp Saturday afternoon in October. Benine was walking down Washington street in Boston's Dorchester neighborhood — a place she'd called home for only three months.
(Footsteps, credit card machine beeping, ambient sound.)
She was walking to visit with a friend who lived nearby. On her way, she stopped to buy an international calling card — it was the cheapest way to get in touch with her family back in Haiti. She popped into SKB's, a small store on the corner of Washington and Morse — a stop she'd made many times before if the family was running low on milk or paper towels.
The store is hard to miss — it's this bright terracotta, sort of burnt orange painted building surrounded by beige apartment buildings and a beauty salon. It's the kind of place with cigarette cartons hanging above the cash registers. There's a red countertop where you can fill out your lotto numbers — and piles of unpacked boxes clogging the aisles. The calling cards are kept behind the register. Benine paid with cash. She walked out of the store and turned to her right to continue on her way. She never made it to her friend's house.
[Boston Fox 25 News clip audio: "Gunned down in broad daylight, just a horrific situation. This family had moved to the U.S. from Haiti just a few months ago in hopes of starting a new life."
"They survived the deadly earthquake only to lose their loved one to gun violence here."]
Shannon: Here, in Boston — the place where Andre asked his wife to meet him with their children. Where their children were now in school. Where this family of four had finally reunited after nearly 10 years. They had made it through the toughest parts — survived the distance and the uncertainty.
Life in Boston was supposed to be the realization of years of work and planning. And it vanished — in an instant.
Family pictures of Benine show a woman with a subtle but proud smile, rarely showing her teeth but — sort of leading with her eyes.
She's neatly dressed with colorful tops and skirts, wearing a straw hat with a pink flower on the front. In one photo, she's leaning up against a shiny white car with Massachusetts plates in a tree lined driveway. She's wearing a blazer and skirt the color of cotton candy. Her hair is up, swept away from her face and she's looking directly at what, or who, is in front of her.
There's also a photo of Benine's son — Jephte — when he was 12 years old, the year he lost his mom. He's wearing a red button-down shirt and blue tie.
Now, he's 18 — and bears a strong resemblance to his mom: her high cheekbones and vibrant eyes. He's a freshman in college — studying criminal justice. "Somebody's gotta make a difference," he told me.
He remembers the last time he saw his mom. They had just gotten back from doing laundry.
Jephte: Our clothes was kind of dirty. We just had, like, literally anything on. Like, we were just, like, goofing around and stuff like that so, technically the last time seeing my mom with just a normal shirt and in normal sweatpants, I think it was. And then she went outside. That's when everything happened.
Shannon: They lost pieces of themselves that October day — scattered there on Washington Street, in between a three-story apartment building, a beauty salon and the SKB Food Mart, which Jephte says he's avoided ever since.
Jephte: We don't live far away from here. Like we be on the street almost all the time. So when I'm, when I'm usually passing, I just keep my head straight. Because since my mom passed, I never been to the store because it's kind of hard for me to stand exactly where my mom was shot. So every time I'm passing, I just trying to keep my head straight. Like if I'm driving, I just keep my head straight up, not don't even look at it. Sometimes when it's just my dad driving on passing, I just be putting my head down or be on my phone like I don't pay that much attention to it cause I know if I do, I'm going to break.

Shannon: This is Jephte's reality. It has been for a few years now. Instead of grabbing dinner at the Jamaican spot or popping into one of the nearby stores in this stretch of his neighborhood — it's all sort of — off limits.
After the break, we'll hear more about Benine's life in Haiti.
[SPONSOR BREAK]
Shannon: Benine Timothee was born Benine Mascary on April 5, 1980 in Petit Goave, Haiti. It's a small, coastal town southwest of the capital, Port-au-Prince. It's known for white sand beaches and excellent seafood.
Benine was one of six children — four sisters and a brother.
She was just 21 when she met Andre, a man more than 20 years her elder. He was a delivery guy at the time, in Port-au-Prince. And, one day, their paths crossed when Benine was also in the city selling a mix of anything she could get her hands on, really: hair products, t-shirts, bracelets.
The way Andre tells it, Benine had a vision of meeting her future husband while she was working. So when he showed up that day, making his delivery — Benine already knew. He was the one.
Andre remembers Benine as being a good woman. Kind.
Andre: (Speaking in Haitian Creole.)

Jephte: (Translating Andre's quotes into English.) He said since him and my mom met in 2001, it's been nothing but good memories …
Shannon: That's Andre's son, Jephte, interpreting from Haitian Creole.
And Andre also says he and his wife respected each other. She was caring.
Andre left for the U.S. in 2008. There was increasing political unrest in Haiti, rising food prices. Tropical storms were pummeling the island. Jephte and his sister were only four and five years old. But Andre didn't see a pathway to survival in Haiti. Things were deteriorating. He wanted the chance to make a good living — to support his family.
After first arriving in Florida, he ended up in Boston. It's home to the third largest Haitian community in the U.S., behind New York and Miami.
The first wave of Haitian immigrants to the Greater Boston area is believed to have started in the 1950s and 60s — a time when the U.S.-backed Haitian president Francois Duvalier, known as "Papa Doc", was growing more violent and oppressive. Many Haitians were drawn to Boston's educational institutions. And many stayed.
As the traditional immigrant story goes, once a family member arrives in a new country and finds work, they pave the way for others. So, there's a vibrant Haitian Creole speaking community, especially in Boston's Dorchester neighborhood.
That's one of the reasons Andre made his way here. The plan was to work, save money and bring Benine and the kids to live with him.
In 2016, that's what he did.
At first, life in Boston was a shock for Benine and the kids.
It was cold. Here's Jephte:
Jephte: And we were just walking in the street and stuff like that and I had shorts on and she had a big jeans and a big jacket on and she was saying that, oh, she's cold and stuff like that. And I was saying, Don't I like this weather? And she, she, she kind of grabbed me. She was like, put some coat on or something like that because it's cold.

Shannon: The weather, the language barrier, the four of them cramped in a one-bedroom apartment.
And then walking around Boston — seeing skyscrapers up close for the first time.
Jephte: And also there was that time when we were walking around and see a big building and she was like, she said when she looked up, she said, Oh, the building kinda look like it's about to fall on her. So it was kind of like a funny time we had together. Yeah, I have some good time with my mom.
It was all a part of Benine's dream. Reuniting with her husband, providing opportunities for her kids, learning English.
She was doing all of that — in just the three months — she was in this country, she was succeeding. And making new friends.
(Door swings open sound.)
Shannon: Good morning. Am I interrupting your breakfast?
Nicole Albert: Ehhh, look at you, Shannon!
Shannon: How are you?
Nicole: Good, how are you?
Shannon: Good, nice to see you.
Nicole: (Beat.) So when I saw that connection between us, I was, okay, so let me try to help. So whatever I can do, I do, I do.
Shannon: That's Nicole Albert, affectionately known as Ms. Nicole. She has a warm energy about her, the kind of person who might hug you the first time you meet them, instead of just shaking hands. Her kind eyes sometimes get lost behind her glasses.
She's one of the first people Benine met in Boston — a fellow Haitian immigrant who founded the Gilbert Albert Community Center, which is where I tend to meet with the family for our interviews.
In a promo video on the center's website, Ms. Nicole explains that she never set out to create a nonprofit. It just sort of — happened. She kept meeting Haitians who were new to Boston and struggling to acclimate. She remembers one woman in particular who had never cashed a check before and needed help.
[(Gilbert Albert community center video audio.) Nicole: And I called her, "Come I'm going to help you. Next week, you won't have this problem, you will be able to cash your check. So let me help you." She got her bag and everything. I drop her home. And ask her, this is my address, you come to my house tomorrow, same time, I'll be able to help you cash your check, you will sign your name and then boom, you will cash your check next week, so don't worry about that.]

Shannon: Ms. Nicole's center has been a mainstay on Washington Street for almost 20 years now. White stickers are plastered on the front door, with the word "welcome" in a half dozen languages.
Ms. Nicole's three sons are grown and out of the house, so she pours herself into her work — and the people who spend time there, like Benine did. She says Benine was social and eager to learn English. She wanted to become a nursing assistant.
Nicole: She always the last student to leave the school because she's trying to do something. "Ms. Nicole, you are doing too much for the community. You don't need to do all of this by yourself. I'm going to help. I'm coming on Saturday." So, that's all the type of person she was.

Shannon: The community center was like a foothold in her new country. Benine would insist on sticking around to help clean or organize. Ms. Nicole would try shooing her away and in turn insist on offering Benine free English classes.
Nicole: This is what I knew from her, "Ms. Nicole," because I was there myself doing some work in the office. "Oh, no, no, no, no, no. I'm here at school for free. I can come and help you. I'm coming back." And then she came back with Jephte, with her, starting to touch at everything. "I'll do that for you. Let me do it. No, no, no, no, no." You know she was so open.

Shannon: They were developing a friendship, a connection that Ms. Nicole still feels with Benine's family. A bond that was cemented when Benine was killed just across the street from the community center.
Nicole: When I get the news, I was like, "What?" And then I remember the exact time, the, the moment that I saw her, that active person, but always enthusiastic. She had a smile on her face. And that's what she, she leave to her kids And since that day, the incident that the killing happened right there, so I get connected with the family. So like, everybody expecting that I do something in my, my stomach was so tight I couldn't sleep for days I couldn't, like, figure out and find a word to share with those people.

Shannon: At some point, Ms. Nicole transformed that nagging feeling in her stomach into action.
In the aftermath of Benine's killing, Ms. Nicole helped the family navigate meetings with law enforcement — interviews with the press. She would interpret and advocate; research and fundraise. She's driven to help get justice — answers around who killed Benine. But that drive also carries a heavy weight.
The first time we sat down, Ms. Nicole handed me a manilla folder thick with paperwork — the records she's preserved for Andre ever since Benine was killed — the police incident report, copies of the death certificate, correspondences between Andre and the lawyers who've taken up the family's case over the years.
Some of the documents are so old at this point that the ink is blurred, making them difficult to read.
Today, within sight of that SKB convenience store on Washington Street and the broken pieces of Benine's family, the English classes continue at Ms. Nicole's community center
(Classmates laugh.)
Shannon: … with people using song and laughter to learn. There's joy.
Ms. Nicole's ESL students: (Singing.) "Head, shoulders, knees and toes, knees and toes…"

Maybe Benine once played the game too. Maybe she was humming the song, practicing her new vocabulary while she walked down the street that Saturday afternoon in 2016 right before she was shot.
We'll never know what was going through Benine's head. But we're going to try and answer other questions.
Shannon: And so it's safe to assume that at that point someone had but was deceased on scene?
Thomas Nolan: Yep, yep, yep. Yeah. It's a homicide. And this is even before the the ambulance has arrived.
Shannon: Ambulance haven't even arrived yet.
Thomas: Then, however, I'm assuming this is your victim. The woman. She's dead.
Shannon: I wonder what what your take is on how how the the case is being handled.
Carmelle Bonhometre: And over the years, even for myself, is really frustrating because we tried to get in touch with some of the police detectives that were on the case. And we tried to get in touch with a victim witness advocate. Nothing happened.
Shannon: We'll listen to theories about what happened that day.
Samuel Osias: I want this thing to come to a conclusion. Because in my heart, somebody from the police killed this woman.
Shannon: Accidentally?
Samuel: Yeah. Accidentally.
Shannon: We'll sit down with the Boston police and share new information with Benine's family.
Jephte: It would be nice to get some closure, like find out what happened and stuff like that. We get some justice. It will be nice, but it still gonna it's not going to like all filled up all the way down there. I don't think that will ever happen for now for to be like fully like full that the whole part, like the whole space was like literally for my mom. And then she was she's just gone. There's nothing that can replace that.
Shannon: When closure goes missing, you try to pick up other pieces about your loved one. Pieces of information, details that matter. That's next time, in part two.
[CREDITS]
Nora: This episode of Last Seen was reported and written by Shannon Dooling.
It was produced by Shannon and myself, Nora Saks.
Monica Campbell is our story editor.
Mix and sound design by Paul Vaitkus.
Production help from my WBUR Podcasts teammates: Emily Jankowski, Matt Reed, Dean Russell, Amory Sivertson, Megan Cattel, Quincy Walters, and Grace Tatter.
Our digital producer is Megan Cattel.
Ben Brock Johnson is our executive producer.
Big thanks to Jeb Sharp for her editing guidance on this episode.
You can find all of our stories and show notes at WBUR.org slash Last Seen. And Follow us on Twitter - @LastSeenPodcast
And you can always pitch us your story ideas about people, places, and things that have gone missing. Drop us a line at lastseenwbur@gmail.com
Thanks for listening.