A family's peace | Part II
Play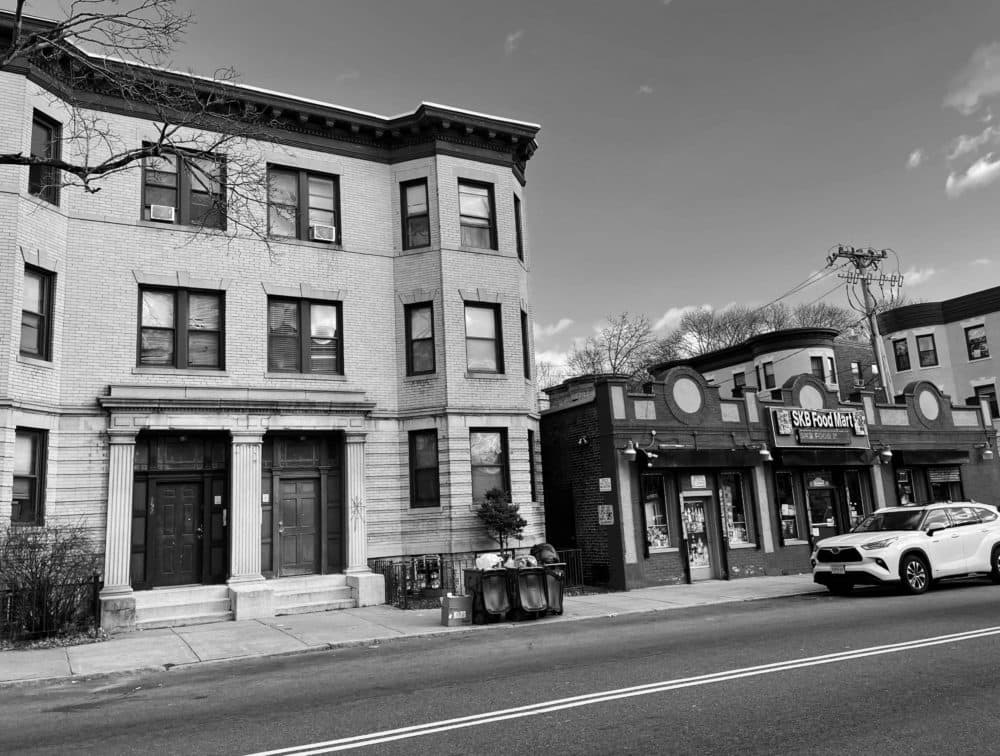 On a sunny Saturday in 2016, Benine Timothee left her house to visit a friend who lived close by and never returned. She had lived in the United States for only three months when she was shot and killed outside a corner store in Boston's Dorchester neighborhood. No arrests have been made, and there are no suspects in the case.
In this three-part series for Last Seen, independent investigative reporter Shannon Dooling joins Benine's family members on their quest for truth and information. Together, they explore what it means to go on living, after losing a loved one so suddenly, with no explanation. And if it's possible to ever find peace, in the absence of closure.
In this second episode, we learn just how hard it has been for Benine's family to get any  details surrounding her death, and why. Despite the hurdles, Shannon tracks down new insights to share with Benine's family members. She also dives into a theory that has haunted Boston's Haitian community for years; a theory about who may have been involved in Benine's killing.
Show notes: 
---
Full Transcript:
This content was originally created for audio. The transcript has been edited from our original script for clarity. Heads up that some elements (i.e. music, sound effects, tone) are harder to translate to text.
Shannon Dooling: It's a warm June day in Boston. The first after a long winter. People are hanging out on their front porches. Opening windows – letting in the fresh air.
I'm walking down one of Dorchester's side streets – it's a residential part of the neighborhood; multi-story homes that have mostly been converted into apartments. I'm on my way to check in with Andre and Jephte – to talk with them about someone who's missing from their lives.
(Sirens. Footsteps.)
It's been awhile since I've visited with the Timothee family – since they told me about what happened to Benine Timothee. She was a mom, a wife – she and her kids had just moved to the city from Haiti – and then in an instant, she was gone. She was killed on a Saturday afternoon in October 2016 – gunned down on a busy street not far from here.
When I show up, Benine's husband, Andre, is sitting on the front steps of a brown, wooden home.
Shannon: Hi. I'm here to speak to Andre?
Andre Timothe: Oh yes. Yes, okay, okay.
Shannon: I didn't recognize you without your mask.
He leads the way to their apartment on the second floor.
(Footsteps.)
Shannon: How are you?
Andre: I'm good. Really good.
Shannon: It's so nice out.
I'm here because I have new details to share with Andre and his 18-year-old son Jephte, details that offer a sharper picture of the final moments of Benine's life, and I have new insight into the investigation.
Shannon: Over the last couple months I've been requesting documents from the Suffolk County District Attorney's office and the Boston Police Department.
Shannon: I've sought out more information. And I hear how the family is giving up on law enforcement.
Andre: (Speaking in Haitian Creole.)
Jephte Timothee: (Translating Andre's quotes into English.) In his opinion, he think that they give up on the case. He said that he don't think they've been working on it for the past two years.
Shannon: After six years, the only thing the family knows is that there have been no arrests in Benine's case – no suspects. So Andre, the dad, has been filling in the blanks himself about Benine's death. Theories about why her homicide remains unsolved.
I had questions too.
Like why has this family been kept in the dark for so long? And what does it mean for a family – new to the U.S. – to navigate loss – and the legal system – in a country that might not feel like home?
Welcome to Last Seen, our show about people, places and things that have gone missing. Fom WBUR, Boston's NPR station.
I'm independent investigative reporter Shannon Dooling. Bringing you part two of this three part series about the Timothees: A Family's Peace.
Back in January of 2021, I sat down for the first time with Andre, his son Jephte and his daughter – 19-year-old daughter Nelissa.
When we met in that echoey room by the community center, Nelissa was reserved. Chiming in every now and then, helping interpret for her dad – sometimes correcting her brother's English.
And she shared one detail in particular about the aftermath of her mom's death – something that happened in the following weeks and months that – in her words – pissed her off.
Nelissa Timothee: Can I say something? One thing, that is really kind of like, it just pissed me off.
Shannon: Yes, go ahead.
Nelissa: Because the cops they give my dad, they kind of relied on me and Jephte to kind of interpret.
Shannon: It upset Nelissa that the police expected her and Jephte to interpret for their dad, who speaks Haitian Creole. When their mom was killed, Jephte was 12. Nelissa was 13. Their English skills were, understandably, basic – they'd only been in Boston for three months.
They were interviewed by a local television station in the days after Benine's killing – tears streaming down their young faces, trying to express their pain in realtime.
Nelissa: I'm not feeling good because my mother is lost. I'm very sad…]

Shannon: None of that seemed to matter. They felt they had to fulfill a new role – as interpreters, to speak with lawyers and police officers at meetings.
Nelissa: I don't think it was fair to us to kind of, like, interpret and stuff.
Jephte: Yeah, they, I think they knew what they were doing. Like, they were kind of relying on us, like, on purpose. Because they, they knew we couldn't do anything about it. I'm guessing that's why they did that.
Shannon: Years later, it's like both Jephte and Nelissa feel safe expressing their frustration – realizing now what it meant for law enforcement to ask them to interpret for their dad after the killing.
It's hard to know how often this happens - when kids are asked to help with interpretation during a horrible time in their own lives. But in a city with a lot of immigrants like Boston, what happened to Jephte and Nelissa doesn't seem unusual. I also checked – and of Boston's 2,000 sworn police officers – about two dozen speak Haitian Creole. It might seem like a lot, but not if you consider that Boston has one of the largest Haitian American communities in the country.
It might feel normal in the heat of the moment to have a family member translate after a crime; law enforcement needs to communicate quickly and effectively with the people close to the victim. But with a serious incident and a longer investigation, asking the bereaved to serve as translators didn't feel appropriate. In the end, no Creole-speaking officers were assigned to Benine's case.
Jephte did speak with one of the detectives on the case. He still has his business card. He says he called him several times and they talked about how football was going for Jephte. After a while, Jephte started to leave messages. The detective stopped responding. So Jephte stopped calling.
The last time the family heard from that detective was in 2018, when he invited them to a police-sponsored barbeque.
We'll hear more from the Boston police later. But first, I'm curious what questions Andre, Nelissa and Jephte still have for the investigators? What would they ask them now?
Andre: (Speaking in Creole.)
Shannon: Andre, of course, says he wants to know what happened to his wife – and how the police would support his family?
But Nelissa – Nelissa is looking for something else.
Nelissa: I see the struggle my dad went through and how much he really wants to figure this out.
Shannon: Nelissa sees how knowing so little about the investigation has taken a toll on her family. So she's stopped holding out for more.
Nelissa: I feel like they will never pay attention to us because, I don't know, I feel like we're immigrants, we come here, it's not our country. And we're Black. There's racism, I learned this in school. I learned this the hard way too. There's systematic racism here. So I know deep down we're not going to really get anything from them. So I don't really have a question. But just for my dad's sake, I just want him to kind of like …
Jephte: Put this to rest. Yeah, we want to put this to rest.
Shannon: Nelissa is looking for something the police can't provide. Because for her, justice isn't only about holding someone accountable for the crime. It's about reclaiming the parts of herself that she lost that day.
The Timothee family knows very few details about what happened the day Benine died – only that she was shot and killed walking out of the convenience store – and that a 15-year-old boy was also injured on Washington Street that day.
One news report cites the police saying that he could've been targeted by gangs. The boy's father disputed that, saying his son was an innocent bystander.
There's a copy of a police report that the Timothee family gave to me, but it's sparse on details – and it doesn't mention the teenager who was shot. So, I asked the Boston police for any additional incident reports related to the crime and it turns out there's a little more we know about that day.
It was 2:27 in the afternoon. Saturday, October 29th.
Officers responded to reports of a shooting in Boston's Dorchester neighborhood. Where a lot of Haitian Americans live. There's markets and restaurants offering Caribbean food. The occasional sign in Creole. And the officers were directed to Washington Street. The heart of the neighborhood.
The police report says: "On arrival, the officers observed a victim on the sidewalk in front of 152 Washington Street with an apparent gunshot wound to her upper chest."
152 Washington – right next to the market Benine frequented. Across the street from the community center where she was learning English.
We also know that the windshield of a nearby parked car was struck during the shooting – and that officers collected evidence from the car, part of a "spent projectile" – in layman's terms, part of a bullet.
And we know that six years after this homicide – on a busy street in Boston – there've been no arrests. No suspects.
I'm visiting Jephte and Andre today – because I have an update for them, beyond the police report – some more insight into the investigation.
In their apartment, Andre tends to food on the stovetop.
Shannon: What do you have cooking right now?
Andre: I got the rice and chicken.
Shannon: It smells really good.
The place is flooded with a warm natural light. There's framed photos on shelves – memories of life in Haiti – before everything changed. Jephte has a bright smile on his face – and sort of saunters out of his room carrying a few old pictures.
Jephte: I found a few.
Shannon: Yeah? Oh wow, can you describe the photos?
Jephte: That was my mom and dad in Haiti. They took the picture, I think we were going to church. There was some event or something at church.
Shannon: Yeah, they look all dressed up.
Jephte: Yup.
Shannon: For months, I've asked law enforcement about the investigation into Benine's killing. Requested documents – like case filings and witness notes.
The Suffolk County District Attorney's Office denies my requests for records, saying the case is open and active. That means law enforcement doesn't have to release the files if they believe doing so could compromise the investigation.
So, I can't see them. The family can't see them.
But here's a question: what does "active'' mean?
The DA's office said in emails that no records had been filed in this investigation in the last two years.
Just as Andre suspected.
Not a new piece of evidence. Not a new witness. Not an interview.
Sitting in their apartment, sharing this update with Andre and Jephte, I realize that this discussion, these details – about the lack of progress on the case – even that confirmation is more than the family's received from law enforcement since Benine died.
Jephte: Yeah, October's going to be six years now since everything happened and no one said anything to us, nothing really happen. Nobody help us or do anything about it. He said like, to him everybody just think that this tragedy that happened is not important.
Shannon: It's easy to see why Andre feels this way – why the family feels forgotten.
Going through life with this massive unknown – years pass – and still nothing. The void remains.
I imagine it must be similar for the loved ones of the more than 1,300 other victims of unsolved homicides in Suffolk County – some dating back to the 1960's.
The DA's office told me that when investigators have no motive to work off of, when no one is coming forward with new information, it's common for cases to remain open and unsolved.
What is the victim's family supposed to do with that?
Law enforcement might not have new information to offer the family, but we do. That's after the break.
[SPONSOR BREAK]

Shannon: I've shared an update about the investigation with the Timothee family – that the DA's office has filed no new paperwork on the case in recent years. But there's more.
After nearly six months of exchanging emails and calls, I'm able to get the police dispatch transcripts and recordings from that day and I pieced together some of the context around the final moments of Benine's life.
Not surprisingly, it was chaotic on Washington Street just after the shooting.
There's a silver car reportedly seen fleeing the area. There's a push to get officers to the scene. And ambulances. But a closer look shows how parts of the response are strained – that it's a response that appears to have failed Benine.
But before bringing these new details to the family, I need to understand what I was reading and hearing.
Shannon: So, Tom, did you have a chance to look over those transcripts and if so, what are your kind of takeaways, if any?
Tom Nolan: It seems, I looked at channel 3 and channel 6, routine calls interspersed with the homicide related calls.
Shannon: Tom Nolan is a retired Boston police lieutenant. He now teaches sociology at Emmanuel College, here in Boston. I ask him to review the police dispatch transcripts, to help me interpret what I was reading.
Tom: And then we got Harry 982, that's the Dorchester sergeant detective. And he says, "Can we make full notifications on this, please?" That means they have a homicide. So when you see full notifications, full notifications means notify everybody. We have a homicide here.
Shannon: And so it's safe to assume that at that point someone had but was deceased on scene?
Tom: Yep, yep, yep. Yeah. It's a homicide. And this is even before the, the ambulance has arrived.
Shannon: The ambulance hadn't even arrived.
Tom: Then, however, I'm assuming this is your victim. The woman. She's dead.
Shannon: I'm taken aback by this detail – that Benine appears to have died before an ambulance was even on scene.
If Benine had been shot on a Saturday night in the height of summer – when we know big cities typically see an uptick in gun violence – then maybe this delayed response would make a little more sense – a supply and demand type of chain reaction.
But this happened in October. And according to the police dispatch records, officers were told by Boston EMS - which sends the ambulances - that there were no units available at that moment.
That means in a city of close to 700 hundred thousand people, with the largest EMS department in the region, employing hundreds of emergency personnel – with two dozen city ambulances as well as privately contracted units – officers at the scene were told EMS was trying to get somebody there.
The closest emergency room was about two and a half miles away – a 15-minute drive.
On the tape, you hear officers at the scene repeatedly ask for updates on an ambulance. The recording is a bit scratchy.
Officer: 23, you gonna have EMS roll through here?
Shannon: You gonna have EMS roll through here?
Officer: Charlie 202, Did EMS dispatch yet?
Shannon: Did EMS dispatch yet?
Officer: Harry 104, is EMS on the way yet?
Shannon: Is EMS on the way yet?
I ask Nolan whether this type of EMS response is routine. I mean, is it normal for officers to be told that there are no ambulances available?
Tom: You know, they could have been swamped that day. But I mean, a shooting is, that it's a priority one. That's the highest priority. And it's a confirmed shooting, meaning that there are police on the scene who are saying we have two people shot. And so EMS should have dropped everything that they're doing and rushed to the scene of that. Now, I don't know if that would have made a difference, because the sergeant detective says, you know, that she's dead. So, I mean, chances are that, you know, the EMS would have made come to the same conclusion. I don't know. But but an ambulance should have been there for sure.

Shannon: Here's what we know – and what's still unclear – about when an ambulance actually arrived at the scene.
Boston EMS says it took six minutes – within the department's goals for getting one of its units there.
But we don't know what time that ambulance was sent to the scene.
How long did it take – after officers had already arrived – for EMS to dispatch that ambulance? You can hear police wondering what's going on in the recordings.
EMS says they can't release the time of day the unit was dispatched, because of patient privacy concerns. I've asked the Massachusetts Secretary of State's office to weigh in on that. It may take weeks to get an answer so – chances are we won't know more until after this airs.
After reviewing that day in detail with Nolan, I find myself having a hard time digesting it all. I picture Andre, Jephte and Nelissa just going about their business that Saturday – not knowing that Benine had just been shot – not far from their apartment – and that officers were repeatedly asking for an ambulance to get to Washington Street.
Before I brought all of this to Jephte, he was able to at least assume that things were different that day. That – maybe doctors in the ER tried saving his mom's life. He didn't know this for sure, of course – he was never told what actually happened.
But now, a new scene is playing out in his head – one that ends right there on the sidewalk.
Shannon: I wonder Jephte what's going through your head listening to that?

Jephte: A lot is really going on. All I'm mostly thinking about was that we made a stupid choice. I'm sorry for the language I use. Because all I'll be thinking about is that if we never come here, something like that will never happen.
Shannon: If they had never come here, to the U.S.
Jephte: I just wanted to say it was like a stupid choice coming here because all that's happening is kind of crazy. Because I seen, I seen when people call 911, I seen it happen, come less than 5 minutes and stuff like that. But this is, I got a lot going on. But it just, it just kinda hard to process all that.
Shannon: Here's the thing about searching for answers after so many years. There's no guarantee you'll be ready when you receive them.

Andre finds this new scene hard to accept.
At this point, it's difficult for him to trust anything coming from law enforcement – to believe anything.
Andre: (Speaking in Creole.)
Jephte: He's saying that what hurts most is that we're living in this big country where like, there's like opportunity based where we came from but based on his experience, everything he's found out about this country is that technically a lie. Because everyone that he talked to, saying they was going to help us, and they technically putting up a show.
Shannon: For four years, the Timothee family says they'd heard nothing from Boston Police. And in the absence of any real communication with law enforcement, Andre – along with others in Boston's Haitian community – have filled the void, circulating and cultivating their own theories about what happened that day.
In fact, when I read him the police dispatch transcripts, Andre questions something in there: The mention of that silver car possibly fleeing the scene.
Andre: (Speaking in Creole.)
Jephte: Yeah, he's saying that he thinks that report is fake, that they're lying because he's saying that if it was like some other person that shot my mom, they would of like, find justice or something.

Shannon: And this is where the story takes a turn … at least for Andre.
He believes he knows who killed Benine – and they weren't driving a silver car.
Jephte: He said, based on why he heard from like, the people that I was talking to on the street there. He said that he heard that people were saying that the police was shooting at someone else.

Shannon: That the police were shooting at someone else. Andre's theory doesn't specify who they were shooting at, but he believes that the BPD was chasing a suspect – and opened fire.
Jephte: And then the person kind of got behind my mom and my mom got shot instead of the person he said, that's what, that's what he heard that happened. He's basically saying that report is fake.

Shannon: The dispatch records are fake, Andre says. They leave a lot out.
Big doubts surround this theory – that police officers were pursuing someone else and that Benine got in their crossfire. But Andre believes it and so do others.
So I asked Boston Police. What do they think?
John Boyle: If a Boston police officer discharges their firearm, they are required to notify operations immediately.
Shannon: That's Sergeant Detective John Boyle – spokesperson for the Boston Police Department.
John: I have not heard this. I will check with investigators, but I do not believe that is true. We would have determined that in an investigation at this point.

Shannon: I double-checked with Boyle, asking if there were records from that day, showing any Boston police officers fired their weapon. He said no, there were none.
Since 2016, the Boston police have commented very little on the case – including when I recently asked the sergeant detective over a Zoom interview, if he could confirm whether there's been any new developments.
Boyle: No, no. I wouldn't be able to do that. Where it's an open investigation we would not be able to give information like that out.

Shannon: He can't tell me whether there have been any new developments, let alone what they might be.
And in the absence of information from the police, Andre listened when people in the community told him what they heard – or what they believed they saw that day – people I've had no luck tracking down.
Still, Andre clings to this idea that the Boston Police Department hasn't solved Benine's homicide – because it was one of their own officers who shot her.
He's not alone.
Shannon: Well, thank you so much for inviting me into your home. I appreciate it.

(Keys jingling, door unlocking and swinging open.)

Samuel Osias: It's alright.

(Footsteps.)

Shannon: So, I was hoping Samuel, we can chat a little bit.

Shannon: Samuel Osias is something of a celebrity in Boston's Haitian community. He has his own online radio show – Radio Vibrations.
(Music from Radio Vibrations show.)
It's mostly Haitian music with some politics sprinkled in here and there.
After Benine's death, Andre reached out to Samuel for help. He has connections in the community. He's lived in Boston for more than 30 years. Samuel, in turn, connects the family with a lawyer and a private investigator.
Years later, Andre and Samuel both have more questions than answers. It's the theories around Benine's death that connect the police to her killing that seem to prevail for them.
Samuel: The rumors that I basically heard was that on Washington Street. I contacted a few merchants and then I went to talk to them because a lot of them know me, because I'm on the radio. They trust me with their thoughts. They said, You know what? I think the police kill her.
Shannon: We'll hear more from Samuel later on, but for now, like many others he's frustrated there isn't more to know – to say – about Benine's death.
Samuel: To be honest, I wish I could tell you somebody, because I want this thing to resolve. I want this thing to come to a conclusion. Because in my heart somebody from the police killed this woman.
Shannon: Accidentally?
Samuel: Yeah, accidentally.
Shannon: But neighborhood rumors and theories can only take you so far in the search for closure – for justice.
So we'll talk with someone in the district attorney's office – the office in charge of finding that justice.
Because at some point, Andre, Jephte and Nelissa, need to find a pathway forward.
That's next time.
[CREDITS]
Nora Saks: This episode of Last Seen was reported and written by Shannon Dooling.
It was produced by Shannon and myself, Nora Saks. Monica Campbell is our story editor. Mix, sound design, and original music composition by Paul Vaitkus. Production help from my WBUR Podcasts teammates: Emily Jankowski, Matt Reed, Dean Russell, Amory Sivertson, Megan Cattel, Quincy Walters, and Grace Tatter.
Our digital producer is Megan Cattel. Ben Brock Johnson is our executive producer.
You can find all of our stories and show notes at WBUR.org slash Last Seen. And follow us on Twitter @LastSeenPodcast
And can always pitch us your story ideas about people, places, and things that have gone missing. Drop us a line at lastseenwbur@gmail.com
Thanks for listening. Next week, the third and final episode in our series: A Family's Peace.