The Wedding Toast | With Kathryn Hahn
Play
Ada Calhoun doesn't like to mince words. In her Modern Love essay, "The Wedding Toast I'll Never Give," she lifts her glass to the true challenges of marriage -- OK and some good stuff, too.
Voices from this episode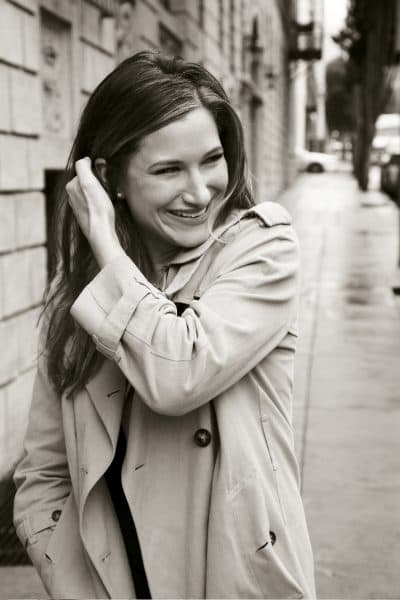 Kathryn Hahn's versatility in both comedy and drama has made her one of Hollywood's most sought after actresses and has shaped a career full of memorable roles.

Hahn was recently cast in Jill Soloway's new comedy pilot "I Love Dick." She plays the role of a wife (Chris) who's relationship is put to the test when they both fall for the same professor. Hahn also recently has completed production starring in the Max Wrinkler indie coming-of-age film, "Flower," opposite Adam Scott, Zoey Deutch and Tim Heidecker.

Hahn can current be seen on the Emmy Nominated Amazon original series "Transparent" created by Jill Soloway. The show recently received a 2016 Emmy nomination for 'Best Comedy' as well as won the 2015 Golden Globe award for 'Best Comedy.' Season three will return on September 23, 2016.

She can most recently be seen starring in the Jon Lucas comedy "Bad Moms," opposite Mila Kunis and Kristin Bell. She plays an over-worked, over committed and exhausted mom who joins forces with two other over-stressed moms who all go on a quest to liberate themselves from conventional responsibilities. Hahn was also recently seen in Matt Ross' "Captain Fantastic" opposite Viggo Mortensen, which follows a father living in the forests of the Pacific Northwest with his six young kids trying to assimilate back into society. She was also recently seen in the Netflix film, "The Do-Over" starring alongside Adam Sandler and David Spade. Recent past films include Peter Bogdanovich's "She's Funny That Way," alongside Imogen Poots, Owen Wilson and Jennifer Aniston. Additionally, she starred in M. Night Shyamalan's horror comedy "The Visit," as well as IFC's "The D Train" and Brad Bird's sci-fi mystery "Tomorrowland" opposite George Clooney. Hahn also starred in the Warner Bros. family dramedy "This is Where I Leave You," directed by Shawn Levy and based on the novel by Jonathan Tropper.

Previously, she was seen starring opposite Jason Bateman in his directorial debut, "Bad Words," which was released by Focus features, "The Secret Life of Walter Mitty," starring and directed by Ben Stiller and the hit comedy "We're the Millers," with Jennifer Aniston and Jason Sudeikis. Hahn also starred in Jill Soloway's "Afternoon Delight," which premiered at the 2013 Sundance Film Festival and garnered her a 2013 "Breakthrough Actor" Gotham Award nomination.

Other feature film credits include stand-out roles in "Step Brothers," playing John C. Reilly's outrageous and funny love interest and "Revolutionary Road" playing Kate Winslet and Leonardo DiCaprio's neighbor. Her additional film credits include "Wanderlust," "Our Idiot Brother," "How Do You Know," "The Goods: Live Hard, Sell Hard," "The Last Mimzy," "The Holiday," "Around the Bend," and "Anchorman: The Legend of Ron Burgundy."

Recent past TV credits include the first season of Showtime's dark comedy "Happyish" as the female lead opposite Steve Coogan. Hahn played the wife to Coogan's character, a man facing his own obsolescence after his advertising agency is taken over. Hahn also had a guest-starring arc on the NBC hit show "Parks & Recreation," and HBO's "Newsroom" and "Girl." Her previous roles include NBC's "Crossing Jordan," "Four Kings," "Hung" and "Free Agents." She also has lent her voice to the FX animated series "Chozen," and Fox's "Bob's Burgers" and "American Dad!"

Hahn made her Broadway debut in the Tony-winning play "Boeing-Boeing," alongside Bradley Whitford, Gina Gershon, Mary McCormack, Christine Baranski and Mark Rylance. "Boeing-Boeing" won the 2008 Tony in the category of Best Revival of a Play.

No stranger to the stage, her theatre credits also include "Dead End," at the Ahmanson Theater and Huntington Theater Company; "Ten Unknowns," at Huntington Theater Company; "A Midsummer Night's Dream," "Chaucer in Rome" and "Camino Real," at Williamstown Mainstage; and "Hedda Gabler," at Williamstown/Baystreet.

Hahn received her Bachelor's degree from Northwestern University and her Masters in Fine Arts from the Yale School of Drama, where she appeared on stage in "Othello" and "The Birds."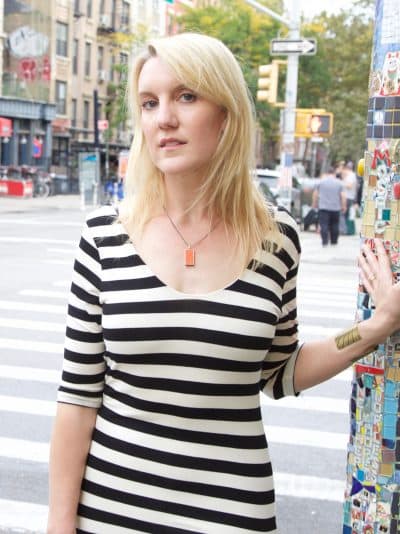 Ada Calhoun is the author of St. Marks Is Dead: The Many Lives of America's Hippest Street, a "revelatory" (Kirkus), "captivating" (Publishers Weekly), "delightful" (Wall Street Journal), "timely, provocative, and stylishly written" (Atlantic) "ecstatic roll call" (New York Times Book Review) about the street she grew up on. She has been a journalist and critic for the past 18 years, and a ghostwriter or co-author of nine books for major publishers, including several New York Times bestsellers. Her national news reporting has won multiple awards, including the Alicia Patterson Foundation fellowship. She has written essays for O Cosmopolitan and the New York Times — including two op-eds, two "Modern Loves," and four "Lives" columns. Her 2015 piece "The Wedding Toast I'll Never Give" made the list of the New York Times's most popular stories in 2015, and prompted a forthcoming essay collection about marriage, "Wedding Toasts I'll Never Give," due out in 2017.  You can pre-order it here.