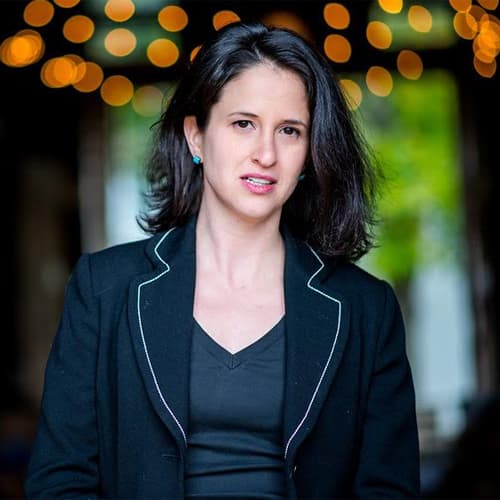 Jessica Alpert
Former Staff
Jessica Alpert is the managing producer for program development at WBUR—Boston's NPR News station. In this position, Jessica develops new podcasts and programs while also launching and nurturing WBUR's newest projects. In addition, she oversees the role of WBUR's iLab, an experimental unit that works to break new ground in the area of audio storytelling.
In 2016, she led the team that launched the Modern Love podcast, a collaboration between WBUR and the New York Times. In this capacity, Jessica has cast top talent from the stage and screen, directing and producing more than 50 actors. The Modern Love podcast shot to #1 on the iTunes charts within 24 hours of launch and has since received over millions of downloads. Her latest project is "Circle Round," a storytelling podcast for kids and the young at heart. You can hear the pilot episode now.
Jessica learned the most about program development from making radio, producing for five years on WBUR's daily local program, Radio Boston. She then joined the team that launched WBUR and NPR's new iteration of Here & Now, a daily two-hour news magazine. After this experience, there's no deadline that will ever scare her!
Following seven great years in public media, Jessica took a break to explore content production in the startup scene. At Wizeo, an early-stage angel-funded interactive video company, Jessica was VP of content. After Wizeo, she honed her marketing skills as a consultant for various companies including Women Online, a boutique digital agency that helps nonprofits and brands move women to action.
But she couldn't stay away from radio for too long.
Jessica's freelance work and projects can be found on NPR, PRI, the BBC, The Atlantic, MIT Tech Review, Bust Magazine and The Washington Post. As a Fulbright Scholar, Jessica spent one year collecting the oral histories of the 60-family Jewish community of El Salvador—the collection will soon be available online through the University of Florida oral history archive.
Originally from Texas, Jessica received her undergraduate degree from Columbia University's Barnard College and her masters in Latin American and Jewish history from Indiana University-Bloomington. She launched her audio education at the Salt Institute for Documentary Studies in Maine. Today, she lives with her husband, twin son and daughter, and two cats near Boston.