In The New Year, More Cuddling | With Margarita Levieva
Play
For some people, New Year's Resolutions are about going to the gym, saving money, or de-cluttering. That's not Kristine Lloyd.
"I looked for the really bizarre," she says. "I thought, I'm not just going to do little bitty fearful things. Let's just go off the deep end here."
She wrote about her resolution in her essay, "In the New Year, More Cuddling." It's read by Margarita Levieva, who plays Abby in the HBO show "The Deuce."
Where Are They Now?
Kristine Lloyd says that in 2017, she took steps toward achieving her resolution to seek out touch. But she didn't quite meet the goal she set for herself.
"I feel that resolution really set the bar high," she says. "To me, it meant ... by the end of the year, I'm going to be in a relationship, and it's going to be awesome. And that hasn't happened, partly because I'm backing into a fear corner. But I'm moving toward that, ever so tortoise-like. I'm starting to get on dating sites. Dear God, don't even get me started about that. But I'm dipping the toes in. I'm getting there."
Among her 2018 resolutions? Dating more. And she's also open to attending another cuddle party — this time, with a different perspective than she had the first time around.
"I definitely went feeling like, this is sad," she says. "This is so sad, that I'm going to this place where people have to go to get touch and to get cuddled. So I was very judgmental going into it. And that kind of judgment is such a layer of protection. I didn't want to see myself as part of that group ... I thought, I'm so friendly and extroverted. I don't need this, I'm just checking it out."
But by the end, Kristine says that she saw that cuddle parties were helping people, at least a little, in addressing a real problem.
"I don't know that the touch that's brief, that we get from a friend or a physician or a massage therapist, is enough," she says. "Maybe it's what's going to have to do for those of us who aren't in a partnership at the moment. But you really do long for and miss that — the holding — someone holding you for a long period of time."
She wants people listening who aren't in a partnership to understand that it's okay to be alone, and to acknowledge that it's hard.
"I wish people felt like it was okay to express that, and to feel that way, and to know that they're not alone in feeling lonely, and that there are things that they can do about it," she says.
She adds, "I think that the longer we hole up and feel lonely, the harder it is to get out. The longer you don't do something, the scarier and harder it seems. And that's the other thing, is just to be brave. It's scary, when you're lonely and alone, to be brave. You don't have that bolstering force of a best friend who's going to go do that thing with you. But you can do it!"
More from Margartia Levieva
Margarita Levieva says that watching so many of her single friends looking for love — and having been there many times herself — helped her connect with this essay.
"I really get it, and I really get how much we need human contact, and how especially living in big cities, we can get so lost," she says. "I really connected with the loneliness of this woman, and reading the part about her almost crying when the woman caressed her arm — it really got me. I know what that feels like. And I do think, we're humans, and human connection and human touch is massively important. And without it, not only are we starved physically, but I think we become starved emotionally. And at least in my world, I think the soul dies a little bit."
Voices In This Episode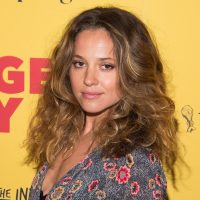 Margarita Levieva is a film and television actress who has been captivating audiences since her breakout role in the film "Adventureland" in 2009. She can currently be seen in David Simon's critically acclaimed HBO drama "The Deuce," starring opposite James Franco and Maggie Gyllenhaal. The show follows the story of the legalization and subsequent rise of the porn industry in New York. Margarita plays Abigail "Abby" Parker, an adventurous college student who strikes up a relationship with nightclub owner Vincent Martino (Franco) who has ties to the burgeoning sex industry of early '70s Times Square. "The Deuce" was renewed by HBO for a second season.

This past year she filmed the indie film "LA Times" opposite Michelle Morgan and Jorma Taccone, which premiered at the 2017 Sundance Film Festival, and "Future World" opposite James Franco, Suki Waterhouse, Milla Jovovich and Lucy Liu. Margarita is currently in production for Barry Films' independent crime thriller "Inherit the Viper" with Josh Hartnett and director Anthony Jerjen.

Margarita's past film credits include "Diary of a Teenage Girl" with Kristen Wiig and Alexander Skarsgård, "Sleeping With Other People" opposite Alison Brie and Jason Sudeikis, critically-acclaimed "James White," "For Ellen," "The Loft," "Knights of Badassdom," "Noise," "The Invisible," "Moscow-Russia Express," Lakeshore's "Lincoln Lawyer" with Matthew McConaughey, Miramax's "Adventureland" and "Spread" opposite Ashton Kutcher.

Margarita's recent television credits include her role of Amanda Clarke in the hit ABC show "Revenge" opposite Madeleine Stowe and Emily VanCamp. She co-starred opposite Hope Davis in NBC's "Allegiance," written and directed by George Nolfi and has reoccurred in the NBC hit show "The Blacklist". Her previous television credits include HBO's "Luck," "How to Make It In America" and "Vanished".

She also made her Broadway debut in 2009 with the play "Impressionism" at the Gerald Schoenfeld Theatre opposite Jeremy Irons and Joan Allen.

Margarita was born in Russia and immigrated with her mother to Brooklyn, NY at the age of 11. She received her bachelor's degree in economics at NYU and completed the Meisner Training Program at the William Esper Studio in New York. As well as being an actress, she is an artist and a professionally- trained dancer.

Margarita currently resides in New York.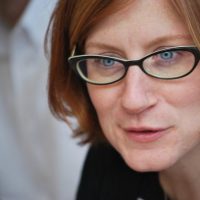 Kristine Lloyd is a writer and librarian living in Seattle. Her work has appeared in The New York Times, Salon, the Washington Post, and she is currently working on a memoir about how her parents' sex life is way more exciting than hers. She earned an MFA from Eastern Washington University.