Your Dog Has Seen Me Naked | With William Jackson Harper
Play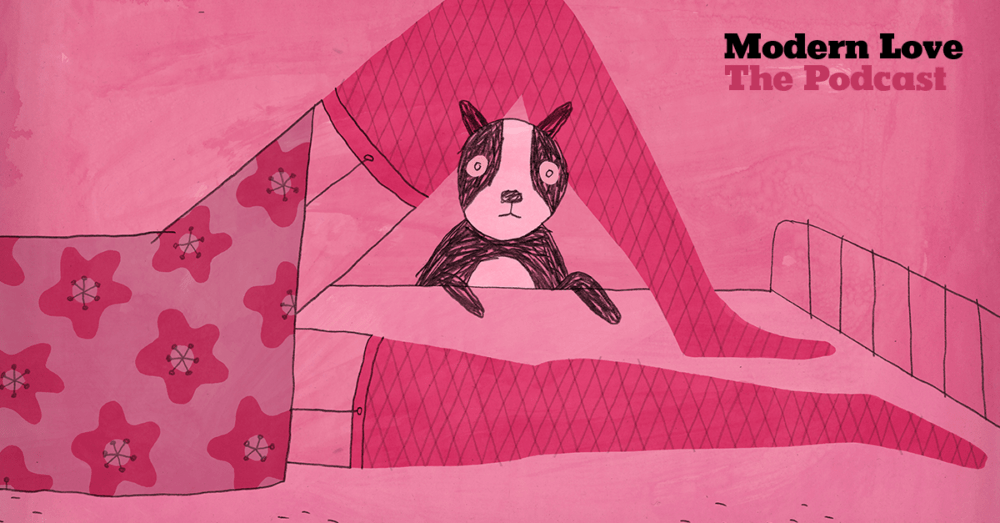 Last week, our team brought a live performance of the Modern Love Podcast to the Huntington Avenue Theatre in Boston for Valentine's Day weekend.
William Jackson Harper joined us for the performance. He plays Chidi on the hit NBC show "The Good Place," and he read an essay by Ryan Pfeffer, called "Your Dog has Seen Me Naked."
Where Are They Now?
So how does it feel to find out that your story about your sex life is going to be published in The New York Times? According to Ryan Pfeffer, it's both terrifying and thrilling.
Story continues below
Subscribe to the podcast
"My mom read it," he says. "She had to have a couple of glasses of wine before she could finally work her way through more than the first two sentences, but she eventually got through it and was really proud, and that was so nice."
But the essay was published a week before Christmas, and Ryan says that timing wasn't ideal. "I was like, 'Everyone's going to read this, and ... I'm going to have to answer questions from aunts and uncles and grandma about this strange article that ended up in the New York Times."
Although Ryan says he isn't sure if his grandma has read the piece.
"We debated internally as a family if this safe for grandma," he says. "I think we will show it to her eventually, possibly using the wine technique that we used on my mom."
Ryan is still with Rigatoni's owner, and his relationship with Rigatoni is going well. And he says winning over the dog is essential to winning over the owner.
"I mean, if you don't have the dog on your side, good luck. I would much rather have a dog like me than a dad like me ... You're going to see the dog so much more than you're going to see the dad."
Ryan says that as dating so many dog owners made him realize how important it is to impress pets. "I was very conscious of ... offending the dog in any way, because that would translate to the owner tenfold, and there might be no coming back from that."
Rigatoni gets along with Ryan's pet, a cat named Potato. Thankfully for Potato, Ryan has a door in his own apartment. But Ryan is still bribing Rigatoni when necessary.
"We still use the bone with Rigatoni," he says. "But [it's] getting better. He's very trainable. And Rigatoni doesn't have a lot of experience with this sort of stuff either. He's only been in this particular apartment for about a year. So we're all learning in this situation."
Voices in this Episode

William Jackson Harper currently stars as Chidi in NBC's hit comedy series "The Good Place," opposite Kristen Bell and Ted Danson. The critically acclaimed show received the AFI Award for TV Program of the Year in 2018, as well as Golden Globe and Critics Choice award nominations for Best Comedy Series. Harper recently received a Critics' Choice Award nomination for 'Best Supporting Actor in a Comedy Series' for his performance. Currently airing its third season, "The Good Place" has been renewed for a fourth season.

In film, Harper can be seen in the buddy comedy turned crime thriller "Lost Holiday," which makes its world premiere at Slamdance Film Festival on January 26th. He will star in A24's upcoming horror film "Midsommar" alongside Will Poulter and Florence Pugh. Directed by Ari Aster (Hereditary), the film is slated for release this August. Harper is also set to begin production in Participant's untitled legal drama focused on the scandal revolving around the DuPont chemical company. Directed by Todd Haynes (Carol) and produced by Mark Ruffalo, Harper will star alongside Anne Hathaway, Tim Robbins and Bill Pullman. His additional feature film credits include "Paterson, "True Story," "All Good Things" and "How to Tell You're a Douchebag."

On television, Harper will next appear as the character Xander opposite John Krasinski in the second season of Amazon's "Jack Ryan." Additionally, Harper has made guest appearances on numerous acclaimed television series including "30 Rock," "The Blacklist," "Law & Order," "Law & Order: CI," Hulu's "Deadbeat," "High Maintenance," "Unforgettable" and the children's series "The Electric Company." His credits also include the telefilms "The Breaks" and "The Share."

Born in Dallas, Harper has an extensive background in theater, co-starring alongside Cristin Milioti in "After The Blast" at Lincoln Center, as well as on Broadway in the Tony Award winning play "All The Way," with Bryan Cranston. Most recently, Harper made his playwriting debut with the drama "Travisville," which centers on a Texas church community untouched by the tumult of the civil rights movement. The play opened in October 2018 at New York's Ensemble Studio Theatre to critical praise, with The New York Times noting Harper's "serious writing chops." Additional stage performances include "A Family for All Occasions" at the Labyrinth, "Modern Terrorism" at Second Stage, "The Total Bent," "Titus Andronicus" and "Measure for Measure" at the Public, "Placebo" and "A Cool Dip in the Barren Saharan Crick" at Playwrights Horizons and "Queens Boulevard" and "Paradise Park" at the Signature. Harper also has numerous regional theater credits, including "Ruined," "Hamlet," "Much Ado About Nothing" and "Romeo and Juliet."

Harper currently resides in Brooklyn with his dog Chico.


Ryan Pfeffer is a writer living in Miami. He's been published in places like Billboard, Vice, A.V. Club and is currently the associate editor of Time Out Miami. You can see more of his work here and follow him on twitter at @Ryan_Pfefferoni.